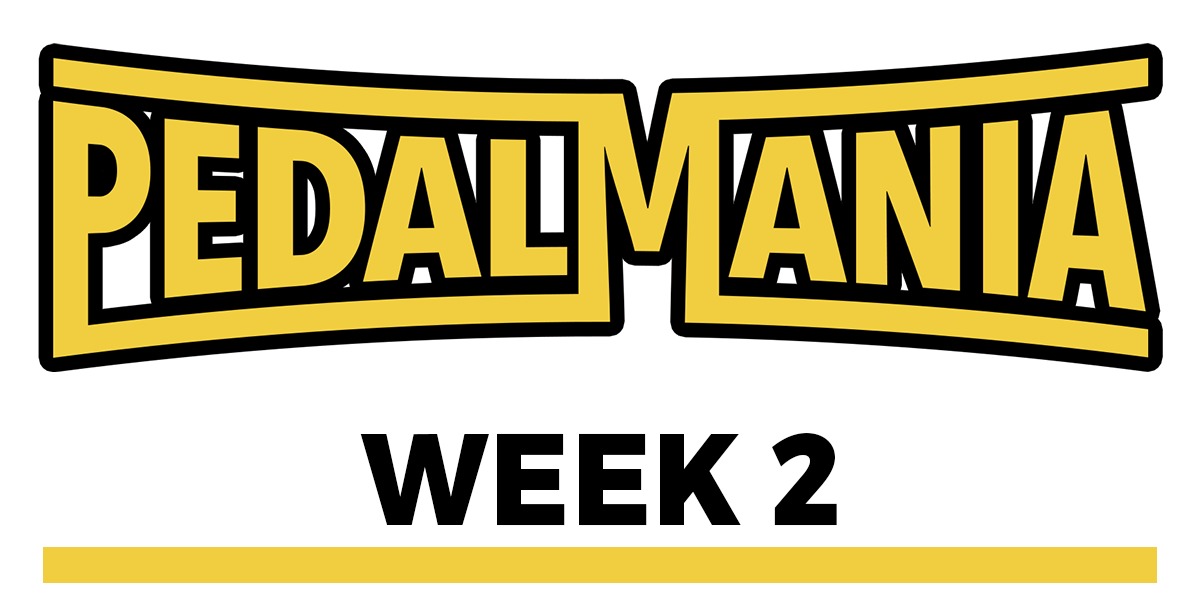 Week #2 is here! You could win pedals from Electro-Harmonix, Hotone, Ibanez, Mono, StewMac, or ValcoFX! Giveaway ends September 25, 2023.
---
Celebrating the classic, shimmering flanger sounds of Andy Summers, the EHX Walking on the Moon is a tribute to the tones Andy employed while carving his niche in the early days of playing with the Police. Liquid flange effects that hint toward chorus with extra depth and nuance make Andy's sound one of the most coveted in all of the guitar universe.

"This beautiful shimmering which sort of made the sound more bigger and more glamourous…became a sort of characteristic of my guitar sound…A big part of my guitar sound at that time in The Police was the flange sound which we have here today in this great new pedal." – Andy Summers

Special Artist Edition graphics featuring Andy's signature adorn the chassis and a tribute Walking on the Moon poster with art by Laura Josephson is included with each pedal.
EHX
Ampero Mini is the smallest guy in our Ampero family so far, offering you uncompromised Ampero sound in an ultra compact aluminum case.

✪ Ultra compact amp modeler & effects processor

✪ Powerful dual-core DSP platform ensure Ampero-grade tone quality

✪ CDCM & F.I.R.E. modeling system ensures high end tonal expressiveness and realistic playing experience

✪ 24-bit signal processing, 112dB S/N ratio

✪ Iconic touch screen operation and straight-forward UI for intuitive control

✪ Editable effect chain

✪ USB-C port for firmware upgrading, loading/editing/managing effects/IRs via free Mac/PC software or for use as an USB audio interface

✪ Up to 9 simultaneous effect modules

✪ Selected effects from stunning Ampero effects library including: -100+ CDCM HD & F.I.R.E. based amp, cab, legendary pedal models -Next-gen mic position and microphone type simulations -Selected Hotone original effects (drive/dynamic/filter/mod/delay/reverb models and more)

✪ User custom IR loader with 3rd party IR support

✪ Specially designed input jack for both electric and acoustic instruments

✪ 198 presets

✪ Ampero-style acoustic effects and patches

✪ Built-in drum machine with 100 patterns

✪ Built-in looper with max. 100 seconds recording time ✪ Authentic stereo output processing ✪ External controller jack for connecting external footswitches/pedals ✪ Customizable main display modes and theme colors and UI language

✪ Road-ready, light-weight aluminum casing

✪ 9V DC power supply

Dimensions:134mm (W) × 120mm (D) × 49mm (H)

Weight: 529g
Hotone
Extraordinary tone shaping control, dynamic arrays of distortion, and exceptional amounts of EQ are all laid out at your feet. The Pentatone preamp from Ibanez affords the perfect blend of features all wrapped up in an intuitive, all-analog platform. This preamp combines five individual tone shaping sections: a pre-boost, distortion with two-band EQ, a noise gate, 5-band parametric EQ, and post-boost. The pedal also includes a bright switch, which enhances treble response by boosting the high-frequency range. The two integrated footswitches control the preamp bypass and post-boost functions while adding an Ibanez IFS2L external foot-switch enhances the player's control even further by also making the pre-boost and 5-band parametric EQ foot-switchable. From simple tone shaping to crunchy overdrive and even the most crushing distortion, the Pentatone preamp covers it all.
Ibanez
The MONO Pedalboard Rail is a slim, lightweight pedalboard designed to accommodate every pedal collection. The sleek, open rail design offers plenty of room to organize and connect all of your effects and expression pedals. With comfortably curved rails and easy access to the front of the board, cable-routing and troubleshooting is easier than ever. The MONO Pedalboard Rail comes complete with our premium hook and loop tape and its own custom-designed Stealth Accessory Case. The case is water-resistant and shockproof with a convenient internal storage compartment, ergonomically designed handles and detachable strap.
MONO
More than a "klone"—it's the closest we've ever seen to the real thing! Few pedals reach mythical status like the Klon Centaur Professional Overdrive. We scoured the world for the EXACT right components to recreate this "holy grail" circuit.
Considered the finest transparent overdrive ever, the original Klon is shrouded in mystery, epoxy, and hype—but amazingly, it delivers. It's a guitar player's dream come true: saturated tube tone from your amp at a reasonable volume. It doesn't change the character of your amp, you get just the right amount of overdrive without losing your unique tone. It's relied on by countless players like Joe Perry, Mike McCready, Joe Bonamassa, John Mayer, Nels Cline and more.
StewMac
The Variable Input Impedance works best with passive instruments (guitar / bass) and allows tone-sculpting with or without the distortion circuit engaged. Lower settings yield softer dynamics / transients with a notable 'rounded / vintage' feel and tone. Higher settings give a sharper high frequency response with a more direct / aggressive transient feel and more perceived gain. This makes for a great 'shaping' control, where you can tune the pedal for its best response to the pickups you are using and how you want them to react / feel.
Valco KGB Dist Jr.