10 Bass Preamps To Drive Home Your Tone
Take it to the stage or studio with these bass preamps/DIs.
There's a preamp for every flavor of bass, from clean tones to upright to overdriven grit. This list covers a wealth of options for all budgets.

---
Fine-tune your sound on this 2-channel DI with a 3-band EQ, color switch, and noise gate.
$189 street
jimdunlop.com

This box features a 4-band EQ, optical compressor, and a blendable, 3-voice drive control.
$299 street
walrusaudio.com
Based on the company's Tone Hammer amp, this box features bass and treble knobs, sweepable midrange controls, and switchable tube-like saturation.
$299 street
aguilaramp.com
This 2-channel preamp includes two inputs plus a PZB booster and piezo input, so feel free to bring your upright on the gig for a few songs.
$399 street
Radialeng.com
Geddy Lee's signature box is a feature-rich dual-channel affair with separate level controls, plus drive, saturation, and blend knobs.
$359 street
Tech21nyc.com
Maximize your grit with this box, which is based on two blendable distortion circuits and features a 3-band EQ plus bite and growl toggles.
$349 street
Darkglass.com
Conjure classic Ampeg SVT and B15 tones with this stomp's voice control and cab sim. A 3-band EQ plus switchable high and low boosts, plus overdrive and compression, round out the features.
$399 street
Ampeg.com
This affordable offering features a 4-band EQ, compression, noise gate, and three signal-flow modes.
$174 street
ehx.com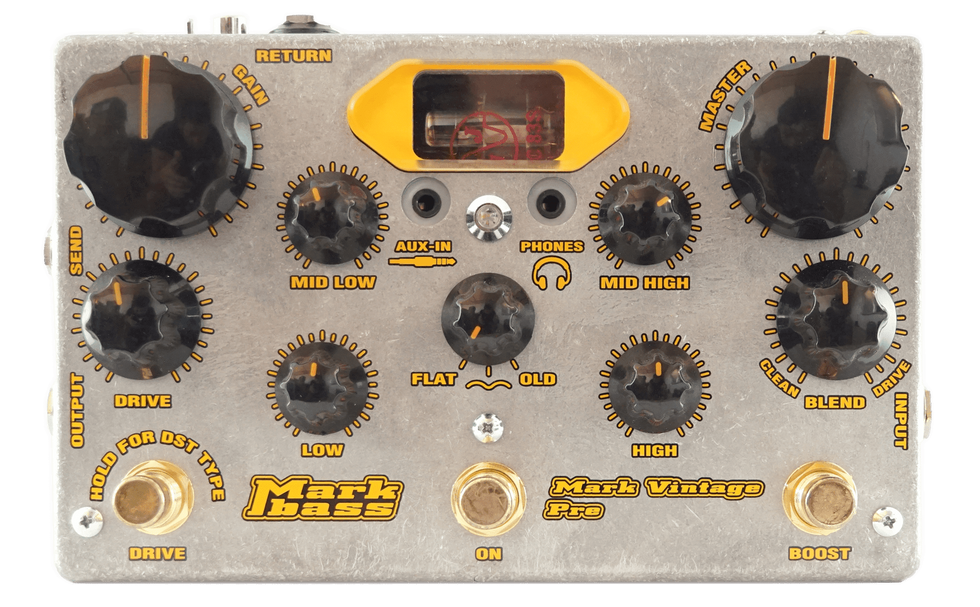 Loaded with a glowing 12AX7, this box features a 4-band EQ, three EQ presets, aux in, and headphones out.
$399 street
markbass.it
This unit features overdrive, compression, and a 3-band EQ, each with their own footswitch, plus switchable effect order.
$249 street
fender.com