A look at the new features of Pro Tools 8
We all know that competition can be a good thing, and it seems apparent with the new release of Digidesign's Pro Tools 8 that the likes of Logic, Live and Reason have pushed the boundaries far beyond recording, editing and mixing. Aside from a new look, more tracks, better MIDI and improved window management, there are a few extra treats that have really helped change my workflow. So, let's take a look at some of them and see how they might also help PG readers rock even harder.

PT8 now includes a handful of instruments that sound quite good. Included in the installation are: DB-33 tonewheel organ, Mini Grand acoustic grand piano, Boom drum machine and sequencer, Vacuum monophonic tube synthesizer, and Xpand! v2  synth/sample workstation—which is my personal favorite of the bunch. For acoustic drums, they give you FXpansion BFD Lite and an RTAS version of their Structure Free sample player, along with over 800MB of available samples. Along with 8GB of loops from Big Fish Audio, they provide M-Audio's Torq LE DJ software—which is used for beat-matching and mixing of audio files (such as your iTunes library). As you can tell, you'll need lot of space to make a full installation happen.

For we guitarists, they now include SansAmp, Eleven Free, AIR Spring Reverb, AIR Multi- Delay, AIR FuzzWah, MultiChorus and AIR Talkbox, along with several dozen other plugin effects. I was very impressed with the inclusion of these new AIR (Advanced Instrument Research group) products: they are not only easy to use, but are also really creative tools. For example, the Air FilterGate bussed into an Air Reverb with the 'Between The Buildings' preset sounds great on synth patches, vocals and of course, my favorite Les Paul.

As a long-time Pro Tools user, the newest features that I feel take PT8 to the next level are the Score and MIDI Editor Windows. It's nice to be able to compose a part on a MIDI instrument, then right click on a selection and choose Open in Score Editor. Viola, the Score Editor window will automatically open (you can of course use menu and key commands as well). From there, you can edit the notes, the key, meter, duration, etc. There is of course the ability to select any notes, transpose them, pencil them in and even change each note's velocity for playback. You can choose to view and follow with either a full score window or a smaller, docked editor that sits below the Edit Window.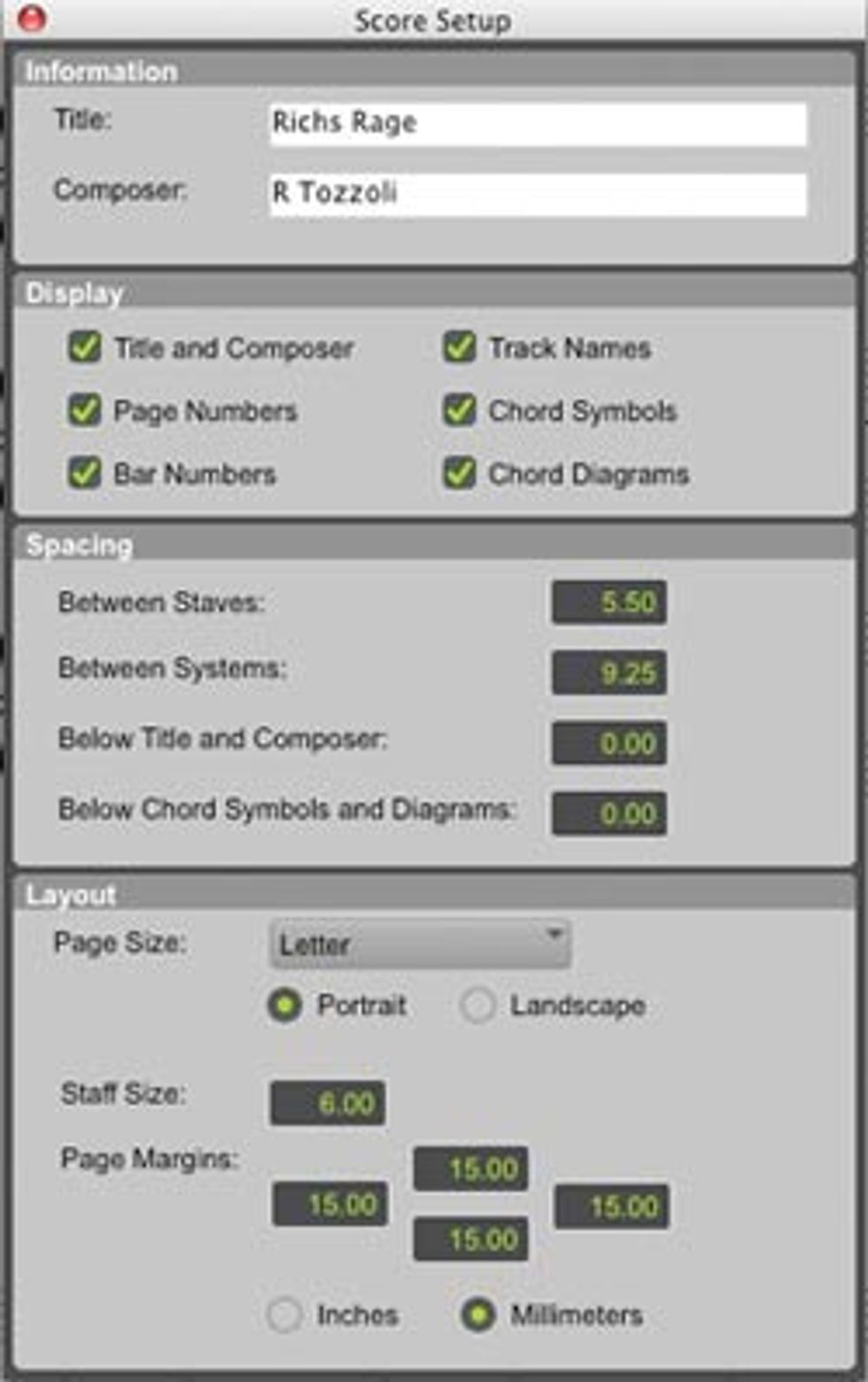 Score Setup Window
It's nice to see that everything is made quite intuitive in this new release. By simply double clicking on the song title, a Score Setup box will open. Here you can choose how your music is titled, displayed, spaced and laid out. For example, by clicking and dragging the Staff Size, you can increase or decrease the size of the music on the page in real time. Or, if you double click the staff, a Notation Display Track Settings box will open. It offers the choice of treble, alto, tenor, bass or grand staff, as well as Display Transposition, etc.
Another nice touch is the ability to add chord symbols and diagrams. With a few simple mouse clicks, you can add chord names to the Ruler, just like a Marker.
Also, when you go to the Score Window, it will appear as a traditional guitar chord diagram. If you want to edit it, just double click on it: the Chord Change window will open (if selected in the Score Setup window).
It's obvious that they've done their best to keep the whole scoring process simple. For those who need furthering Score editing, use the Send to Sibelius command (File>Send to Sibelius) to export the music directly to Sibelius (as a .sib file).
Chord Change Window
Similar to the Score Window, the new Midi Editor window opens separately for easy editing. You can choose to view your data in traditional MIDI form, or select the Notation Display Enable button to view as Score. There's a split pane available so you can also see your controller, velocity and audio automation data. I'm glad they also included a large-size keyboard display on the left—not only can you click on it to hear each note, but my eyes aren't getting younger.
Overall, the new features in Pro Tools 8 are winners, both technically and creatively. It's far easier to compose with it versus previous versions. The ability to double click and blow up your MIDI window, then instantly read Score with the click of a mouse is incredibly useful. I found myself pscyhed to open the program up and start making music. With the inclusion of all the instruments and effects on top of it all, I'm definitely going to upgrade my HD rig to PT8 as well, ASAP. While I do use just about all the DAW/music creation programs out there, Pro Tools is still the best way to exchange sessions with other artists in the real world. I highly recommend watching some of the tutorial videos online (digidesign.com) and learning some new tricks for yourself.
---
Rich Tozzoli
Rich Tozzoli is a producer, engineer and mixer who has worked with artists ranging from Al DiMeola to David Bowie. A lifelong guitarist, he's also the author of Pro Tools Surround Sound Mixing and composes for such networks as Discovery Channel, Nickelodeon and National Geographic.