PRS Cables Announces Guitarbud iPod and iPhone Interface
PRS Cables has announced a new cable that connects your guitar simultaineously to your headphones and iPhone or iPod Touch
Redondo Beach, CA
(December 19, 2009) -- PRS Cables has announced a new cable that connects your guitar simultaineously to your headphones and iPhone or iPod Touch. Here's the details from the company:
This must-have accessory allows you to plug your guitar directly into your iPhone and 2nd Gen iPod Touch (simultaneously with your headphones) for use with all guitar applications.

The guitarist's interface fuses your instrument with your iPhone – Now the possibilities are as endless as the apps on your phone. With the Guitarbud even the simple Voice Memos app (that comes with your phone) can be used to record riffs or songs anywhere – instantly email your track to your friends. All your apps become more powerful – use your iPod tuner in a noisy crowded bar, record your next tune on the 4-track recorder that's as close as your iPhone.

This powerful, portable guitarist's interface, is designed specifically for musicians by Bond Music Research in conjuction with PRS Guitars; makers of PRS Signature Series Cables Guitar Cables.

Guitarbud is lightweight, flexible, and easily fits in your pocket. More than a simple adaptor, this 6 foot special instrument cable allows freedom of movement when you play, and links your headphones with your instrument.

Features
• Plug your guitar, bass or keyboard directly into iPhone / iPod Touch along with headphones.
• Works with Voice Memos, StompVox, 4-track, Guitar Toolkit, iStrobosoft, and many others (trademarks are the property of their respective owners).
• Replaces your iPhone's built in mic with the direct output of your guitar. Use your guitar with any app that your mic worked with.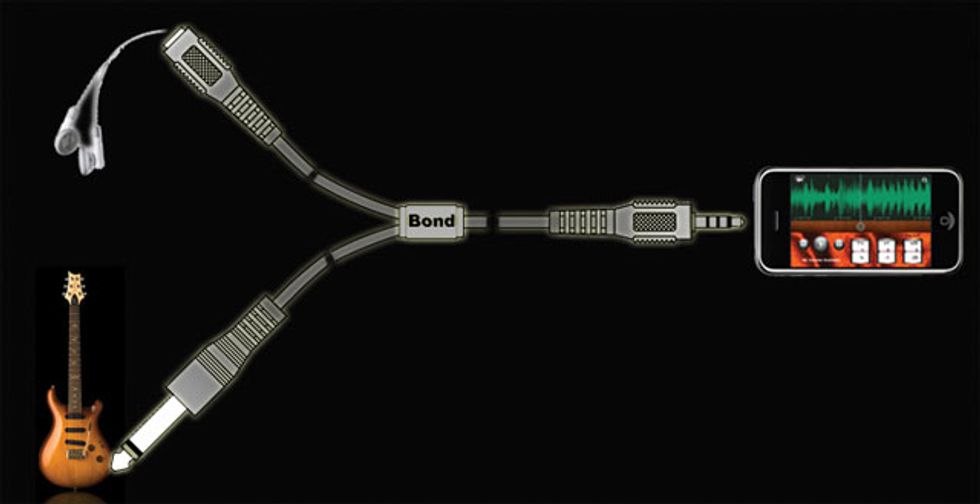 Street $29.99For more information:
PRS Cables