Putting the "Social" Back in Social Media
When I do one-on-one consultations with PG clients, social media strategy is one of the most prevalent topics discussed. My message is always simple: Success on social media is still very possible, it's just that the goal needs to be adjusted.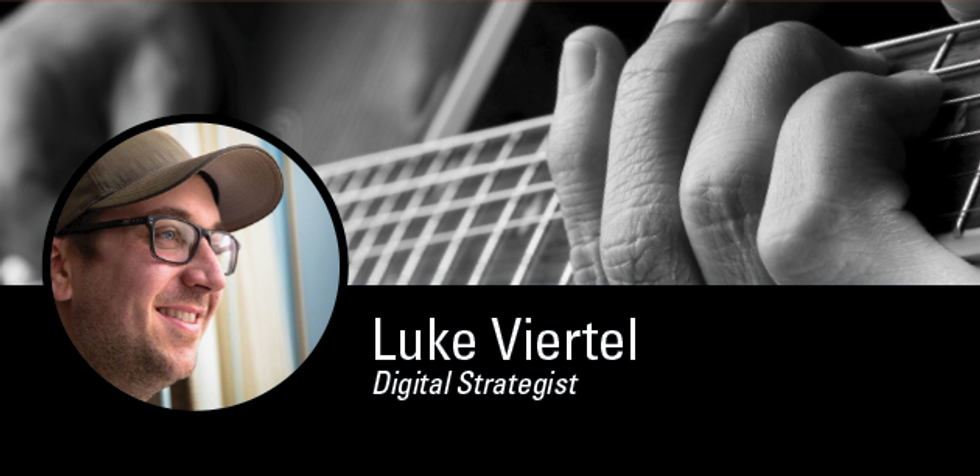 It was a hot August day, the summer of 2005. I stumbled out of my dorm room at college into the path of a pretty girl. After a brief chat, there was mutual interest and she asked me a question I'd never heard -- "Are you on Facebook?"
At the time, Facebook was a young, feisty, startup website for college students. Concepts like the Timeline, Video Sharing, and Pages didn't exist yet. It was built as a way to quasi-stalk your classmates, form communities of like-minded individuals, and to share photos of you and your friends. Believe it or not, Facebook is called a "social" network because it was built for people.
Eventually, the world caught on to the power of an online public square, and Facebook exploded into the behemoth we know today - a hub for business information and content, the world's leading social video platform, and a marketplace to buy and sell your old couch (or your brand new guitar pedal.) By 2015, everyone and their grandma had a facebook profile. Like all things, the smashing success of the ability for business pages to reach their audience and acquire new customers faded precipitously as Facebook made it increasingly difficult to reach your goals without putting some skin ($$$) in the game.
As a result, many businesses are pondering now more than ever what an effective strategy for best-use is on Facebook. Some are even writing off the platform all-together. When I do one-on-one consultations with PG clients, social media strategy is one of the most prevalent topics discussed and my message is always simple: Success on social media is still very possible, it's just that the goal needs to be adjusted.
Unless you sell personalized T-Shirts or low-cost consumer goods, Facebook is not a place to expect direct revenue to be earned. But, that doesn't mean Facebook should be abandoned or that it can't bring value to your online presence and brand. So, here are my tips to maximize impact and help your business on social media:
Build community by engaging your followers on a regular basis. Ask them questions about their experience with your brand and invite them offer feedback that could help convince others to buy your products.

Offer them something they can't find anywhere else: exclusive follower discounts, rebates, or offers that entice them to stay engaged.

Post content that puts a human face to your company. People like to support people. This could be behind-the-scenes photos/videos, a company blog or Q&A, or stories about the history of your company or products.

Create a series of low-budget facebook ads that will allow you to test messaging, content, and results. Vary your messages for content, new follower acquisition, sales, etc. See here for help determining your facebook ad budget and strategy.

Define a budget to commit to boosting your content to your followers and relevant related audiences. This will help you grow your reach.

Inquire with other, larger, pages that produce coverage of your brand about partnering to boost and promote your coverage to their followers. Make sure your page is tagged when doing this.
These are just a few, simple ideas to get the most out of social media. If you need a more personal touch, PG's Marketing Lab is here to help with any and all of your marketing questions. We'd love to help you develop a strategy specific to your social media presence, including how PG can help you spread the word via our social media channels. You can sign up for a free, no-pressure consultation with me using the calendar below. Happy posting!
Shred like Shifty with the Fender "Chris Shiflett" Telecaster Deluxe! Enter before January 29, 2024 for your chance to win.
Win Chris Shiflett's Signature Fender Telecaster Deluxe!
Enjoy the videos and music you love, upload original content, and share it all with friends, family, and the world on YouTube.
Chris Shiflett has his feet firmly planted in two worlds, with impeccable punk/hard rock credentials as longtime guitarist in the Foo Fighters and with an authentic love for country, as heard in Chris Shiflett & the Dead Peasants. His abiding love for the Telecaster guitar and for huge humbucking sound comes together in one kickass instrument with his name on it - the Chris Shiflett Telecaster Deluxe. Modeled on his favorite '72 Tele Deluxe, it's an especially affordable beauty that rocks hard with authentic Fender tone.
Fender
The Rush guitarist partners with Mojotone on a new line of versatile, hand-built guitar amps and cabs.
Lerxst amplifiers are designed to offer a diverse palette of sounds that range from crystal-clear cleans to raging arena rock sounds and everything in between, supplemented with key features like power-scaling and serial effects loops to suit the needs of the next generation of sonic explorers, all designed to Lifeson's exacting specifications and handcrafted in the USA by Mojotone. The initial launch includes the Omega amplifier head, Chi amplifier head and combo, and an accompanying range of matching guitar cabinets.

Omega is Alex Lifeson's signature amplifier and the flagship of the Lerxst line. This British-voiced amplifier head features footswitchable clean and lead channels with a shared 3-band EQ, meaning a consistent tonal foundation between sounds while still offering shimmering cleans, gutsy rhythm crunch, and soaring lead tones. The amplifier has a switchable 50/25 watt power section to give it an equally usable powerband on large stages as well as in small clubs and the studio as well as a high-quality serial effects loop perfect for utilizing modulation and time-based effects.
"Lifeson's signature sounds are easily within reach with Omega, but its versatile, characterful sounds are equally useful for players looking to chase their own creative muses and sonic landscapes." In addition to its standard version, Omega will also be offered in a Limited Edition Hand Wired version for a short time.
Lifeson stated, "I'm very excited about the new, updated Omega amp. It sounds incredible and it's very handsome – you'll want to get one even if you don't play guitar!"
Chi takes the growl and tone of the Omega and places it within a more compact form factor. The 30-watt amplifier is built around 6L6 tubes for excellent headroom and a clear, articulate sound and is available as both a smallbox head and a 1x12 combo amplifier. In keeping with its lineage, Chi also includes footswitchable clean and lead channels and a serial effects loop, making it equally versatile on stage or in the studio.
"I've used more amps than Dr. Frankenstein did when breathing life into his creature, but the Lerxst Chi is an awesome monster in its own right and one of the sweetest sounding amps I've ever heard," said Lifeson. "All the great character of the Omega in a cool, compact package that you don't have to be a seven-foot monster to carry around."
Both amplifiers are also accompanied by a range of guitar cabinets in multiple speaker configurations, including 1x12, 2x12, and 4x12, ideal for any stage configuration or studio application. All amplifiers and cabinets are handcrafted to the highest standards with top quality components in Mojotone's Burgaw, NC-based factory. The cabinets, head shells, and combo speaker cabinets are made of voidless baltic birch and finished with a striking race gray and red garnet levant Tolex finish for a lifetime of gigging and playing.
Omega Specifications
3x JJ 12AX7 Preamp Tubes
Selectable Impedances: 4, 8 or 16 ohms
Switchable Power Output between 50 and 25 Watts
Two Channels (Switchable)
Shared three-band EQ
2x JJ EL34 Power Tubes
Footswitchable clean and lead channels (Can also use pull knob on Master volume)
Speaker Outputs: 2x J¼" Jacks (16Ω/ 8Ω/ 4Ω)
Included Lerxst Footswitch
Inputs: 1x Instrument Jack, Footswitch
Controls: Presence, Bass, Middle, Treble, Output Master, Channel Select, Lead Master, Input Gain
Dimensions: (H) 10 ¾" x (W) 29" x (D) 8 ¼"
Serial effects loop
Weight: 44lbs
MAP $3,495 (Limited Edition Hand Wired AmplifierHead) or $2,495 (Standard Edition Amplifier Head)
Chi Specifications
Custom CTS Potentiometers
Finger-jointed Baltic Birch Cabinet
Custom built in Burgaw, NC USA
Carbon Comp Resistors
Starman Power Indicator Light
Lerxst Chi One Button Footswitch Included
Footswitchable clean and lead channels (Can also use pull knob on Master volume)
Race Grey and Red Garnet Levant Tolex Finish
Shared three-band EQ
Power Output: 30 Watts
Hand-loaded PC Board construction
Serial Effects Loop
USA Made Heyboer Transformers
Mojotone Dijon Coupling Capacitors
Selectable Impedances: 4, 8 or 16 ohms
Three JJ 12AX7 preamp tubes and two JJ 6L6 power tubes
MAP $1,995 (Chi Combo Amplifier) or $1695 (Chi Amplifier Head)
"There has been an explosion of guitar music within the past five years that has been incredible to witness in its diversity of sounds and players. Lerxst amplifiers provide a platform for these players that offers the power and quality of tone of the best amplifiers of the past, while also providing key features like power scaling and high-quality effects loops that reflect the needs of players today."
For more information, please visit lerxstamps.com.