Why are we so against spending some time with user manuals?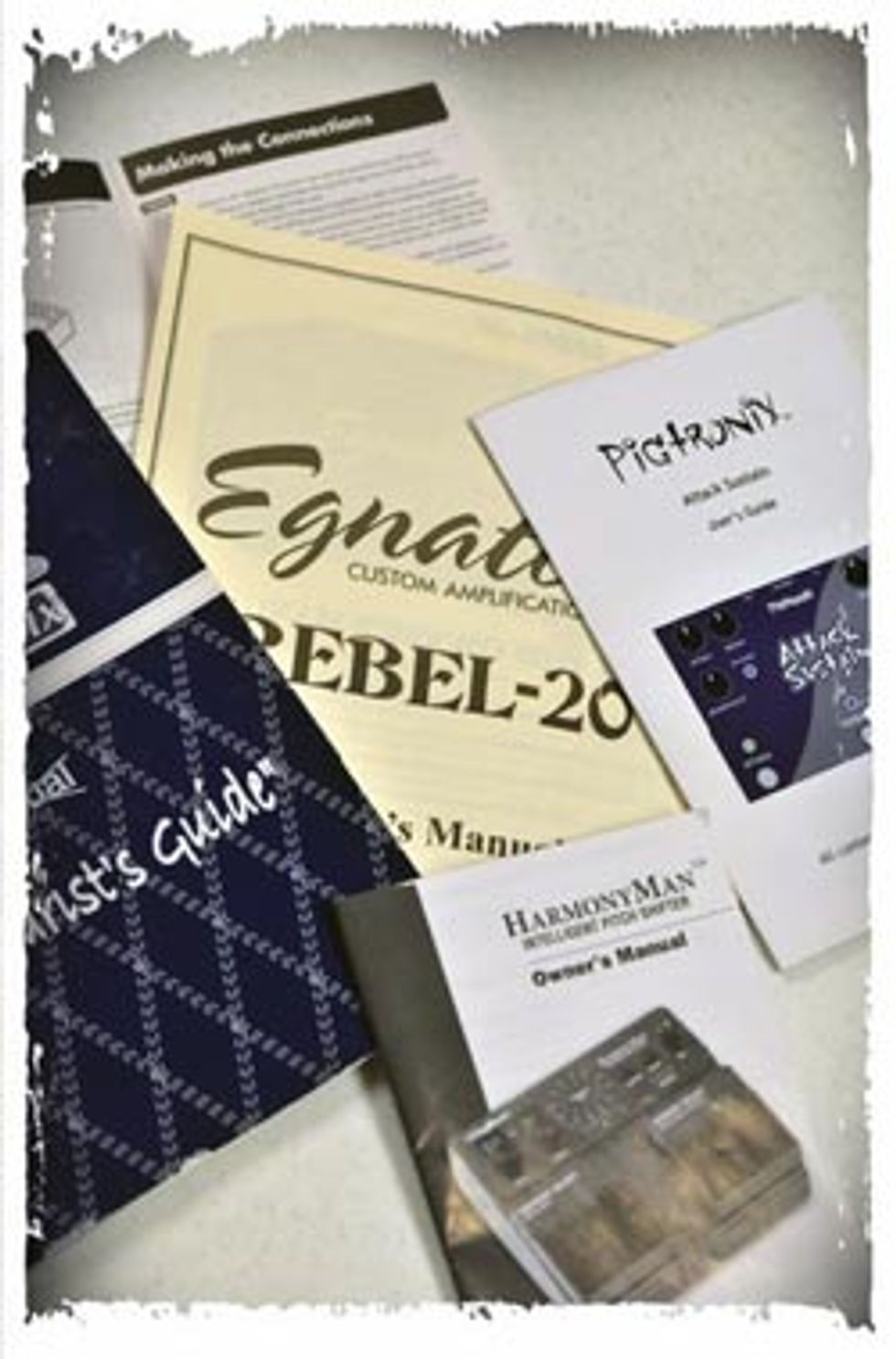 Few things in this electronic age we live in are as important and generally overlooked as reading a manual. I can hear you now; "I don't need that thing. I'll just figure it out," right? Just because something works when you turn it on doesn't mean you know how to use it. It just means that the presets work. We, as consumers, have become so focused on instant gratification that many great products with untapped potential have been pushed aside due to their learning curve.
When did learning become a four-letter word?
It may sound silly, but effects boards, modeling amps and home studios are everywhere these days, and many people who own them don't really understand how to properly use them. Companies like Line 6, Roland, and Digidesign, to name a few, have put a pro studio and piles of guitar amps and effects at your fingertips, but what good is all that power if you never truly learn to use the product to its full potential?
Have you ever found yourself frustrated trying to track your first hit record at home because you can't figure out how to start recording? "It doesn't work" or "It's broken," sound familiar? Usually, reading the manual is the furthest thing from our minds, yet it's the answer to all, or at least most, of the problems we are having.
Think about this: when you buy a brand-new piece of gear, you are so excited to get it out of the box that the manual never exits its plastic cocoon. (Yes, I'm guilty too!) You eagerly crank through all of its presets and within a year or so, off to eBay it goes because you've grown tired of it.
Now, being the total gear junkie that I am, I'm all for gear upgrades and new toys, but make sure you're upgrading and making new purchases for the right reasons. In many cases, you are bored with a piece of gear not because you've exhausted its capabilities, but because you never learned how to fully use it.
I always found it amazing when I'd hear something awesome and go "Wow, I had no clue that (insert product name here) could do that," only to find out that instructions on how to make it happen were in the manual or in an online tutorial or video.
Sadly, amps, effects and software have all become defined by their presets. What I mean by this is if the presets that come with a piece of gear or software aren't completely to our liking out of the box, then we just give up and move on to the next thing without even making an effort to find out what it was truly capable of or what we we're doing wrong.
Here are some suggestions to get you started on getting more out of your gear:
If you kind of like the sound of an amp or effect setting, but feel it's missing something, then consider editing the settings instead of jumping to the next preset.
If the compressor presets in your new recorder or software sound wrong, then make sure you learn how to properly use a compressor and adjust them before you determine that it doesn't work well.
If you're not sure how to hook up a piece of gear, remember that almost every manual on the planet comes with a detailed description/diagram describing how to connect everything. (Hopefully the manual wasn't thrown out with the box!)
I want to challenge all of us to stop looking for instant gratification and taking the path of least resistance! Let's really learn how to use all the great products that are available to us. If we are willing to invest some time into learning how to use the toys we buy, then maybe we'll discover new sides to our musical creativity along the way.
If you aren't into reading manuals, that's fine. Manufacturers make DVD manuals and instructional videos for just about everything these days. To top it off, there are endless resources online; between the manufacturer's product page, discussion forums, and YouTube, you can find just about everything you could ever want to know about an item.
I'm not saying that a product shouldn't be fun and offer instant gratification up front. What I'm saying is that we need to stop forming opinions about products based on our often limited knowledge of how to use them.
---
Trent Thompson
Trent Thompson has been a recording/mix engineer in the Central Florida area for nearly ten years. He has a degree in recording engineering and is a lifelong guitar player. He is currently a Sales Engineer at Sweetwater Sound in Fort Wayne, Indiana. Reach him at 1-800-222-4700 ext. 1393 or
Trent_Thompson@Sweetwater.com
.