Review: Riffworks Standard Digital Recording Software
Sonoma Wire Works'' Riffworks is a simple but useful recording software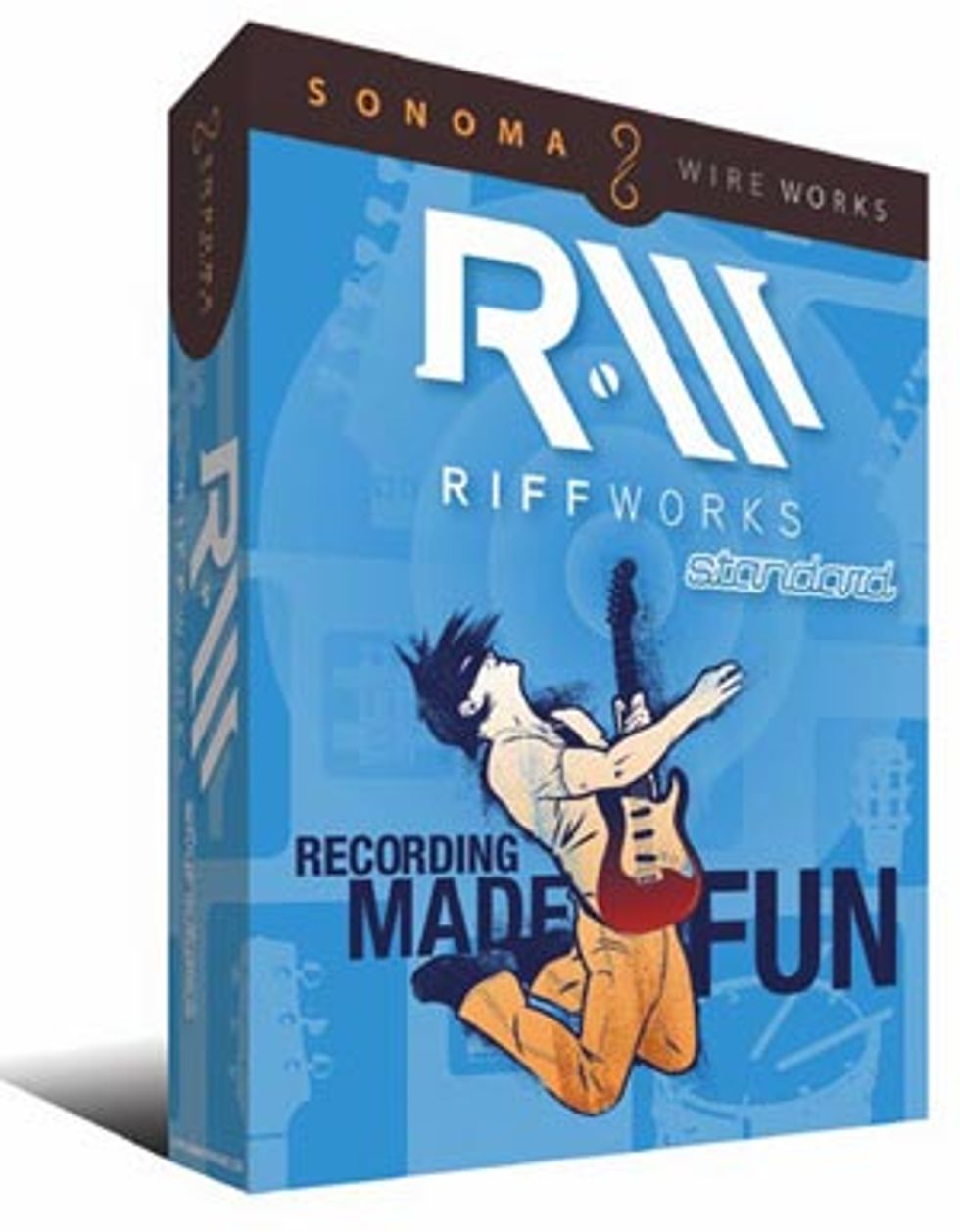 Like any technology, digital recording technology inevitably grows more complex as it becomes more widely available. And as its power and potential expand, so do the number of options, functions and practical applications. Finding out what you need to know about a new gear and new uses can become complicated, quickly and dreadful. Take heart—the three words emblazoned on the box containing RiffWorks digital recording software from Sonoma Wireworks are: "Recording made fun."
It makes sense that the "quick and easy to use" spirit that pervades the material on the RiffWorks software would be a selling point to guitar players who just want to use the stuff without having to go back to school. But what makes RiffWorks actually fun is the way it makes digital recording technology more convenient and helpful.
I've been using it to generate new ideas for solos by recording the chord progressions of songs in my current setlist and applying some of the licks I've been pilfering from other places. It seems to be working.
The building block of the RiffWorks process is the "riff," which is a loop that records or plays back over and over. But instead of re-recording every time it loops, it stores each pass as a separate "layer" in the loop (up to 24 layers per riff). You can lay down an idea, listen to it on the first pass, and lay down another idea on the next pass. This is great if you want to experiment or build a sequence on the fly with different musical parts to hear how they sound together. Or you can try out several takes of the same part by setting the riff to mute each successive layer as it's recorded, then listen to them individually when you're done.
The interface is blissfully simple, made to look like gear, rather than a full-blown studio on your screen. You can build an entire song out of riffs, record right on the song timeline or combine them.
RiffWorks also contains seven studio effects and some synchronized backups that can be applied to your input signal, layers or riffs, and it supports VST and AU plug-ins, which makes just about any kind of amp modeling software an easy fit. I'm using Line 6's GearBox, but RiffWorks' standard package also comes with IK Multimedia's AmpliTube 2 Live.
RiffWorks software also includes access, through RiffWorld.com, to an online community for collaborating and posting songs, providing digital recording enthusiasts with a tailor-made social networking environment. It also offers teachers a convenient way to provide students with musical examples to follow as well as recording opportunities. RiffWorks is software only, so you must either have or buy an ASIO/Core Audio compatible interface device. Almost any type will do, but there's also an extensive device compatibility chart on the company's website, sonomaworks.com. I've been using Digitech's Mbox and a Line 6 TonePort GX with GearBox software on my MacBook Pro, and they both work well.
RiffWorks takes the loop-based recording process into territory useful for those who want playing and composing to be as immediate as possible. There's no need for elaborate preparation; the whole thing is up and running, and ready to go before you can decide which guitar to plug in.
Buy if...


you want a useful, easy (and yes, fun) way to bring digital recording into your playing routine.


Skip if...


you don't know a thing about digital recording.


Rating...
 
Our expert has stated their case, now we want to hear yours. Log on and share your comments and ratings.