Gibson presented Steve Winwood with a replicate of his original Firebird guitar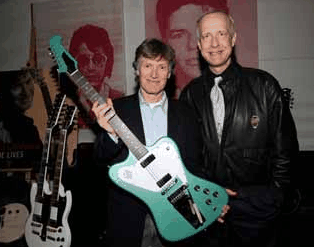 New York City, NY (March 6, 2008) -- Steve Winwood held a listening party for his most recent release, Nine Lives, on Tuesday, March 4. To celebrate, Gibson Guitar Chairman and CEO Henry Juszkiewicz presented Winwood with an exclusively designed Gibson Firebird guitar. The guitar is a replica of Winwood''s favorite Firebird from the 1960s, which was stolen while on tour at that time.
Nine Lives (Columbia Records) is being released on April 29, and is Winwood''s first release since 2003''s About Time. The 9-track album features former Blind Faith bandmate, Eric Clapton, who plays guitar on the track "Dirty City." The two performed three live concerts in New York City during February. Winwood is opening for Tom Petty and the Heartbreakers this summer.
For more information:
Gibson
or
Steve Winwood