Despite being a small shop, Abyss offers the highest level of customization in their guitars, willing to change any detail to best suit the needs of each individual customer.
Abyss Guitars
is a custom shop out of tiny Forest City, Iowa that specializes in the highest quality woods and extremely detailed inlays. Despite being a small shop, Abyss offers the highest level of customization in their guitars, willing to change any detail to best suit the needs of each individual customer. Kevin Pederson, a former cabinet and furniture maker, is approaching his ten-year anniversary of guitar building. We've talked to Kevin before, in the March/April 2003 issue of Musician's Hotline, and are checking back in to see how his business and craft has changed in the past four years.


When we talked with you four years ago, you were making two guitars per month and thinking about opening a workshop outside your home. How have things changed in this time? Have you hired anyone to help your work?
Later this year will mark my 10th anniversary building guitars and I am really proud of that. I read a quote once that went like, "most people miss opportunity because it is dressed in overalls and looks like work." That made sense to me, so I have always tried to work hard for my customers. We're still a very "mom and pop" type of organization, and I prefer to keep the operation small. My goals are to make profound guitars and sometimes you just can't program a machine to do that.
I do have a couple of guys that help me out on a part-time basis. Mike and Chad help me a lot in between their other jobs. My wife Melinda really helps me out crunching the numbers and other paper work. Plans are definitely in the works to build a new workshop, we've been building up to that for quite some time now, and are finally about ready to take the plunge. If everything goes as planned, I will be moving into a nice building later this year.

I noticed that you have started making a standard model. What led to this decision, and do you think it has any affect on the custom business?
The heart of our business is still, and always will be, the hand-made custom business. We still build the finest handmade instruments on the planet, however, not everybody is in the market for a high dollar, hand-made boutique guitar. Over the years, we've built a solid reputation for using the highest quality materials and construction techniques, and have decided to create a branch of our business that focuses on building lower cost instruments with fewer options, while maintaining our high standards for our customers.
These Standard models use a combination of modern machinery and hand finishing to get consistency in the neck and to control the overall quality of the guitar. This keeps our costs lower, and allows us to pass those savings on to our customers. By doing this, we're able to build the highest quality Standard guitars at a fair and competitive price.
Additionally, we believe that the customers who are buying these Standard models will return later and buy higher end custom instruments from us. So far we have seen only positive effects from this new market.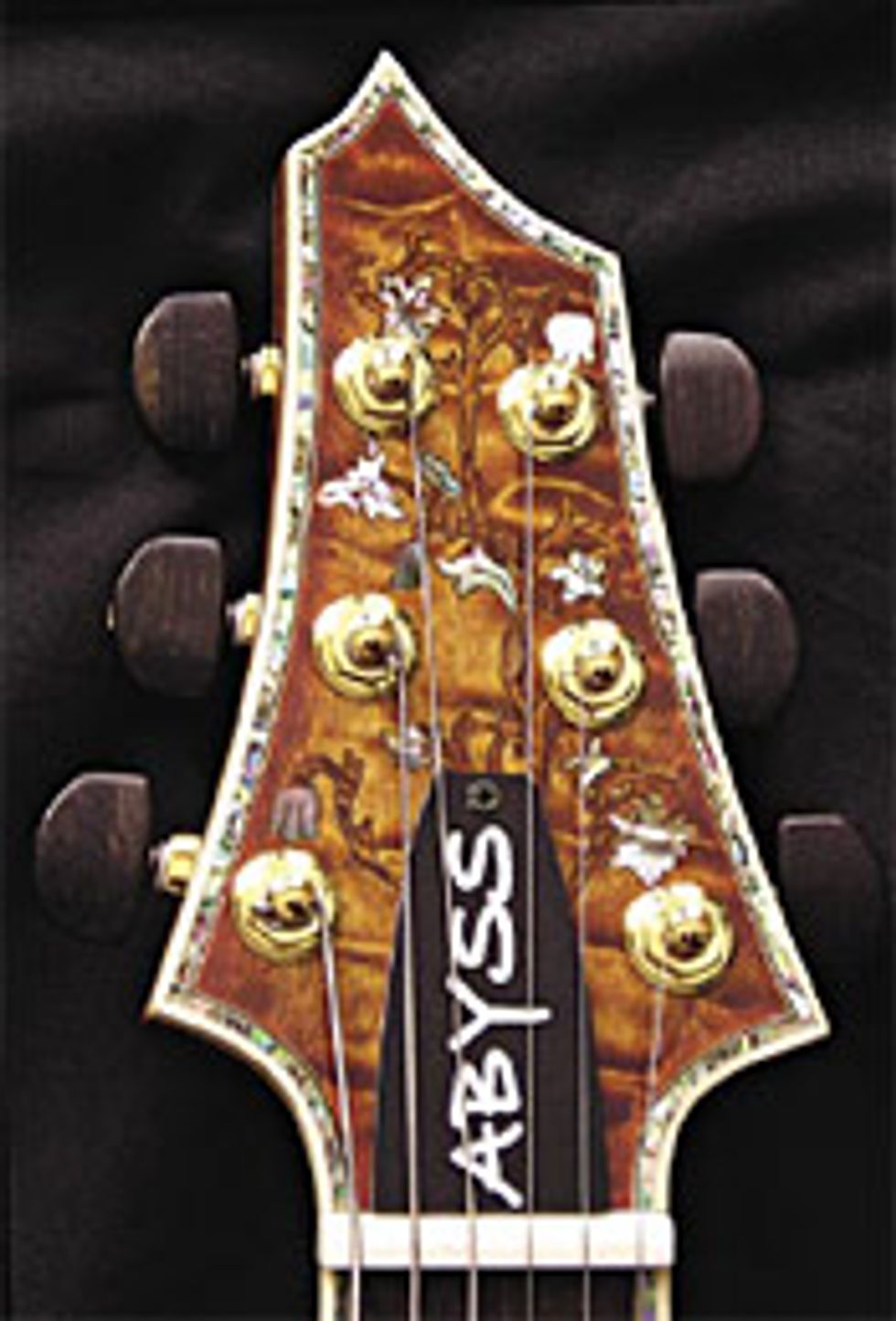 Tell us a little about the other new models that you have.
Some new and exciting models are our Presentation Elect Guitars and the 10th Anniversary guitar coming out later this year. What is a Presentation Elect Guitar? I would explain it like this: a Custom Abyss Guitar would be a guitar built using your ideas. You know what you want, you place the order and the guitar is built according to your specs.
A Presentation Elect would be a guitar made using my ideas by means of the same exact quality of materials that are used on the Customs. These are inlay ideas and concepts that I have come up with over the years using the guitar as a springboard for my art. They are very collectable and playable. My customers, and boutique buyers, understand up front that my handmade guitars are extravagant and expensive. It is what I am able to give the customer that makes my value credible and it all comes from the same pool of Master Grade materials that I use to build the Abyss Custom Guitars. These guitars will speak for themselves.
The 10th Anniversary guitar I can't say a whole lot about, other than as of now, there will only be ten made. They will be signed, numbered and a certificate of authenticity will accompany them. They will feature some of the most incredible inlay work, woods, and finishes that we've ever done. They are going to blow people's minds with number one and two going into production soon after this article hits. Keep checking back at abyssguitars.com for the details.
What is your favorite guitar that you have made? Is there a certain model that you prefer making?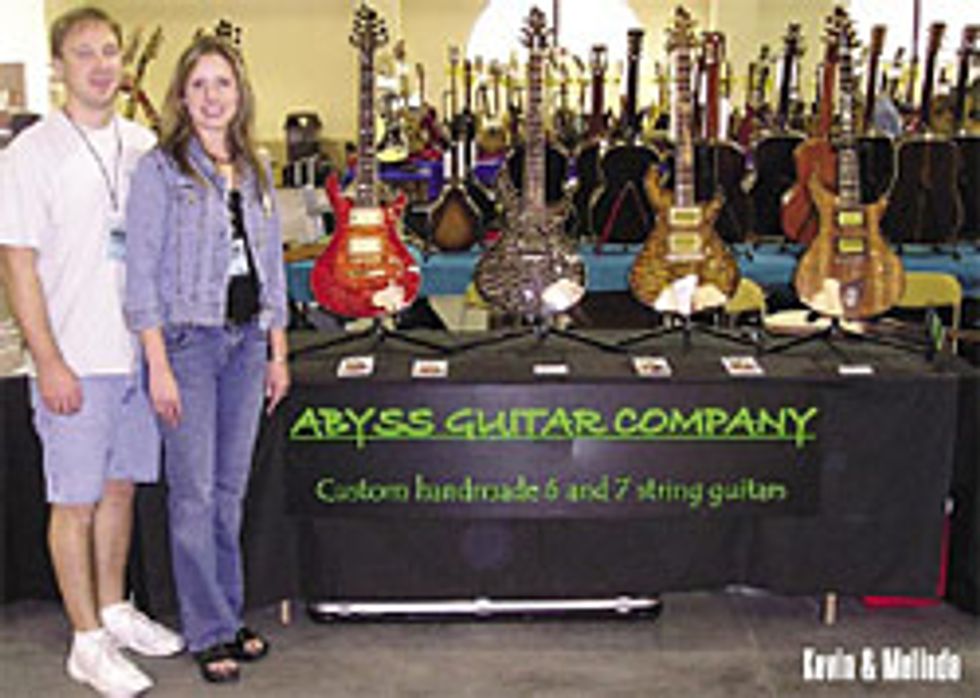 My personal favorites are the Presentation Archtops and the Presentation Acoustics. There is a lot more going on there than your solidbody electric guitar and I have more creative freedom with my Presentation Elect series and my Customs. I also traveled to Canada this past fall and worked with an acoustic Master Builder for a few days. I am going to use the same approach with handcrafting acoustics – making them one-of-a-kind art pieces. I learned a lot and he told me before I left that, "I was a master craftsman and that he knew I was going to make great acoustics."
Have you had any notable customers? Where do find most of your customers coming from?
One of the most rewarding aspects of having such a grass-roots business is the relationship we build with all of our customers. It's amazing how diverse our customer base has been, from all different parts of the world and different backgrounds. We currently have customers on five continents in dozens of countries, including Japan, U.K., Sweden, Germany and Norway. This is the beauty of the Internet; you don't have to be on Fifth Avenue or Sunset Boulevard to reach people. All my customers are notable and important to me.
Your inlays are among the most complex and detailed we've ever seen. Walk us through the process of completing something like this.
Thanks for that compliment. First, I start with the idea and get it to a piece of paper. Then I select a material that will best represent what it is that I am trying to replicate. Next I would start cutting all these pieces out and assembling them similar to a puzzle, only I am making the pieces of this puzzle. In the latter stage you have to transfer the pattern/piece onto the fretboard and rout them in. Once the piece fits, you have to epoxy it in. After the epoxy is dry, you sand it flush and re-slot any frets positions that need it.
When did you start doing inlay service? What prompted this decision and how has the response been?
I started doing that to expand my business and promote my art. That service just went up so it is too early to tell what will happen in the long run. My intention is to work that stuff in as it comes across the table. I would be happy to give quotes to anyone who has an idea for their guitar. This is just an inlay service only; you will have to find someone else to put the frets in, like your guitar tech. I would also be willing to do inlay work for other builders, companies or bigger production companies, as my schedule would allow.
I see that you pride yourself on your wood choices. As some of the "elite" woods like Koa and Brazilian rosewood become harder to get, how does this affect your wood selection? Do you see this affecting your customers?
It is the law of supply and demand. These woods are harder to get, so if someone is willing to pay for it, I have no problem using it. Koa is exclusive to Hawaii and to my knowledge, they can only cut what has already fallen. Brazilian rosewood is on a treaty ban and they have similar restrictions. All in all, I just think it makes the guitar even more valuable, so I don't see it affecting my customers if they want that wood and are willing to pay the cost.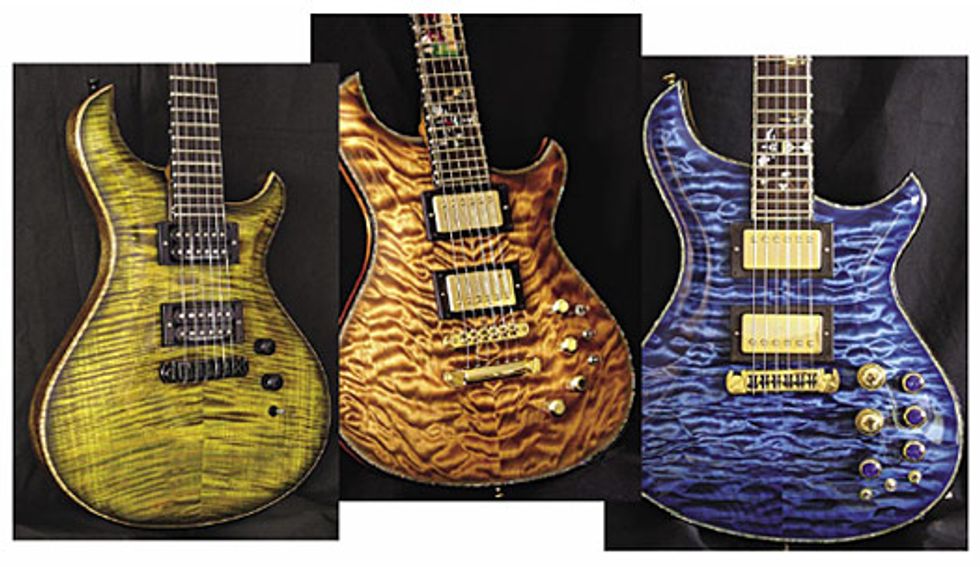 Do you offer all of your guitars in 6 or 7-string models? What do you like about a 7-string guitar that prompted you to start making them?
Yes, you can get six or seven string guitars in any of the models. At the time I started making guitars, seven string guitars were having this resurgence. That is when and where I named the guitars "Abyss". The lower seven-string note took you to sonic depths I thought that sounded like the "Abyss" and that is how the name came to be.
I see that you are working on a new limited edition, "The Revelation," can you tell us anything about that one?
It is going to be another fantastic guitar in a collectable line that I want everybody to check out on my site. I plan ten of each and quite a few are already sold. They include, The Crucifixion LE, The Ascension LE, The Last Supper LE and now The Revelation LE. The Revelation will be unveiled in the near future, probably this fall.
You been at this for some time – any final thoughts about the business of boutique instruments and where you're headed?
In life, just like in the guitar industry, there are path makers and path takers. I intend to be a leader for the boutique and highend custom guitar market and pursue my own ideas and concepts. My goal is to continue to lead the way with unique guitars and inlays that very few others can do.
The greatest thing you can do is to blaze your own trail. That would be a path maker. I want to thank my family for the support, my customers for their backing and the Lord God Almighty for in Him all things are made possible.
Peace and God bless.
---
ABYSS GUITARS
641-582-3718
abyssguitars.com