Photo by Calli Cohen
On his latest solo album, Reasons Why, which features a collaboration with Cory Wong, celebrated Canadian guitarist Ariel Posen continues his evolution as a multi-faceted artist.
For years, Ariel Posen has captivated listeners with his tone. Starting with his first solo album, 2019's How Long, and on through successive releases such as 2021's Headway and a sprinkling of EPs, the Canadian guitar virtuoso has distinguished himself for his unique approach to sound. His playing is warm and rippling; it has a way of grabbing you, or at times even jabbing you, but once it does, it changes up and envelopes you like a comfy pillow. His lyrical lines don't just sing—they swoon. All of this is to say that he doesn't do just one thing with his sound. There are nuances and levels to his artistry.
"To me, the sound of the guitar should be just as expressive as the human voice," Posen says. "The biggest part of my sound is just dynamics and getting in touch with the guitar. A lot of people max out the volume knobs on their guitars, but I've found that there's so much tenderness and so many beautiful textures when you're at 6 or 7. It's more of a true sound. Whether I'm using a slide or not, I like to use an overdrive pedal into a clean amp. That way, it's not a harsh overdriven sound; it's clean but with headroom on the edge of breakup." He pauses, then adds, "It's very much like a Jeff Beck thing. There's a poetry to it."
Ariel Posen - Time Can Only Tell
Posen cites his early years of playing with trios in clubs as being crucial to his development. "I became something of a Swiss army knife and played as many different styles as possible—blues, jazz, folk, and bluegrass," he says. "Before then, I tried to emulate my heroes—people like Doyle Bramhall II, Robben Ford, John Mayer, Jimmie Vaughan, and others. By gigging with trios, I realized that I needed to flesh out my own sound more. I didn't have to play what other people expected. I could go for originality."

"To me, the sound of the guitar should be just as expressive as the human voice."
Later, while backing up other musicians before he turned solo, he was schooled in team-playing, and learned important aspects of dynamics. "Because I was surrounded by a lot of other players, I didn't focus so much on the guitar," he says. "I played with a lot of good drummers, and that taught me the importance of groove and having good timing, the kinds of things that make a song feel good and not just sound good. I feel like both experiences came together in what is now my own style and sound."
That beautiful sonic expressionism is one of the hallmarks of Posen's newest album, Reasons Why, a record that also demonstrates the guitarist's remarkable growth as a singer and writer of deeply personal yet highly relatable songs. On the gorgeous, atmospheric single "Didn't Say," he examines how unspoken truths could have saved a doomed relationship. The easy funk groove of "I Wish We Never Met" is juxtaposed by the gnawing pain of missing a lover while on the road. Likewise, "Man You Raised" is a swaggering, butt-kicking rocker highlighted by two chest-beating solos, but the narrative element is tinged with wistfulness and regret.
A Leslie cabinet was among the old-school tools on Posen's new album. And in the studio, Posen relied on just two amps: a Two-Rock Traditional Clean model, and a 3-watt Greer Amps Mini Chief.
"More and more, songwriting is like therapy for me," Posen explains. "It's an opportunity to share something very intimate but in a way I might not be able to do in real life. It's like writing your feelings in a journal. Now, you probably would never share your journal entries with somebody else, but for some reason all those barriers go away with songs—at least for me they do. And it's not even difficult. It's just a way of speaking the truth. When I can get it right, I think other people can listen to one of my songs and say, 'Hey, that sounds like my own experience. That resonates to me.' That's what I'm going for."
Typically, Posen eschews writing while touring, so the extended Covid lockdown period between 2020 and into the early part of 2022 provided him with an unexpected opportunity to hunker down and work out some material. So that's what he did—sometimes with songwriters Jason Nix and Jason Gantt (both of whom contributed to Headway), and other times with fast-rising Canadian singer-songwriter Leith Ross. He wrote "Man You Raised" with fellow guitar star Cory Wong. "Fortunately, a lot of the people I like to collaborate with were home, too, so it worked out," Posen says. "It took a few months for me to get into the creative zone, but once I did, I hit it hard and worked at it every day, like I was going to the gym."
Surprisingly, he employs the exact opposite approach when it comes to playing guitar at home. "When I'm on my own, I just play for the sheer enjoyment of it," he says. "I'm kind of off the clock, without any kind of agenda. Whatever happens, happens." Still, he notes that inspiration can strike at any time. "There will be ideas for songs that hit me when I'm messing around, but I don't force them. I'll just leave myself a voice memo. Even if I don't listen back to it for a year, I know it's there."
Once Posen had amassed some 30 songs, he whittled them down to 10 cuts that ticked off all the boxes musically and lyrically. Working with his usual co-producer Murray Pulver, he made extensive demos of each number, playing guitars and bass, programming drums, and laying down scratch vocals. From there, he turned the material over to his band—bassist Julian Bradford and drummer JJ Johnson, along with percussionist Jon Smith and keyboardist Marc Arnould—and said, "Here's how I hear it. Now, do it better. Do it right. And do it the way you're feeling it." At certain times, he offered strict guidelines—"Don't play the crash cymbal here," or "Simplify the backbeat"—but mostly his rule was, "Do your thing."
"There will be ideas for songs that hit me when I'm messing around, but I don't force them. I'll just leave myself a voice memo. Even if I don't listen back to it for a year, I know it's there."
Despite his reputation as a supreme tone king, Posen asserts that he isn't married to a particular sound—nor even a certain guitar—during writing and demoing, preferring to respond to inspiration in the studio. "Whatever feels right when we're cutting tracks is what I go with," he says. As he did on Headway, he utilized a Fender Custom Shop Jazzmaster on a significant portion of Reasons Why, as well as some of his other go-to guitars, such as an Eric Johnson signature Stratocaster and his Mule Resophonic StratoMule, plus a Case Guitars J1 model outfitted with Ron Ellis P-90 pickups. "The J1 is a Les Paul-style guitar with a chambered body," Posen says. "It delivers a very warm, thick sound that I love."
Ariel Posen's Gear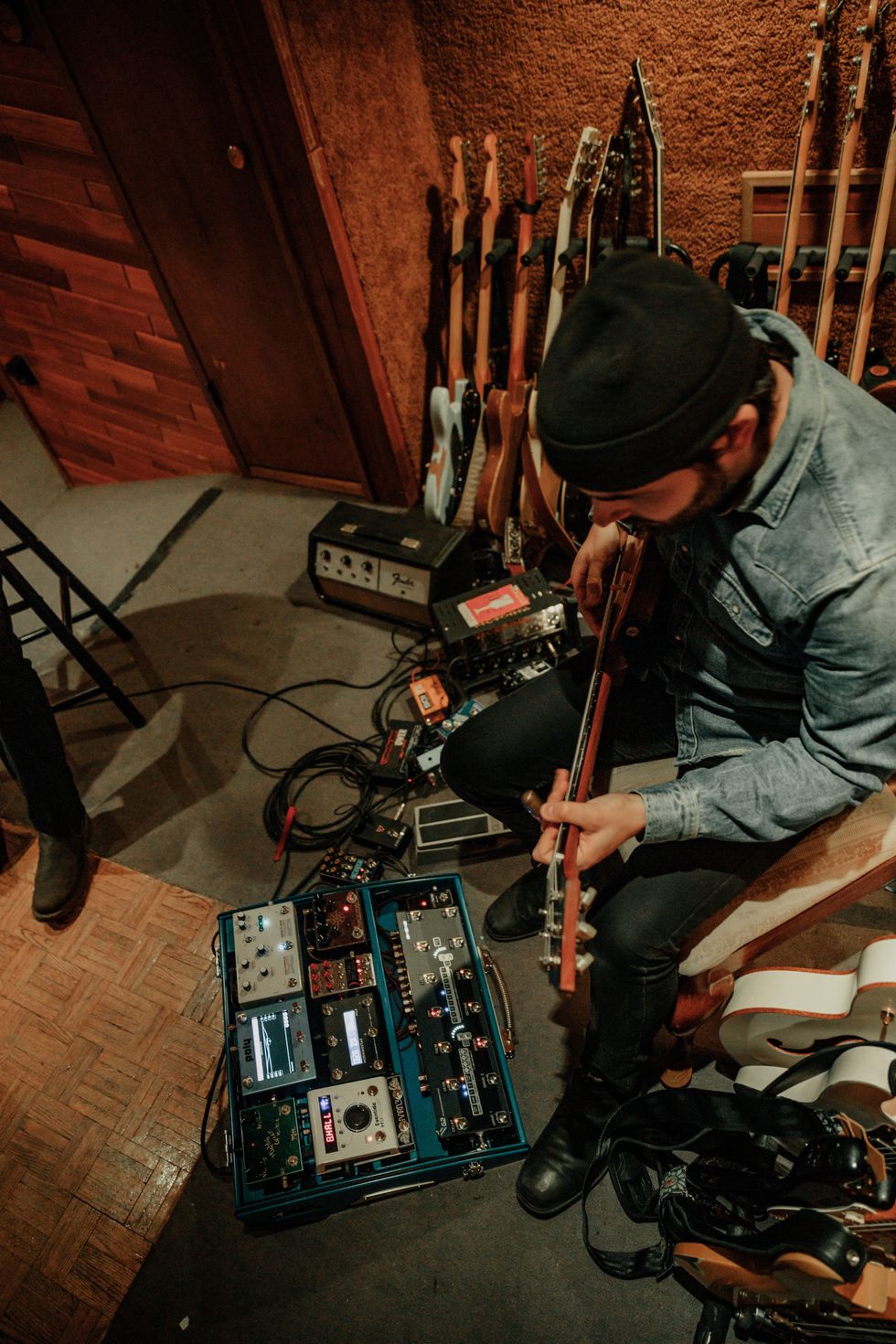 To create the broad spectrum of sounds on his new LP Reasons Why, Posen turned to his favorite tools, like his Fender Jazzmaster, an Eric Johnson Strat, and a Mule resonator, but he also invited some new friends to the party: a Gretsch White Falcon, and a guitar from Irish builder Kithara.
Photo by Lynette Giesbrecht
Electric Guitars
Mule Resophonic Stratomule
Fender Stratocaster Eric Johnson Model
Fender Custom Shop Jazzmaster
Gretsch White Falcon
Case Guitars J1
Kithara Harland
Josh Williams Mockingbird
Acoustic Guitars
Collings D1AT
'60s Martin 000 (tracking down the model)
'60s Gibson Hummingbird
'50s Kay
Morgan Concert Model with Sitka spruce top
Yamaha Dreadnought in Nashville Tuning
Modern Recording King Acoustic
Mule Resophonic Mavis Baritone
Amps
Two-Rock Traditional Clean
Greer Amps Mini Chief
Effects
Hudson Electronics Broadcast-AP
Analog Man King of Tone
Kingtone The Duellist
Kingtone MiniFuzz
Hologram Electronics Infinite Jets
Hologram Electronics Microcosm
Eventide H9 MaxMorningstar MC6
Chase Bliss Audio Thermae
Chase Bliss Audio Tonal Recall
Chase Bliss Audio Habit
Victoria Reverberato
DanDrive Austin Blender
Greer Amps Lightspeed
R2R Electric Vintage Wah
R2R Electric Two Knob Treble Booster
Demedash T-120 Videotape Echo
Mythos Pedals Argo
Keeley Hydra
Leslie cabinet
Strings, Slides, & Picks
Stringjoy (.014–.062) for low tuning
Ernie Ball (.011–.054) for standard tuning
Dunlop Tortex 1.14 mm
The Rock Slide Ariel Posen Signature Slide
In addition to experimenting with a Gretsch White Falcon ("Great for arpeggios and big, open chords"), he also tried out a custom-made Kithara Harland guitar that he designed with the company's founder, Chris Moffitt. "I had this idea for a Strat-style guitar with a Tele bridge and a Bigsby," Posen explains. "It's set up really cool, and it worked out great for a couple solos and arpeggios."
In the studio, Posen relied on just two amps: a Two-Rock Traditional Clean model, and a 3-watt Greer Amps Mini Chief. But in terms of effects, he went wild, calling on well over a dozen pedals and rack units to create absorbing textures and unconventional sounds. He lists the Chase Bliss Audio Thermae and the Hologram Electronics Infinite Jets as two MVP pedals, but he also sings the praises of the R2R Electric Vintage Wah unit. "It's a single enclosure with a switch and a knob, and it gives you all the sweet options of a wah pedal," he says. Posen made dramatic use of the pedal for the squawky rhythm tracks on the gritty rock ballad "So Easy," as well as for the growling, throaty slide solo of the otherwise shimmering "Learning How to Say Goodbye." "I was just looking for something different that didn't sound like what everybody else does," he says. "I was simply trying to innovate to a degree."
Sometimes, he goes old school. On both "So Easy" and the chilling arpeggios in the majestically orchestrated "Didn't Say," he ran his guitar through a Leslie cabinet. "I'm pretty good at getting sounds from all the new pedals," he says, "but sometimes there's just no substitute for the real thing."
Posen says songwriting for Reasons Why was like going to the gym: He had to work hard at it everyday to pull out the tracks that made the record.

Photo by Calli Cohen
Posen likes to use the word "authentic" when describing his goal for record-making, and on Reasons Why, each emotional high he achieves is earned and feels real, whether it's on the haunting, hymn-like "Broken But Fine," or in the way he blends introspection and vulnerability in the aching ballad "Choose." As a lyricist, he gives you just enough to draw you in, but nothing is forced or feels burdened by unnecessary detail—which is great, since explaining emotions is so limiting.
Having first established himself as an in-demand guitar-for-hire with such disparate acts as the Bros. Landreth and Tom Jones, Posen is a true showman at heart, and he knows when to turn on theatricality. Each solo is replete with bravura—the resonant, pinched-harmonic lead in "Feels This Way Too" reaches to the heavens, and he concludes the graceful yet hypnotic album opener, "Time Can Only Tell," with an unexpected, bellowing roar that mimics the human-voice-like quality of a saxophone. He never draws attention to technique, though. There's a casual looseness to the solos; they're not haphazard or sloppy, nor do they meander. They sound wonderfully alive, as if Posen is acting on instinct and losing himself in impulsive, even uncontrollable, bursts of spontaneous creativity.
"I'm pretty good at getting sounds from all the new pedals, but sometimes there's just no substitute for the real thing."
As it turns out, many of the solos were thoroughly premeditated and fully integrated into each track. "'So Easy,' 'Learning How To Say Goodbye,' 'Didn't Say,' and 'Man You Raised' were 70 percent the way I did them on the demo," he reveals. "For me, it's my first take of something where it feels very honest and exciting. After that, I'm just replicating it or trying to come up with something new that's not the original intent. For the solos that I was attached to, we did them a few times in the studio, but I rarely, if ever, veered from the demo. There were some screws that needed to be tightened, but that was about it. Some things were improvised, and usually those were first takes. It's all about being in the moment."
Stuck at home during the pandemic lockdowns, Posen tapped artists like Cory Wong and Canadian songwriter Leith Ross to help him from afar to bring his new record to life.

Photo by Lynette Giesbrecht
Despite the fireworks, the album has an uncluttered feel to it. Posen doesn't weigh his songs down with superfluous guitar tracks, though that's not to say that he isn't big on experimentation. He points to "Didn't Say" as an example of where he used a number of guitars—an electric with a rubber bridge that's double-tracked, two Nashville-strung acoustics panned left and right, another electric on which he plays dyads, and an electric pedal steel for swells. "That one is extremely orchestrated, and there's a lot going on," he says, "but I tried to do it in a way that doesn't take you out of the song."
As for how Posen and his live band, including Bradford and Smith, will pull off all the material when they head out on tour, he's currently working that out. "It's always the same thing, where I go, 'Okay, I've got these awesome tracks. Shit, how am I going to reproduce it on stage?'" he says with a laugh. "So I have to reduce everything to the core elements, where it's just the parts I want to air guitar to. By design, we play live as a trio. I could add people to the band, but we have a really special thing as a trio. I love bands like the Police, Nirvana, and Green Day, and I could always appreciate what they did on record and what they did live. I want us to be the same way. I love the spaces in the music that comes from that approach. It's raw and dangerous, and when you get it right, there's nothing quite like it."
Ariel Posen – "Man You Raised" TELEFUNKEN Live At Sweetwater Studios #gearfest2023
In this recent live studio performance, Posen nails two heat-seeking solos on his trusty "Mule," while leading band members Julian Bradford and Jon Smith through a gutsy version of his new track "Man You Raised."
The soulful slide wiz shows off his Teisco-inspired baritone and several "different" tone tools that have inspired his pandemic projects—including a knockout Custom Shop Jazzmaster.
Ariel Posen entered as a sideman. His scintillating work with the Bros. Landreth made him a guitarist's guitarist. He's since stepped out on his own to show he's more than just shadowy specialist.
His 2019 solo debut, How Long, caught some fans off guard and shined brightly because of his song-first approach. "These days, I like listening to songs and the story and the total package," Posen told PG in 2019. "I just trusted my gut and I can reach more people by playing songs, and I get moved more by a story and lyrics and harmony, so that's where I naturally go. The live show is a lot more guitar-centric."

But saying all that, Posen still gets down on the guitar. His slide might do most the talking (look no further than How Long's sizzling "Get You Back"), but his fingerstyle flourishes and potent phrasing make him an all-around threat. And on top of all that, the dude can sing, too!
His brand-new album Headway expands on the success of How Long by incorporating more rootsy Americana vibes ("Heart by Heart" or "Carry Me Home") and slinky neo-soul touches ("What Are We Doing Here"). And guitarists, don't worry, he still cuts a grooving, silky solo ("Coming Back" or "Heart by Heart").
Just before releasing his emotive, heartfelt 12-song collection, the burgeoning-songwriting guitarist virtually welcomed PG's Chris Kies into his Canadian-home jam space.
In this episode, we find out how a $50-pawnhsop purchase inspired his No. 1—a custom-made, S-style baritone—and he explains why all of his guitars (and their tones) have to be "different," and he goes through his travel-ready pedalboard that's been grounded for over a year, but has still been a big asset for recording.
D'Addario XPND Pedalboard:https://www.daddario.com/XPNDRR
[Facing a mandatory shelter-in-place ordinance to limit the spread of COVID-19, PG enacted a hybrid approach to filming and producing Rig Rundowns. This is the 43rd video in that format.]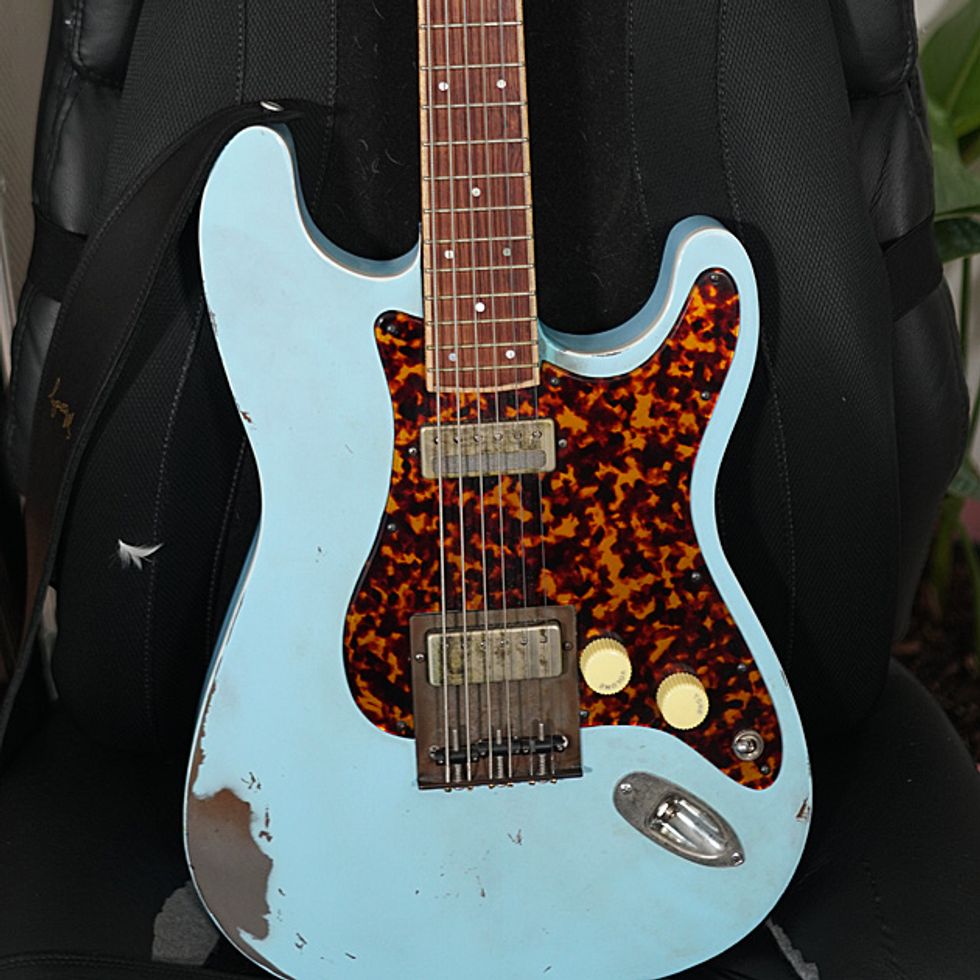 If you've spent any time with Ariel Posen's first solo record, How Long, an auditory high mark might be the ripping, raunchy slide solo packed within "Get You Back." As explained in a 2019 PG interview, Posen's pairing for that song were two cheapos—a $50 Teisco Del Ray into a Kay combo. However, when he took the pawnshop prize onstage, the magic was gone. "It wouldn't stay in tune and wouldn't stop feeding back—it was unbearable [laughs]."
Posen was familiar with Matt Eich of Mule Resophonic—who specializes in building metal-body resonators—so he approached the luthier to construct him a steel-bodied, Strat-style baritone. Eich was reluctant at first (he typically builds roundneck-resos and T-style-baritones), but after seeing a clip of Posen playing live the partnership was started.
The above steel-bodied Strat-style is Posen's second custom 25"-scale baritone. (On Mule Resophonic's website, it's affectionately named the "Posencaster.") The gold-foil-y pickups are handwound by luthier Matt Eich and are actually mini-humbuckers. He employs a custom Stringjoy set (.017–.064 with a wound G) and typically tunes to B standard. The massive strings allow the shorter-scale baritone to maintain a regular-tension feel. And when he gigs, he tours light (usually two guitars) and so he'll use a capo to morph into D or E standard.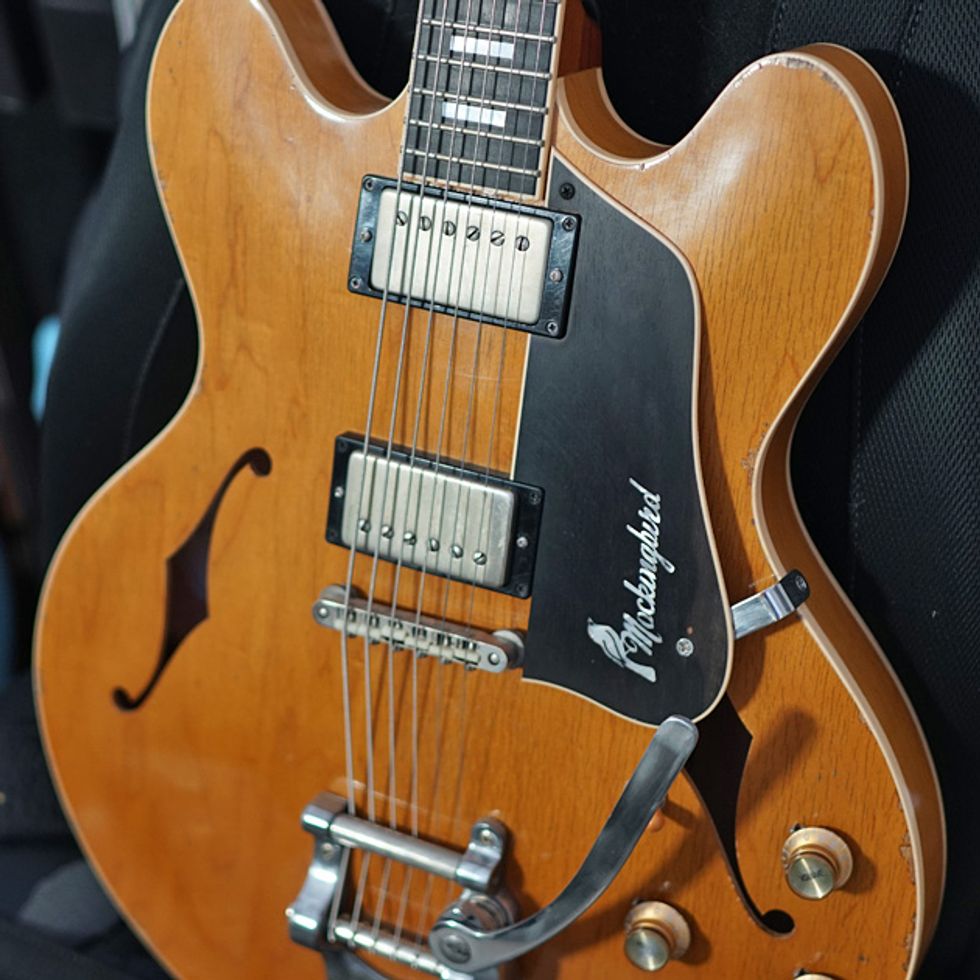 If touring were a thing right now, Posen would take this Josh Williams Guitars' Mockingbird on the road for open-C duties. (Again, also using a capo to unlock more doors while still traveling lean.) It speaks with a set of Ron Ellis PAFs that sit in the 7-8k range.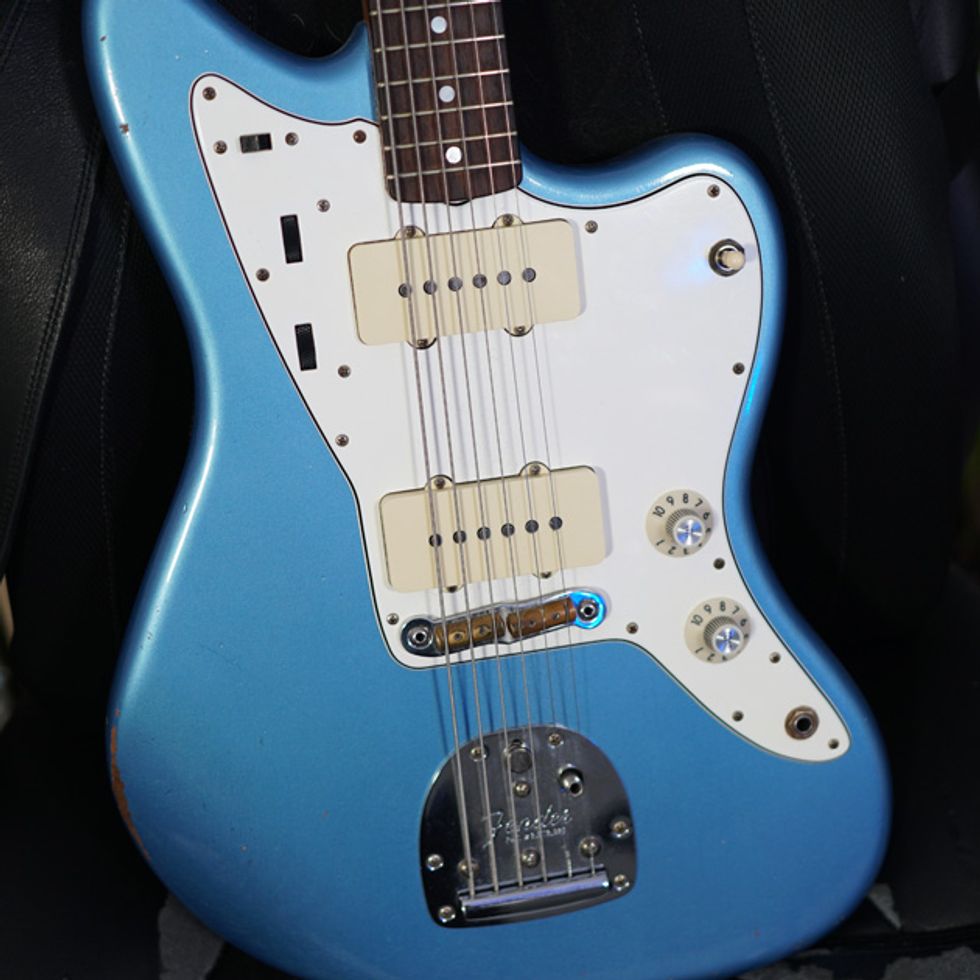 Another one that saw recording time for Headway is the above Fender Custom Shop Masterbuilt '60s Jazzmaster (by Carlos Lopez). Making it work better for him, he had the treble-bleed circuit removed, so when the guitar's volume is lowered, it actually gets warmer.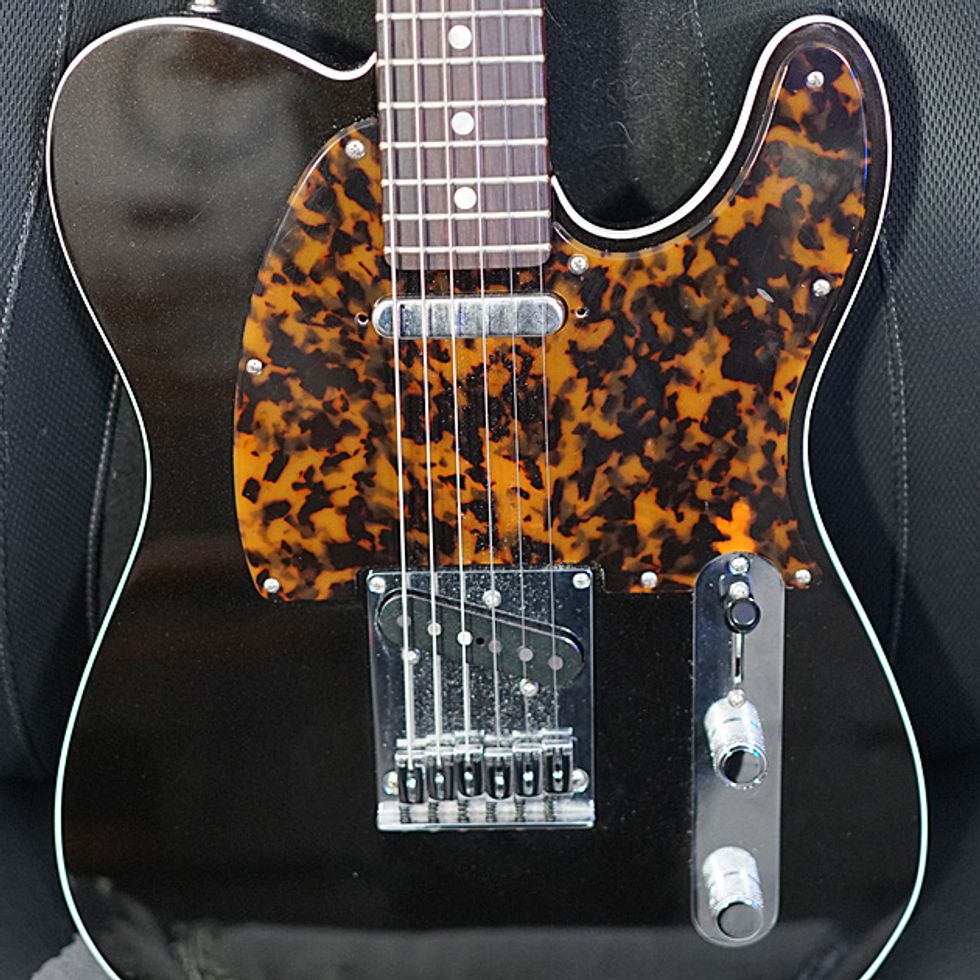 Here is Posen's Fender Ultra Telecaster that was recently upgraded with a sharp faux-tortoise-shell pickguard constructed by Chris Moffitt. (He's a Northern Ireland-based luthier who works under the name Kithara Guitars.) Another mod he did to this tele was swapping out the stock Ultra Noiseless pickups for a vintage-voiced, '50s-era, T-style set from Ron Ellis. For pandemic projects he's had this one set in standard tuning and outfitted with Ernie Ball Slinkys (.012s).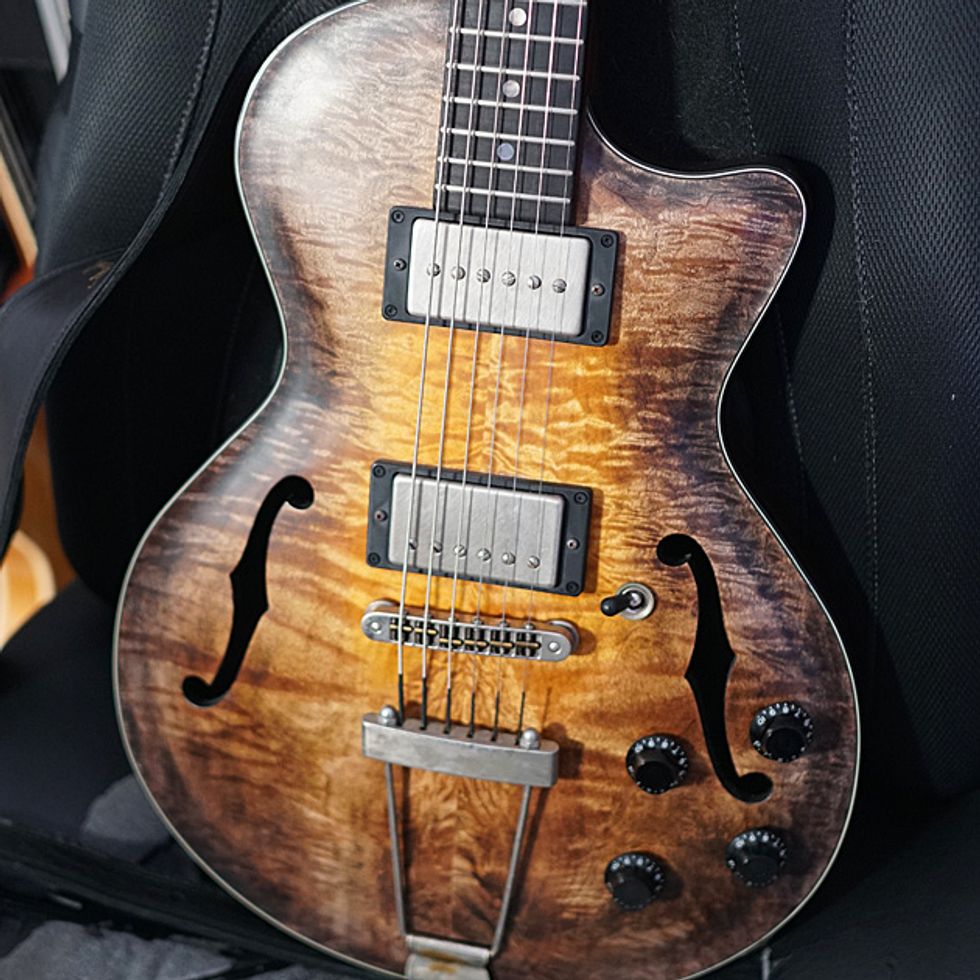 Above is a Wide Sky Guitars P125 Cutaway model built by luthier Patch Rubin. The New Mexico-based shop focuses on classic singlecut, LP-style electrics and golden-age acoustics. The P125 features a chambered sapele body with a carved maple top, mahogany neck with a bound ebony fretboard, and it came loaded with a mixed set of Curtis Novak pickups—a P-90 in the neck and a PAF in the bridge.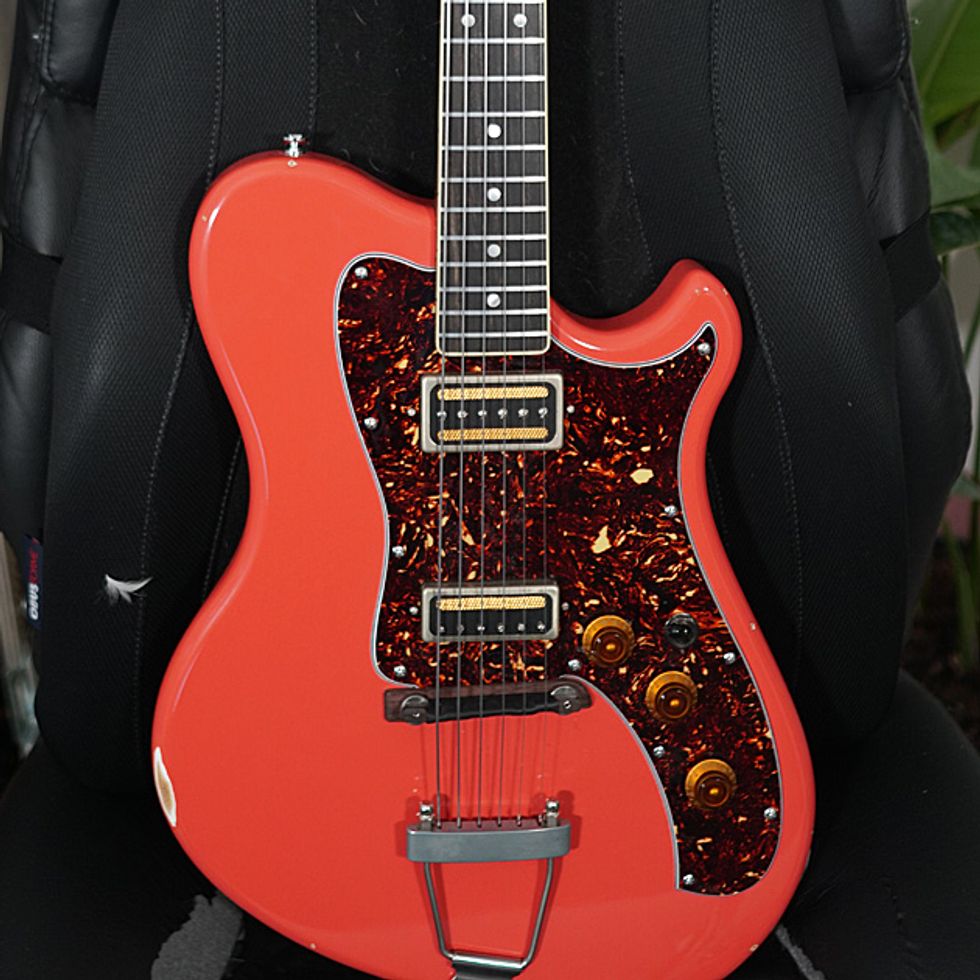 Easily the wonkiest guitar in Posen's collection is this custom ride created by Dahlberg Intruments. The body is based on their standard Crusader model, but the rest is unique to Ariel. Its fiesta red body is made from swamp ash, it has a walnut neck, a fretless ebony fretboard with aluminum fret markers, custom Lücking gold-foil pickups, and a rubber-coated floating wooden bridge.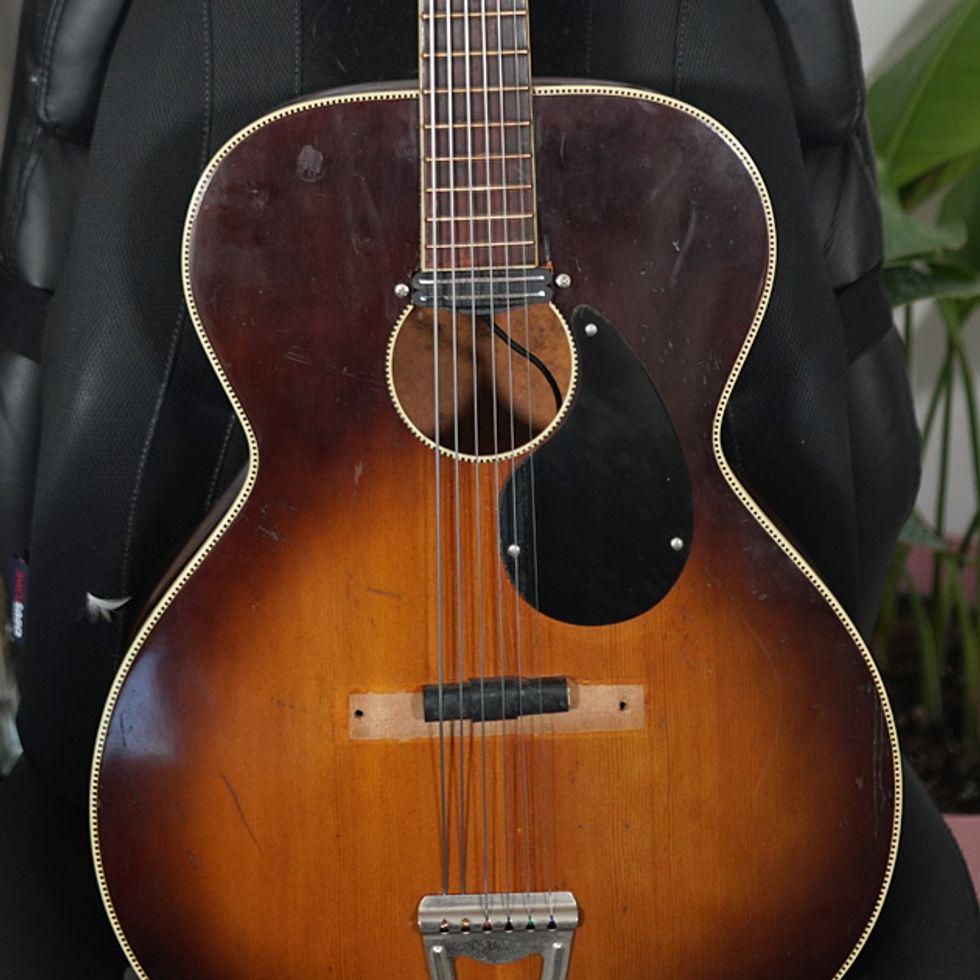 On the surface, this looks like a junky '50s Kay. And while you're not entirely wrong, the guitar is quite playable and has a character all its own thanks to being fully refurbished (completely with a Seymour Duncan Hot Rails in the soundhole) by luthier Reuben Cox of L.A.'s Old Style Guitar Shop.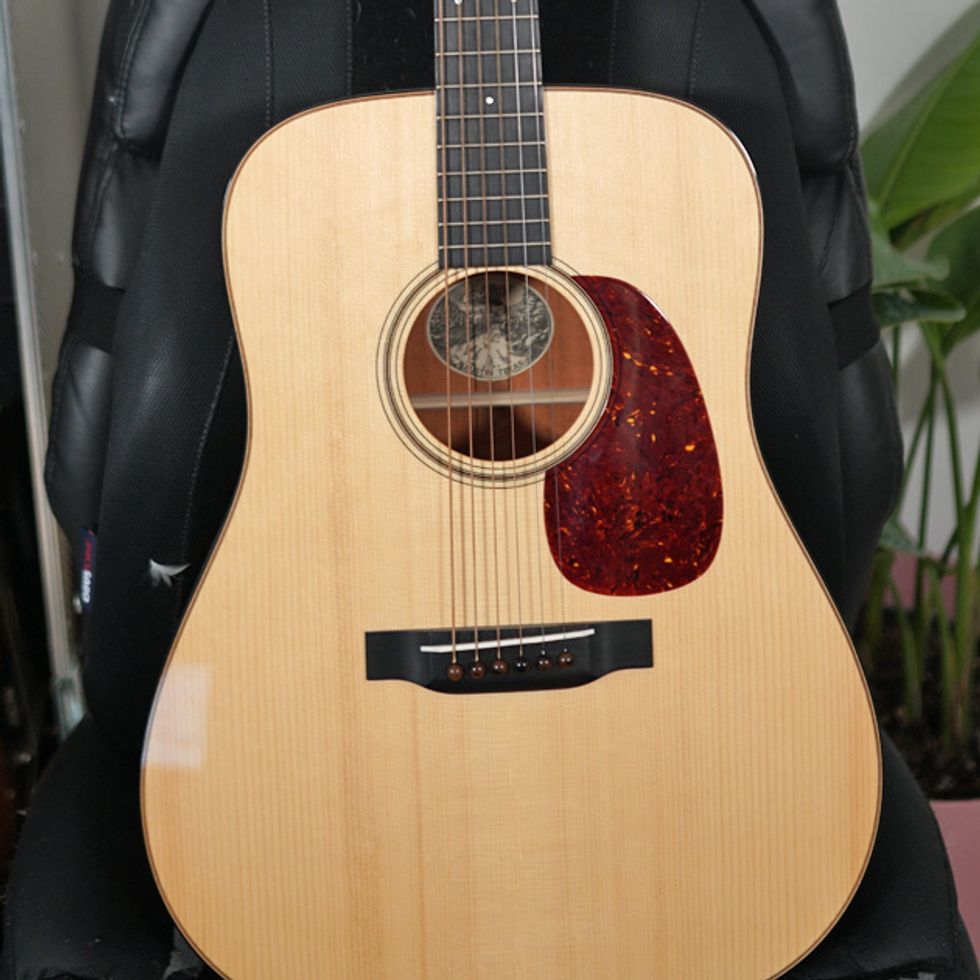 Posen's favorite style of acoustic is a dreadnought. His prized Martin D-28 rests back home in Winnipeg, but during quarantine he's been bonding with this Collings D1 T that's seen work during recent recording projects.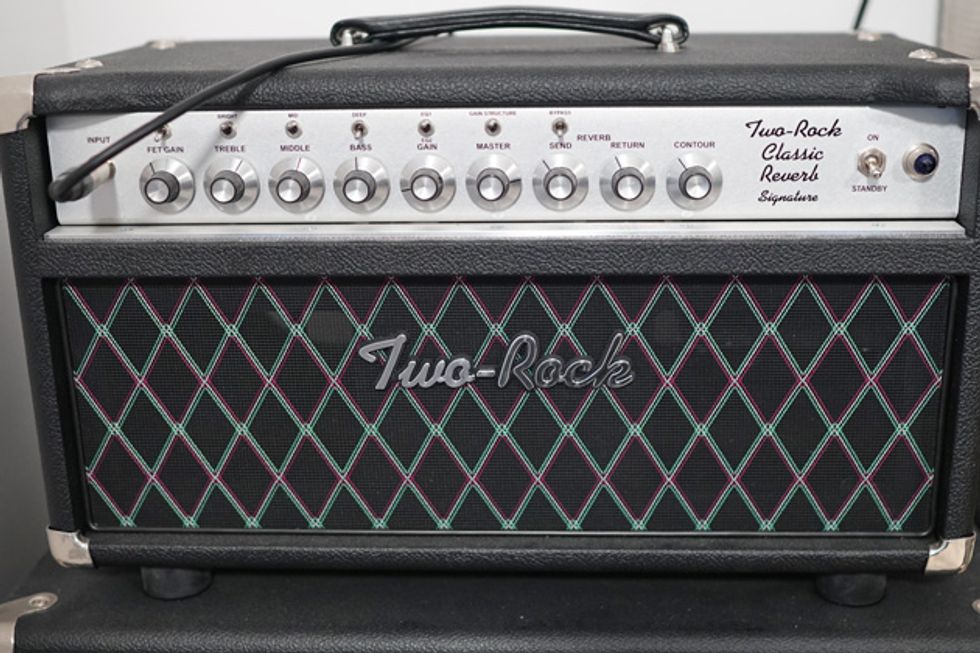 If you've caught Ariel onstage, you've probably seen him plug into a Two-Rock. For the recording purposes of this Rundown, he fired up his Classic Reverb and routed it into the Universal Audio Ox Load Box.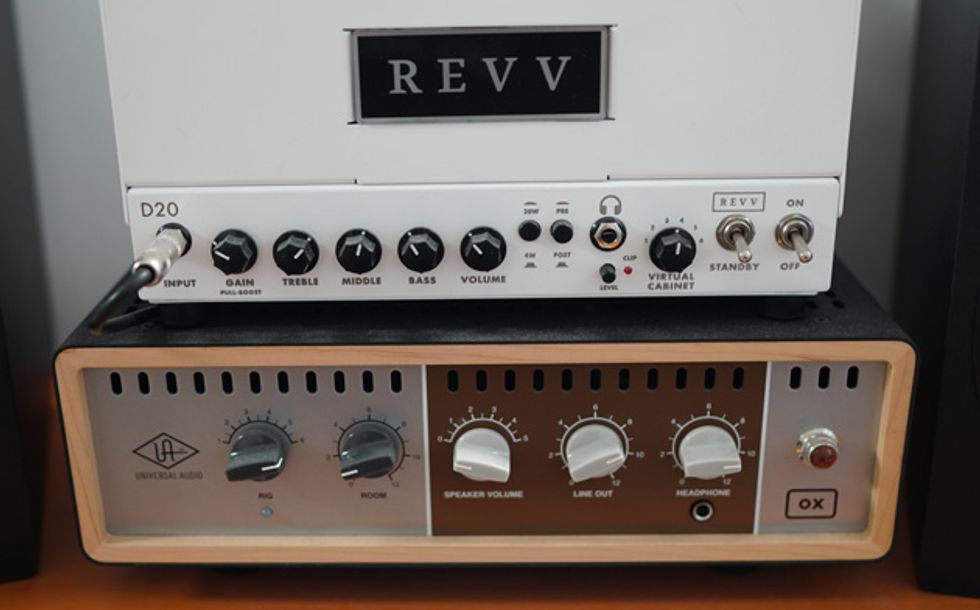 Another tone machine used during the pandemic is Posen's Revv D20 (sitting on top of the aforementioned UA Ox Box).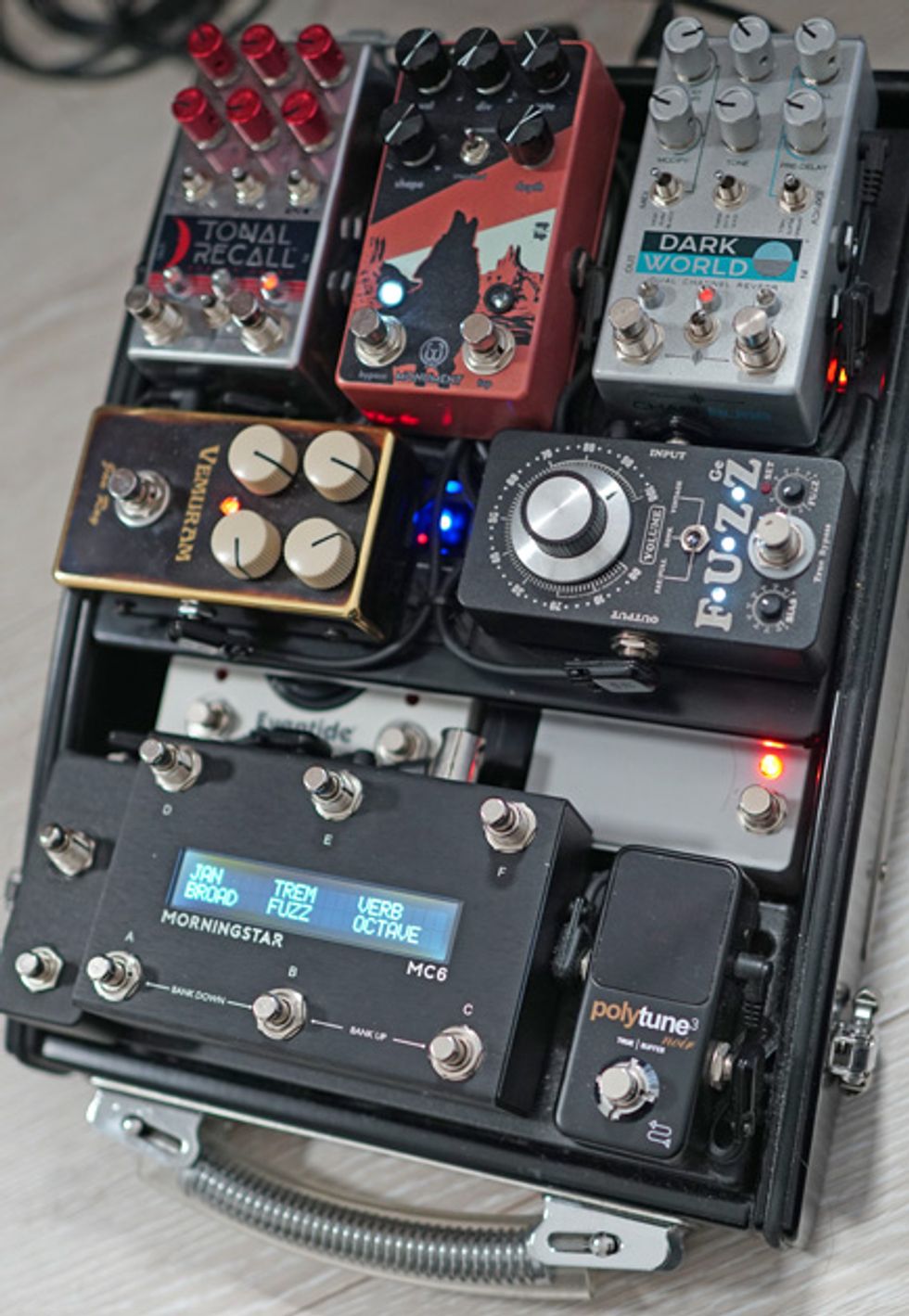 Posen toured with this setup for over a year before everything shut down. In the Rundown he mentions that he uses it quite a bit for sessions, proving to be flexible while compacted into a travel-friendly package.
Starting at the top left, you have a Chase Bliss Tonal Recall, Walrus Audio Monument, and a Chase Bliss Dark World. Down below that he has a Vemuram Jan Ray overdrive and a KingTone Germanium miniFUZZ. And the bottom row he has a Morningstar FX MC6 MIDI Controller and a TC Electronic PolyTune3 Mini Noir.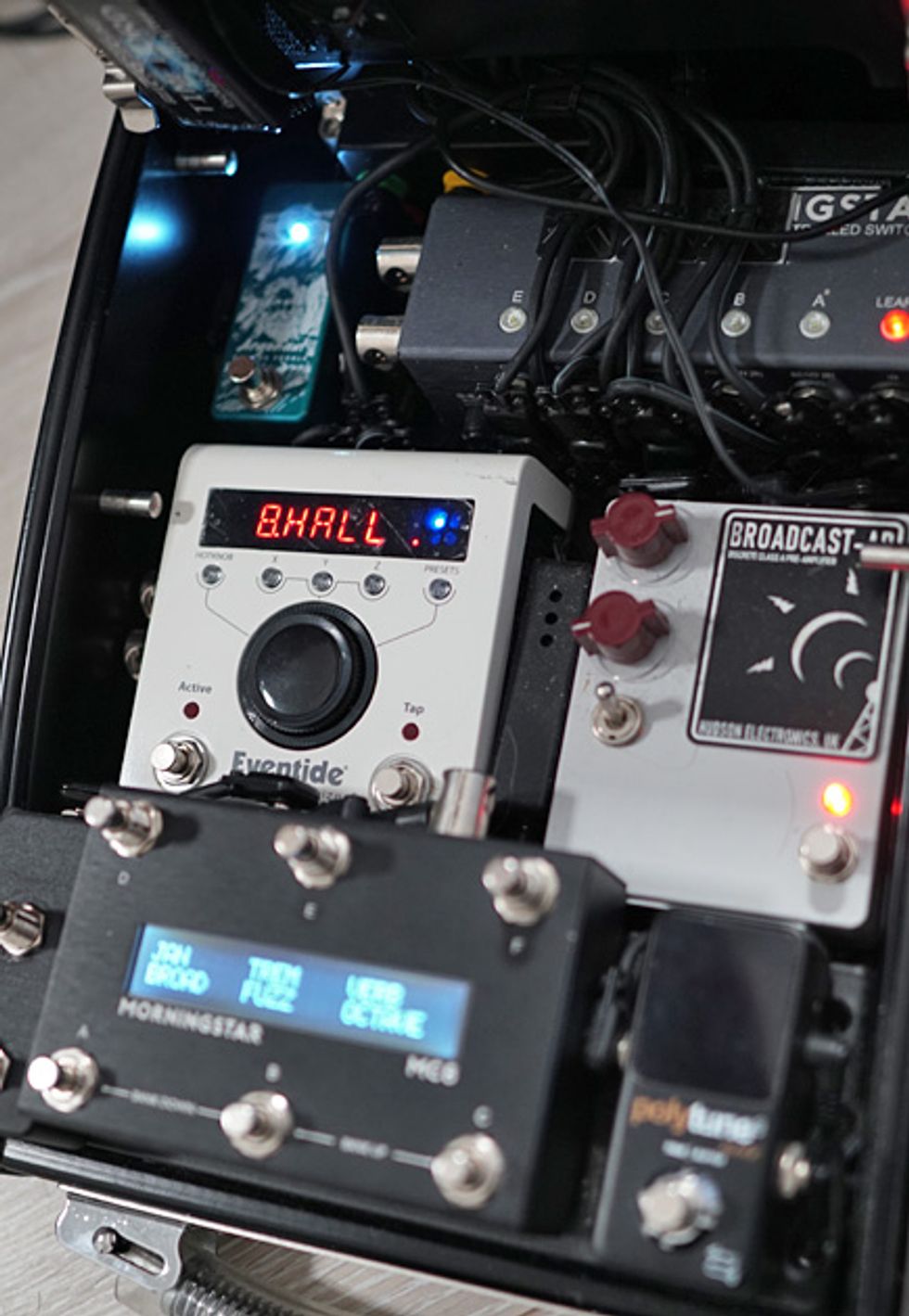 But wait … there's more!! Underneath the top two rows sits a trio of stomps—a Mythos Pedals' Argonaut Mini Octave Up, Eventide H9, and Ariel's signature Hudson Electronics Broadcast AP that he leaves on all the time (cleaning up with his guitar's volume knob).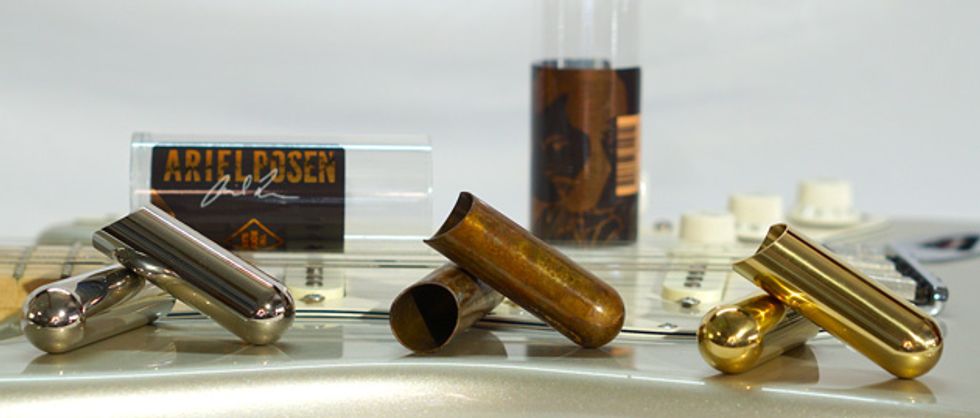 Another big piece of the tonal pie for Posen is using his signature brass Rock Slide. He worked alongside Rock Slide's Danny Songhurst to develop his namesake slide that features a round-tip end that helps Posen avoid dead spots or unwanted scratching. While he prefers polished brash, you can see about that it's also available in a nickel-plated finish and an aged brass.
Hear how Ariel Posen communicates a 12-bar blues harmony through smart note choices.