Unless you're in a high-profile band, there's a good chance you're on a budget when you're shopping for a new amp. Here's a sampler of affordable rigs for low-enders that offer a surprising amount of tone, output, and options for their price.
Working bass players have two great things going for them: They're bass players and they're working. The downside is that the per-gig pay may not be able to buy that retirement cabin in Gatlinburg. You know what? It doesn't matter. Free hot wings and small stages be damned. We want to perform and be heard, and for that we need some amplification. Luckily, today there are lots of low-cost, powerful options available.
Combo bass amps are a fantastic option for working players looking for a balance of price, features, and portability. With class-D technology, today's combo amps are much lighter and more powerful than in years past, and while we may miss the vibe a tube amp can bring, modern alternatives come closer to their feel and saturation than ever. Designers are keeping players in mind by also offering useful features such as aux inputs and headphone jacks, to make their amps a great option from practice to rehearsal to gig. Are you in NYC and need something small and lightweight for the subway commute to the Bitter End? Is there a guitar player pushing you to be louder? Do you need switchable overdrive? How about the typical size of your gigs? Coffee shops mean less wattage (trust me on this!), but maybe you need an extension cabinet in case you are hitting some small festivals this summer. There is a lot to consider when choosing a modern combo bass amp—and this story doesn't cover all that's available—but now let's look at some practical, affordable, and highly playable options.
The Rocket Bass RB-210 from Ampeg is a lightweight, easy-to-use, class-D amp. The little powerhouse has two 10" custom Lavoce speakers, a high-frequency horn, and 500 watts. The RB-210 weighs in at just under 40 pounds, which makes the lower back happy during load out at the end of a long gig. If you feel nostalgic for Ampeg's signature big-brother amp, the classic SVT, the Rocket Bass features Ampeg's switchable Super Grit Technology (SGT), designed to add the dirt of a full SVT rig to the bass signal. SGT's two dials allow the dirt to be piled on or peeled back and for volume adjustments of the overall sound level of the SGT circuit. You can really drive the rig hard without dealing with the refrigerator-like mass and weight of the original SVTs. Ampeg's Legacy preamp is onboard, as well as their standard ultra-hi and ultra-lo switches to boost the 3-band EQ. This combo also has a 1/4" speaker out (rated 250 watts at 8 ohms), which makes the Rocket Bass a suitable option for those needing the air-moving flexibility of an extension cabinet for bigger gigs. The 1/8" aux in and 1/8" headphone out makes this a great practice amp as well. Vintage Ampeg grille cloth and knobs rounds out the design with a touch of old-school style, all at $649 street. Ampeg.com
Here's a punchy option from the company bearing the name of the man who changed the bass forever. We all know about Fender's basses, and they have been making amps to complement their instruments for almost as long. But the Rumble series is relatively new, having been introduced in 2018. They bring a lot of options in vintage-inspired housing and user-friendly design. There's big wattage available from the aptly named Rumble 500 ($649 street): 350 watts internal, bumped up to 500 at 4 ohms by adding an external cab. Two 10" Eminence speakers drive this train. This amp was designed for gigs of any size—although its 19" x 4" footprint might challenge some coffeehouse stages—and with another Rumble extension cabinet (a 2x10 streets for $499), it could grow enough for pretty much any stage.
The bevy of features in the Fender Rumble 500 will also help cover just about any situation. Like all Rumbles, it has three EQ voicings (bright, contour, and vintage) built in, which makes quick work of getting good tone. The switchable onboard OD has drive and level controls, with a button for on/off. The compression horn also has an on/off switch, which is a nice feature for the discerning player, and there is a dedicated XLR out for front-of-house. There is also an 1/8" headphone jack for practicings, and like Fender's Tone Master guitar amp series, it's a lightweight heavyweight, clocking in at 35 1/2 pounds. Fender.com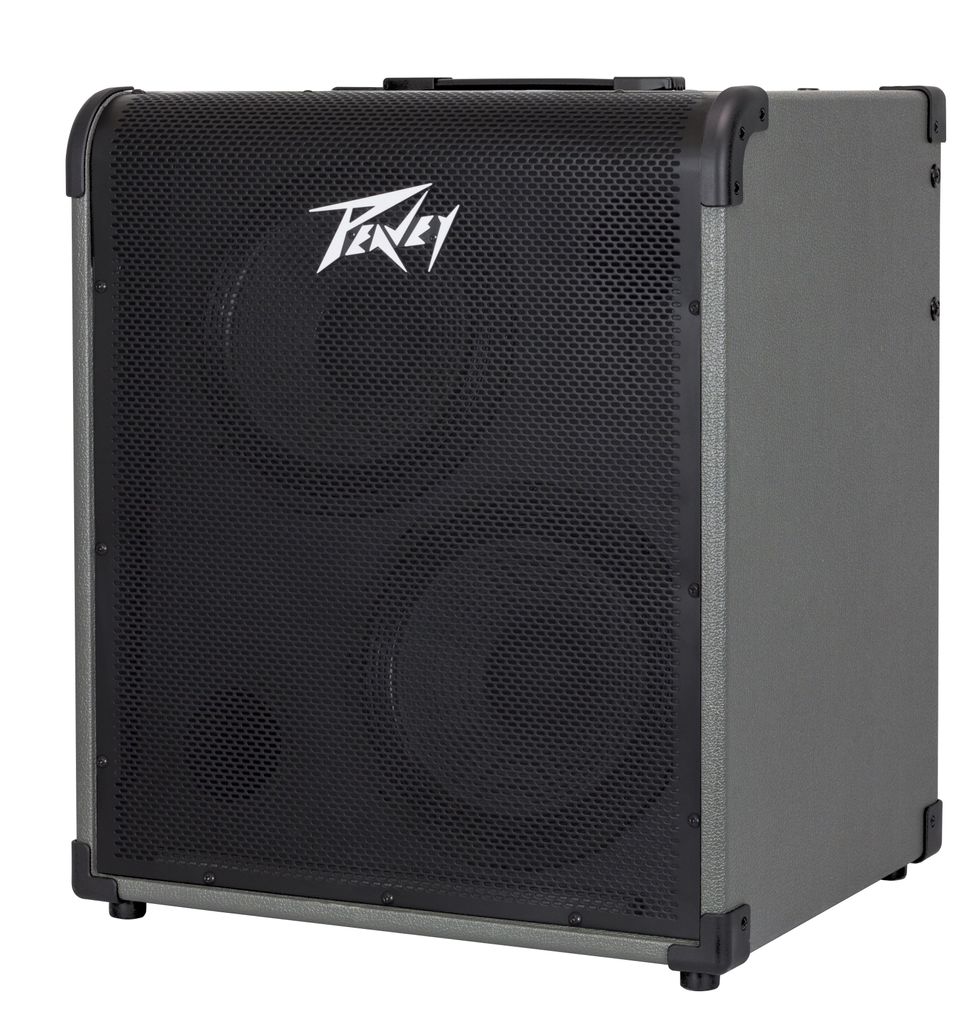 Peavey's MAX series delivers a lot of punch for the money. The MAX 300 is a 300-watt combo with two premium 10" speakers and Peavey's clip-limiting DDT speaker protection technology, which guards the speakers from high-output damage and breakup. The MAX uses Peavey's switchable KOMOS-C low-end enhancement, which enhances harmonics and subharmonics to add tonal character. The enclosures are also tuned and ported. Keeping with our "working bassists" theme, the MAX has an 1/8" aux in and 1/8" headphone out, making this a suitable practice and media option, and has a built-in chromatic tuner with a mute switch, which means one less pedal you have to worry about bringing to the gig.
The tone-shaping section of the MAX has useful options onboard as well. The EQ has low, mid, hi +/-15 controls, as well as a switchable onboard overdrive called TransTube technology. This technology emulates the sound of tube saturation and warmth, pre-gain. You can also use the panel switches to control the contour (mid scoop), the mid shift, and the brightness of your bass signal. The MAX is also constructed with an angled baffle design, which eliminates the need to tilt back your bass amp to better hear it. At $549 street, the MAX weighs in at just under 58 pounds, so bring a roller cart for load out. Peavey.com
Hartke's contribution to the lightweight combo world, at $649 street, is the HD500, a 500-watt class-D amp with a load of features built into its portable frame. The 3-band EQ has +/-15 for each control, giving the player a wide range of options out of the gate. The secret sauce in the EQ section is the shape control, which works a sweepable 20 dB notch filter that allows application from 900 Hz to 100 Hz. This control is switchable.
Several decades ago, the introduction of the all-aluminum Hartke bass speaker turned the bass world on its ear. More recently, Hartke moved the needle yet again with a hybrid speaker, called the HyDrive. The HyDrive series of speakers are constructed of a paper cone on the outer edge for deep frequencies and an aluminum cone on the inside for advanced mid and high projection. The two 10" HyDrive speakers provide the HD500 with rich, resonant tones.
The HD500 also has practical features that working bass players may need. First, the amp weighs in at 35 pounds, which makes it easy for the drummer to carry. The XLR DI keeps setup easy, and the effects loop and 1/8" aux input can help connect all the toys needed for the gig. With a 1/4" headphone out, the HD500 can also be a great practice option. Other assets: a rugged perforated-steel grille and a top-carry strap.
Hartke.com
Blackstar was founded by former Marshall employees, so you know there's power and crunch at the heart of their aesthetics. Also from the 15" speaker camp, the Blackstar Unity Bass U250 has its own impressive qualities. They are engineered with versatility in mind, so they have plenty of virtues. Like what? Well, there's 250 watts ripping through three selectable power-amp stages—classic, modern, and flat. Chorus and suboctave effects are built in. Dirt also gets its due, with controllable OD, distortion, and fuzz options. The speaker is an Eminence Opus, and there are three preamp voicings—classic, modern, and flat—as well as an effects loop. If you're looking for a bigger sonic wallop, there's an integrated link for a sister-powered cabinet. That's the Unity U250ACT, which adds an extra 250 watts of power. The U250 also has a 10 dB pad, to best accommodate active and passive instruments. Once again, the goal is a ton of flexibility, but the U250 weighs considerably less than that, at just under 49 pounds. The street tag? It's $619. Blackstaramps.com
First came the 200-watt ELF head, which packed a lot of low-end into a box small enough to ride in a backpack. Its successor, the ELF combo, is also light, at 18 pounds, with a 1x10 speaker that is surprisingly beefy for its size and solo standing. This 200-watter has gain (with a single level LED), tone, and volume knobs, with a 3-band EQ—all along the top—and there's a 1/4" jack for input and a headphone/line out. In the back, there's an XLR line out and an additional speaker output. It's built for rich and articulate modern bass sounds, but can cover the waterfront handily. With an external cab, it can go toe-to-toe with much weightier amps. P.S.: There's a ground lift with the XLR DI out, too. Simple? Effective? You bet. And it fits our affordability profile at $599 street. Traceelliot.com
At $459 street, the Bugera BXD15A is a bargain that's designed to compete with the combos of more established amp builders in terms of tone, reliability and price. It's a 1,000-watt class-D combo—yes, you read that correctly—blending power and portability. Loaded with a 15" aluminum-cone speaker designed by Turbosound, the combination of woof and high-end brilliance projects. But if you're impressed by the power and air being moved onstage, just wait—there's more. Bugera has installed a lot of tone shaping controls. The company uses Gryrator circuitry for tube-inspired tone. The 3-band EQ becomes very flexible quickly, thanks to a selectable mid-frequency switch that provides five options. There are also bass and treble boost switches to get exactly the tone sought. The studio-grade compressor on the BXD15A brings a transparent, smoothing effect to peaks in your playing. There is also a feature called the Dynamizer, which splits the signal into two separate paths, compressing one and leaving the other clean.The result is a punchy yet natural tone. And there is a mute switch, an effects loop, and a footswitch control. Plus, the BXD15A weighs just under 48 pounds. Bugera-amps.com
Acoustic Control's combo series applies features found on larger amps to a smaller scale. The B600C, like all Acoustic combos, has a tilt-back design, which allows players to use the amp like a monitor or a traditional upright amp. The 600C has a formidable 420 watts as a standalone, and hits 600 watts (at 4 ohms) by adding an extension cabinet. This amp is loaded with two 10" custom low-frequency drivers and a piezo horn tweeter.
Tone control is king on this combo. There is a 6-band EQ with an on/off switch, as well as separate low and high EQ controls, with extended super-hi and super-lo switches for top and bottom boosting. With the onboard notch filter, the user has a switchable option to help dial in midrange tones. Need some overdrive on your signal? Acoustic has you covered there, too, with a blendable overdrive circuit that's footswitch-controlled for the right amount of dirt. Need that signal squashed a little? Don't sweat. There is also onboard switchable compression, which can help smooth out all the tone alternatives built into this amp. The amp also has a mute switch and -10 dB pad for active basses. There is an effects loop, 1/8" headphone, and 1/8" aux jacks for practice/interface options. The XLR DI will make sound engineers happy with a selectable pre/post control, a level control, and a ground lift. The Acoustic 600C comes in a little heavier on the bathroom scale than most amps in this guide, at 68 pounds. However, the added features may be worth the lifting if you are seeking an amp with a lot of power and pro adaptability. The street price is $599. Acousticcontrolcorp.com
Eastman''s affordable jazzbox puts ES-175 style in the hands of jazzers and rockers alike for under $800.
Until fairly recently, jazzers had few options for affordable, high-quality guitars. But Eastman—which started out in the early 1990s as a maker of violin-family instruments—now offers a range of jazz boxes that deliver nice playability and tones at relatively accessible prices. As Eastman's line has grown, it has developed guitars for just about every style, from traditional, fully carved 17" archtops for an old-school sound to compact, laminated thinline electrics for those who align more with, say, Larry Carlton's take on the genre. For this review, we checked out the AR371CESB, an Eastman heavily inspired by the Gibson ES-175, which has been favored by jazz players and a few notable rockers over the years. Like the guitar that serves as this Eastman's template, it has tones rich and varied enough to tantalize both types of players—and at a price that will tempt a lot of players who've rarely considered a big archtop experiment worth the price.
Classic Lines
Unveiled in 1949, Gibson's ES-175 has been a jazz workhorse for years, preferred by improvisers like Jim Hall, Joe Pass, and Pat Metheny, and virtuosic rockers like Steve Howe and Mark Knopfler. The model has gone through a lot of pickup changes over its lifetime, including single- and twin-P-90 versions, as well as and single- and twin-humbucker incarnations. The 24 3/4"-scale Eastman AR371CESB uses a single humbucker in the neck position of its 16" laminated maple body, which also features a florentine cutaway that meets up with a 20-fret rosewood fretboard inlaid with split parallelogram markers—all of which is very Gibson-esque. The Eastman does deviate from convention on several important counts, however. It uses a 3-piece maple neck with a 1.75" nut rather than the traditional one-piece mahogany neck with a 1.687" nut. The Eastman also uses 5-ply binding on the top and 3-ply binding on the back, whereas the ES-175 has 3-ply on both.
And no matter the technical demands, the guitar is uncommonly playable and truly a joy to handle.

As seems to be typical of Eastman instruments, craftsmanship on the Chinese-built AR371CESB is quite good overall, though it's not entirely without issues. The Dunlop 6130 fretwire is smoothly polished and free of rough ends, the nitrocellulose lacquer finish is applied evenly (except at the neck joint, where it gets a bit thick), and the sunburst finish has a cool vintage vibe. But there are areas where the binding could have been more cleanly scraped, and on the back of the headstock a bit of finish chipped off near the 1st-string tuner, which might have been installed too tightly. About the only other disappointment is the hardshell case, which has a relatively flimsy-feeling lid and an under-padded interior. As nice as this guitar is, a gigging guitarist would be wise to swap this case for a more durable option.
Excellent Playability and Sound
When I first lifted the Eastman from its case, my disappointments about its container dis-appeared upon discovering how refreshingly lightweight the guitar is. I strummed a few open chords and found the guitar to be very loud and lively for a laminated electric archtop. It's also unexpectedly and appealingly bright, with an impressive capacity for midrange.
Ratings
Pros:
Top-notch sound and playability. Classic, handsome look.
Cons:
Finer craftsmanship details could be better.
Tones:


Playability:


Build/Design:


Value:



Street:
$780
Eastman Guitars
eastmanguitars.com
The neck is on the slender side, but the wider nut gives you room to range, and the fast, low action enables execution of sustaining single notes, deep bends, and complex chord shapes up to the 20th fret and across all six strings. Intonation on our review guitar was spot-on and there were no dead areas on the neck, and when I played uninterrupted for a half hour I didn't experience any of the fret-hand fatigue I often encounter on a 1940s archtop.
With just one pickup, it's perhaps unsurprising that the AR371CESB doesn't pack a staggering assortment of tones, but it is an excellent-sounding guitar nonetheless. Through a Fender Pro Junior, it sounded full, articulate, and—unlike some guitars in this category—not muddy in the slightest. While the guitar's inherent brightness adds welcome definition to single-note lines and complex chords, it can be easily deemphasized with the tone knob, which, works very smoothly and has real range. The guitar is also surprisingly resistant to feedback. I had to turn the amp over halfway up before it started to exhibit any real propensity for squealing.
Happy in a wide range of jazz approaches, the AR371CESB lends an authentic voice to everything from Freddie Green-style strumming to Jim Hall legato lines and Derek Bailey-inspired free improv. Naturally, selections from the classic Yes catalog also sound great on the guitar. And no matter the technical demands, the guitar is uncommonly play-able and truly a joy to handle.
The Verdict
The Eastman AR371CESB might look like a Gibson ES-175 clone, but it's a great guitar in its own right. It's lighter and louder than the average hollowbody electric, plays like a dream, and has a rich, complex sound that will satisfy the staunchest jazz purist and the most adventurous rocker alike. Best of all, with a price tag under $800, it's a value that's nearly impossible to beat.
One of their most recent offerings, the Meaden bass (named after '60s British mod icon Peter Meaden), is a fine example of familiar, new, and vintage—all rolled into one.
The term "doctor/lawyer instrument" is often used to describe a bass or guitar sporting a price tag that only a doctor or lawyer could afford without prompting massive overdraft fees, calls from debtors, and possibly threats of bodily harm (or worse) from significant others. In other words, they're effectively out of reach for the average working musician. It might follow logically that a doctor who designs and produces instruments himself would put out similarly impractical instruments, but in the case of Nashville's Waterstone Guitars and Dr. Robert J. Singer, M.D., the results are quality instruments at a relatively affordable price.
Waterstone was born out of passion and a simple idea. Armed with a pencil and butcher paper at his kitchen table, Singer (an avid guitar collector with roughly 85 in his personal collection) began sketching what would become the first designs for Waterstone—the culmination of his lifelong interest in music, art, design, and, of course, guitars. The young company's instruments have already found their way into the hands of artists such as Cheap Trick's Tom Petersson, Vince Gill, and Alan Jackson. One of their most recent offerings, the Meaden bass (named after '60s British mod icon Peter Meaden), is a fine example of familiar, new, and vintage—all rolled into one. Here we take a look at the fretless Meaden FL.
Mod and Proud
Despite what I said above, the Meaden is, dare I say, an elegant bass. When first inspecting it after opening the huge case (storing it in an overhead compartment is not going to happen), I was struck by its classic look. The teardrop soundhole opposite the eye-catching gold pickguard gives it a sleek, Euro feel. I would have preferred chicken-head or more vintage-styled knobs, given the Meaden's old-school vibe, but that's an easy aftermarket fix for purists. The off-white body, neck, and headstock binding has a checkerboard pattern similar to the trim on a London policeman's hat and, while the look of the bridge and tailpiece takes you back 50 years, the setup felt solid and reliable—unlike back in the day when similar-style bridges felt like they were going to fling off the instrument with any degree of aggressive play.
The body and neck of the Meaden are both constructed from maple, and the size of the instrument echoes the dimensions of other hollowbody basses of the past. So if you're a fan of that, it'll fall right in your wheelhouse. Our review model was finished in stunning high-gloss black, but I should add that I noticed a small splattering of paint when I gazed in the soundhole. Though disappointing, it had no effect on playability or tone.
If you're an experienced fretless player and aren't intimidated by the idea of taking only a fretless bass to your next cover gig, the tones from the Meaden FL could probably carry the whole load.

Gliss and That
For a larger-bodied bass, the Meaden FL felt very comfortable in sitting position. But, like many hollowbody basses of this style, there was some neck diving once I stood and wore the bass on a strap.
The set neck is finished to match the body, so fretless players looking for a natural-wood, pseudo-upright feel are going to miss that. It shouldn't be a deal breaker, however, and as I got to know the instrument a bit more while playing unplugged, the neck actually began to feel more "mature." The unplugged tones sang with the swell and resonance of a classic fretless, although the growl sounded slightly midrange-y.
Ratings
Pros:
Budget-friendly entrance to the fretless world. Nice
playability. Classy tones. Great looks.
Cons:
Factory setup was a bit sloppy.
Tones:


Playability/Ease of Use:


Build/Design:


Value:


Street:
$679
Company
waterstoneguitars.com
To test the plugged-in tones, I ran the Meaden through an Eden WT550 Traveler head and 610XLT cabinet. Right out of the gate, I was impressed with the deep, lush tones of the passive humbuckers. I love that Waterstone stayed away from getting cute with a piezo or active pickups. As I dug in, the 32"-scale rosewood fingerboard felt even and smooth up until the 12th fret, but from there on up the neck humbucker interfered with the 4th string, thus stifling efforts to unleash my inner Michael Manring. At that point, I lowered the pickup with a couple of turns of a Phillips screwdriver and was soon back in business.
With the 3-way pickup selector in the middle position, the Meaden FL's tone was slightly throaty—true to its hollow nature—but it was also rich and smooth, without being bite-y in the upper registers. I got a more traditional fretless sound by switching to the bridge pickup, which had more presence without being overbearing. For soloing, this is your setting. And by switching to the neck pickup only, I got a deeper, slightly more aggressive kick that would be apt for a variety of rock settings. If you're an experienced fretless player and aren't intimidated by the idea of taking only a fretless bass to your next cover gig, the tones from the Meaden FL could probably carry the whole load.
The Verdict
By introducing a fretless version of the Meaden, Dr. Singer and his team have made a budget-friendly bass with a '60s vibe even cooler. Waterstone Guitars may be a small company, but it has some big ideas. The Meaden FL exemplifies how Waterstone gives stylistic nods to the past while keeping a keen eye to the future. To that end, the FL is a classy, nicely toned, functional tool that constitutes an affordable entry into the world of fretless. Whether or not you were around in the '60s, this bass will afford you the opportunity to pull on your winklepickers and slide around on a bass that, playability-wise, competes with other fretless basses in this price range, but could probably win out just by sitting there and looking so hip. Then again, wasn't that what the mod movement was all about?