Bass Combos for Under $700
Unless you're in a high-profile band, there's a good chance you're on a budget when you're shopping for a new amp. Here's a sampler of affordable rigs for low-enders that offer a surprising amount of tone, output, and options for their price.
Working bass players have two great things going for them: They're bass players and they're working. The downside is that the per-gig pay may not be able to buy that retirement cabin in Gatlinburg. You know what? It doesn't matter. Free hot wings and small stages be damned. We want to perform and be heard, and for that we need some amplification. Luckily, today there are lots of low-cost, powerful options available.
---
Combo bass amps are a fantastic option for working players looking for a balance of price, features, and portability. With class-D technology, today's combo amps are much lighter and more powerful than in years past, and while we may miss the vibe a tube amp can bring, modern alternatives come closer to their feel and saturation than ever. Designers are keeping players in mind by also offering useful features such as aux inputs and headphone jacks, to make their amps a great option from practice to rehearsal to gig. Are you in NYC and need something small and lightweight for the subway commute to the Bitter End? Is there a guitar player pushing you to be louder? Do you need switchable overdrive? How about the typical size of your gigs? Coffee shops mean less wattage (trust me on this!), but maybe you need an extension cabinet in case you are hitting some small festivals this summer. There is a lot to consider when choosing a modern combo bass amp—and this story doesn't cover all that's available—but now let's look at some practical, affordable, and highly playable options.
The Rocket Bass RB-210 from Ampeg is a lightweight, easy-to-use, class-D amp. The little powerhouse has two 10" custom Lavoce speakers, a high-frequency horn, and 500 watts. The RB-210 weighs in at just under 40 pounds, which makes the lower back happy during load out at the end of a long gig. If you feel nostalgic for Ampeg's signature big-brother amp, the classic SVT, the Rocket Bass features Ampeg's switchable Super Grit Technology (SGT), designed to add the dirt of a full SVT rig to the bass signal. SGT's two dials allow the dirt to be piled on or peeled back and for volume adjustments of the overall sound level of the SGT circuit. You can really drive the rig hard without dealing with the refrigerator-like mass and weight of the original SVTs. Ampeg's Legacy preamp is onboard, as well as their standard ultra-hi and ultra-lo switches to boost the 3-band EQ. This combo also has a 1/4" speaker out (rated 250 watts at 8 ohms), which makes the Rocket Bass a suitable option for those needing the air-moving flexibility of an extension cabinet for bigger gigs. The 1/8" aux in and 1/8" headphone out makes this a great practice amp as well. Vintage Ampeg grille cloth and knobs rounds out the design with a touch of old-school style, all at $649 street. Ampeg.com
Here's a punchy option from the company bearing the name of the man who changed the bass forever. We all know about Fender's basses, and they have been making amps to complement their instruments for almost as long. But the Rumble series is relatively new, having been introduced in 2018. They bring a lot of options in vintage-inspired housing and user-friendly design. There's big wattage available from the aptly named Rumble 500 ($649 street): 350 watts internal, bumped up to 500 at 4 ohms by adding an external cab. Two 10" Eminence speakers drive this train. This amp was designed for gigs of any size—although its 19" x 4" footprint might challenge some coffeehouse stages—and with another Rumble extension cabinet (a 2x10 streets for $499), it could grow enough for pretty much any stage.
The bevy of features in the Fender Rumble 500 will also help cover just about any situation. Like all Rumbles, it has three EQ voicings (bright, contour, and vintage) built in, which makes quick work of getting good tone. The switchable onboard OD has drive and level controls, with a button for on/off. The compression horn also has an on/off switch, which is a nice feature for the discerning player, and there is a dedicated XLR out for front-of-house. There is also an 1/8" headphone jack for practicings, and like Fender's Tone Master guitar amp series, it's a lightweight heavyweight, clocking in at 35 1/2 pounds. Fender.com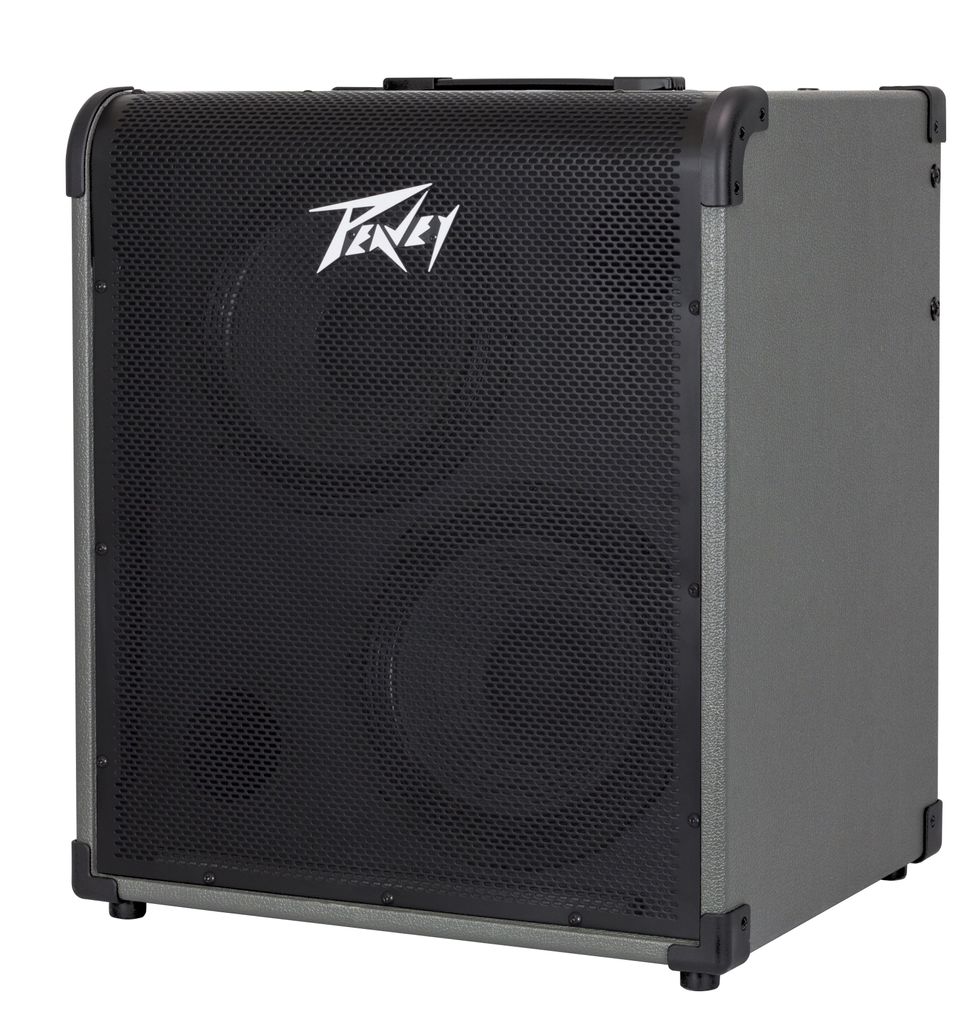 Peavey's MAX series delivers a lot of punch for the money. The MAX 300 is a 300-watt combo with two premium 10" speakers and Peavey's clip-limiting DDT speaker protection technology, which guards the speakers from high-output damage and breakup. The MAX uses Peavey's switchable KOMOS-C low-end enhancement, which enhances harmonics and subharmonics to add tonal character. The enclosures are also tuned and ported. Keeping with our "working bassists" theme, the MAX has an 1/8" aux in and 1/8" headphone out, making this a suitable practice and media option, and has a built-in chromatic tuner with a mute switch, which means one less pedal you have to worry about bringing to the gig.
The tone-shaping section of the MAX has useful options onboard as well. The EQ has low, mid, hi +/-15 controls, as well as a switchable onboard overdrive called TransTube technology. This technology emulates the sound of tube saturation and warmth, pre-gain. You can also use the panel switches to control the contour (mid scoop), the mid shift, and the brightness of your bass signal. The MAX is also constructed with an angled baffle design, which eliminates the need to tilt back your bass amp to better hear it. At $549 street, the MAX weighs in at just under 58 pounds, so bring a roller cart for load out. Peavey.com
Hartke's contribution to the lightweight combo world, at $649 street, is the HD500, a 500-watt class-D amp with a load of features built into its portable frame. The 3-band EQ has +/-15 for each control, giving the player a wide range of options out of the gate. The secret sauce in the EQ section is the shape control, which works a sweepable 20 dB notch filter that allows application from 900 Hz to 100 Hz. This control is switchable.
Several decades ago, the introduction of the all-aluminum Hartke bass speaker turned the bass world on its ear. More recently, Hartke moved the needle yet again with a hybrid speaker, called the HyDrive. The HyDrive series of speakers are constructed of a paper cone on the outer edge for deep frequencies and an aluminum cone on the inside for advanced mid and high projection. The two 10" HyDrive speakers provide the HD500 with rich, resonant tones.
The HD500 also has practical features that working bass players may need. First, the amp weighs in at 35 pounds, which makes it easy for the drummer to carry. The XLR DI keeps setup easy, and the effects loop and 1/8" aux input can help connect all the toys needed for the gig. With a 1/4" headphone out, the HD500 can also be a great practice option. Other assets: a rugged perforated-steel grille and a top-carry strap.
Hartke.com
Blackstar was founded by former Marshall employees, so you know there's power and crunch at the heart of their aesthetics. Also from the 15" speaker camp, the Blackstar Unity Bass U250 has its own impressive qualities. They are engineered with versatility in mind, so they have plenty of virtues. Like what? Well, there's 250 watts ripping through three selectable power-amp stages—classic, modern, and flat. Chorus and suboctave effects are built in. Dirt also gets its due, with controllable OD, distortion, and fuzz options. The speaker is an Eminence Opus, and there are three preamp voicings—classic, modern, and flat—as well as an effects loop. If you're looking for a bigger sonic wallop, there's an integrated link for a sister-powered cabinet. That's the Unity U250ACT, which adds an extra 250 watts of power. The U250 also has a 10 dB pad, to best accommodate active and passive instruments. Once again, the goal is a ton of flexibility, but the U250 weighs considerably less than that, at just under 49 pounds. The street tag? It's $619. Blackstaramps.com
First came the 200-watt ELF head, which packed a lot of low-end into a box small enough to ride in a backpack. Its successor, the ELF combo, is also light, at 18 pounds, with a 1x10 speaker that is surprisingly beefy for its size and solo standing. This 200-watter has gain (with a single level LED), tone, and volume knobs, with a 3-band EQ—all along the top—and there's a 1/4" jack for input and a headphone/line out. In the back, there's an XLR line out and an additional speaker output. It's built for rich and articulate modern bass sounds, but can cover the waterfront handily. With an external cab, it can go toe-to-toe with much weightier amps. P.S.: There's a ground lift with the XLR DI out, too. Simple? Effective? You bet. And it fits our affordability profile at $599 street. Traceelliot.com
At $459 street, the Bugera BXD15A is a bargain that's designed to compete with the combos of more established amp builders in terms of tone, reliability and price. It's a 1,000-watt class-D combo—yes, you read that correctly—blending power and portability. Loaded with a 15" aluminum-cone speaker designed by Turbosound, the combination of woof and high-end brilliance projects. But if you're impressed by the power and air being moved onstage, just wait—there's more. Bugera has installed a lot of tone shaping controls. The company uses Gryrator circuitry for tube-inspired tone. The 3-band EQ becomes very flexible quickly, thanks to a selectable mid-frequency switch that provides five options. There are also bass and treble boost switches to get exactly the tone sought. The studio-grade compressor on the BXD15A brings a transparent, smoothing effect to peaks in your playing. There is also a feature called the Dynamizer, which splits the signal into two separate paths, compressing one and leaving the other clean.The result is a punchy yet natural tone. And there is a mute switch, an effects loop, and a footswitch control. Plus, the BXD15A weighs just under 48 pounds. Bugera-amps.com
Acoustic Control's combo series applies features found on larger amps to a smaller scale. The B600C, like all Acoustic combos, has a tilt-back design, which allows players to use the amp like a monitor or a traditional upright amp. The 600C has a formidable 420 watts as a standalone, and hits 600 watts (at 4 ohms) by adding an extension cabinet. This amp is loaded with two 10" custom low-frequency drivers and a piezo horn tweeter.
Tone control is king on this combo. There is a 6-band EQ with an on/off switch, as well as separate low and high EQ controls, with extended super-hi and super-lo switches for top and bottom boosting. With the onboard notch filter, the user has a switchable option to help dial in midrange tones. Need some overdrive on your signal? Acoustic has you covered there, too, with a blendable overdrive circuit that's footswitch-controlled for the right amount of dirt. Need that signal squashed a little? Don't sweat. There is also onboard switchable compression, which can help smooth out all the tone alternatives built into this amp. The amp also has a mute switch and -10 dB pad for active basses. There is an effects loop, 1/8" headphone, and 1/8" aux jacks for practice/interface options. The XLR DI will make sound engineers happy with a selectable pre/post control, a level control, and a ground lift. The Acoustic 600C comes in a little heavier on the bathroom scale than most amps in this guide, at 68 pounds. However, the added features may be worth the lifting if you are seeking an amp with a lot of power and pro adaptability. The street price is $599. Acousticcontrolcorp.com