A familiar combo gets a refresh as a stealthy-looking, feature-packed machine.
Amp miked with Shure SM57. Mic into Focusrite Saffire interface and recorded with GarageBand on MacBook Pro.
Clip 1: [Using Fender Elite PJ] Slight cut on bass, slight boost of mid at 250 Hz, treble flat.
Clip 2: [Using Squier Contemporary HH Jazz] EQ flat.
 

Ratings

Pros:

Thoughtful features packed into a rugged, portable package.

Cons:

Some loss of clarity with Kosmos-C low enhancement. Noticeable popping sound when tuning and manipulating switches.

Street:

$349

Peavey Max 150peavey.com

Tones:Ease of Use:Build/Design:Value:
---
For bassists on the go, combos are often the handiest means of amplification. And technological innovations over the years have expanded the functionality of these portable devices into all-in-one tools for both practice and performance. Peavey has a long and successful history in the combo game, and the company has consistently enhanced their offerings with the latest developments. Peavey's Max series amps have undergone many transformations as they've evolved, and the latest iteration has all the signs of being a standout in its lineage. The refreshed series contains various pairings of speakers and power amps in the four models offered, but our focus here is the Max 150, Peavey's 1x12 offering with 150 watts of thumpability.
Peavey Parts
Peavey employs an angled baffle with a "waterfall" grille over the front of the cabinet, which is likely the most noticeable visual difference in the modern Max combos. The shaping was designed for better high-frequency dispersion when the combo is on the floor, and helps eliminate the need to tilt the speaker cabinet.
Peavey's tone-shaping options for the Max 150 combine signature features with a streamlined EQ. Inputs for both active and passive basses will accommodate a variety of pickups. The gain section has overdrive capability via the switch below the gain dial, and, next door, a few spices are added to the 3-band EQ.
Below the bass control is a contour switch, which scoops the EQ by cutting mids and boosting highs and lows. The mid-shift switch adjusts the center frequency for the mids to either 600 Hz or 250 Hz. If your tone requires a little shine, the bright switch delivers a 10 dB boost to frequencies above 1 kHz. Conversely, the Kosmos-C switch (aka booty button) creates a massive amount of low end for the subsonic fan. According to Peavey, this enhancement creates harmonics of signals in the bottom octave, providing a perception of stronger bass.
Practical additions to Peavey's latest expand its versatility. They consist of a chromatic tuner, effects loop, DI, speaker output, footswitch jack, and a pair of mini inputs for headphones and playback devices. There's a lot packed into this under-30-pound package.
Never did the Max 150 feel lacking in the EQ department, since I could temper or beef up the sound as needed.
Take It to the Max
The Max 150 made a great first impression. The strong handle and rugged design instilled confidence it could manage the rigors of working musicians. Historically, I've found the looks of Peavey's products to be hit-or-miss, but the Max 150 gets top marks for its sleek styling and a super-cool grille. In addition to being lightweight, its compact shape made it easy to transport.
I employed a Fender Elite PJ and a Squire Contemporary Active Jazz HH to explore the amp's tones. The combo produced strong midrange definition, thick lows, and smooth highs. Never did the Max 150 feel lacking in the EQ department, since I could temper or beef up the sound as needed. The PJ's voice opened up with a slight boost at 250 Hz and a slight cut in the bass control. On the other hand, Squire's modern zinger really sang with the bright switch engaged, and I found the contour switch to be sonically effective when slapping and popping strings.
Those who dig a little dirt in their tone will likely appreciate the Max 150's distortion capabilities. I was easily able to go from a slight bite to full-on gnash without worrying about damaging the essential components. Thanks to Peavey's proprietary DDT limiter, safe operation is assured when pushing the gain to its—ahem—max. Even if you're not a regular user of distortion, having it available in the combo is a convenient alternative to schlepping a pedal and additional cables for when you do need it.
Strobe tuners are typically my preferred pitch-fixer, but I was happy to find that the onboard chromatic tuner is fast and accurate. After tuning up both basses using the combo's tuner, I plugged them into a Peterson StroboStomp Classic for comparison and found the open strings to be dead-on in tune.
I had a couple of quibbles with Peavey's little monster. While the engaged Kosmos-C does what it's supposed to by producing lots of low end, I felt that bass notes had a tendency to lose clarity and articulation. This function could be great for dub-heavy players, but I found it to be a bit too muddy for some styles. The other concern came when engaging the switches and tuner. The combo emitted a slight yet noticeable pop when pressing and un-pressing the buttons, and using the tuner. This wouldn't be much of an issue when practicing at home, but could be a potential irritation when miking the cab at shows.
Speaking of shows, I did take the Max 150 to a blues jam, where the amp was part of the house band's gear. No, the 150-watt amp couldn't contend with loud guitars and drums on its own, but it did function well as a personal monitor while, thanks to the amp's DI, the mains and monitors of the house system reinforced my tone. I don't know if the angled baffle provided a significant increase in sound, but I was able to hear fairly well with the amp on the stage floor.
The Verdict
Peavey's Max 150 puts a fresh face on the Max combo lineage by augmenting Peavey's consistently rugged design with contemporary features. It's a solid amp for home practice, a coffee-shop show, or small-room rehearsals. You'd typically be hard-pressed to find a quality amp for less than $350, but you can still count on Peavey to offer a solid product with great value.
Watch the Review Demo:
---
Looking for more great gear for the guitar player in your life (yourself included!)? Check out this year's Holiday Gear Finds!
Outlaw Effects introduces their next generation of NOMAD rechargeable battery-powered pedal boards.
Available in two sizes, NOMAD ISO is a compact, versatile tool that offers the convenience of a fully powered board plus the additional freedom of not having to plug into an outlet. NOMAD ISO is ideal for stages with limited outlet availability, quick changeovers, busking outdoors, temporary rehearsal locations, and more!
NOMAD ISO builds upon the legacy of the ultra-convenient and reliable NOMAD rechargeable pedalboard line originally launched in 2018. The brand new NOMAD ISO editions feature eight isolated outputs (1 x 9V DC, and 1 switchable 9V/12V DC) for even more versatility and clean, quiet power. With an integrated lithium-ion battery pack boasting 12800mAh capacity, NOMAD ISO can fuel a wide array of pedals, and will last over 10 hours* on a single charge.
Each NOMAD ISO pedal board includes adhesive hook & loop pedal-mounting tape, eight (8) standard DC connector cables, and one (1) reverse polarity DC cable, giving you everything you need to build your ultimate "off-the-grid" rig. A rugged, road-ready padded gig bag with shoulder strap is also included, to safely protect your gear while you're on the move.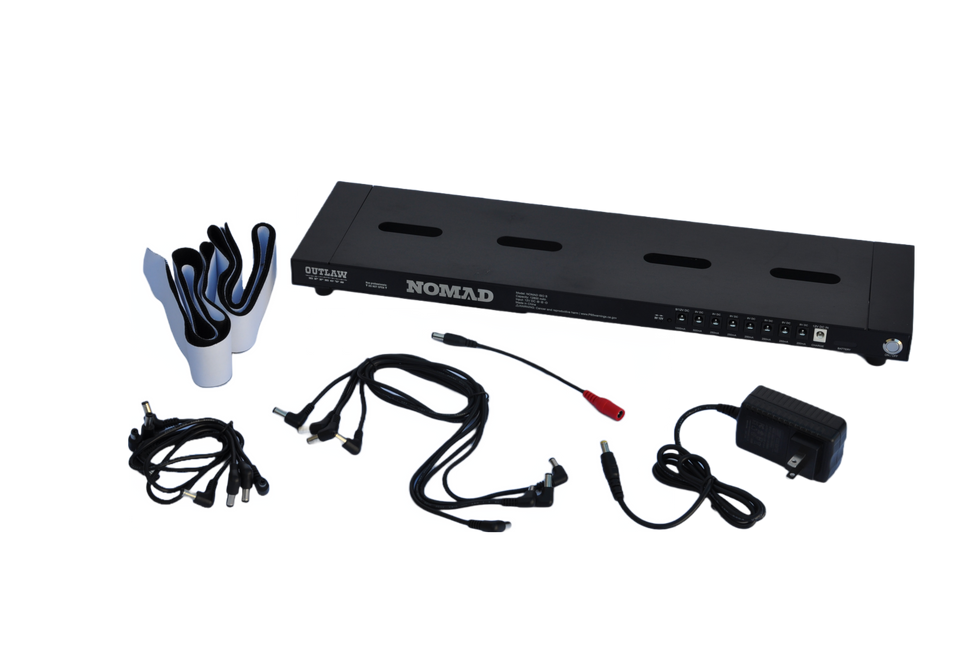 Dunable announce new Minotaur model featuring Grover Rotomatic Keystone tuners.
The Minotaur's DNA is rooted in their classic Moonflower model, which Dunable discontinued in 2017. However, they have long since wanted to create a fresh take on a carved top guitar design, and various attempts to rework the Moonflower led them to a brand new concept with the Minotuar.
Dunable's goal is to give the player a guitar that plays fast and smooth, sounds amazing, and gives maximum physical ergonomic comfort. The Minotaur's soft and meticulous contours, simple and effective control layout, and 25.5" scale length are designed to easily meet this criteria.

Dunable Minotaur!
Features
25.5" scale length
Dual Humbucker
one volume, one tone, push pull for coil splitting
Grover Rotomatic Keystone tuners
Grover Tune O Matic bridge with brass Kluson top-mount tailpiece
jumbo nickel frets
12" fretboard radius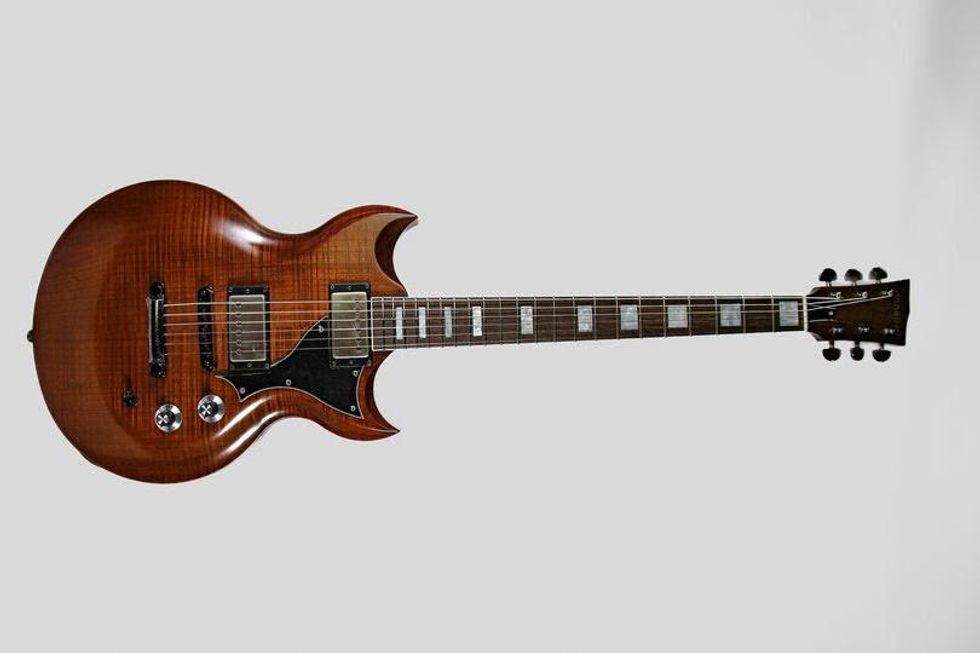 Dunable
This full-amp-stack-in-a-box pedal brings a new flavor to the Guitar Legend Tone Series of pedals, Missing Link Audio's flagship product line.
Adding to the company's line of premium-quality effects pedals, Missing Link Audio has unleashed the new AC/Overdrive pedal. This full-amp-stack-in-a-box pedal – the only Angus & Malcom all-in-one stompbox on the market – brings a new flavor to the Guitar Legend Tone Series of pedals, Missing Link Audio's flagship product line.
The AC/OD layout has three knobs to control Volume, Gain and Tone. That user-friendly format is perfect for quickly getting your ideal tone, and it also offers a ton of versatility. MLA's new AC/OD absolutely nails the Angus tone from the days of "High Voltage" to "Back in Black". You can also easily dial inMalcom with the turn of a knob. The pedal covers a broad range of sonic terrain, from boost to hot overdrive to complete tube-like saturation. The pedal is designed to leave on all the time and is very touch responsive. You can get everything from fat rhythm tones to a perfect lead tone just by using your guitar's volume knob and your right-hand attack.
Features 
Three knobs to control Volume, Gain and Tone
Die-cast aluminum cases for gig-worthy durability
Limited lifetime warranty
True bypass on/off switch
9-volt DC input
Made in the USA
MLA Pedals AC/OD - Music & Demo by A. Barrero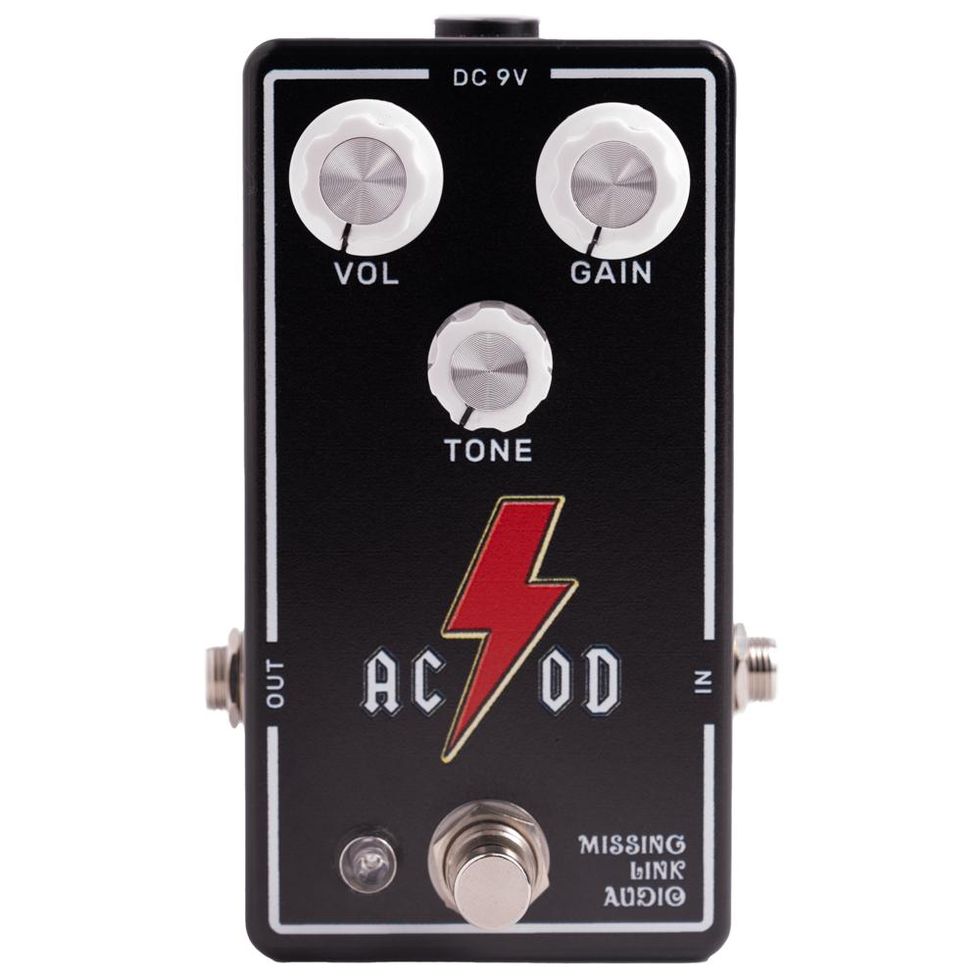 www.mlapedals.com.