Week #3 is here! Enter below for your chance to WIN one of SIX pedals from All-Pedal, Carl Martin, Electro-Harmonix, Fortin Amplification, Hagerman, and Vidami!
In Collaboration with Jeff Loomis of Arch Enemy, we are proud to introduce the Devil's Triad™. Jeff Loomis Signature Guitar Pedal.
All-Pedal
What's more groovy than a flanger? A new, smaller flanger, loaded with features and painted a bold psychedelic purple….that's what! Introducing the re-designed Carl Martin Axis Flanger. We simplified the controls to give you all the control you had with our Carl Martin Classic Flanger but reduced the size so you don't have to worry about leaving the Axis Flanger on your pedalboard 'cause you don't have enough room'. Complete with a buffered Bypass footswitch for on and off control (indicated by an LED), Speed, Depth, Pre-delay and Feedback controls, the Axis Flanger comes in a machined aluminum case finished in psychedelic purple, and those cool Carl Martin graphics. The Axis Flanger must be powered by a regulated 9v Power Supply like the Carl Martin DC Factory, and like all the Carl Martin fx pedals, we use the best parts to make sure you get the best sound! Watch out baby…the flange is back!
Carl Martin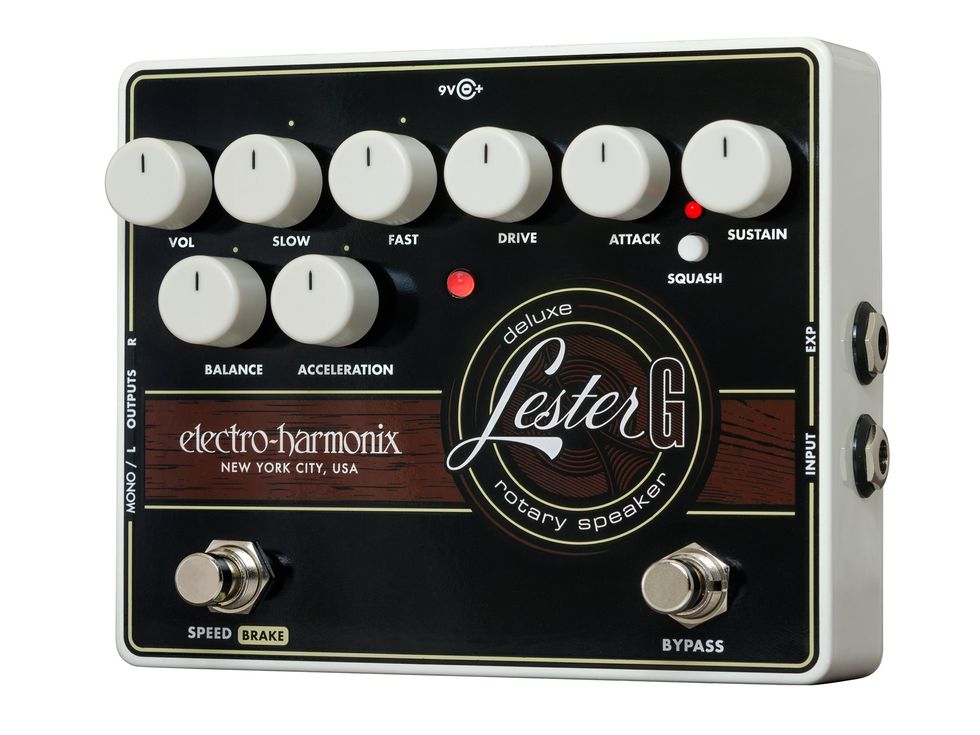 DELUXE ROTARY SPEAKER EMULATOR - The ultimate rotary speaker emulator packed with goodies like a specially designed compression circuit to supercharge the rotating speaker effect on guitar!

The EHX Lester G uses the finest rotary speaker simulation available today, and comes with a variety of deluxe features. Stereo outputs provide a lush, realistic effect. Tube-emulated overdrive is available with the DRIVE knob, and speaker mix can be fine-tuned with the BALANCE knob. Switch between adjustable FAST and SLOW modes for an accurate reproduction of a classic rotary speaker cabinet's speed adjustment. An expression pedal jack allows for fine tuning of the rotation speed with an expression pedal.

The Lester G also features a compression circuit that adds lush sustain to electric guitar. Using the compressor, the LESTER G provides guitarists with the fat, full sustain of an organ, to get the most out of the rotating speaker effect.
Electro-Harmonix
Within the modern guitar community, the Zuul has long been the industry standard for noise gate technology.
Fortin Amplification
Hagerman Thermionic Reinforcer
The new Hagerman Thermionic Reinforcer is an all-tube guitar preamplifier showcasing a proprietary new tube clipping circuit, delivering a more aggressive, modern sound. Employing a pair of 12AX7 tubes running at high voltage, this pedal has enough output to directly feed a power amplifier via effects loop (or operate as a normal pedal). There are two clipping modes; classic tube overdrive, and the novel high-gain symmetrical clipping circuit, recently developed by Hagerman. Another interesting feature is the use of a Contour control, which is a tone circuit placed ahead of clipping stages, offering the ability to tighten the sound, akin to placing a Klon or TS ahead of the pedal. Bass and Treble controls post-clipping provide a wide range of tonality, from bright to dark.
Hagerman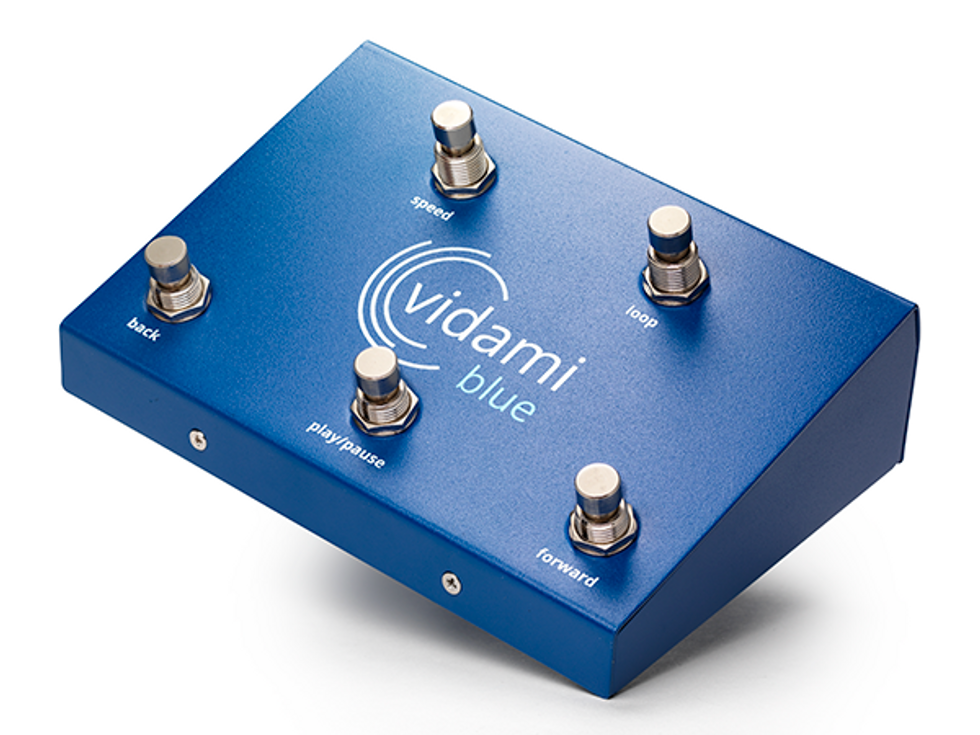 The Vidami Blue is a revolutionary 3-in-1 foot pedal that gives you hands-free control of today's most popular music and education technology, allowing you to Loop & Slow Videos, Turn Pages & Control your favorite DAWs.

Video Mode
Effortlessly Loop and Slow Down songs and riffs on YouTube and more than 55 compatible Online Video learning platforms including: FenderPlay, TrueFire, MartyMusic, JamPlay, Pickup Music and more. (Please note that YouTube, and all other compatible platforms must be used from within the Safari or Chrome browser on Desktop/laptop computers, or from within the Safari browser on iPad/iPhone)

Page Turning/TAB Mode
Easily Turn Pages, Scroll Tabs, Lyrics, and other functions on your favorite Digital Sheet Music apps and Tab sites like: OnSong, forScore, Ultimate Guitar Tab and others.

DAW Mode
Free your creative spirit as you Record, Loop, Add Tracks, Set Markers, and more on today's most popular Digital Audio Workstations including: GarageBand, Logic Pro, Reaper, Pro Tools, Studio One, Cubase & Ableton Live.

The Vidami Blue is compatible with iPhone and iPad on iOS 15 and Desktop Computers, Laptops & ChromeBooks
Vidami
Keep the sounds you want. Dial out the ones you don't.
Hiss, hum, or buzz getting you down? Rather than kicking in a speaker, add a noise-gate pedal to your rig and clean that unwanted sonic junk from your signal chain. Here are 10 boxes to consider.
BOSS
NS-2
This pedal's circuit preserves the natural attack and envelope of an instrument's sound, while its threshold and decay controls allow for shaping the elimination/suppression as desired.
$99 street
boss.info
ISP TECHNOLOGIES
Decimator II
This noise gate features the company's Linearized Time Vector Processing, designed to provide smooth sustained-note decay that's virtually free of any release ripple.
$134 street
isptechnologies.com
DONNER
Noise Killer
Featuring both hard and soft modes of noise reduction, this mini-format pedal has a noise-reduction degree range of -70 dB to +10 dB.
$37 street
donnerdeal.com
ELECTRO-HARMONIX
Silencer
Housing three controls for precise fine-tuning, this pedal delivers up to -70 dB of noise reduction and a release time of 8 ms to 4 seconds.
$69 street
ehx.com
MXR
Noise Clamp
Promising to come down hard on the noisiest of signals, this pedal's lone trigger dial allows players to set the volume threshold at which the pedal is active.
$89 street
jimdunlop.com
TC ELECTRONIC
Sentry
The multi-band technology in this TonePrint-enabled pedal focuses on very specific frequencies to reduce noise without compromising core tone.
$129 street
tcelectronic.com
ROCKTRON
MicroHUSH
This true-bypass mini noise-gate pedal is designed to wipe out hiss, unwanted feedback, and pickup buzz by providing up to 65 dB of signal clean-up, while maintaining signal integrity.
$119 street
rocktron.com
PIGTRONIX
Gate Keeper
This micro-format pedal uses high-speed JFET circuitry to eliminate non-musical sounds, allowing players to crank the volume without worry, even on most high-gain rigs.
$99 street
pigtronix.com
RANDALL
Bloq
This stealthy noise-gate pedal houses a single control for threshold and switchable input sensitivity for loop or front-end application.
$129 street
randallamplifiers.com
CARL MARTIN
Noise Terminator
Unlike conventional noise gates, this pedal allows a player to switch between two threshold settings: soft for less noisy equipment and hard for when more radical settings are needed.
$166 street
carlmartin.com
Go from Nile Rodgers to Lowell George with this simple comp.
Recorded using a Schroeder Chopper TL with Lollar Special T pickups, going into a Fender Hot Rod Deluxe IV miked with a Royer R-121 feeding an Apogee Duet going into GarageBand with no EQ-ing, compression, or effects.
Clip 1: Both comp and level at noon.
Clip 2: Comp at 3 o'clock and level at 1 o'clock.
 

Ratings

Pros:

Plenty of make-up gain. Pleasing compression ratios.

Cons:

Not enough control for in-depth tone tweakers. No parallel compression.

Street:

$199

Carl Martin Compressor/Limitercarlmartin.com

Tones:Ease of Use:Build/Design:Value:
Compression might be one of the few guitar effects that can be used to improve feel almost as much as sound. From the classic MXR Dyna Comp to the grey-box Ross, compression in pedal form has been around for generations, but still can be somewhat divisive among guitarists. Carl Martin made waves with their original black box Compressor/Limiter, and the recently upgraded version is slimmer, easier to use, and tough as nails.
A good place to start with this two-knob setup is to turn the level to unity and then add comp to taste. Transparency isn't exactly at the forefront of the new design, which, depending on your application, could be a great thing. Once the comp control gets past 9 o'clock, the walls start closing in. The real sweet spot hovers around each side of noon. On one side you have Nile Rodgers; the other is Lowell George. Overall, the sound of the compression is a bit on the dark side, and without any blend control the character of the Comp/Limiter can cover up too much of your sound. However, if compression is a core feature of your tone and you need to feel it as well as hear it, Carl Martin's upgrades would might be a welcome addition.
Test gear: Schroeder Chopper TL, Fender Modern Player Jaguar, Fender Hot Rod Deluxe IV