Week #3 is here! You could win gear from Carl Martin, Rockett Pedals, Origin Effects, Pigtronix, Truetone or VOX Amplification! Giveaway Ends October 3, 2022.


Click here to jump to the entry.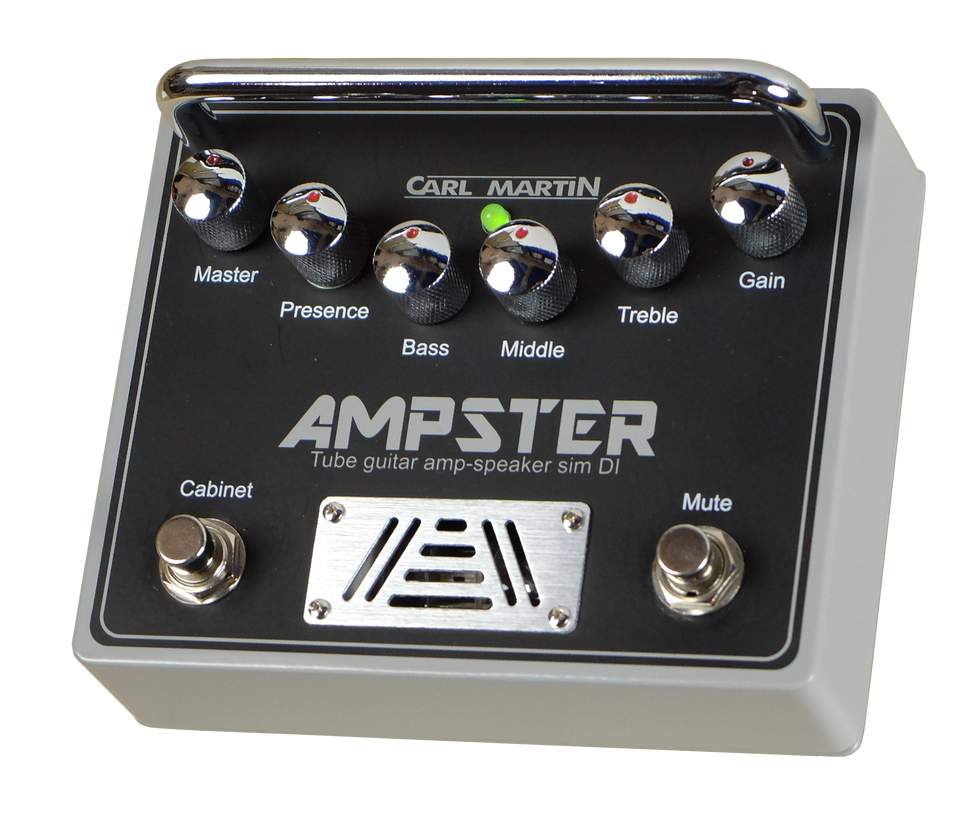 The world of music has changed and the world of guitar playing has changed along with it. It is becoming normal to not see the full guitar rigs of the 70's 80's and 90's, and just see guitar players with minimal systems to achieve their signature sounds.
Introducing the Carl Martin Ampster…. from the company that has shone the single analog light down that deep digital tunnel. The Ampster, a single tube driven amp/speaker simulator that can either supplement your amp, or replace it. A fully analog unit with controls that are the same as your amplifier with the addition of a mute switch, a speaker selection switch and a voicing switch. What's more important, the Ampster reacts to your playing in the same way your full size amp does, giving you the same organic feel with zero latency!
Carl Martin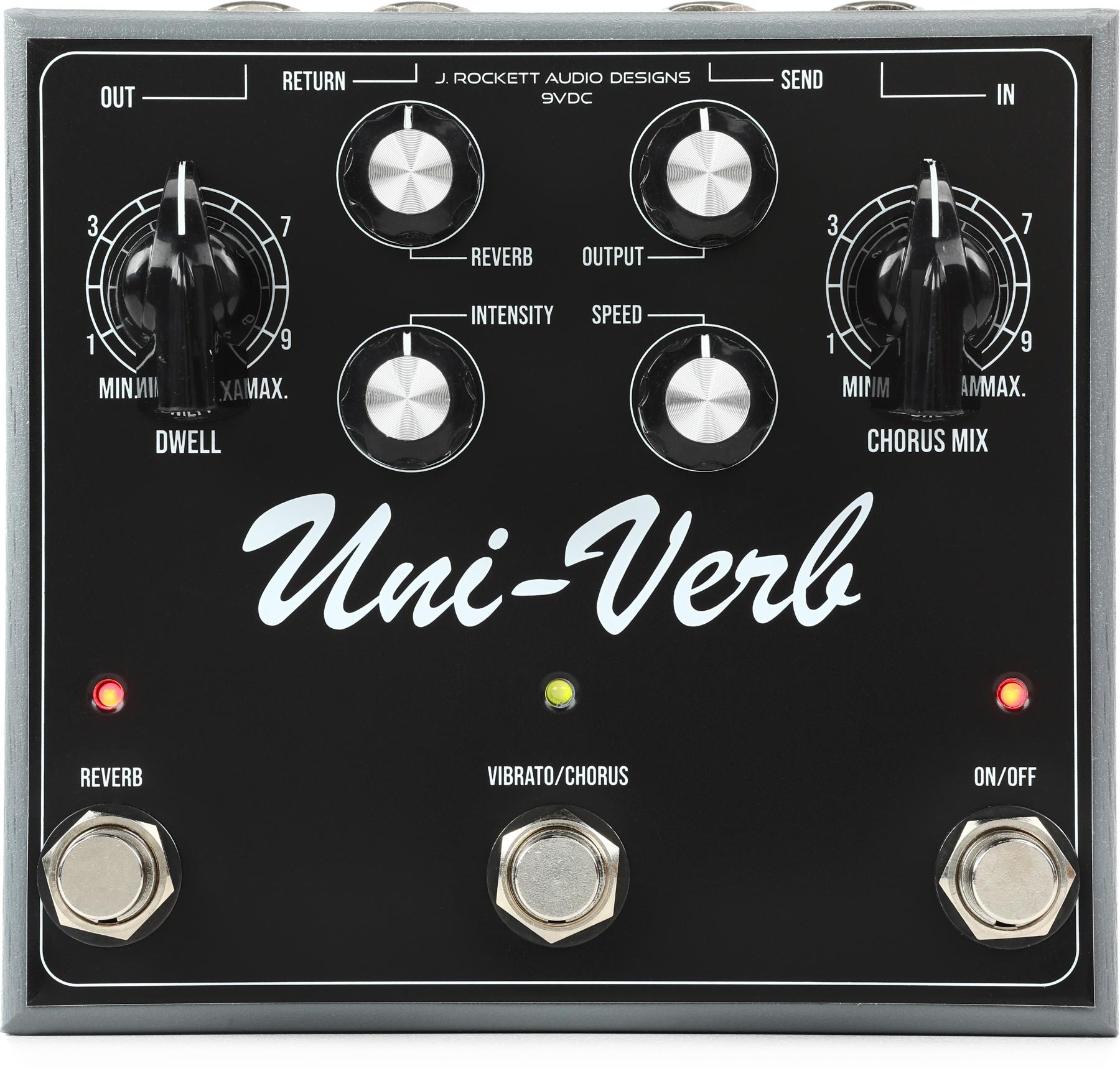 The Uni-Verb is a faithful analog recreation of the Univibe with an added 50's spring tank reverb, expanded control section, and effects loop. This pedal runs at 24v like the original but is internally converted to 24v so you can use a standard 9v power supply. The effects loop separates the chorus/vibe and the reverb

Uni-Verb features:
• Analog vibe/chorus running at 24v like the original (powers with a standard 9v)
•Built in 50's spring tank reverb selectable via foot switch
•Effects loop separating reverb and chorus/vibe for versatile routing options
•Expanded modulation controls for more flexibility and versatility than the original
•True Bypass
J. Rockett Audio Designs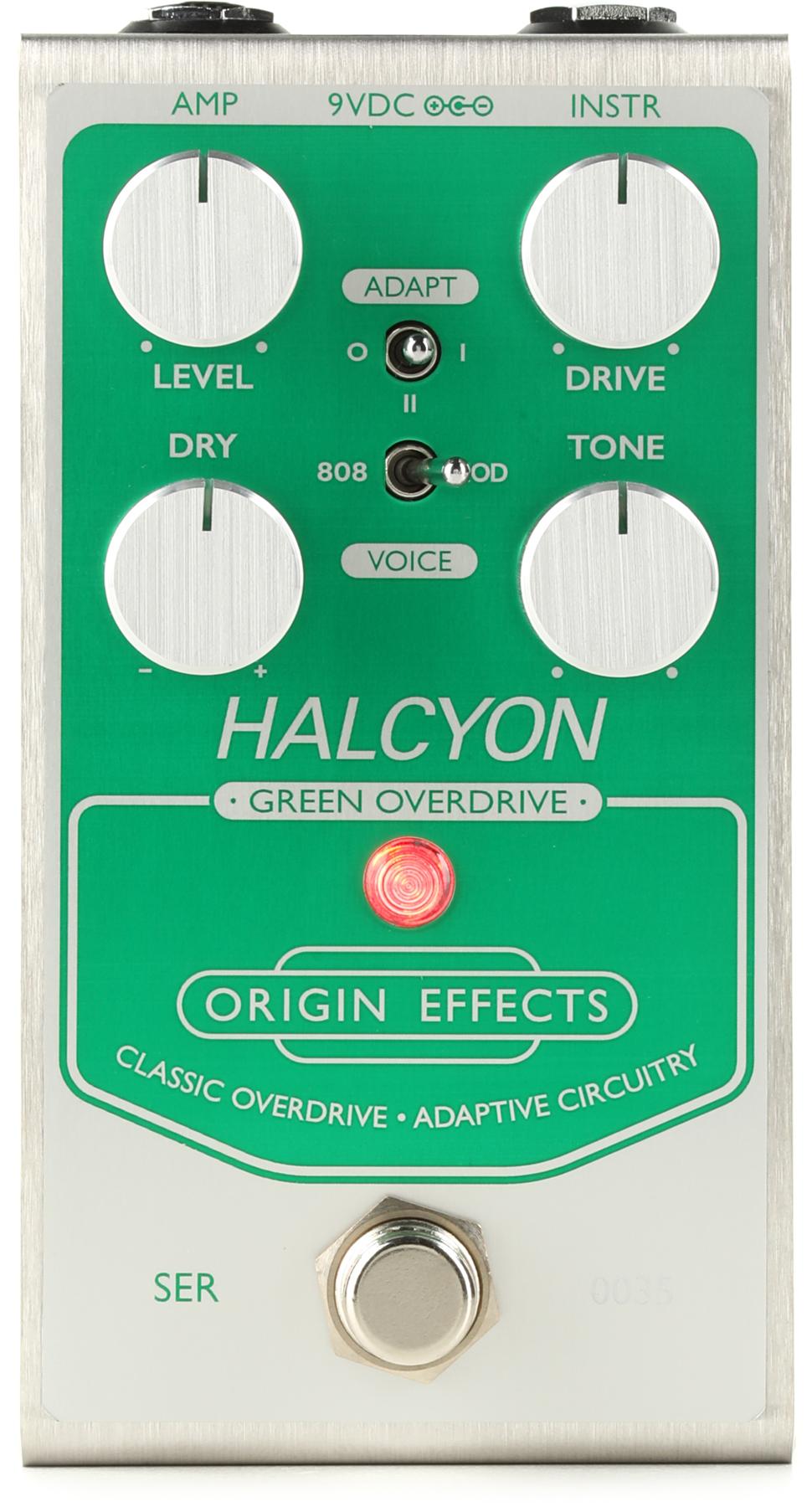 The Halcyon Green Overdrive is a classic low-gain drive pedal featuring our proprietary Adaptive circuitry. This unique design allows it to adapt its voicing in response to pick attack and volume changes, making it one of the most dynamic and interactive overdrives out there. While it is based on the same green pedal that has inspired countless clones, this little box goes way beyond what the average overdrive has to offer.
Origin Effects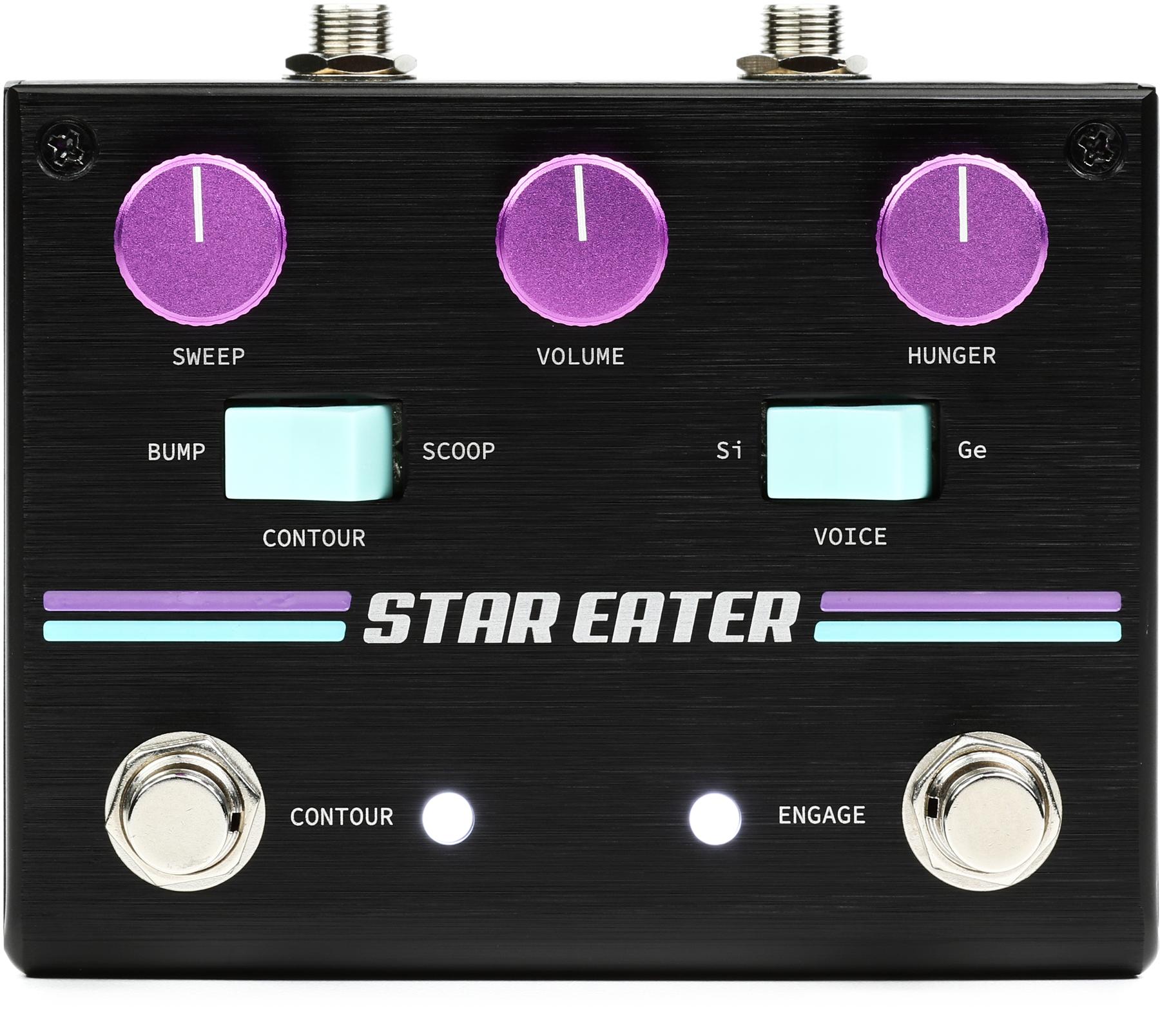 Star Eater is an all-analog, dual footswitch super-jumbo Fuzz with a footswitchable booster and variable filter stage, allowing players to easily sculpt a massive array of inspiring, unique fuzz tones. On the fuzz side, newly-available, precision-matched transistor pairs are utilized to ensure that each and every unit is perfectly dialed in to "the sweet spot" that can be so elusive to find in vintage pedals. A rocker switch provides your choice of Germanium or Silicon color. Downstream from the fuzz, a powerful booster stage drives the filter in the Star Eater. Scoop and Bump voicings for the filter can be selected via a rocker switch, drastically changing the frequency response of the Sweep control throughout its entire range. Built to last and designed to inspire, the Star Eater brings a unique approach and a new standard of performance to the world of boutique fuzz pedals. Runs on standard 9VDC.
Pigtronix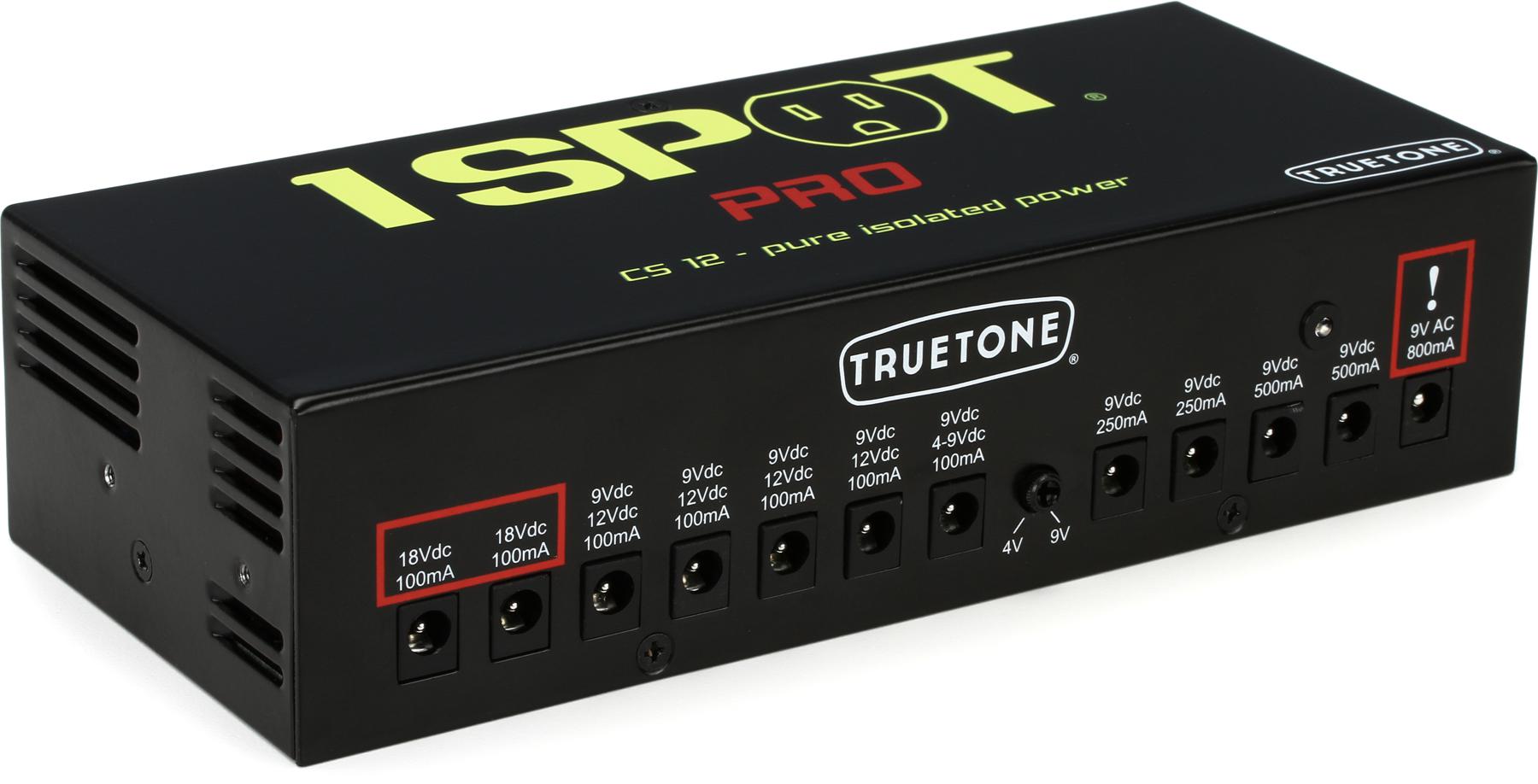 The 1 SPOT Pro CS12 power supply can provide three times as much power to your pedals as transformer-based power bricks. Each of the 12 outputs are completely isolated, regulated and filtered to give you noise-free performance. With no transformer to hinder its abilities, there is never any proximity noise. And being the world's first multi-output switching power supply for musicians, it will work anywhere in the world without modification. Quiet, dependable, affordable, and powerful!
Truetone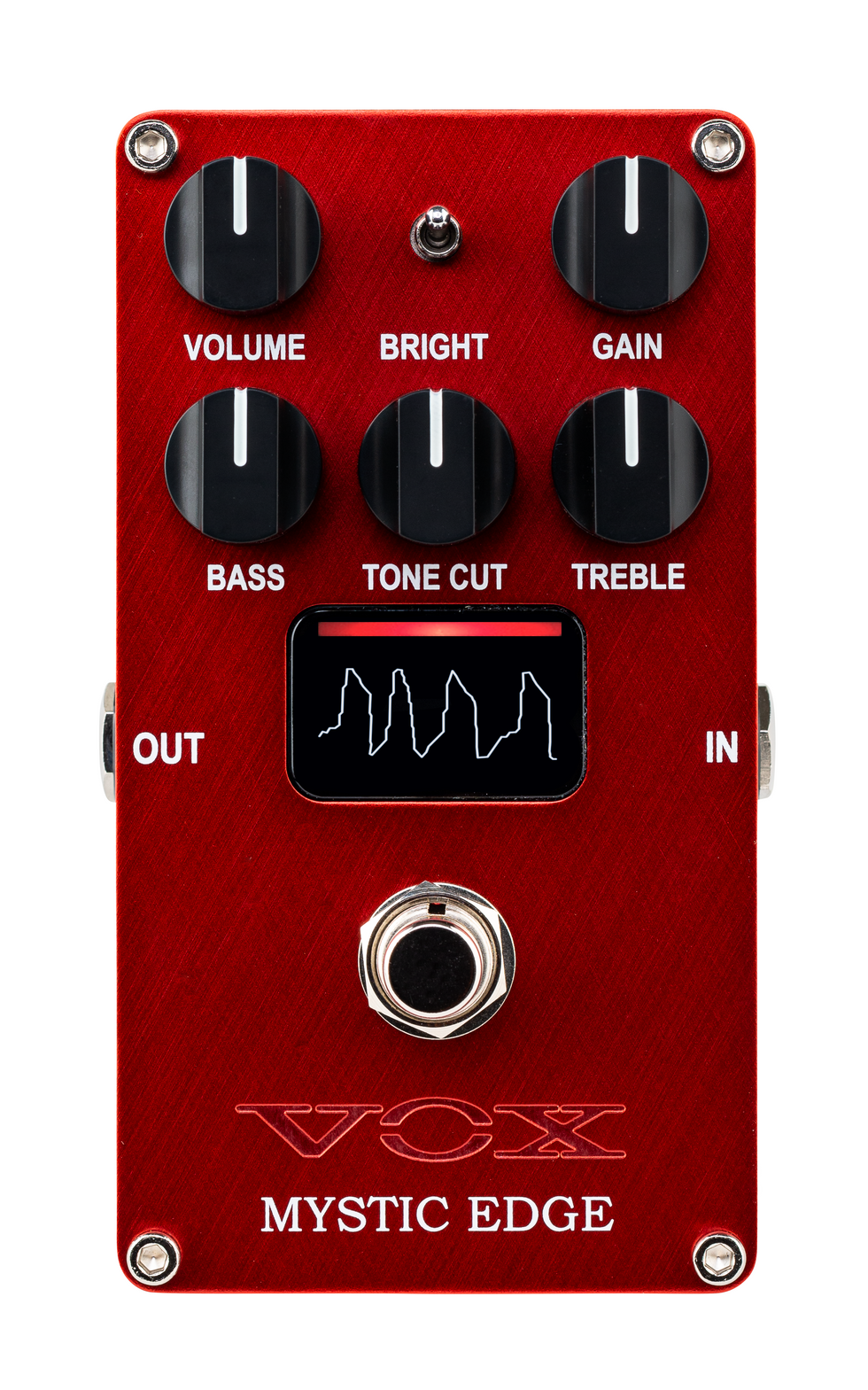 Iconic amp sounds for your pedalboard. The Valvenergyvalve distortion pedals offer distortion tones based on iconic amps in a compact pedal format, powered by Nutubefor warm and responsive amp-like tones.
VOX Amplification
Go from Nile Rodgers to Lowell George with this simple comp.
Recorded using a Schroeder Chopper TL with Lollar Special T pickups, going into a Fender Hot Rod Deluxe IV miked with a Royer R-121 feeding an Apogee Duet going into GarageBand with no EQ-ing, compression, or effects.
Clip 1: Both comp and level at noon.
Clip 2: Comp at 3 o'clock and level at 1 o'clock.
 

Ratings

Pros:

Plenty of make-up gain. Pleasing compression ratios.

Cons:

Not enough control for in-depth tone tweakers. No parallel compression.

Street:

$199

Carl Martin Compressor/Limiter carlmartin.com

Tones: Ease of Use: Build/Design: Value:
Compression might be one of the few guitar effects that can be used to improve feel almost as much as sound. From the classic MXR Dyna Comp to the grey-box Ross, compression in pedal form has been around for generations, but still can be somewhat divisive among guitarists. Carl Martin made waves with their original black box Compressor/Limiter, and the recently upgraded version is slimmer, easier to use, and tough as nails.
A good place to start with this two-knob setup is to turn the level to unity and then add comp to taste. Transparency isn't exactly at the forefront of the new design, which, depending on your application, could be a great thing. Once the comp control gets past 9 o'clock, the walls start closing in. The real sweet spot hovers around each side of noon. On one side you have Nile Rodgers; the other is Lowell George. Overall, the sound of the compression is a bit on the dark side, and without any blend control the character of the Comp/Limiter can cover up too much of your sound. However, if compression is a core feature of your tone and you need to feel it as well as hear it, Carl Martin's upgrades would might be a welcome addition.
Test gear: Schroeder Chopper TL, Fender Modern Player Jaguar, Fender Hot Rod Deluxe IV
A throwback to the sound of classic '80s rock tones.
Denmark (April 12, 2019) -- Picture yourself on stage, in the middle of a set, going for that classic vintage '80s overdriven guitar sound.....vintage you say? Yes! Remember that classic '80s overdrive is almost 40 years old! Anyway, every time you crank up the OD, your tone gets a bit spongy and woofy...you know what I mean. If only you had a way to....wait....you have the brand new Panama Overdrive pedal from that mysterious Carl Martin dude, and it comes with a Damping control. You switch over to the Panama, crank the Gain, increase the damping and your distortion becomes even more aggressive, more cutting and clear...just like....well you know. Decrease the damping, and your distortion becomes deeper, thicker with more bass dynamics. In other words you have an amazing overdrive pedal that you can customize on the fly!
And...it's analog!
The new Carl Martin Panama Overdrive, cool anodized case and that awesome Carl Martin DC/DC converter circuitry which allows the pedal to run with +-12V internally (this means better parts and better sound). Check it out yourself, Gain Level and Tone controls along with the new Damping control, head mounted input/outputs and 9V DC input which requires a regular 9V 100mA external power supply and the new small footprint. Bigger sound, bigger tone, all analog, all Carl Martin!
US MAP: USD 199.00
For more information:
Carl Martin