Huge arena-rock guitar tones meet heavy-metal Christmas jams on one of the year's most successful tours. Go behind the scenes to see how the guitar tandem kick out the holiday jams.
The Trans-Siberian Orchestra tour is demanding. Each day could bring multiple shows and meet-and-greets with only a few days off. We caught up with TSO's East Coast guitarists Joel Hoekstra and Chris Caffery (above) before their Nashville doubleheader.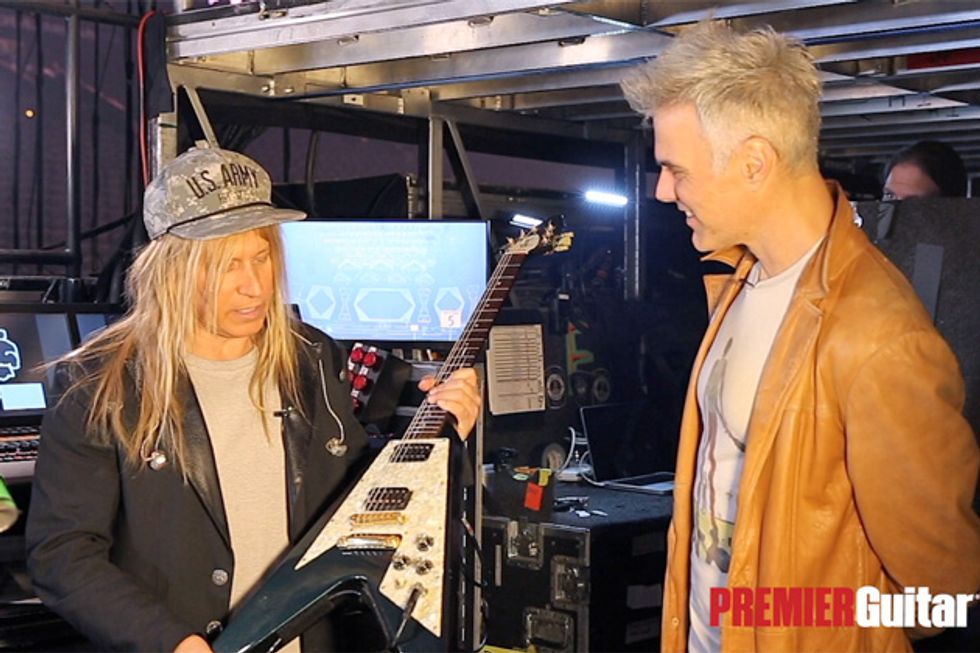 Joel Hoekstra is a longtime Les Paul guy. This 2007 Gibson Les Paul Custom is his main axe for the TSO show. It's totally stock, and like all of his guitars, it's strung up with Ernie Ball Power Slinky .011–.048 strings.
Joel Hoekstra's 2017 Gibson Firebird Custom also features an ebony fretboard and 490R/ 498T humbuckers.
Here's Joel Hoekstra's 50th Anniversary Gibson Flying V in a Brimstone Burst finish.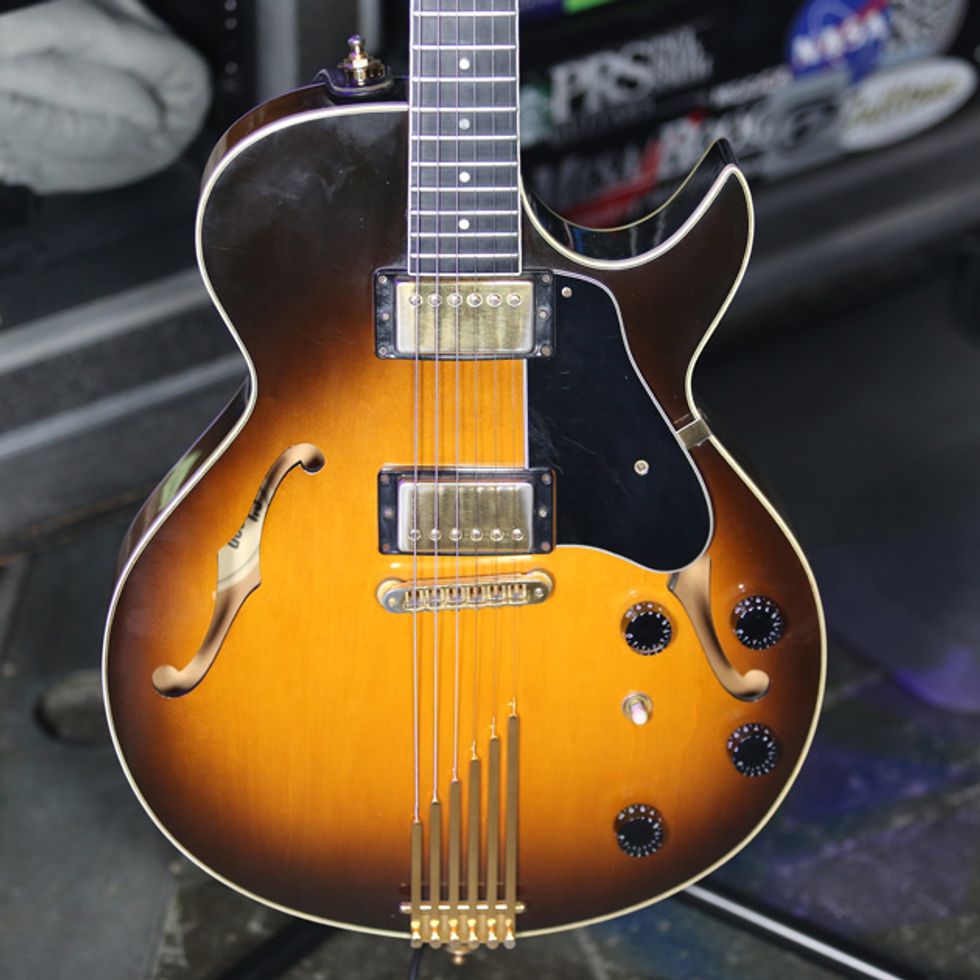 This 1991 Gibson Howard Roberts Fusion III was originally purchased for jazz/swing gigs, but Joel Hoekstra finds it works well with the TSO.
Joel Hoekstra also grabs this 2016 Friedman Vintage-T, which is loaded with a Fernandes Sustainer, and decked out in Vintage White to match the holiday theme. Beneath the bridge you'll notice a small card of text that was taken from David Zablidowsky's funeral and placed there to honor Joel's former bandmate. (Zablidowsky was killed when a semi-truck hit the touring vehicle for Adrenaline Mob in 2017.)
This 2010 white Explorer-style guitar was built for Joel Hoekstra by Atomic Guitar Works.
Joel Hoekstra also rocks this 2010 Jackson USA Signature Phil Collen PC1 with a DiMarzio DP152 in the bridge, a DP116 in the middle, and a Fernandes PC1 Sustainer Driver in the neck.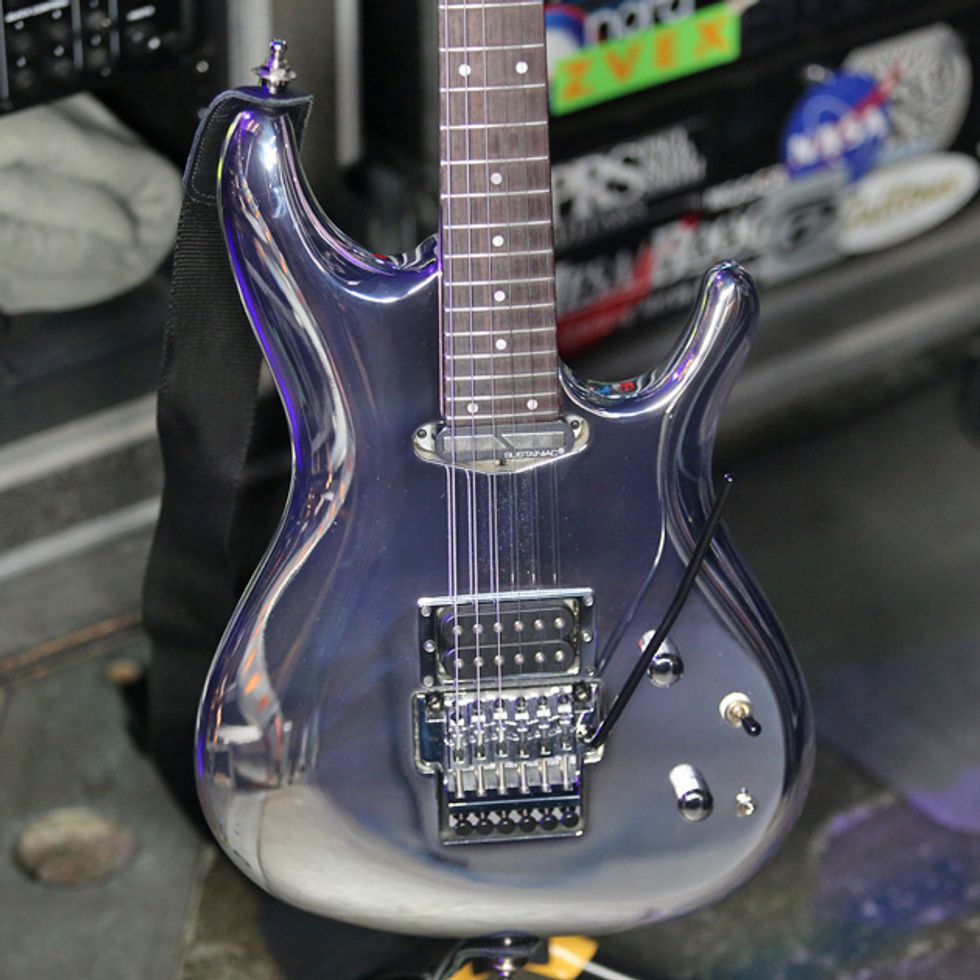 Ironically through a Steve Vai hookup, Joel Hoekstra got his hands on this brand-new Ibanez JS1CR Satriani sig with a Fernandes Sustainiac in the neck.
When things get mellow Joel Hoekstra grabs this 2010 Martin 000-16GT armed with a Fishman Matrix Infinity VT preamp. It's strung up with Ernie Ball 80/20 Bronze strings (.013–.056).
For quicker acoustic changes, Joel Hoekstra uses this early '90s Gibson Chet Atkins SST.
Joel Hoekstra uses the Fractal Audio Axe-Fx II XL with his tech, Galen Henson, controlling the effects in real-time with an off-stage Voodoo Lab Ground Control switcher. Hoekstra mainly uses two sounds:
A dry rhythm sound based on the Mesa/Boogie TriAxis model into a 4x12 Recto cab model. This same preset is used with delay programmed to song tempos when needed.
A lead sound based on the Soldano SLO-100 model into a 4x12 Recto cab model, with a TS808 model in front, delay programmed to song tempo, and a plate reverb.
There's also a clean sound used in just a couple of instances that's based on a Fender Vibroverb model into a Bassman cab model with light chorus, delay, and reverb.
The rig itself consists of four channels of Shure UR4D wireless, one channel for acoustic guitar direct to the board and three channels for electric guitar into a Whirlwind Multi-Selector which sends the signal to the Fractal that sends the signal directly to the board.
Chris Caffery recently purchased a trio of matching Gibsons in Hunter Green. The first one is a stock 1992 Custom Shop Flying V. This and all but one other guitar, is strung with GHS .010–.052 nickel strings.
The second matching guitar is Chris Caffery's '93 Gibson SG.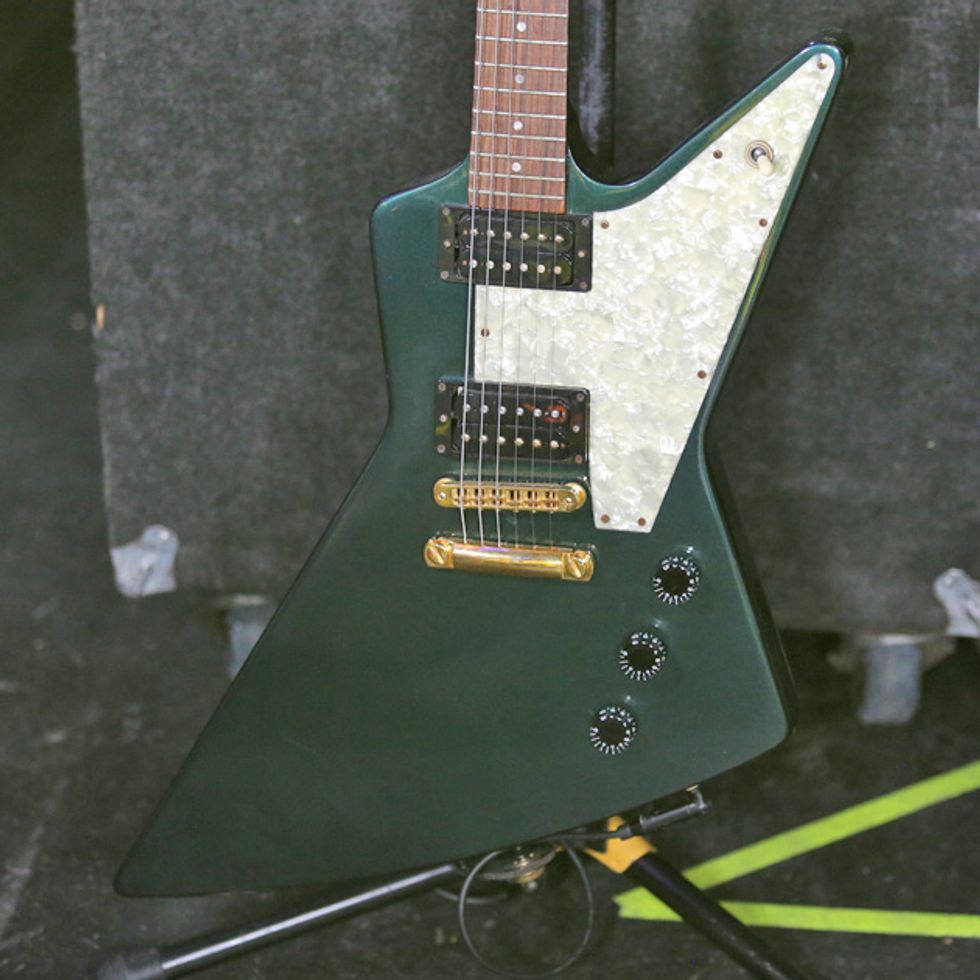 Finally, we have Chris Caffery's '92 Gibson Explorer. This guitar is kept in drop-C tuning (C–G–C–F–A–D) and uses GHS .011–.056 strings.
Chris Caffery's Zelinski is a special TSO build with white tiger engraved graphics. The neck is engraved with the company's patent-pending Z-Glide that's reminiscent of a diamond pattern for a better feel and smoother movement. It's loaded with a Seymour Duncan JB set.
This 2001 Jackson V was revamped by Chris Caffery's tech, Fred Kowalo, who put in a set of Seymour Duncan JB pickups and returned the wiring to the proper specs. It is equipped with an Eddie Van Halen Floyd Rose D-Tuna.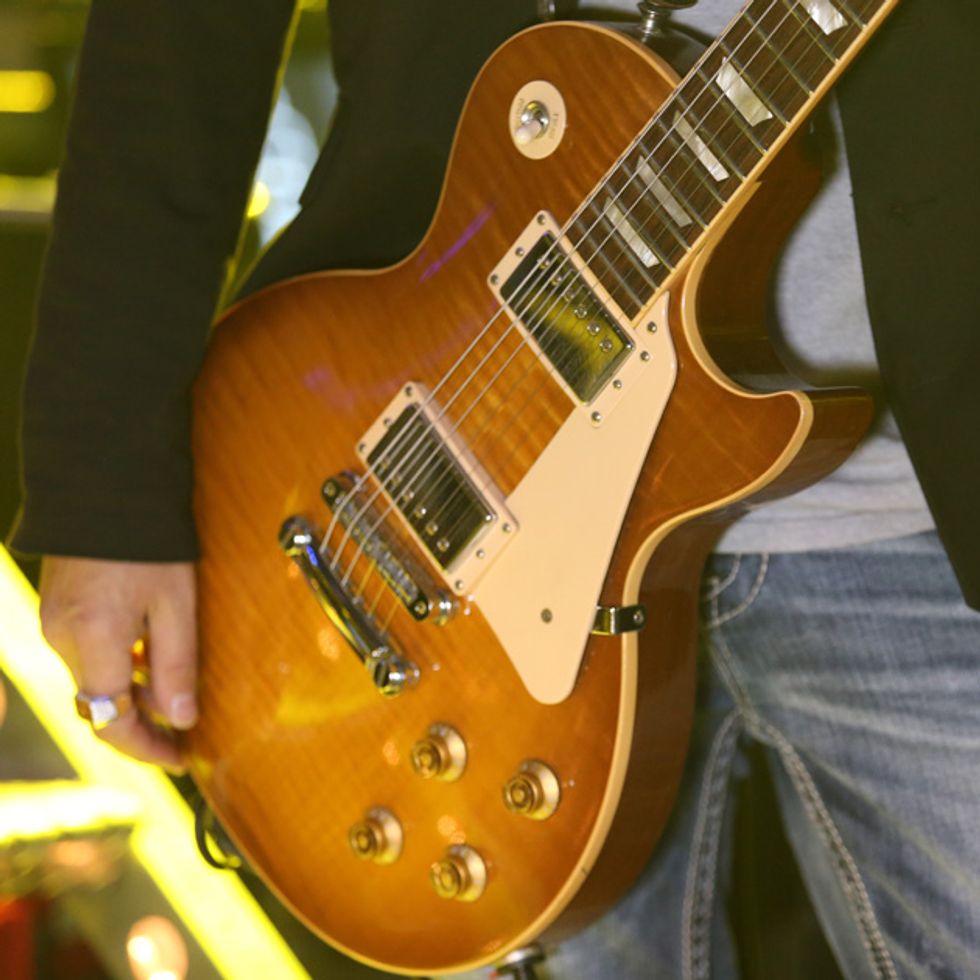 This 2009 Gibson Les Paul is equipped with a TonePro bridge and tailpiece, Grover locking tuners, and a Hipshot GT1 Grover-style drop-D tuner.
The graphics on Chris Caffery's 2008 Dean are from TSO's Night Castle album and sports Seymour Duncan pickups and an EVH D-Tuna.
Chris Caffery's other decked-out Dean is dubbed "The Wizard" and features custom TSO graphics, Grover tuners, and Seymour Duncan JG pickups.
This 2009 Zelinsky DBZ features Beethoven graphics, Seymour Duncan JB pickups, and an EVH D-Tuna.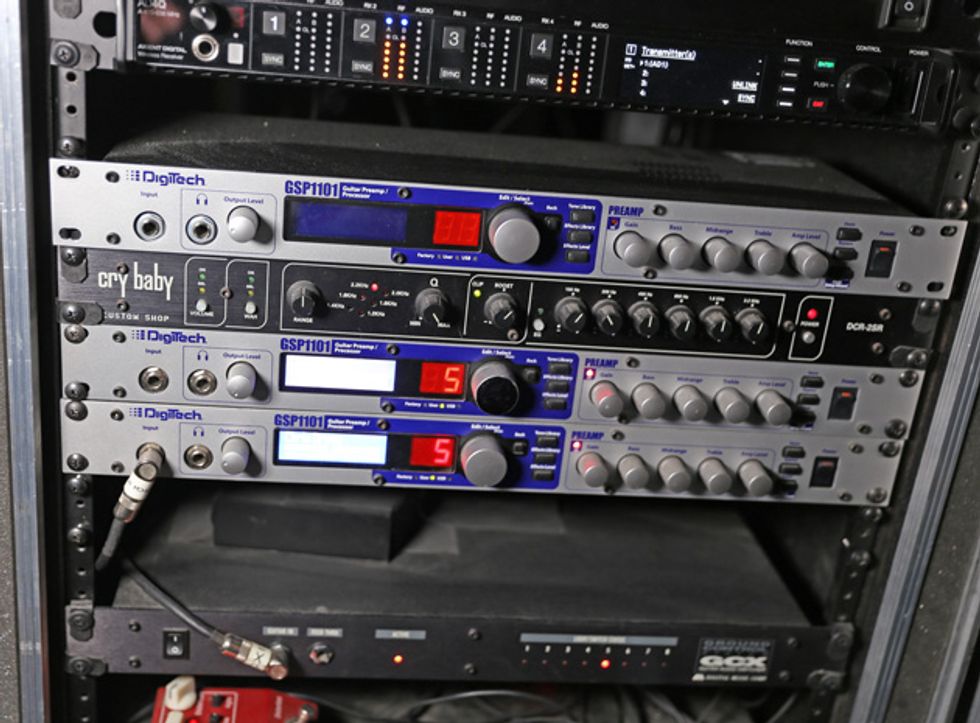 The centerpiece of Chris Caffery's rack are his DigiTech GSP1101 units. He rolls with three vintage models and combines them with a Dunlop Cry Baby rackmount wah.
In Chris Caffery's pedal rack sits a Fulltone GT500, H.B.E. Power Screamer, and a Boss CE-5 Chorus Ensemble. The whole rig is powered by a Furman AR-15 Voltage Regulator.
And we couldn't forget this one — a curvaceous interpretation of a classic is Joel Hoekstra's 2018 Gibson Modern V.
The brand is comprised of Zelinsky's latest creations, which includes the Tagliare and Zenyatta models.

The StrettaVita
Chicago, IL (April 19, 2012) – Guitar designer Dean Zelinsky announces his new company Dean Zelinsky Private Label Guitars. The brand is comprised of Zelinsky's latest creations, which includes the Tagliare and Zenyatta models. The StrettaVita, a reincarnation of a Zelinsky classic, will be offered for the first time ever as a hollow-body. These recent designs along with Zelinsky's new cutting edge "Z-Glide" Reduced Friction Neck (patent pending) are the bedrock of his new company. The entire line will be available early fall of 2012.
"Z-Glide" Reduced Friction Neck
The Z-Glide guitar neck will be available as an option on all Tagliare models. The Tagliare – a three single coil, bolt neck guitar – is a departure for Zelinsky, but as he states, "a natural progression once I designed the Z-Glide." The Z-Glide utilizes a laser-textured surface designed to let your hand glide effortlessly up and down the neck. The Z-Glide will also be available on select StrettaVita models featuring bolt neck construction on a single cutaway, dual humbucker guitar.

The Tagliare
"Design Your Own" – a feature of the Tagliare line – will be offered in addition to the stock models. Consumers will have the option to customize their guitar online and instantly see their creation by simply clicking their mouse. They can then purchase the Tagliare they designed direct on the Internet.

The Zenyatta
The Zenyatta features an oversized but ultra-thin body design – an award-winning Dean Zelinsky innovation. The single cutaway Zenyatta features deep carving and highly sculpted aesthetics that adds a full "bull nose" edge - something not yet seen on production guitars.
Dean Zelinsky Private Label Guitars will be offered worldwide through authorized dealers and on the Internet. Prices will range from $299 to $1299. Select USA made custom models are priced from $3599 and up.
For more information:
deanzelinsky.com
Dean Guitars founder, Dean Zelinsky, teams with Diamond Amps for DBZ Guitars.
(August 26th, 2008) - After a rollercoaster ride with his first project, Dean Guitars, which dated all the way back to 1976 and the young age of 18, Dean Zelinsky is ready to climb back into the ring. Today, Zelinsky announces the launch of his new company and its website, DBZ Guitars. "DBZ Guitars will have my personal control over design, direction and quality," said Zelinsky.

Zelinsky is recognized industrywide for ushering in a new era in guitar design. That evolution continues with the new line of DBZ Guitars, premiering in January ''09, showcasing Zelinsky''s ability to "take guitar design to the next level." Zelinsky will be doing for guitars what custom bike builders have done for the motorcycle industry. Zelinsky stated rare exotic woods, laser technology and proprietary graphics applications will be essential to DBZ Guitars'' new look.


An image of one of Zelinsky''s new guitars, from the DBZ website
Equally newsworthy, Dean Zelinsky has partnered with Diamond Amplification owner Jeff Diamant, (who is now also President and COO of DBZ Guitars), and Diamant''s Texas partner, Terry Martin. Explained Zelinsky, "Jeff and I share a vision for DBZ, and see eye-to-eye on how this industry should be serviced. I have teamed up with Jeff because his proven business savvy is critical to this challenging new venture...guitar brands are not built every day. His Diamond Amps are second to none and add cache to the DBZ Guitar brand."
"Dealers and distributors worldwide are already calling and vying for exclusive rights to DBZ/Diamond" added Diamant. "Simply, together we can do more than we can apart." Diamant continued, "Diamond will not be changing its current vision or plan. We have a vision for DBZ and a vision for Diamond."
DBZ Guitars will be offering distributor exclusives worldwide on U.S.A.-made custom and high-end guitars, and a full range of lower price point guitars (electrics, acoustics and basses) to fit every level of talent and budget. Zelinsky and Diamant are focusing on quality, from top to bottom, to not only meet but exceed the expectations of Dean''s more than 30-year fan following and the Diamond Amps fans.
Not only is the duo of Zelinsky and Diamant looking to fill a void in the guitar industry, they are looking to create their own guitar-manufacturing philosophy.
"We are bringing a radical approach to every aspect of DBZ Guitars; guitar design, marketing, advertising and distribution, while retaining traditional and elegant styling and feel," said Zelinsky. "The technology available today is being way under-utilized. This industry is stuck in the Dark Ages -- it needs another shot in the arm."
For more information on DBZ Guitars, please visit
www.DBZGuitars.com
For information on Diamond Amps, please visit
www.diamondamplification.com
.