Dean Zelinsky Guitars Unveils the Dellatera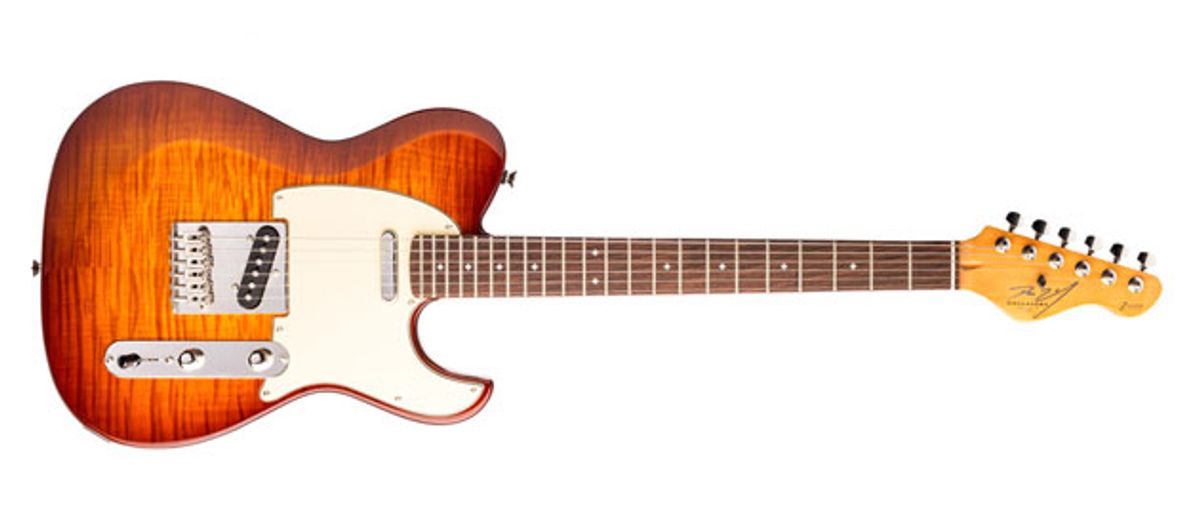 A guitar designed to appeal to country, blues, and classic rock players alike.
Chicago, IL (December 2, 2015) -- Guitar designer Dean Zelinsky announces the realease of his latest model, the Dellatera. This guitar is Zelinsky's rendition of a classic; designed to appeal to country, blues and classic rock players alike. Guitars are available factory direct through Zelinsky's ecommerce site www.deanzelinsky.com as well as Zelinsky's select retail partners.
"This has been one of the most requested styles by my fan base in recent years," stated Zelinsky. "The requests come from players who want that classic single-cut style, that single-coil sound, and play my Z-Glide neck. Many Z-Glide players tell me they cannot go back to a conventional neck! The Dellatera is simply the model they want with the neck they must have."
Zelinsky's patented Z-Glide reduced friction neck utilizes a laser-textured design to eliminate that sticky/tacky feel by removing 70% of the neck surface. Z-Glide puts a little air between players and their guitar letting hands glide up and down the neck.
The Dellatera Custom features a stylishly contoured alder body with beautiful flame maple-top. Customers who shop for Dellatera can choose from ten different finishes, various pickguard and pickup options, hardware packages, rosewood or maple fingerboard as well as Z-Glide neck options; totally customizing the guitar to their personal style, feel and sound.
As with all Zelinsky's creations over the past four decades, tone is critical. The AlNiCo V, cloth wired, vintage single-coils he designed for the Dellatera, are a bit hotter and have a wider tonal range than most guitars in this category. With Zelinsky's exclusive SideKick pickup as an option, the Dellatera will be the first guitar in this category to offer a true single-coil and vintage humbucker in the same space. Players can switch from single-coil to humbucker and the volumes absolutely match. Customers can configure their guitar with SideKick pickups in the neck, middle, or bridge position as well as any combination thereof.
Zelinsky didn't stop with style, neck and electronic options. Dellateras can be upgraded to Zelinsky's Tejas custom engraved hardware package, featuring a tailpiece and contol plate engraved with floral designs inspired by custom western saddle makers.
Dellatera comes stock with a rock hard canadian maple neck, compound radius fingerboard, locking tuners, Zelinsky's Hi-Tail single-coil bridge pickup and broad-tone neck single-coil, master volume and tone control with 3-way switch, graphite nut and string retainer.
Players can customize and order their Dellatera directly from Zelinsky's website, www.deanzelinsky.com, starting at $499.
For more information:
Dean Zelinsky