UA takes their top-flight analog modeling to the pedal sphere again with two beautiful time-manipulation machines.
Galaxy '74 Tape Echo & Reverb
Galaxy '74 Tape Echo & Reverb captures the warm, warped, relentlessly analog effects of the iconic mid-'70s Roland Space Echo hardware.*
Key Features:
The most authentic emulation of the classic mid-'70s Roland Space Echo* hardware
Full modeling of the classic multi-head tape delay mechanism
Exacting emulation of original hardware's spring reverb
Definitive capture of iconic analog preamp section
Doubled delay times for effects that go beyond the original hardware
Tweak footswitch functionality, adjust realtime effects, and customize unique oscillation sounds with UAFX Control app
Includes silent switching, buffered bypass, analog dry through, spillover/trails, and stereo operation
Del-Verb Ambience Companion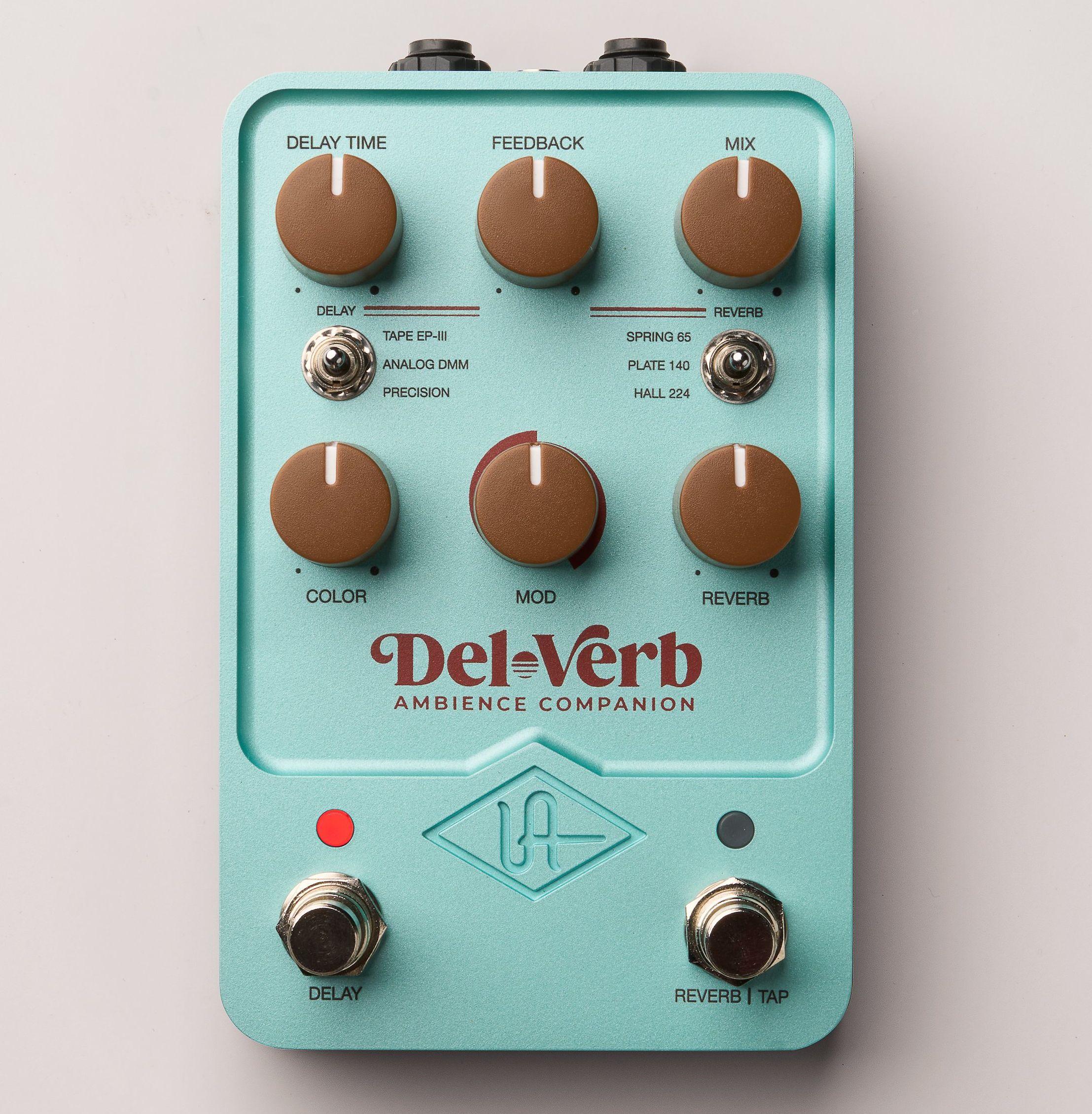 Del-Verb Ambience Companion packs ready-to-wear emulations of classic reverb and delay effects in a pedal designed for immediate inspiration.
Key Features:
The most authentic vintage reverb and delay effects ever captured in a single effects pedal
"Golden unit" spring reverb tank, pulled from classic '60s American guitar amp
Vintage German studio plate reverb sourced from The Plant in Sausalito, CA
Bit-for-bit vintage studio digital reverb algorithms from the late 1970s
Definitive emulation of iconic tape echo unit and legendary preamp
Classic bucket-brigade analog delay effects with the color, texture, and tone of the original hardware
Pristine, studio-grade digital delays with dynamic and inspiring modulation textures
Download custom effect voicings, add tap tempo and more with the UAFX Control app
Includes silent switching, buffered bypass, analog dry through, optional spillover/trails, and stereo operation
In January 2020, Walrus Audio released their most ambitious line of pedals, the Mako Series, beginning with the D1 High- Fidelity Stereo Delay. After receiving much attention and user feedback, the award-winning D1 is now available with fresh updates.
This powerful multi-function delay comes with five studio-grade, custom-tuned programs. A simple turn of the dial transports you into the Mako-Verse to chase down Digital, Modulated, Vintage, Dual, and Reverse echoes. Tweak and tune each mode with modulation, tone, age, and tap/clock subdivision to give your repeats the timbre to flood distant shores. The attack knob adds a dynamic dimension to each program, opening up uncharted territories begging to be explored. The D1 boasts stereo in and out, midi control, adjustable stereo width, and nine onboard presets. It is a workhorse of a delay that is as ready for the stage as it is the studio.
Updates
Added stereo width control allows two widening types – Panning and Haas Stereo Effect. • Added USB functionality for firmware updates via walrusaudio.io.
Retooled the Reverse program for a stronger effect.
Retooled the Vintage program to emulate a tape delay.
The D1 is packaged in a custom anodized silver aluminum enclosure. The enclosure's exact size is 4.9" x 2.52" x 2.64". Power requirements are 9VDC (300mA minimum).
Walrus Audio is offering The D1 for a retail price of $349. It is available now at walrusaudio.com and with our authorized dealers throughout the Virgo Cluster.
Chicago-based boutique builder Daredevil Pedals' new version of the Bootleg Dirty Delay is designed to emulate vintage analog delay with hand-wired digital delay circuit and unique "dirt" control feature.
Now streamlined without tap tempo circuitry, this V2 brings all of the hand-wired features of the original, while carrying a lower street price. Unique to this design, is the gain stage present in the repeat path, adding adjustable dirt to the delayed audio. These are engineered to emulate vintage analog delay tones.
Features
Hand-wired digital delay circuit
Designed to emulate vintage analog delay
Unique "dirt" control feature adds gain to repeats
2 year manufacturer warranty
Daredevil Pedals Bootleg Dirty Delay V2