Need to mix it up? Here are 10 options that can go from twang to growl to … gristle.
One of the most effective—and least invasive—ways to mod a guitar is to swap out the pickups. Wanna experiment with a 'bucker in the bridge? Leave the router at home. We've rounded up 10 options that range from affordable and effective to boutique and beyond.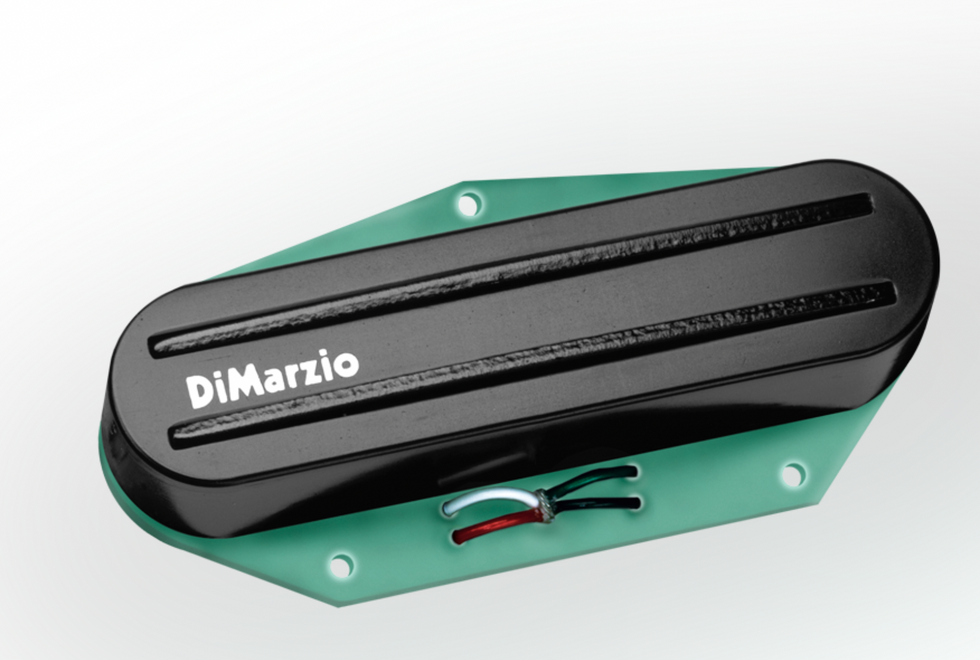 This single-coil-sized version of the company's legendary Super Distortion is aimed at T-style players who want the thick sound of a 'bucker in the bridge. It has a pronounced low-mid response with a roll-off on the high end.
$99 street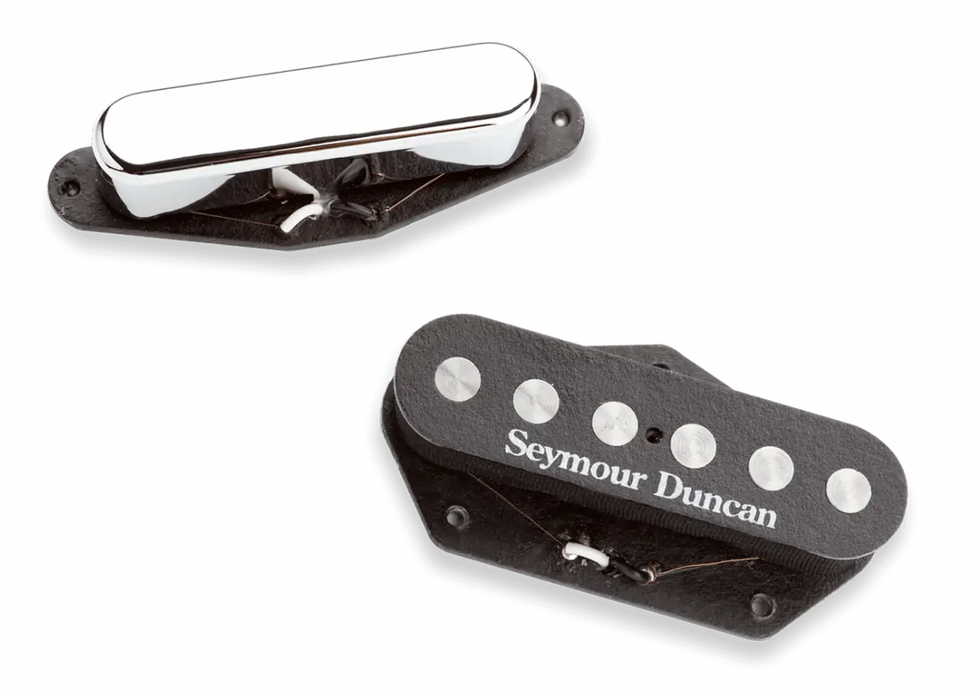 Centered around a set of alnico 5 magnets, this high-output single-coil crosses into P-90 territory. You can also get a tapped neck variation that allows for both vintage- and high-output sounds within a single set.
$89 street
Introduced in 2016, this T-style pickup features the guts of the company's T-Armond pickup, but with a little more juice. Like many of the pickups on this list, it's a straight drop-in replacement for standard-sized pickups.
$120 street
With less than 10 components in a single pickup, Mojotone made these designs very simple. They use their "Quiet Coil" technology to get rid of the hum without batteries or stacked coils. The pickups are also scatterwound for more sensitivity and clarity.
$98 street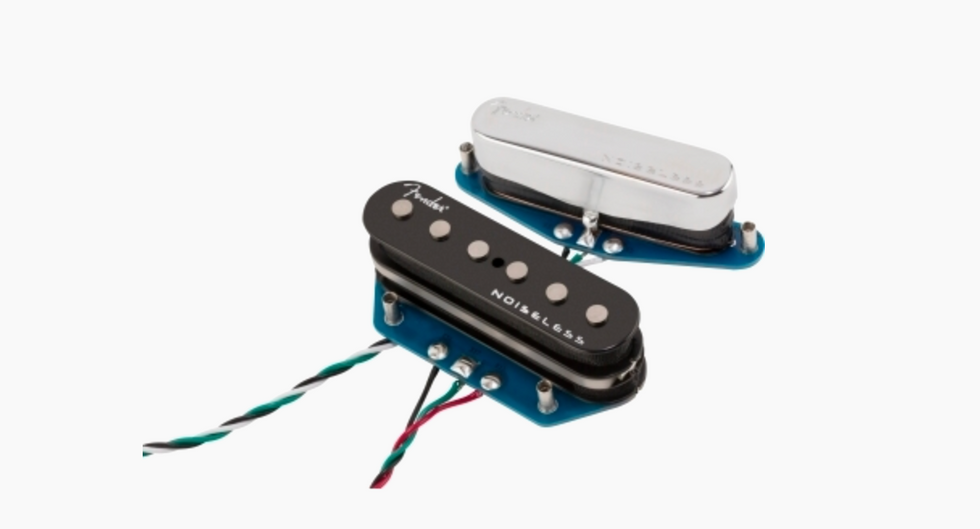 These stacked-coil setups aim to capture the classic sound and sparkle of vintage Tele pickups. They use alnico 5 magnets, Polysol-coated wire, and flat, non-beveled pole pieces. The neck pickup measure about 11k resistance and the bridge comes in around 10k.
$199/set street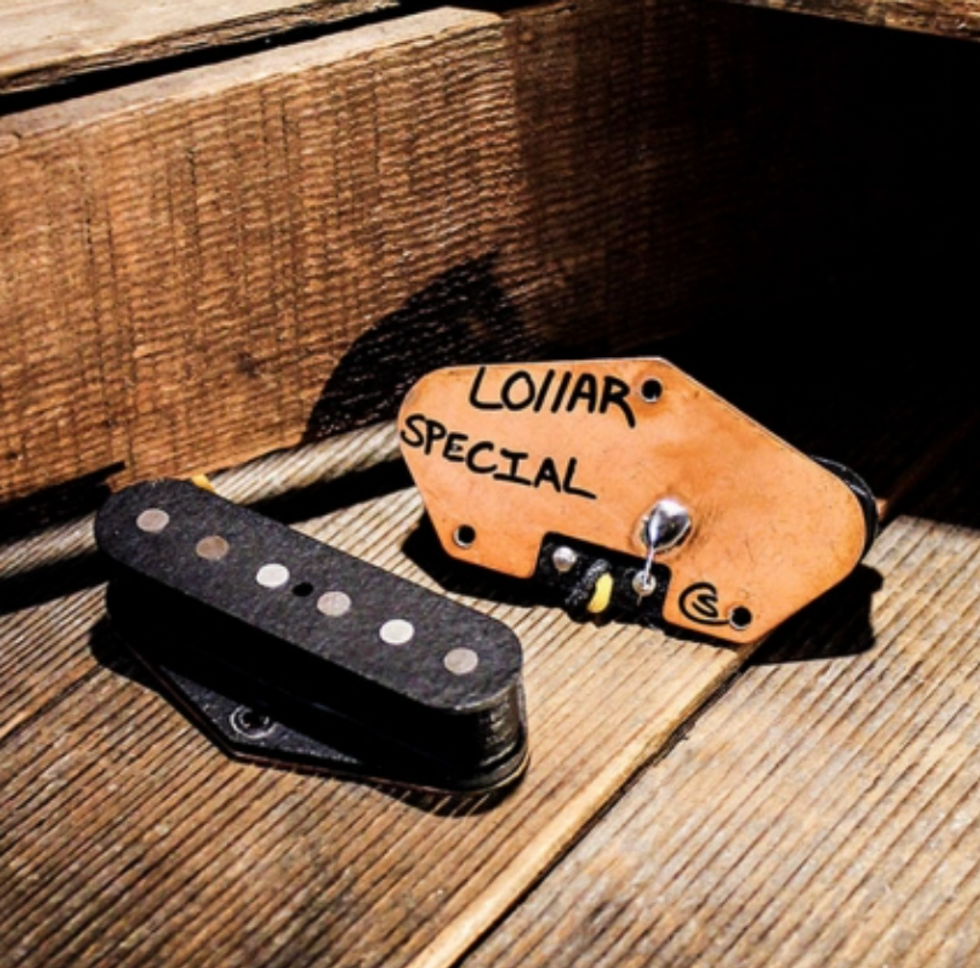 Jason Lollar is a bona fide pickup genius, and his take on the classic '50s Tele sound is represented here with a pronounced mid and bass response along with a smoother top end. Described as slightly hotter than a vintage Broadcaster pickup, the bridge comes in at 8.0k.
$125 street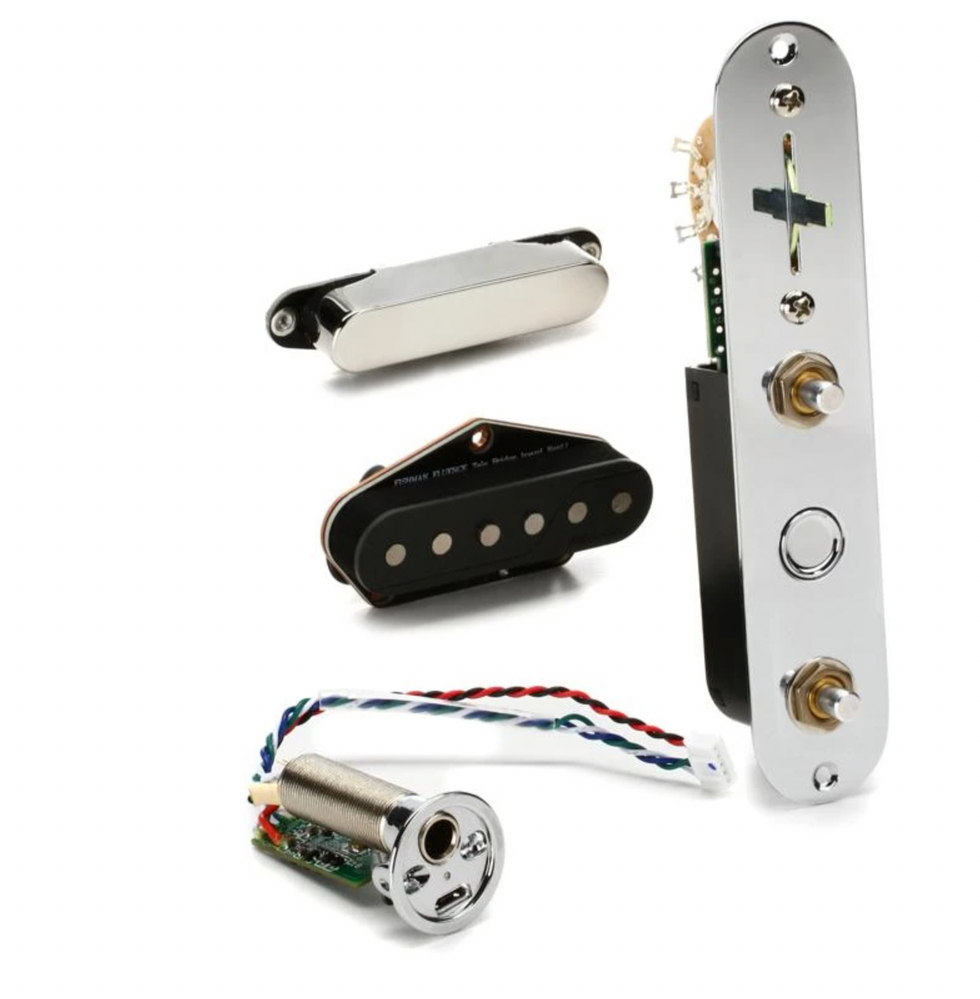 Wisconsin's most gristly guitarist teamed up with Fishman to create an entire T-style setup based on their Fluence technology. Each set includes both pickups, a control plate, and an output-jack cup with a USB charging input. With the push of a button, you can easily go between "blackguard" and "whiteguard" tones.
$359/set street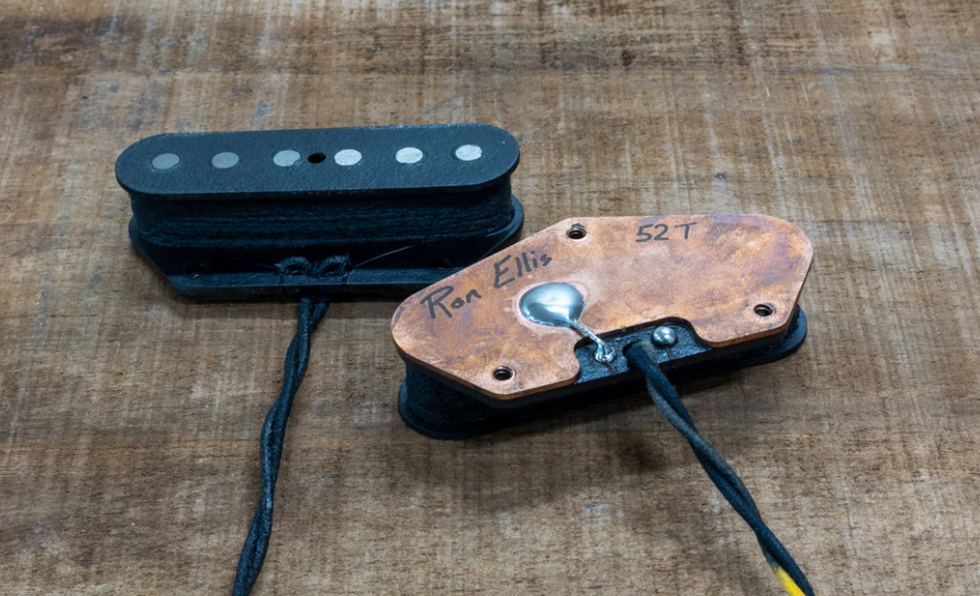 Ellis might be one of the most in-demand pickup designers around today—and the going rate for his offerings bear that out. This particular flavor goes after the "blackguard" tones of classic Tele pickers such as Vince Gill and Brent Mason.
$375 street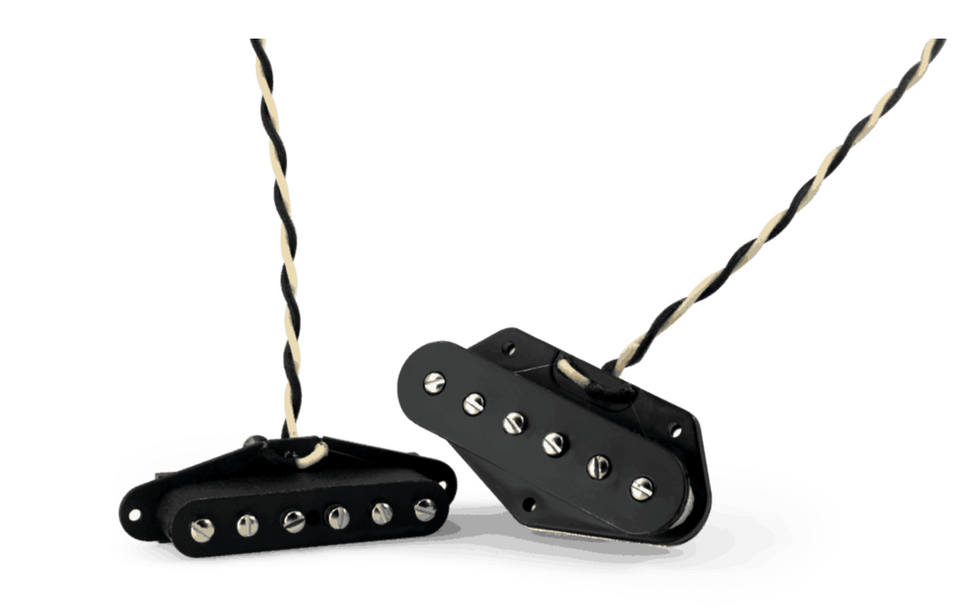 Described as a cross between a T-style pickup and a P-90, this design houses a ceramic magnet and adjustable steel pole pieces. Sonically, it has a mid-forward tone that offers a faster breakup when playing with distortion.
$115 street
Hate the hum? These active pickups aim to balance the punch and clarity of vintage Tele pickups with the modern convenience of quiet. It uses alnico magnets and a custom winding to increase bandwith and fullness of tone.
$89 street
New offerings include signature sets from Jim Root, Robert Trujillo, and an update on their 57/66 set.
Santa Rosa, CA (January 18, 2020) -- EMG Pickups announces the highly anticipated Signature Set of Slipknot guitarist and longtime EMG Artist, Jim Root. The Jim Root Daemonum Signature Set will be released at NAMM 2020 and available for pre-order starting Friday January 10th through the EMG Pickups website.
Root, a long time user of the EMG 81/60 combo, began the process of developing a signature set well over three years ago. After trying various prototypes, Root was inspired by a set of modified Retro Active pickups to tailor his tone. He settled on a set that gave him everything he loved about the 81/60 with the added benefits and versatility of the Retro Active design.
Unlike traditional open coil pickups, both the bridge and neck pickups utilize stud poles in both coils. The fingerboard pickup uses ceramic studs giving it a clean high-end tone and percussive response. The bridge pickup has black steel poles and features a ceramic magnet, similar to the EMG 81. Both pickups feature custom Retro Active preamps exclusive to the Root set.
The Jim Root 'Daemonum' Set features EMG solderless wiring that is manufactured in California and will be available in both Zebra & Black. The Zebra 'Daemonum' set will also be featured in Root's 2020 Fender Signature Jazzmaster.
MSRP: $319.99 MAP: $229.00
Watch the Jim Root Signature 'Daemonum' Pickup Set video demo:

EMG Pickups announces the Robert Trujillo Signature 'Rip Tide' Set. For the first time in pickup history, EMG and Robert Trujillo are bringing stainless steel, black chrome caps to the world of the jazz bass.
Trujillo has been using the EMG J Set since before his days in Metallica. Now he is truly metal, trusting his original tone combined with a modern, new look. Because of the custom stainless steel caps, these pickups maintain their original sound that's been used in the industry for decades.
The pickups are designed for traditional 4 string jazz bass spacing but are suitable for narrow 5 string instruments as well, due to the utilization of bar magnets instead of pole pieces. They come with EMG's solderless wiring harness for a standard volume/volume/tone setup. Pre-Order yours Friday, January 10 th at www.emgpickups.com.
MSRP: $309.99 MAP: $219.00
Watch the Robert Trujillo 'Rip Tide' Signature Pickup video demo:

In 2010 EMG Pickups introduced the 57/66 Set. Now, 10 years later, they are releasing the dual mode versions of one of their most popular sets. These pickups feature selectable single and dual coil sounds using EMG's proprietary three coil design.
The 66TW neck pickup features its popular humbucker design, while the single coil selection gives the player brilliant fluidness. The 66TW is a true hybrid in design using both ceramic and alnico magnets. By utilizing both magnet types, the tone from the single coil position is clear and powerful.
The 57TW bridge pickup uses a combination of alnico and steel making it a true rocker in both single and dual coil positions. The single coil selection is smooth and seamless and the high resonance of the pickup carries the tone with unequivocal clarity.
This being the extension of the popular 57/66 Set, EMG has taken this set to a whole new level. The 57/66 TW Set includes EMG's solderless wiring harness with a push pull potentiometer for each pickup along with two standard tone controls to fit any configuration. Available for Pre-Order Friday, January 10 th and available in Black, Chrome, Black Chrome, Brushed Chrome or Brushed Black Chrome.
Starting at MSRP: $359.99 MAP: $269.00
Watch the 57/66-TW Dual Mode Set video demo:

For more information:
EMG Pickups
Inject your guitar with newfound fury by dropping in a new humbucker or two.
If you're a player on the heavy side of the genre fence and need more gain and aggression in your sound, consider the simple solution of swapping in new humbuckers for a big-boned tonal makeover. Following are just 10 of the multitude of options out there.
Designed with the modern-metal guitarist in mind, this alnico-5 humbucker is voiced for fat and powerful tones, as well as fluid vocal-like sustain when driven hard.
BARE KNUCKLE
The alnico-5 magnets in this popular active 'bucker deliver a muscular growl and smooth lead tones that fly with anything from blues to the most extreme metal.
EMG
Designed to kick a tube-amp into total overdrive, this pioneering pickup offers a balance of big lows, fat highs, and thick, boosted mids.
DIMARZIO
This humbucker offers a choice of two distinctive—and switchable—voices: a high-output 'bucker tone made for distortion, and a modern, active pickup with tight bass and crisp highs.
FISHMAN
This aggressive neck pickup is engineered for a fast attack and superb clarity—ideal for drop-tuned modern metal and djent tones.
RAILHAMMER
For the many chasing Edward's tone, this direct-replacement humbucker is reported to achieve all of it, from the stinging highs and snarling mids, to the all-important "brown" sound.
EVH
Wound hotter than the company's Classic Humbucker cousin, this alnico-5 pickup has a crunchier sound in higher-gain environments while still promising articulate tonal clarity.
FRIEDMAN
These high-output pickups use ceramic magnets for crystalline cleans, and when cranked, are designed to deliver fat, snarling, and aggressive tones with crisp note articulation.
PRS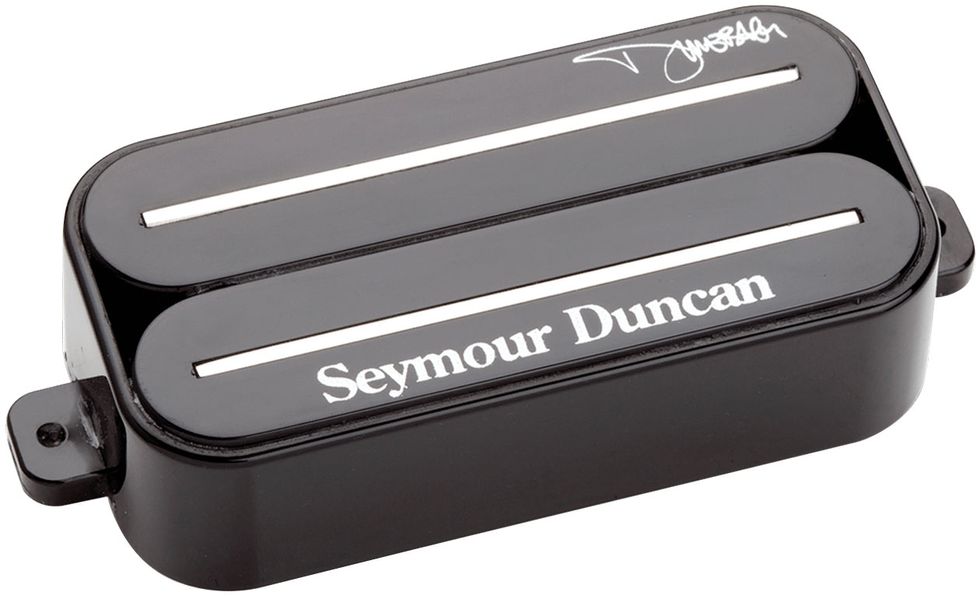 Built to Dimebag Darrell's exact specs, this ceramic-bar-magnet pickup strives for crunchy pick attack, scooped mids, and the ideal amount of saturation.
SEYMOUR DUNCAN
Conceived with metal in mind, these humbuckers require no electronics, circuit boards, or batteries, and can be split into single-coil mode without any loss of output level.
LACE