Learn how classic Fender amplifiers can be tweaked and retrofitted to give you smooth, vintage bass tones.
Those of you who have read my earlier columns know I am a diehard fan of the classic Fender tube amps, particularly the black- and silver-panel-era Fenders. They're great tone platforms that can take you in many directions with various guitars and pedals, and they work just as well for harmonica, electric piano, and bass guitar due to their natural, straightforward tone. In this column, I'll share my experiences and tips for running a bass through different Fender guitar amps.
Guitar amps and speaker cabinets are normally built much lighter than typical closed bass-amp cabinets. High-wattage bass amps require dense, robust construction that can handle serious air pressure. They're often closed cabinets with air intakes called bass reflex systems, which control airflow from the speaker vibration and enhance the lower frequencies. But even without a bass reflex system, some guitar amps can produce a nice bass-guitar tone. Obviously, they're not capable of doing what an 8x10 Ampeg cabinet can do, but for me, that's not relevant. The music that I listen to and play (mostly '60s and '70s rock, soul, and blues) has a laid-back yet articulate bass tone.
I grew up listening to a lot of Donald "Duck" Dunn's Jazz and Precision bass-guitar playing on recordings by Otis Redding, Booker T. & the M.G.'s, and other legendary artists from Stax records in the '60s. For Dunn's tone—which drives the groove and forms a significant part of the mix—you don't need an extremely deep or punchy bass. With classic Fender guitar amps, you can get a mellow bass tone with medium-low frequencies that blend in smoothly with a band.
Fittingly, the first amp I'd like to mention is the Fender Bassman. The black-panel version—a 50-watt head with a diode rectifier, negative feedback loop, and dual 6L6 tubes—shouts "clean headroom." The 2x12 speakers in the matching, closed piggy-back cabinet sound bassy and tight, and offer more low end than any of the open-back Fender amps. The amp has two channels, one voiced for bass and one for guitar. The bass channel offers a deep switch to better tune in or out the lowest frequencies, and you can unlock more tone options by installing a 25k mid switch in the normal channel, a mod I explain in my May 2023 column,
"Why Did I Ever Sell These Amps?"
The mid switch acts like a fat boost that can trigger the amp to distort if you play at the threshold of the amp's breakup point.
"With classic Fender guitar amps, you can get a mellow bass tone with medium-low frequencies that blend in smoothly with a band."
Another trick I like to do is jump channels. I dial in a full, relaxed tone on the bass channel, and a brighter tone on the normal channel with the bright switch on. (Sometimes I add some overdriven tones using the mid switch and volume on the normal channel.) If you're after more volume, consider installing louder, more efficient speakers. The original Oxford, Jensen, or Utah speakers in vintage Fender amps are modest compared to modern ceramic or Neodymium speakers, which can help lighten the heavy speaker cabinet. Plus, you can use other external speaker cabinets with the 4-ohm Bassman head for more punch and different tones. The speaker impedance should be between 2 and 8 ohms, but 4 ohms will give you the most clean headroom.
The Fender Showman and Dual Showman are two other piggy-back amps worth mentioning. Compared to the Bassman, these models have some advantages. They boast almost twice the power for bigger stages and rooms, and the Dual Showman's flexible impedance allows you to use a variety of speaker cabinets. (I prefer 10" and 12" speakers over the original 15" Showman ones for their faster response and lighter weight.) That said, they lack the Bassman's deep switch, dedicated bass channel, and ability to jump channels.
Finally, we have the Tweed Bassman and the Super Reverb. By specs alone, the black-panel Super Reverb is the heir of the narrow-panel Tweed Bassman. Both have open-back 4x10 cabinets and a 40-watt, dual 6L6 power amp section in push/pull configuration. With four 10" speakers working together, the cabinet doesn't necessarily need to be enclosed to achieve a nice bass tone. These amps will work well for bass guitar in practice and in smaller settings, but be careful with older 10" speakers. The dry, porous paper speaker cone and thin copper wires can easily be damaged at higher volumes, so for bass usage, I'd recommend replacing them with newer speakers. Since I use my amps for both guitar and bass, I like regular guitar-voiced speakers, but if you're using the amp exclusively for bass, you might consider using bass-specific speakers.
The ragged rockers still love their Teles and Fender combos, but they've added a rare Gibson and ... a bouzouki!
Deer Tick was started by self-taught multi-instrumentalist John McCauley as a solo songwriting endeavor in 2004. The band's instant, ear-perk appeal is McCauley's wiry, craggy voice narrating personal hardship and loss. When you hear Deer Tick albums, the honesty that pours out of the speakers punches your gut and tears your heart.
Originally touring with a revolving cast of supporting musicians, McCauley solidified his rhythm section with half-brothers Dennis Michael Ryan (drums) and Christopher Dale Ryan (bass) before finalizing things with Ian Patrick O'Neil on guitar in 2009. The band's staying power and relevance is rooted in their ability to cross-stitch ringing hi-fi Americana harmonies and lo-fi alt-country vibes with melancholic Nick Drake moods and trouncing honky-tonk rumblers with tattered rockers perfect for Iggy or Kurt. That amalgamation is both timeless and contemporary. (It's worth noting that McCauley—a self-proclaimed Nirvana nut—sang and played guitar alongside surviving members Dave Grohl, Krist Novoselic, and Pat Smear during Cal Jam 2018.)
Before Deer Tick's co-headlining show with Delta Spirit at Nashville's Brooklyn Bowl, McCauley (vocals/guitar) and Ian Patrick O'Neil (guitar/vocals) chatted with PG's Chris Kies. The conversation covered Teles (and why they're the duo's current favorites) and how Fender combos have always factored into the band's sonic scripts for stage and studio. Plus, both pickers provided a quick-and-dirty sampling of their stomp situations.
Brought to you by D'Addario XPND Pedalboard.
Stove-Top Tele
Deer Tick founder John McCauley picked up this 1978 Fender Telecaster Custom about 10 years ago at a small shop in Lawrence, Kansas. The pickups were original, but they were noisy boogers. Opting to solve the problem himself, McCauley fired up his stove and attempted wax-potting them. The cherished Wide Range neck pickup was a success. However, the stock bridge single-coil was a disaster. To salvage the guitar, he took it to Nashville's Corner Music and had a tech put in the closest option to the original. (McCauley notes in the Rundown he's unsure of the make or model.)
As for falling for a traditional instrument, here's what he had to say: "I sat in with the Quick & Easy Boys, from Portland, Oregon, when they were playing in Baltimore, and Jimmy [Russell] gave me his Telecaster. I was just able to do things differently and play better. I attribute that to the Tele neck."
McCauley plays D'Addario NYXL .010s on this and his other standard-tuned guitars.
Drake Droner
McCauley assembled this parts Jazzmaster with an Eastern hard-rock maple body and neck from Warmoth. He took on the venture in 2003, after attending a guitar-building class at Noll Guitars in Cranston, Rhode Island. The dense offset rides in an open Csus4 tuning (C-G-C-F-C-F) that McCauley copied from Nick Drake. The Black Dirt Sessions' "Mange" was the lone Deer Tick song he wrote in the tuning for the longest time, but "Sea of Clouds," and "Jumpstarting" have since joined the fold. The seafoam green machine rides with a custom set of D'Addarios (.010, .013, .024, .032, .046–.056.). The pickups (brand not known) are actually P-90s in Jazzmaster-style housings.
Less Paul, More Octaves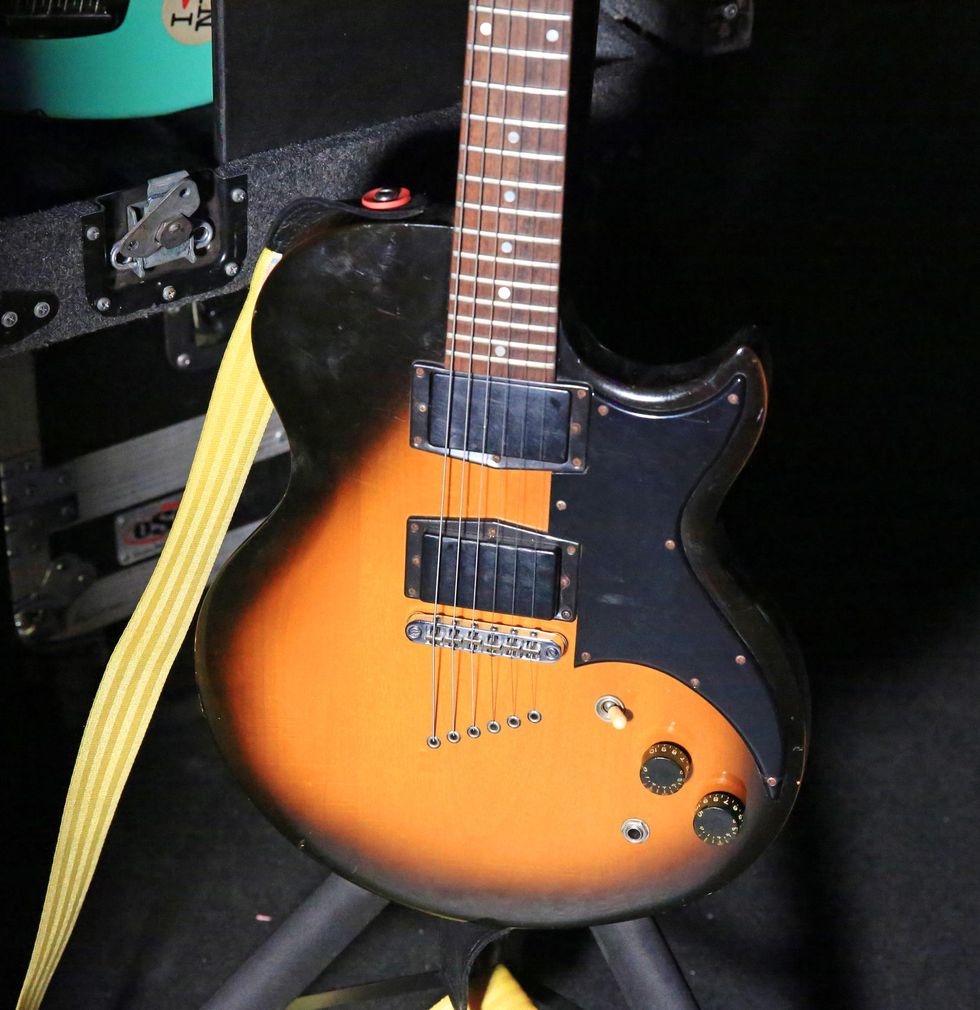 This 1970s Gibson L6-S is McCauley's back-up guitar for standard-tuned songs. He scored it in the early 2000s at a Guitar Center in North Attleborough, Massachusetts. He's enjoyed bonding with the unusual Les Paul relative, which happens to be Gibson's first singlecut offering with a full, two-octave 24-fret neck. Sometimes he'll drop the G-string to E for the song "Don't Hurt."
McMauley's Moonbird
McCauley had toured with an acoustic Gold Tone BZ-500 bouzouki, but had always wanted to electrify the Greek instrument. As luck would have it, he found this Luna Guitars Moonbird model and has since brought it on several Deer Tick runs.
Super for Stage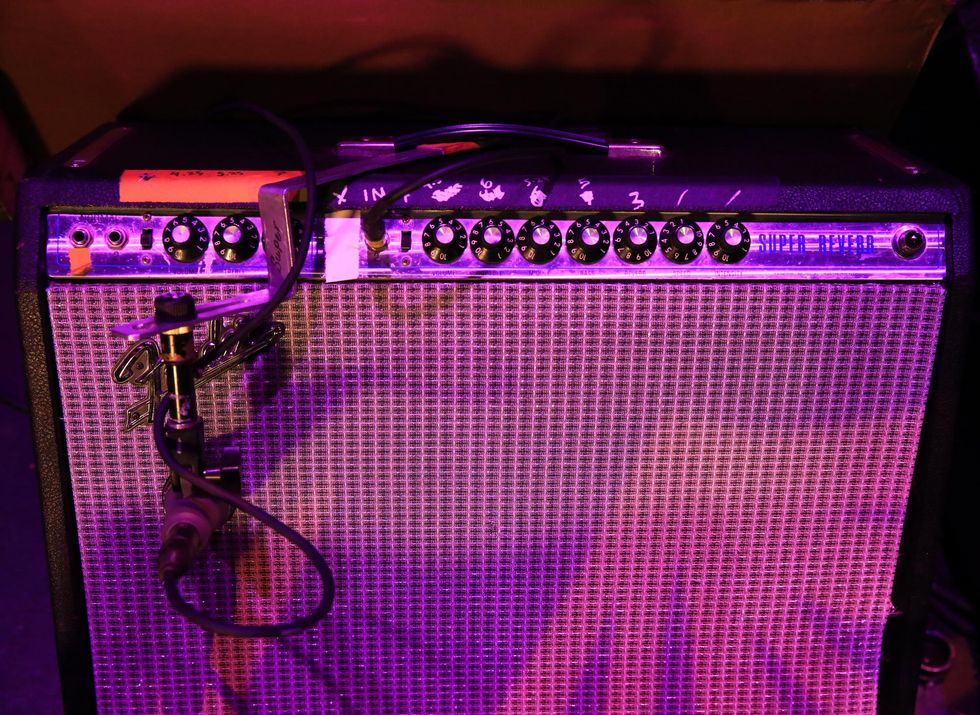 On recent Deer Tick albums and other projects, McCauley has preferred plugging into a 15W Fender Bassbreaker 1x12 combo that runs on EL84s. When it comes to performing, he opts for more power and punch by touring with this 1970s Fender Super Reverb 4x10.
McCauley's Minions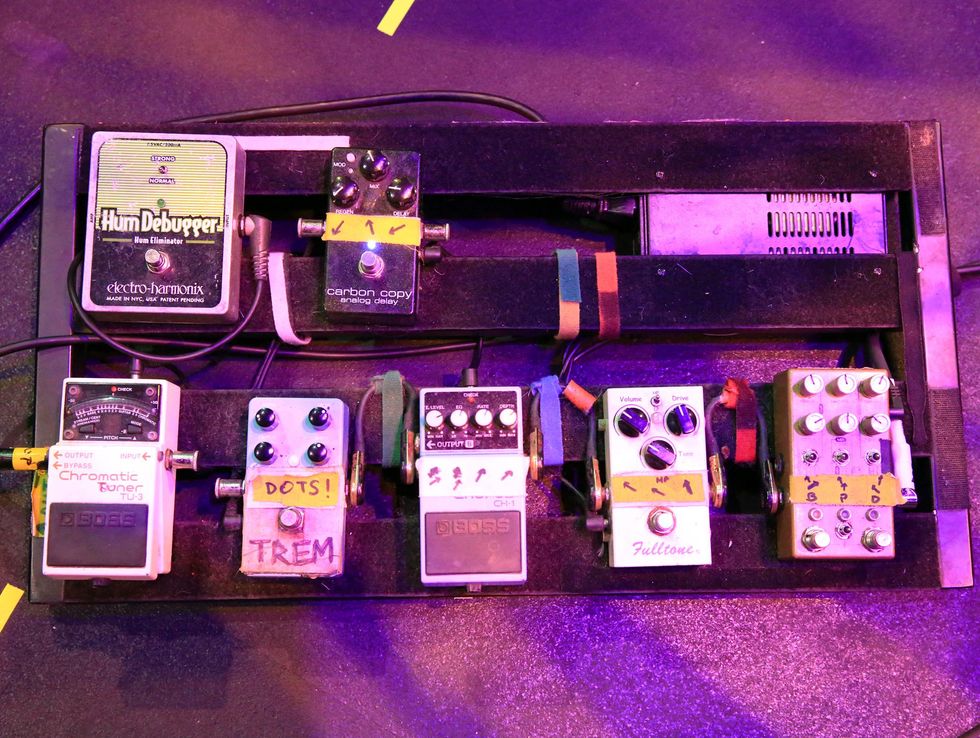 "I'm not much of a boutique pedal guy," admits McCauley. "But I have one nice pedal, and that's the Chase Bliss Brothers." He has one side of the complex gain-stage pedal set for boost and the other side for overdrive. He does usually have the boost section on to push the Super in a pleasing way. The Fulltone OCD is on hand for any solos. The self-proclaimed Nirvana fan never leaves home without the Boss CH-1 Super Chorus and gets slippery during "The Dream's in the Ditch." The Catalinbread Valcoder Tremolo is a favorite because he can control the input and output volumes, making sure it doesn't get lost in the mix. The MXR Carbon Copy is set for a slapback delay. McCauley mostly employs single-coil guitars and has the Electro-Harmonix Hum Debugger for noise issues. And to keep his guitars in check, he trusts a Boss TU-3 Chromatic Tuner.
Time for a Tele
"Pre-pandemic I was pretty much just playing '80s Fender Japanese Strats with handwound Custom Shop Josefina Campos Fat '50s Stratocaster single-coils," mentions Deer Tick guitarist Ian Patrick O'Neil. "I don't know what happened over that year and half, but when we got back together and going through our guitars in a storage unit, I just loved this Tele again." The reconnected friend is a Fender Vintera '50s Telecaster Modified that came stock with Custom Shop single-coils. Similar to his 6-string counterpart, O'Neil puts D'Addario NYXL .010s on all his standard-tuned guitars. And he gets busy with Dunlop Tortex Standard .73 mm picks.
A Sneaky Strat-y Tele
For any songs that require a capo (like "The Dream's in the Ditch" where O'Neil steps out on lead vocals), he'll put on this Fender American Professional II Telecaster that's been modded with fresh Lollar pickups—a Vintage T Bridge and a Royal T Neck. Its alnico-5 magnets and custom-nickel pickup cover aim to give a springy, 5th-position Strat sound.
Jazzmaster in D
Here's O'Neil's Fender Classic Player Jazzmaster Special that was simplified with the removal of its lead/rhythm circuits. The surgery was done by longtime guitar tech and pal Domenick Panzarella, based in Providence, Rhode Island. This one sees stage time when the band moves into drop-D territory for songs like "The Rock."
Stimulus Stock Up
O'Neil scooped this 1970s Guild D-40 Bluegrass Jubilee with his Covid-19 relief money distributed by the U.S. government during 2020. He bought it off a guy in a Planet Fitness parking lot.
Tweed Me
On previous Deer Tick tours, O'Neil was lugging around a silver-panel '70s Fender Twin Reverb that was altered to approach a more black-panel sound, with lower headroom and quicker breakup. But after seeing the world a few times, it became farty and muddy. Fender's Michael Schulz offered O'Neil a handwired Fender '57 Custom Twin-Amp and he hasn't looked back.
Ian's Instigators
O'Neil's board offers a similar recipe to McCauley's (MXR Carbon Copy and Fulltone OCD), but their ingredients do vary. The different spices include a Black Cat Mini Trem, Jam Pedals Rattler distortion (extreme solos), TC Electronic Hall of Fame reverb, and an MXR M234 Analog Chorus. An LR Baggs Para DI Acoustic Guitar Preamp/DI works with the Guild D-40, while a pair of Boss TU-3 Chromatic Tuners keep his electrics and acoustic in line.
In our 13th year of the popular video series, we cataloged setups of a guitar god, Nashville session ace, audaciously charming Brit rockers, a slide master, and heavy-music-producing icon. Find out who topped this year's list!
Chris Kies
There's no doubt ZZ Top trademarked Texas boogie. And over 30 years later, the Sword furthered the Lonestar shuffle's legacy by darkening it.
---
Chris Kies
Ariel Posen entered as a sideman. His scintillating work with the Bros. Landreth made him a guitarist's guitarist. He's since stepped out on his own to show he's more than just shadowy specialist.
---
Chris Kies
If you've thought to yourself, "this is the most vicious-sounding record I've heard," chances are Kurt Ballou's fingerprints are on it. Since officially starting in 1995 inside his parents' garage and eventually opening GodCity Studio's doors in 2003 (in "Witch City" Salem, MA, no less), Ballou has chiseled out granite tones for bands like Every Time I Die, High on Fire, Torche, Cave In, Old Man Gloom, American Nightmare, and Kvelertak. ("He brings a lot to the table, and he's been pretty important in terms of how our sound got formed," Kverlertak's Vidar Landa in a PG interview on working with Ballou.) Oh, and we can forget his genre-shaping band Converge, that he's played guitar in since 1990, co-produced since 2001's hardcore pillar Jane Doe and been the console captain since 2006's No Heroes.
---
John Bohlinger
He's played with Santana, Stevie Wonder, and a host of other greats, and his lessons and demos on YouTube have garnered more than 15-million views—so there's a good chance you already know this Nashville-based guitarist.
---
John Bohlinger
Lzzy Hale and Joe Hottinger of the Grammy-winning rock band Halestorm recently took a break from rehearsals for their 2021 tour to talk rigs with Premier Guitar's John Bohlinger.
---
Chris Kies
The 2000s were an odd period for music sales. The decade was a tale of polar opposites. Songs and albums never exchanged hands faster (thanks to file-sharing services like Napster and LimeWire), and thus the industry's sales plummeted.
During the aughts, one of the few acts growing through the free-streaming floodwaters, were the dark, theatrical rockers My Chemical Romance who melded punk, post-hardcore, indie, and glam. Singer Gerard Way started the band in late 2001 after the 9/11 attacks. He recruited drummer Matt Pelissier (replaced by Bob Bryar in 2004), lead guitarist Ray Toro, his brother Mikey Way for bass, and in early 2002 Frank Iero joined.
---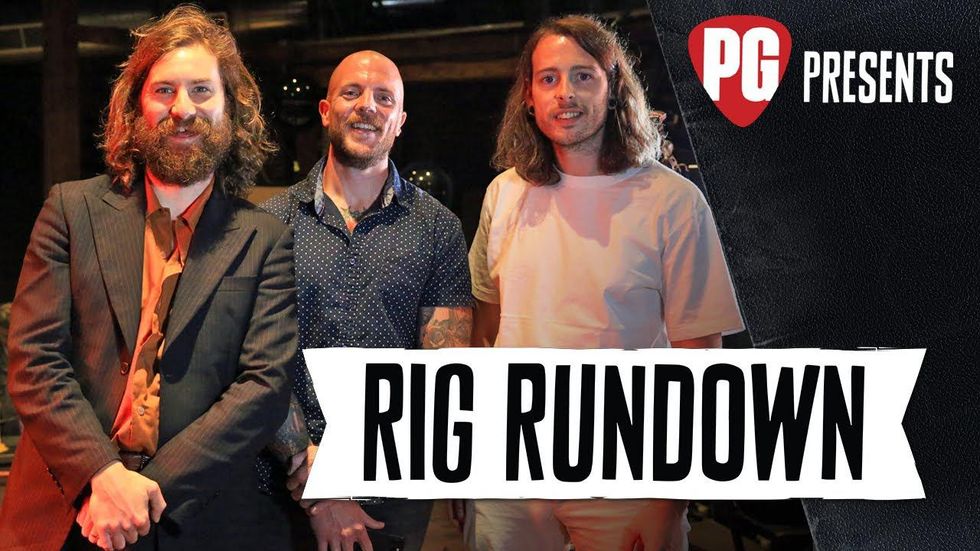 Chris Kies
Do you hear that thunder? That's the sound of strength in numbers. Specifically, it's the sound of four 100-watt stacks. (Actually, one is a 200-watt bass tube head.) IDLES' guitarists Mark Bowen and Lee Kiernan finally have the firepower to match their fury. (Original members singer/lyricist Joe Talbot, drummer Jon Beavis, and bassist Adam Devonshire fill out the band. Kiernan took over for guitarist Andy Stewart after 2015 EP Meat was released.)
---
John Bohlinger
It's impossible to overstate Brent Mason's impact on country and, arguably, even rock guitar. Over the course of his more-than-35-year career, Mason has perfected a tone that's inspired an untold number of players, and there's even a Tele mod that bears his name. He's also a highly respected and successful producer and solo artist, a member of the Musicians Hall of Fame, has won the Academy of Country Music's Guitarist of the Year award 12 times, and there's a Grammy on his mantle.
---
John Bohlinger
At age 76, Eric Clapton remains a major presence in guitar. He's touring again rather than simply resting on nearly six decades of laurels, and with Slowhand's blessing, Dan Dearnley—the legend's tech for a dozen years—showed us his boss' setup before a September 21 concert at Nashville's Bridgestone Arena. Three Signature Strats, Martins, and not much else. Dig in!
---
John Bohlinger
Few rock bands have made a bigger splash over the past five years than Greta Van Fleet. Since their first full-length, From the Fires, won a Grammy for Best Rock Album, Jake and Sam Kiszka have constantly dug deeper to expand their band's sonic scope. GVF's latest, The Battle at Garden's Gate, is packed with deep, nuanced sounds that all need to be created live by a classic rock-trio lineup with an amazing singer.
---