Learn how classic Fender amplifiers can be tweaked and retrofitted to give you smooth, vintage bass tones.
Those of you who have read my earlier columns know I am a diehard fan of the classic Fender tube amps, particularly the black- and silver-panel-era Fenders. They're great tone platforms that can take you in many directions with various guitars and pedals, and they work just as well for harmonica, electric piano, and bass guitar due to their natural, straightforward tone. In this column, I'll share my experiences and tips for running a bass through different Fender guitar amps.
Guitar amps and speaker cabinets are normally built much lighter than typical closed bass-amp cabinets. High-wattage bass amps require dense, robust construction that can handle serious air pressure. They're often closed cabinets with air intakes called bass reflex systems, which control airflow from the speaker vibration and enhance the lower frequencies. But even without a bass reflex system, some guitar amps can produce a nice bass-guitar tone. Obviously, they're not capable of doing what an 8x10 Ampeg cabinet can do, but for me, that's not relevant. The music that I listen to and play (mostly '60s and '70s rock, soul, and blues) has a laid-back yet articulate bass tone.
I grew up listening to a lot of Donald "Duck" Dunn's Jazz and Precision bass-guitar playing on recordings by Otis Redding, Booker T. & the M.G.'s, and other legendary artists from Stax records in the '60s. For Dunn's tone—which drives the groove and forms a significant part of the mix—you don't need an extremely deep or punchy bass. With classic Fender guitar amps, you can get a mellow bass tone with medium-low frequencies that blend in smoothly with a band.
Fittingly, the first amp I'd like to mention is the Fender Bassman. The black-panel version—a 50-watt head with a diode rectifier, negative feedback loop, and dual 6L6 tubes—shouts "clean headroom." The 2x12 speakers in the matching, closed piggy-back cabinet sound bassy and tight, and offer more low end than any of the open-back Fender amps. The amp has two channels, one voiced for bass and one for guitar. The bass channel offers a deep switch to better tune in or out the lowest frequencies, and you can unlock more tone options by installing a 25k mid switch in the normal channel, a mod I explain in my May 2023 column,
"Why Did I Ever Sell These Amps?"
The mid switch acts like a fat boost that can trigger the amp to distort if you play at the threshold of the amp's breakup point.
"With classic Fender guitar amps, you can get a mellow bass tone with medium-low frequencies that blend in smoothly with a band."
Another trick I like to do is jump channels. I dial in a full, relaxed tone on the bass channel, and a brighter tone on the normal channel with the bright switch on. (Sometimes I add some overdriven tones using the mid switch and volume on the normal channel.) If you're after more volume, consider installing louder, more efficient speakers. The original Oxford, Jensen, or Utah speakers in vintage Fender amps are modest compared to modern ceramic or Neodymium speakers, which can help lighten the heavy speaker cabinet. Plus, you can use other external speaker cabinets with the 4-ohm Bassman head for more punch and different tones. The speaker impedance should be between 2 and 8 ohms, but 4 ohms will give you the most clean headroom.
The Fender Showman and Dual Showman are two other piggy-back amps worth mentioning. Compared to the Bassman, these models have some advantages. They boast almost twice the power for bigger stages and rooms, and the Dual Showman's flexible impedance allows you to use a variety of speaker cabinets. (I prefer 10" and 12" speakers over the original 15" Showman ones for their faster response and lighter weight.) That said, they lack the Bassman's deep switch, dedicated bass channel, and ability to jump channels.
Finally, we have the Tweed Bassman and the Super Reverb. By specs alone, the black-panel Super Reverb is the heir of the narrow-panel Tweed Bassman. Both have open-back 4x10 cabinets and a 40-watt, dual 6L6 power amp section in push/pull configuration. With four 10" speakers working together, the cabinet doesn't necessarily need to be enclosed to achieve a nice bass tone. These amps will work well for bass guitar in practice and in smaller settings, but be careful with older 10" speakers. The dry, porous paper speaker cone and thin copper wires can easily be damaged at higher volumes, so for bass usage, I'd recommend replacing them with newer speakers. Since I use my amps for both guitar and bass, I like regular guitar-voiced speakers, but if you're using the amp exclusively for bass, you might consider using bass-specific speakers.
The PG Mad Professor Super Black review.
Ratings

Pros:

Spot-on Fender black-panel sounds. Simple and effective controls. Excellent overdrive channel.

Cons:

Expensive. Nasty pop when engaging the compressor.

Street:

$299

Mad Professor Super Blackmpamp.com

Tones:Ease of Use:Build/Design:Value:
Finland-based pedal builder Mad Professor has invented a stompbox that can dial up a range of classic black-panel Fender sounds. It's called the Super Black. Unlike a vintage amp, it won't break the bank or your back. And in a blindfold test, it might just blow the minds of hard-core Fender freaks.
At $299, the Super Black ain't cheap, but it also includes Mad Professor's Sweet Honey Drive circuit, which is about $150 on its own and can be used in combination with the Super Black's tone shaping tools or in standalone mode.
Into the Black
Here's the concept: Mad Professor says it's recreated the topology of Fender's famed AB763 circuit— the foundation for the black-panel Deluxe, Twin Reverb, Super Reverb, and Bassman, among others—within Super Black's 4 ½" x 3 ½" x 1 1/2" enclosure. Skeptical? I was, until I plugged in my Stratocaster and started playing. In no time I was conjuring spot-on duplicates of Deluxe, Twin, and Bassman tones—my favorite Fender flavors. (I run through those three voices in the demo video, using a Carr Vincent amp.)
The control set for the Super Black is simple. On the top row, there's a 3-band EQ and a gain dial. Under that are volume and presence knobs. For the Sweet Honey Overdrive section of the circuit, there's volume and drive (the "focus" control from the full-featured Sweet Honey has been omitted here). There's also a very effective bass cut toggle for moments when more chime is in order, and another toggle for compression. The compression switch is the source of my only issue with the Super Black because flicking the compressor on or off emits a popping sound. Otherwise, it's a blast to use. The Super Black can be powered with a 9V battery or DC.
In a blindfold test, it might just blow the minds of hard-core Fender freaks.
Spanning the AB763 Family
The Super Black's ability to approximate the dynamic range and characteristics of low- to high-powered black-panel circuits is remarkable. The pedal's most Deluxe-like tones (attainable with EQ controls at noon and volume and presence in a tight V) have lots of boxy, small-combo definition. In a more Bassman-like mode (bass and mids cranked, a little less treble, and the compression on) the mellow lows and hard-punching midrange are prominent. And as a stand-in for a Twin (which you get by backing off the gain and keeping the EQ controls between 11 and 2 o' clock) it was a dead ringer for the beloved 1966 black-panel I parted with last year, as a gift to my back. It's articulate and rich, with beautifully crisp mid range, clarion highs, and wonderfully fast response. It made me sentimental. If I'd been able to fit that amp in the palm of my hand, I'd still own it today. Toss in the Sweet Honey's growling overdrive and the age-old problem of pushing a high-powered Fender hard enough to get amp breakup is solved—all at very civilized volumes.
The Honey Drive, by the way, is a sweet deal all by itself. It's a medium-gain OD that is touch-sensitive and really shovels on dirt the harder you dig in. When its drive dial is cranked, that's an estimable amount of soil, and it's good at getting loud and filthy. But blended with the Super Black section's control set, however, there are lots of possibilities for fine-tuning the balance of clarity and distortion.
The Verdict
Sure, it's costly, but the Super Black lets you carry the taste of about a half-dozen classic black-panel Fenders to a gig or the studio with one hand. And with the Sweet Honey Overdrive included, it's a two-fer that solves the too-much-headroom issues of bigger Fenders while putting a great overdrive at your disposal. Needless to say, you need a relatively clean amp for this pedal to do its job right. Gainy or grainy amps don't let the Super Black's palette breathe its own rich voices. But the richness of these sounds proves there's genuine method in the madness of this pedal's creator.
Watch the Demo:

How to get more drive with a simple mod.
Hello Ask Amp Man fans. Well, this month I thought I'd do something a bit different. Instead of answering a reader question, I thought I'd make one up myself! I mean, why not? I write and read my column as well, so that makes me a reader, too! Here's my question to me.
Hello Amp Man. I have two '70s Fender Super Reverb amps, and while I don't want to do anything crazy to them, I'd like to know if there's a quick mod I can do to one of them to make it different from the other. Maybe get a bit more gain or drive? I don't like a lot of hyper-gain or scooped mids and am more of an old-school rock 'n' roll kinda player, so what can I do?
Sincerely,
Jeff
Hi Jeff, and thanks for writing. Okay—something old-school and simple. I have just the thing. I actually did this as an experiment the other day to see what would happen, so I'll pass along the results. I wanted to see if there was a really down-and-dirty way to cascade the two channels of a Super Reverb to get more front-end gain from an amp that really doesn't have much, so let's see what happens.
Warning:
All tube amplifiers contain lethal voltages. The most dangerous voltages are stored in electrolytic capacitors, even after the amp has been unplugged from the wall. Before you touch anything inside the amp chassis, it's imperative that these capacitors are discharged. If you are unsure of this procedure, consult your local amp tech.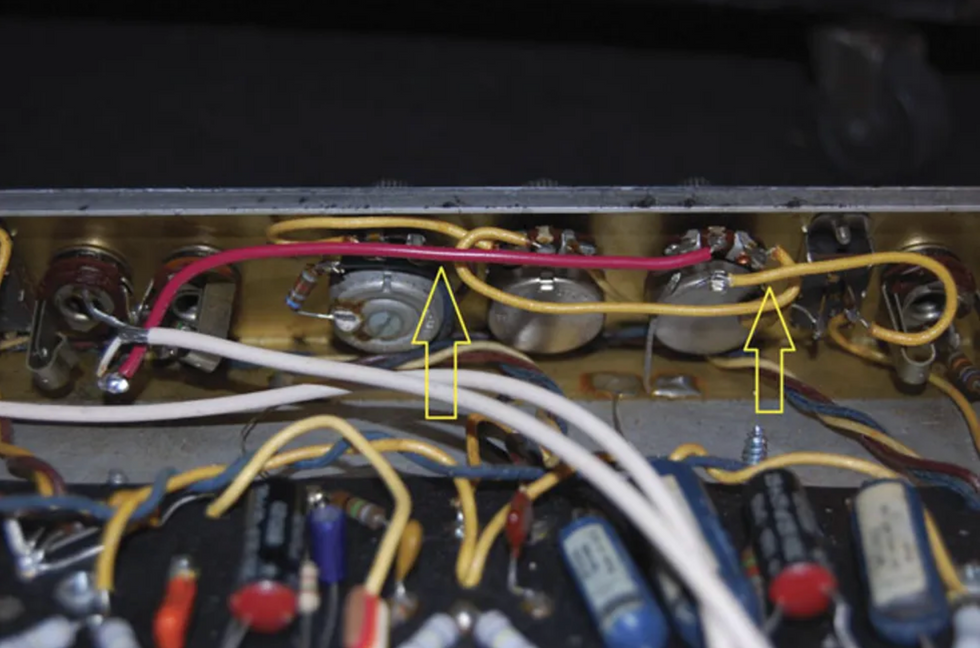 Fig. 1 — Once the wire from the wiper of the volume pot (middle terminal) in the normal channel is disconnected, a new wire is connected from there to the input of the vibrato channel at the junction of the input resistors.
The initial modification I tried was to take the output of the first gain stage in the normal channel and feed it to the input of the vibrato channel. The easiest way to do this was to disconnect the wire from the wiper of the volume pot (middle terminal) in the normal channel and connect a new wire from there to the input of the vibrato channel at the junction of the input resistors, which are attached to the input jacks (Fig. 1). Okay, let's see what happens. Turn the amp on, set the tone controls on both channels to the mid-point, plug a guitar into the normal channel, and bring up both volume controls slowly. The volume of the normal channel is now the "pre-amp" control.
The result? A bit more drive in the front end, but not as much as I would've expected. But wait, the signal is being loaded down by the input resistors, which—with nothing plugged into the vibrato input jacks—are connected to ground. Quick solution: Plug a blank 1/4" plug (no cable connected, just a raw plug) into the #1 input. This will open the switching contact and remove the resistive load to ground. The result is definitely a bump in gain, but let's see if we can do something different and get more gain.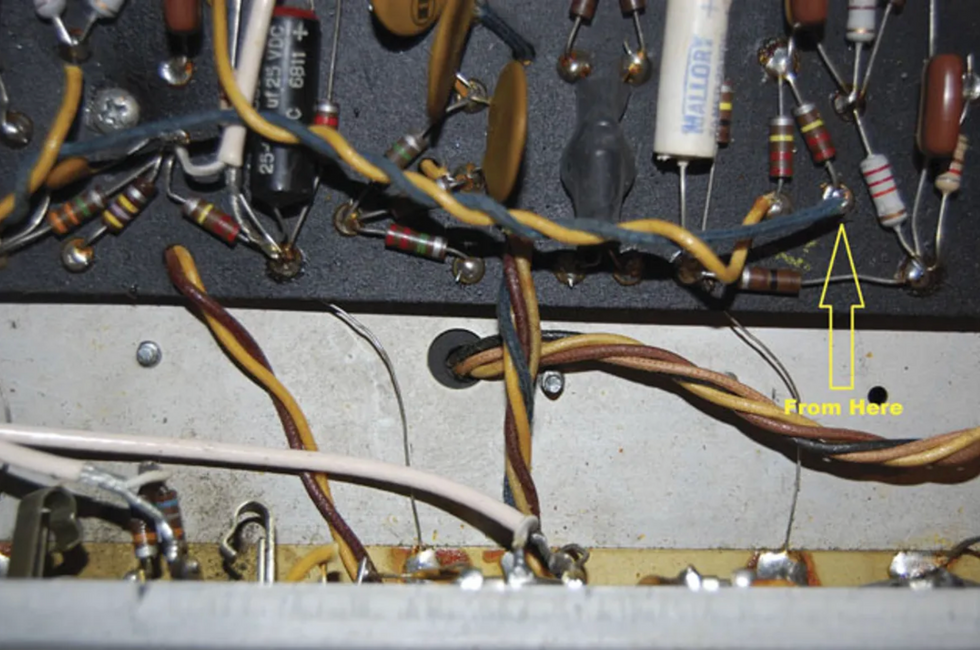 Fig. 2a — The first step of accessing the output of both stages of the normal channel before it enters the phase inverter and output section of the amp is finding the blue wire indicated and disconnecting it from the resistor.
The next attempt will use both gain stages of the normal channel. This starts with removing the new wire we installed and reconnecting the volume wiper to its original connection. Next, we'll access the output of both stages of the normal channel before it enters the phase inverter and output section of the amp. This is quite easy because the wire is handily accessible and long enough to use to complete the mod. Find the blue wire indicated (Fig. 2a) and disconnect it from the resistor. Next, connect it to the same pair of resistors in the previous modification (Fig. 2b). Now let's see what we have.
Fig. 2b — The next step is connecting it to the same pair of resistors in the previous modification.
With the same settings as before, there is substantially more gain. Enough to put it into metal territory? Far from it. Is it a great-sounding overdrive? Not really, but after twisting knobs for a few minutes (Fig. 3) with my P-90 equipped Tele plugged in, I found myself playing early Santana licks, because it actually sounded very similar to the early Carlos tone. Unless I was in a Santana tribute band, it's not something I would use all night, but it was a fun little experiment.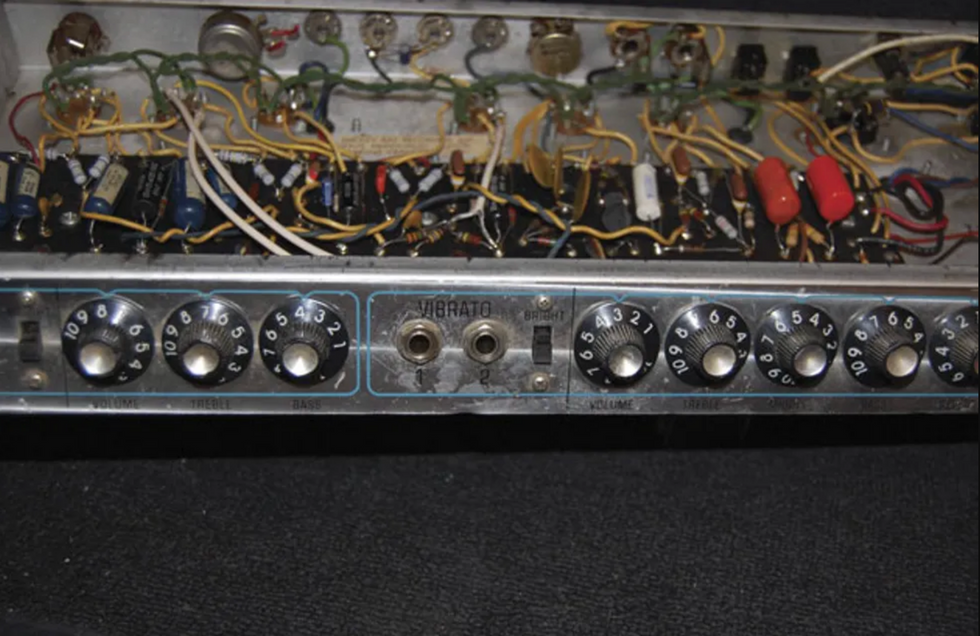 Fig. 3 — Before closing the amp, test your work. After twisting knobs for a few minutes with a P-90 equipped Tele plugged in, the author was able to conjure up an early Carlos Santana tone.
You could even make this switchable if you like. Simply install a SPDT (single pole double throw) switch in the amp somewhere and connect the signal wire from channel 1 to the center terminal. Next, connect a wire to one of the remaining terminals and attach the other end to the two input resistors. Connect a wire to the last terminal on the switch and attach it to the original location of the normal channel signal wire.
There you have it. Stock when you want it to be, with the option of a raunchy-yet-cool overdrive if you need it. Personally I prefer it to the push-pull master volume boost feature that showed up on Twin Reverbs and the like in the late '70s. And you get a few more benefits. For one, you have two sets of tone controls: one that controls the tone in the early stages and one set for the later stages. And, if you have a single-button footswitch, you can connect it to the #1 input of the vibrato channel and, as before, with the plain jack lift the signal loading from the input resistors for a gain/volume boost. Just make sure the wire on the footswitch is shielded. Pretty cool, and while it's not for everyone, hopefully it will make an amp that's just sitting around or needs a bump a bit more interesting. Enjoy!
[Updated 8/17/21]