We crawled under the hood, got dirty, and dissected dozens of pieces of gear in 2021. Here are the 10 pieces of kit that resonated with you the most.
Dave Hunter
The guitars in Epiphone's new Prophecy Collection, which includes the Prophecy SG reviewed here, perform an impressive balancing act. They streamline the classic Gibson four-knob control array, trade PAF-derived pickups for Fishman Fluence units, and style the guitars in a manner that screams "rock" with an exclamation point. But for all the streamlining, these instruments are enormously flexible, and they retain important cosmetic touchstones that emphasize the family connection to parent company Gibson's most iconic designs. Epiphone also maintained balance when it comes to price. The Prophecy SG is a reasonable $899.
---
Charles Saufley
Why review something so stupidly simple as a volume pedal, you ask? Well, as a player who has spent many years relying on one—both as creative tool and crutch (a little volume swell always sounds great when you've run out of ideas)—I can attest they are not all created equal. Not all of them can double as an expression pedal like the super-smooth Dunlop (X)8, either.
---

Charles Saufley
Followers of current events might be astonished to learn that the internet isn't quite as effective at separating myth from fiction as its early advocates and creators promised. I was reminded of this state of affairs whilst sniffing out sentiments about vintage Harmony guitars and the complex, convoluted world of gold-foil pickups. Needless to say, there are a lot of strong opinions out there—from advocates that defend old Harmonys as underrated, to snobs who still consider them universally substandard, to the growing cult of gold-foil fanatics who sing their praises to the sky without even agreeing about what a gold-foil pickup is.

---
Dave Hunter
Mesa/Boogie is both fond of reinvention and adept at it. Late last year, the Mesa/Boogie folks reimagined the Rectifier series amps, which became near-ubiquitous in metal and grunge circles in the wake of their 1992 release. The beastly Badlander 100 was the first of these new Rectifiers to hit the streets. It's now joined by the more modestly powered Rectifier Badlander 50—which is available as a head (reviewed here), 1x12 combo, or rackmount head—and can be powered by a pair of Brit-flavored EL34s or more-American-voiced 6L6s.
---

Dave Hunter
Even among a stable of instruments known for their versatility, PRS's Studio model is arguably one of the company's most sonically and stylistically malleable instruments. Reintroduced to the U.S.-made Core lineup for 2021 after first appearing in 2011, this new Studio is hyper-flexible, configured with a distinctive humbucker set and modified switching that takes that versatility up a notch.

---
Charles Saufley
It's funny to think the Jaguar was once derided by alleged guitar experts and collectors. For all its quirks, a good Jag' is a beautiful playing guitar in just about any incarnation—thanks largely to its short scale and curvaceous shape. In a way, the Squier Contemporary Jaguar HH-ST distills that recipe to its essence.
---
Dave Hunter
Fender's '68 Custom series won plenty of fans by resurrecting the stylish silver-panel amps of the late '60s and '70s and making some of those models into more modern gigging machines. One of the newest additions to the lineup is the '68 Custom Pro Reverb—an evolution of an amp that debuted as a black-panel model in 1965.
---
Shawn Hammond
Just as PRS's 2012 HXDA was inspired by firsthand looks at one of slide legend Duane Allman's amps from his seminal AtFillmore East performance, the brand-new HX 50 is the result of Paul Reed Smith and PRS amp guru Doug Sewell getting extensive access to a Marshall head reportedly used by Jimi Hendrix during his iconic performance at the 1969 Woodstock festival.
---
Nick Millevoi
Since its 2014 revival, Supro has given fans of small, low-wattage combos plenty to talk about. This should come as no surprise. Tiny but ferocious amplifiers with the Supro logo have been on the scene since the early days of the electric guitar and landed on some of the most classic guitar records of all time. And the company's recent offerings have captured the sonic essence of those vintage models with a line of well-built, modern amps that look just as cool as they sound.

---

Dave Hunter
The silhouette of the new Six Gun HPP is, at this point, a familiar shape—and arguably a classic. It's the foundation for many different Reverend models and clearly a versatile platform for evolution and experimentation. The updated pickup configuration and other new features of Reverend's offset workhorse make the $1,099 Korea-built Six Gun an impressive performer for the price.
---
The effects guru puts two historic pedals—the TS808 and the Nobels ODR-1—inside a single box, with a fresh circuit design that allows for four variations on their revered voices.
At first glance, Keeley Electronics' new Noble Screamer seems like a guitarist's dream version of a Reese's Peanut Butter Cup. This enticing morsel tastefully pairs two classic overdrive flavors, the timeless (and ubiquitous) Ibanez TS808 Tube Screamer and the best-kept-secret Nobels ODR-1.
The two circuits lurk side-by-side beneath the Noble Screamer's sleek hood, ready for action. But there's more: Keeley Electronics' founder and designer Robert Keeley provides a nifty additional twist for creating your own sonic mashups. With the Noble Screamer pedal you can link the Tube Screamer-like overdrive section—a masterpiece of soft-clipping aural bliss—with the ODR-1's thumping sonic flavors. Or conversely, you can deploy the ODR-1's hard-clipping drive with the Tube Screamer's famously midrange-forward tone circuit. Voila! Suddenly you have four pedals in one.
Beyond providing some pretty darn sweet guitar tones, the Noble Screamer also embodies a few bigger and more profound themes. It shows increased emphasis on made-in-the-USA manufacturing, a trend that extends far beyond music gear. It offers additional options for buffering and true bypass as standard equipment on a guitar pedal—highly useful even for guitarists who remain stubbornly technology averse. And it aims to reinvent a key product line from an iconic company. But let's start at the beginning…
Nailing the Right Shade of Green
"Pairing the ODR and Tube Screamer isn't just about the green color, but it sure helped," laughs Robert Keeley. "There is a rhyme and reason why I chose those two pedals for the Noble Screamer. I had never done any mods or anything based on the ODR-1, but the idea for the pedal came from this: Wouldn't it be fun to combine two green pedals? And what if I could allow you to hear what makes each pedal unique, and borrow from one to the other? I was able to choose between the Tube Screamer tone control or the ODR tone control, and do the same thing with their clipping sections. So, I built both circuits in there, so people could mix-and-match and hear what makes each pedal unique."
Keeley Electronics Noble Screamer Overdrive and Boost - Tech Demo
Keeley knew he would face heavy scrutiny in tackling the ODR-inspired circuit. Introduced in 1992, the Nobels ODR-1 has attained near-mythic status in the Nashville scene, spurred by the advocacy of session veteran Tom Bukovac. Almost singlehandedly, Bukovac—fondly known as "Uncle Larry" to his online followers—helped popularize the original ODR-1 among his Nashville friends and collaborators. And over the years, many of Nashville's heaviest hitters have made the pedal an essential part of their arsenal.
Tom Bukovac x Keeley Electronics - Noble Screamer vs Vintage ODR-1 vs Vintage TS808
"There's a constituency in Nashville, Brentwood, and Franklin that really loves this pedal," Keeley notes. "They're all friends and they're damn near family, and this pedal works so well with their music. So, one of our goals became winning over that Nashville crowd. We carefully compared this to some great examples of 808s and ODRs—using audio analyzers, too—and then we took it to Nashville and asked veteran players to compare it to the original units."
The Noble Screamer passed the audition. After A/B'ing it with an original ODR-1, Nashville session and stage ace Guthrie Trapp acknowledged "we're sitting here and can hardly tell the difference. And to not have to spend $1,500 or $2,000 on a pedal…," he added, shaking his head. And even Bukovac himself says, "They sound pretty similar. The guitar tone sounds great."
Guthrie Trapp x Keeley Electronics - Noble Screamer vs Vintage ODR-1 vs Vintage TS808
Adding a Few Twists
Plenty of players will be hooked by the authentic sound of the Noble Screamer's two iconic overdrives. But for many guitarists, the real fun begins when you experiment with tone/overdrive mashups, combining a Tube Screamer with an ODR tone circuit, and vice versa. "The Noble Screamer's ODR tone control is a spectrum control," Keeley notes, "and it moves up the bass and the treble at the same time. The Tube Screamer is a simple low-pass filter that helps create the midrange hump. They make a fun combination and they allow you to get some unique sounds."
L.A.-based guitarist Brett Papa lauds the approach: "It's really interesting to see how it nails both of those classic tones. But for me, the hybrid is the coolest thing about that pedal, because it really is the best of both worlds. Some pedals are so temperamental circuit-wise, but it doesn't really matter with this pedal, because wherever your amp is at, you can dial in a great sound."

The stompbox also offers unusual flexibility in its switching and buffering capabilities. It utilizes the buffer that Keeley perfected with his earlier Halo pedal (designed with guitarist Andy Timmons). In the Noble Screamer, the player can easily select true-bypass or buffered bypass: Simply step on the on/off switch for two seconds and it'll toggle between the two settings.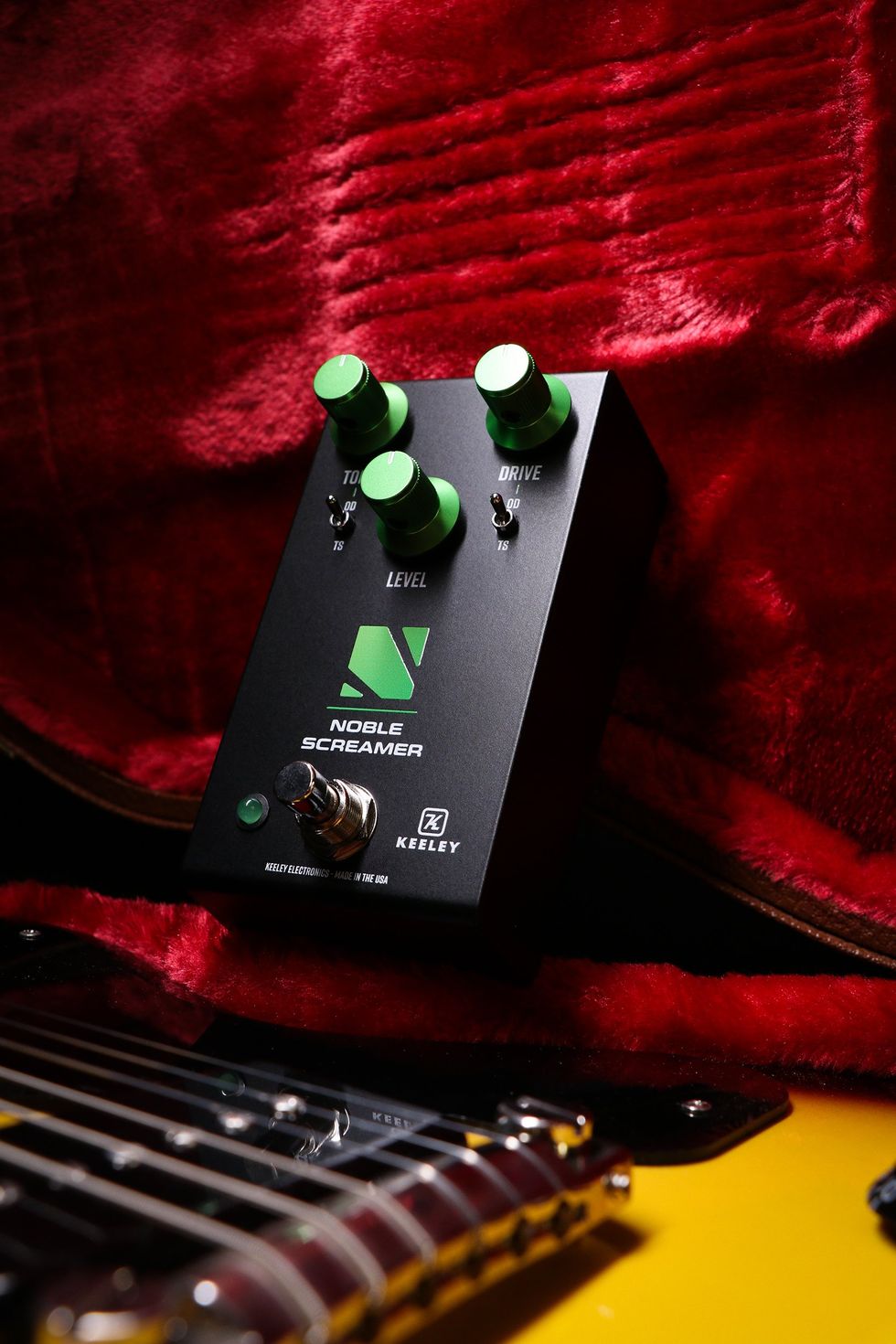 "This pedal's switching also makes it unique," says Keeley. "For years I had been carrying around the quote that Bill Finnegan put on his KTR pedal, which has a switch where you can choose true bypass or buffered. He printed 'almost always better' on the setting when you switch on the buffer. I think it's really valuable to have noiseless switching like the old Boss and Ibanez pedals. True bypass is great in a few cases, but the inevitability of it making a clicking sound can be a problem, so that's why we're offering buffered bypass, too."
Taking Control and Upping the Ante
Beyond its sonic characteristics, the Noble Screamer underscores important investments, production advancements and design choices from a company reshaping itself and preparing for its next chapter. The Noble Screamer is the first pedal to take advantage of Keeley's new Oklahoma City factory and its expanded production capabilities. The most visible sign is the pedal's newly designed heavy-duty aluminum case. The streamlined, rugged enclosure is built in-house following a large investment in specialized equipment. "Making my own folded aluminum enclosure is a brand new capability," Keeley explains. "I wanted to stop buying aluminum enclosures from China and start making my own. That way I can control the process and get exactly the type of enclosures that I want. To take full advantage of the enclosures, we also increased our capacity for circuit board manufacturing, and that was another big investment. We got another printer, powder coating booth, and oven. I doubled everything in the whole shop and invested in the future. Other manufacturers who are like-minded can do more manufacturing in the U.S. It's pretty cool to see so much manufacturing coming back to the States."
Keeley Factory Drone Video
Keeley chose to design a pedal that combines battle-worthy toughness and understated elegance. The Noble Screamer enclosure boasts a slightly slanted top—an homage to old-school classic pedals—but with a modern look and premium knobs. "The knobs and the subtle graphics speak really loudly on that slanted enclosure," he says. It's built like a tank—albeit a rather stylish one.
Was it a difficult decision to go with a standard-sized pedal when mini pedals have seen increasing popularity? Keeley is adamant. "At a time when a lot of people are cutting back on spending, I'm going against the trend and choosing to put out our boldest, most innovative ideas and give people a reason to spend their money on them," he declares. "I think I can control the costs. The Noble Screamer is the exact same size as comparable pedals. There's a definite trend toward small pedalboards with pedals that can fulfill one sound. Mini pedals are great and I plan on keeping them as an entry point for our product line. I don't see any reason why I can't fold aluminum for my own mini pedals at some point. But in the meantime, when we're releasing our next generation of pedals, I'm going to focus on this new platform. I want this new line to redefine our product line and what we're capable of. We've had success with compressors and reverbs and delays. This new line is hopefully going to redefine our drives."
The Noble Screamer heralds a new direction for Keeley Electronics, and guitarists can look forward to more exciting mashups in the future. After all, the Reese's Peanut Butter Cup turned out to be an enduring classic. So, you can expect plenty more ear candy from Keeley in years ahead.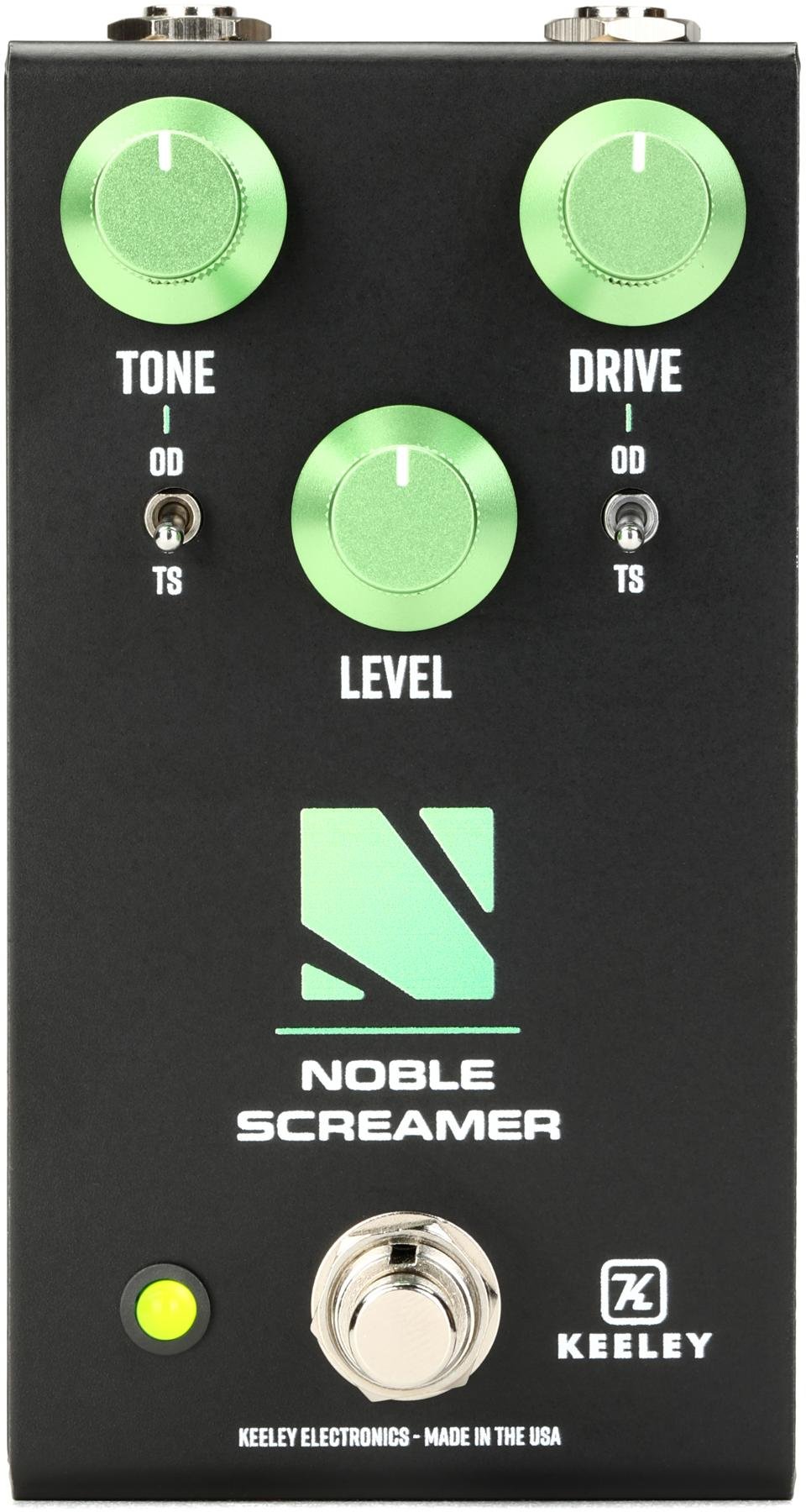 Noble Screamer Overdrive
Keeley
Outfitted with new hardware and potent pickups, the glammy Eastman Romeo LA is ready to rock.
Comfortable feel. Even neck response. Responsive vibrato. Sounds equally great clean and dirty.
A bit expensive for an Asia-built instrument.
5
4.5
5
4
They say first impressions are everything. And a guitar's appearance often tells us exactly what it aspires to be. When we look at a pointy guitar with humbuckers and a locking trem, we know its intentions. Subverting those expectations can be fun though—like seeing someone rip bebop licks on a Flying V (more of this, please!).
Just as fun is when a guitar model subverts its own intentions, which is what Eastman's Romeo LA accomplishes to some extent. First released in 2019, the original Romeo glowed with a vintage-style radiance that, apart from its curvy, offset profile, evoked traditional Gibson and Epiphone semi-hollowbodies and the jazzy, bluesy tones they produce. The LA, however, with its glammy options and assertive pickups, feels made for bright lights, big stages, and modern rockin'.

​Ch-ch-ch-changes
The Romeo and Romeo LA share many specs: a maple neck with 12" a radius ebony fretboard, mahogany laminate back and sides, and 24.75" scale. There are pronounced differences too, though. Eastman replaced the solid spruce top on the Romeo with a laminate spruce top (which are common on even the most expensive archtops). Another big change is the shiny, metallic celestine blue finish that covers the asymmetrical body and maple neck. Rather than cultivating the understated, traditional elegance of its predecessor, this Romeo screams for attention.
The slick finish isn't the only thing primed for hot stage lights. Two Seymour Duncan Phat Cat P-90s are housed in stylish gold foil–style radiator covers. And a Göldo Les Trem and 3-point bridge look sharp and enhance the Romeo's tonal personality and expressive abilities. Göldo K-Line locking tuners help keep the guitar pitch stable.
A California Dream
Playing the Romeo LA is a dream. It's resonant, with lots of sustain, and big, open chords sound great unplugged. It arrives with stock .011-.049 D'Addario NYXLs, but the fretboard feels fast and slinky and easily accommodates quick licks of all flavors. The guitar feels balanced and comfortable too, which kept it in my lap for long spans.
Rather than cultivating the understated elegance of its predecessor, it screams for attention.
The Phat Cat P-90s are a real statement piece—and not just visually. They are warm, dynamic, and bright. Each pickup has a dedicated volume knob. But there's just one tone knob, which is wired to the bridge pickup. That means no rolling back the neck tone for straight-ahead jazzbos—a clue to this guitar's more rocking orientation. But the neck pickup is bright and clear, and to darken that sound up would be a crime. Both pickups offer sparkling cleans but really come alive when paired with overdrive. Hitting my Klon with the bridge pickup, the Romeo LA sounded strong and focused across the fretboard. The neck pickup, meanwhile, added powerful low-end rumble.
The Göldo Les Trem is a serious highlight too. It does all the things that Bigsby-style vibratos do well, and the arm, though a little pointy on the end, fits nicely in the palm of my hand while I do my picking. The Göldo feels more modern and is faster than the competition though. It's capable of quick, springy attack—in both directions—and impressively deep dives.
The Verdict
The Romeo LA may offer a lot of flash and pizazz, but it sounds and feels as good as it looks. Thoughtful hardware decisions make it feel like a hot rod. But while it definitely rocks, it's suited for many mellower playing styles. At $720 less than its predecessor, it's a great deal, too.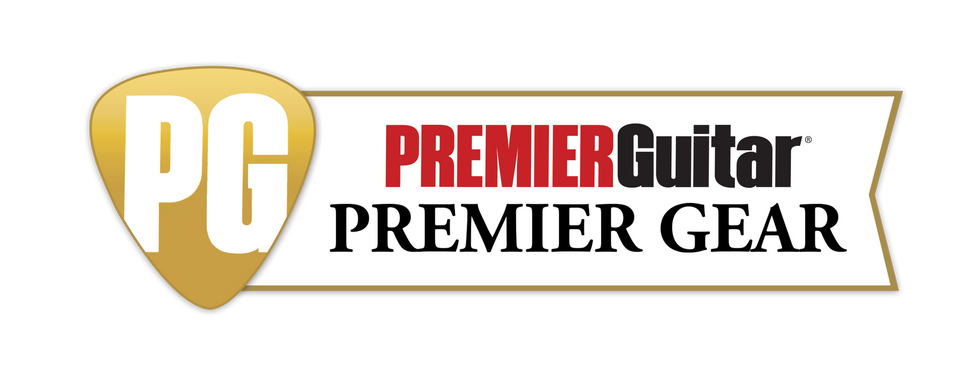 Affordable modulated analog delay in miniature.
An excellent sounding and affordable passport to the universe of modulated analog delay that also respects tradition.
Micro size is a blessing and, for some, perhaps a small curse.
5
4.5
3.5
5
Despite the spacey name, the Constellator isn't the most out-of-this-world contraption made by Pigtronix. For that prize, I would submit the Mothership 2 Analog Synthesizer, which is raving madness in a box. Madness is relative though, and the Constellator is possessed with a more warm-hearted insanity. And while this analog delay does playfully cross the line into modulation in two ways, it has more of a star- (or maybe shoe-) gazing vibe that's warm and old-school in tone, but looks beyond the orbit of conventional delay.
Little Dreamer
Modulated delay isn't new, of course, but it's harder to find in a stompbox this compact and affordable. The Constellator is tucked into a small, solid metal box that measures 1 1/2" x 1 3/4" x 3 3/4" and offers a maximum delay time of 600 ms. It's got your basic 1/4" in-and-out-mono jack set and requires a 9V DC barrel-type power supply. Needless to say, there is zero space for a battery option. There are four dials atop the Constellator: time, mix, mod, and repeats. The additional control is a push button just below those dials marked "feel"—a subtly vibey little function we'll get to in a bit.
When I investigate a new analog delay, I always pull out one of my favorite dinosaurs for comparison: the Analog Delay MXR made between 1976 and 1984. The MXR's characterful nature is, in part, ascribed to the use of MN3005 bucket brigade delay chips, the same chip at the heart of this Pigtronix stomp. The Constellator's time, mix, and repeat dials correspond with the big green MXR's delay, mix, and regen. And tonally, the little Pigtronix compares extremely well, providing the same warmth and richness as the MXR. With the repeats cranked, the Constellator also produces the familiar oscillating feedback trails that I love and prize for their Forbidden Planet quality.
All Mod, No Cons
Per usual, I plugged guitars with single-coil, humbucking, and gold-foil pickups into the Constellator, and used my Carr Vincent amp with the EQ straight up. I was extremely impressed with this little device's big embrace.
The controls had more range than my beloved MXR and performed flawlessly in traditional applications. The Constellator handles slapback duties like a champ. With more modulation, the repeats took on a sweet vibrating sound— imagine Scotty Moore's Echosonic with a slight hangover, and you'll get the idea. Spacier emissions were equally pleasing, and with time, mix, repeat, and mod controls at 3, 3, noon, and noon respectively, the Pigtronix moved into Magnatone turf and got dizzier as the mod dial went up. But I really enjoyed the more extreme settings, where notes seemed to warp and degrade as they hung and faded in the air. Punching in the feel button made this sound even weirder. The feel function is essentially a chorus, but it really accents the colors and degradation in the repeat trails, sounding, at times, like analog tape that has been stretched. Even so, clarity and definition remain in every picked or echoed note. This truly is a lovely sounding pedal.
There are a few snakes in the garden. The dials are quite tiny, and close enough to each other that I can just slip my thumb between them, which means adjustments on the fly require focus. There are grooves in the sides of each dial to make gripping them easier, but those of us with big paws may still be slightly challenged to make precise adjustments. Also, the feel button is so close to the mod and repeat dials that I accidentally popped it on with my big-ass thumb several times while making adjustments.
The Verdict
The Pigtronix Constellator is a mighty mite of an analog delay, with warm sounds that equal much pricier pedals. And the mod and feel controls take tones into infinity and beyond. But while its small size is an asset for the pedalboard space-challenged, that's also a slight issue for those of us who buy our gloves at Thornton Melon's Tall & Fat Stores. If that issue isn't a problem for you, the Constellator could become a valued tool for drawing your own map of the sonic stars.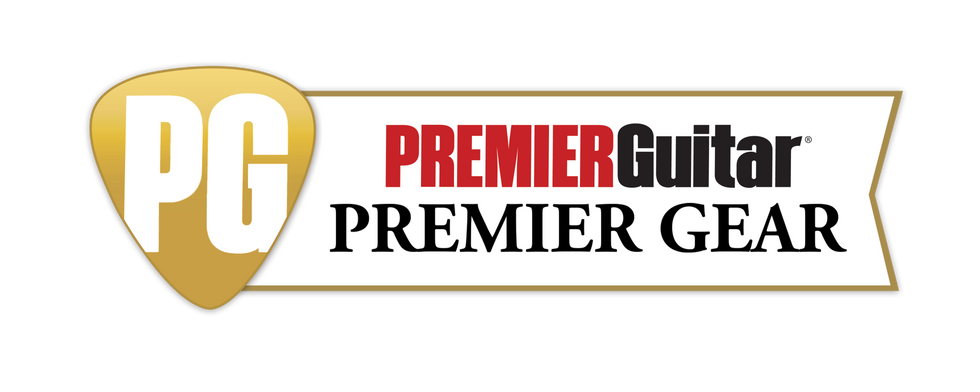 The foremost pedal for Nordic metal nastiness returns, more potent than ever.
A clever re-working of a classic metal-toned distortion, with enhanced versatility.
Arguably less versatile than Boss would like us to think.
4
5
4.5
4.5
It's comforting that Boss pedals haven't changed their basic look and format since the late '70s. For all the boutique marvels that have come and gone, opening a Boss box still instills a sense of reliability. Boss pedals aren't just comfortingly familiar and bulletproof, though. Many Boss circuits are groundbreaking, timeless classics that deliver distinctive sonic results. And there's a strong sense of classicism about the HM-2w Waza Craft Heavy Metal pedal, a revamped reissue of the popular distortion originally manufactured from 1983 to 1991.
The original HM-2 accidentally came to define the aggressive chainsaw grind of Swedish death metal. It also offered more traditional cranked-stack-in-a-box tones suitable for mellower metal (yeah, "mellow" is relative) and heavy rock. The new HM-2w Waza Craft excels at both, and is more potent, to boot.
Boss HM-2W Waza Craft Heavy Metal Review by premierguitar
 Waza Up
On the HM-2w, the classic Boss recessed control panel is home to four knobs for distortion, a "color mix" EQ section with high and low knobs, and a master output level. Waza Craft updates enter the picture in the form of a small slide switch on the crown that selects between original voicing (S, for standard) and a custom tuning (C) that's tighter and more aggressive. The pedal has a lower noise floor and 3 dB more output than the original, as well as an improved buffer when bypassed. Like the original, it also looks just plain mean.
Pedal to the Metal
The original HM-2 Heavy Metal was among the first pedals to wear the amp-in-a-box mantle. Don't let that loose classification fool you, though. The HM-2w Waza Craft is a full-blooded distortion pedal. You wouldn't exactly call it "tube-y." But scooped sizzle and doomy buzz saw harmonic saturation? It has loads of that on tap. The reduced noise helps explore those textures with a lot more confidence, too.
The "C" mode adds some gain, saturation, and punch, with just a little more push in the mids and some added upper-mid/treble bite.
While Boss claims the HM-2w Waza Craft is capable of lower-gain tones—a little classic rock or vintage metal, perhaps—the pedal's priorities are clearly more metal-aligned. Crank all four knobs and you'll feel your amp blazing and sounding joyously evil in the process. To say the HM-2w pushes a front end is an understatement. Generally, the pedal's voice is predisposed toward a scooped EQ profile, but the color mix knobs, while not super rangy, are effective at dialing in some variations.
The "S" mode does a great job of copping the original tones. The "C" mode, meanwhile, adds gain, saturation, and punch, with just a little more push in the mids and some added upper-mid/treble bite. I'd call it contemporary rather than more aggressive. But it proved to be my favorite mode in a pedal that offers many cool, super-fun paths to metal mayhem.
The Verdict
Built like a Boss and packed with distortion power, the HM-2w Waza Craft does a great job re-creating the original Heavy Metal's chainsaw grind and, somehow, adds muscle and headroom for extended modern metal hijinks. The HM-2w has a strong personality, and some shoppers might want to gauge how retro and transformed they want their amp distortion and associated dynamics to be. But if you're on board, the HM-2w delivers a breed of proto-metal distortion that's in a league of its own.