Fishman Fluence Greg Koch Gristle-Tone P-90 Review
P-90 heat without the hiss.
Great versatility. Three terrific-sounding, distinct voices. Quiet!
Lacks a little of the grit and granularity of traditional P-90s (if you like that in the first place).
$169 (single) $289 (pair)
Fishman Fluence Greg Koch Gristle-Tone P-90s
fishman.com
4.5
5
4
4.5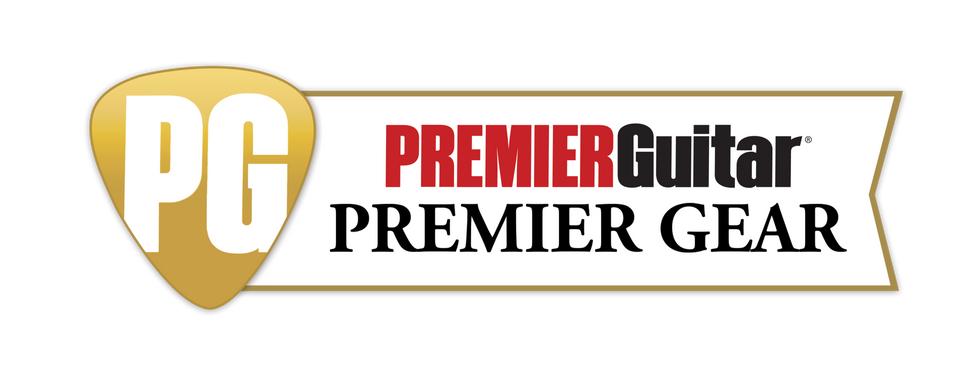 Pickup companies often look backwards for inspiration. But Fishman redrew the blueprint for electric guitar pickups when it introduced the Fluence series in the early 2010s. Different in design and constriction from both the traditional passive electro-magnetic pickups of old and powered active pickups, they are relatively hum-free and much more consistent in sound and quality from unit to unit.
---
The newest member of the growing Fluence family is the Greg Koch Signature Series Gristle-Tone P-90 set. "Hum-free" and "P-90" are not words you often see together, but the Gristle-Tone delivers impressively on the promise of a quieter P-90. They're easy to drop into any soapbar-pickup-routed guitar (provided you also have a space routed for a 9V battery). And when mated to a pair of included push-pull pots, they can generate three distinctly different voices—delivering unexpected versatility and an original take on one of the guitar world's oldest pickup designs.
Played in an Epiphone Les Paul Special, recorded direct via a Neural DSP Quad Cortex modeling unit.
Chewin' It Over
Behind their relatively traditional-looking covers, the Fluence P-90s utilize a means of signal generation that departs from conventional wire/coil architecture. Instead of wire wrapped around a bobbin and an array of poles, each Fluence Core is made from a 48-layer coil on a robust substrate. The structure not only makes the pickups impervious to variations in wire-gauge and insulation, but also resistant to fluctuations in heat and humidity. Fluence pickups still have some things in common with traditional pickups. They're essentially electro-magnetic in nature, of course, using alnico bar magnets and threaded steel pole pieces, just like traditional P-90s. But without variations in wire and winding, the Fluence pickups can be much more consistent.
Fluence architecture also enables a given pickup to stretch its capabilities. And in the case of Gristle-Tone P-90s, Fishman managed to extract three distinct voices: a vintage P-90, a hot, overwound P-90, and a clear single-coil—all of which are selected via the push-pull tone control.
In a Lather
The Gristle-Tone's hum-cancelling capabilities will be good news to fans of old-school P-90s, which are famously some of the most hum-inducing pickups on the planet. But reduced noise is just part of the story. And my initial impressions of the Greg Koch Gristle-Tone Signature P-90 set were that they were dynamic, versatile, and sweet-sounding.
Fishman supplied the review set in an Epiphone Les Paul Special which I played through Marshall and tweed Deluxe-style amps. Compared to vintage-voiced P-90s, the Gristle-Tone might lack a little of the characteristic grit and granularity that many players dig. The Fishman pickups are also a little clearer and more precise in all three voices. But given the overall musicality and expressiveness of the Fishmans, I rarely felt like I missed those vintage elements—unless they were central to a very specific tone quest.
That said, the vintage P-90 setting is convincing enough that no one will be scowling at you from a packed mosh pit on a Saturday night. It yields a fat, juicy voice through a pushed amp or overdrive pedal, while adding bite and edge to clean settings. The overwound setting offers instant sizzle and burn for leads or chunkier power-chord rhythms, and impressively adds the extra dash of heat without sacrificing articulation. The clear single-coil option took the Les Paul Special straight to Tele town—generating a brighter kind of twang and jangle in settings where standard P-90s can sound muddy.
The Verdict
Together, the Fluence Greg Koch Signature Gristle-Tone P-90s make an impressive pair, and instantly give you access to vintage, rocking P-90 sounds, contemporary, high-gain rock textures, or immaculate country and pop tones at the pull of a switch. You'll have to switch batteries out every 100 hours (for a 9V), or 120+ hours between charges (on Fishman Battery packs). And vintage purists may miss some of the wild-and-wooly attitude that comes along with the noise in an old-school P-90. But for guitarists who value maximum possibilities, a wider palette of tones, and a more dynamic feel, the Gristle-Tones are a load of fun and full of potential.