A lively and explosive drive looks to Clapton's Blues Breakers tone for inspiration.
White-hot but sonorous drive tones. Sweetly dynamic.
Can get sizzly at wide-open gain settings.
5
5
4.5
4.5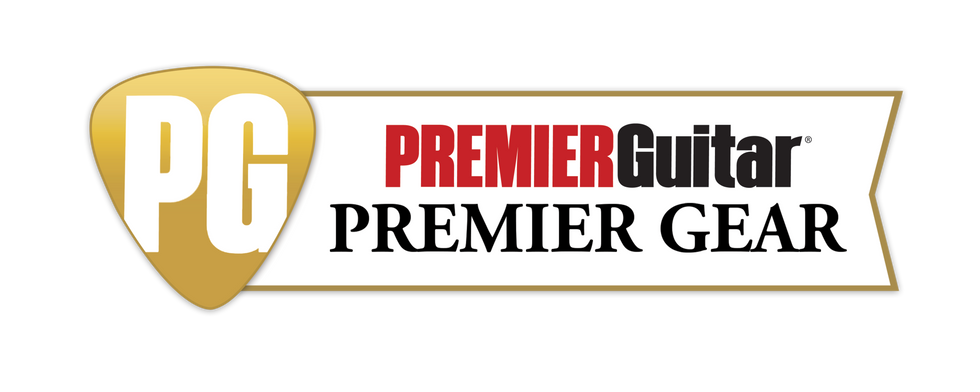 Though I get arguments from all quarters about the matter (not least from my Disraeli Gears-loving alter ego), I like Eric Clapton's tone from the 1966 John Mayall LP Blues Breakers best. And any device that gives me a trace of that slightly filthy, ringing and stinging sound tends to get me pretty twitchy.
---
The Spun Loud Litigator doesn't replicate the topology of Clapton's Marshall Model 1962 combo, nor is it a replica of the Dallas Rangemaster that Clapton allegedly used for some Blues Breakers tracks. But it does capture the Bassman-meets-Brit-sparkle sound of those early Marshalls with aplomb. It's meaty, clear-voiced, and sizzling depending on how much gain and tone you add to the mix. And it has a way of making an otherwise dull and lifeless combo sound like a keg of dynamite.
Lady Justice Sings the Blues
The Litigator is an exceedingly elegant pedal. The compact and simple through-hole circuit board is beautifully mapped and flawlessly soldered. There are fewer than 30 components on the whole board, including the two silicon transistors that drive the works. The footswitch, jacks, and the volume, tone, and gain control are mounted to the enclosure. Servicing this pedal should be a breeze. Not that I would expect it to fail—the fastidious wiring, the silky smooth action in the pots, and the soft, satisfying click of the Gorva footswitch make the designer's intention to make this thing last very clear. If any skimping went on in the execution of this build, I can't find it anywhere.
Cracklin' Hot, Singingly Smooth
In general terms, the Litigator sounds and feels hot and toppy. Individual notes seem to pop like firecrackers and there's an unmistakable sense of immediacy and fast response. The Litigator may not be derived from a Rangemaster, but in many audible and tactile respects they are kissing cousins.
The pedal feels most at home with the gain and tone in the 1-to-3 o'clock range and the output up high. At these settings a single note with a little fast-twitch finger vibrato can make you feel more than a little like a young Slowhand. (Or was he still God in 1966?) But simple first-position chords at these same settings sound brilliantly alive, resplendent with detail, and crackling with raw energy.
If any skimping went on in the execution of this build, I can't find it anywhere.
The Litigator is also fantastically dynamic in these zones, and if things start to sound or feel a little too hot to handle, a bit of guitar volume or tone attenuation tidies things up fast. There's a lot of tone nuance to be found in these small adjustments, too. The Litigator can feel a little less dynamic and roller-coaster thrilling at lower-gain settings, but it still has the capacity to enliven and lend presence and mass to jangly arpeggios and clean rhythm chording when you back off the heat.
The Litigator's trebly appeal does have its limits. It can sound a little crispy at the very highest gain and tone levels, rendering chords a little less cohesive sounding and adding a hint of fizz to lead lines. But as toppy and reactive as the Litigator can be, you're certainly not painted into that corner. With dark amps, or bright ones with super-low treble settings, the Litigator's mid-gain drive sounds throaty, substantial, and articulate in the lows and low-midrange.
The Verdict
The Spun Loud Litigator is an overdrive in name, but it has a way of feeling very much like a more integral, organic part of your signal chain. It's natural, open, airy, and flat-out bristling with sass and attitude at many mid-to high-gain settings. It's awesome for brightening up humbuckers and dark amplifiers. But you should not feel shy about running it wide open with a Telecaster bridge pickup and a Fender amp with the treble up high. It's an ecstatic experience, to say the least. Players looking for more compressed, saggy overdrive tones will probably want to look elsewhere. But if your priority is awakening a rig with the blahs, the Litigator is a beautiful blast of mainline adrenaline.
Looking for more great gear for the guitar player in your life (yourself included!)? Check out this year's Holiday Gear Finds!
Outlaw Effects introduces their next generation of NOMAD rechargeable battery-powered pedal boards.
Available in two sizes, NOMAD ISO is a compact, versatile tool that offers the convenience of a fully powered board plus the additional freedom of not having to plug into an outlet. NOMAD ISO is ideal for stages with limited outlet availability, quick changeovers, busking outdoors, temporary rehearsal locations, and more!
NOMAD ISO builds upon the legacy of the ultra-convenient and reliable NOMAD rechargeable pedalboard line originally launched in 2018. The brand new NOMAD ISO editions feature eight isolated outputs (1 x 9V DC, and 1 switchable 9V/12V DC) for even more versatility and clean, quiet power. With an integrated lithium-ion battery pack boasting 12800mAh capacity, NOMAD ISO can fuel a wide array of pedals, and will last over 10 hours* on a single charge.
Each NOMAD ISO pedal board includes adhesive hook & loop pedal-mounting tape, eight (8) standard DC connector cables, and one (1) reverse polarity DC cable, giving you everything you need to build your ultimate "off-the-grid" rig. A rugged, road-ready padded gig bag with shoulder strap is also included, to safely protect your gear while you're on the move.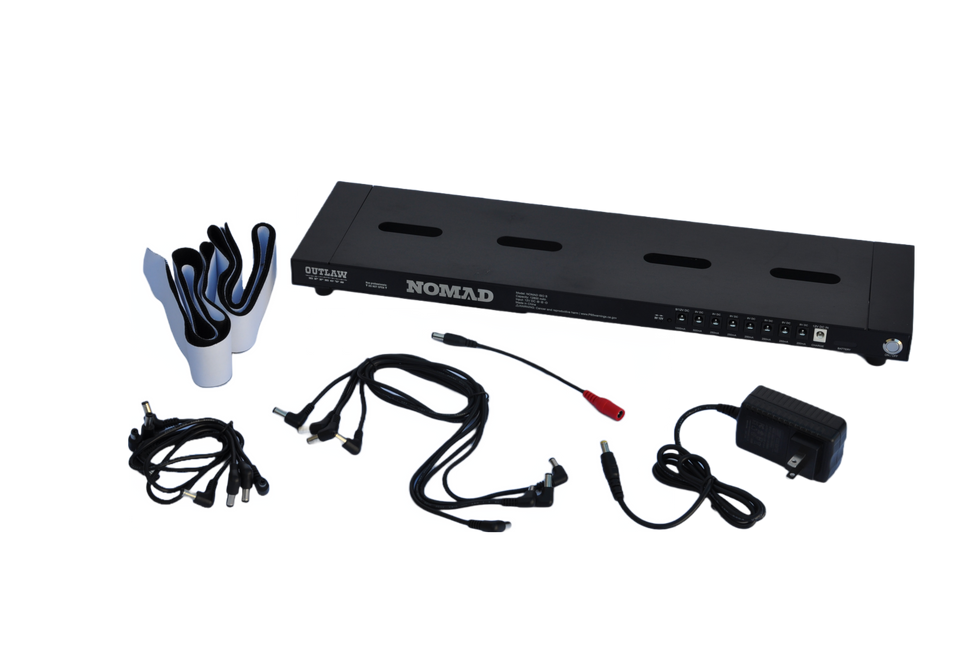 Dunable announce new Minotaur model featuring Grover Rotomatic Keystone tuners.
The Minotaur's DNA is rooted in their classic Moonflower model, which Dunable discontinued in 2017. However, they have long since wanted to create a fresh take on a carved top guitar design, and various attempts to rework the Moonflower led them to a brand new concept with the Minotuar.
Dunable's goal is to give the player a guitar that plays fast and smooth, sounds amazing, and gives maximum physical ergonomic comfort. The Minotaur's soft and meticulous contours, simple and effective control layout, and 25.5" scale length are designed to easily meet this criteria.

Dunable Minotaur!
Features
25.5" scale length
Dual Humbucker
one volume, one tone, push pull for coil splitting
Grover Rotomatic Keystone tuners
Grover Tune O Matic bridge with brass Kluson top-mount tailpiece
jumbo nickel frets
12" fretboard radius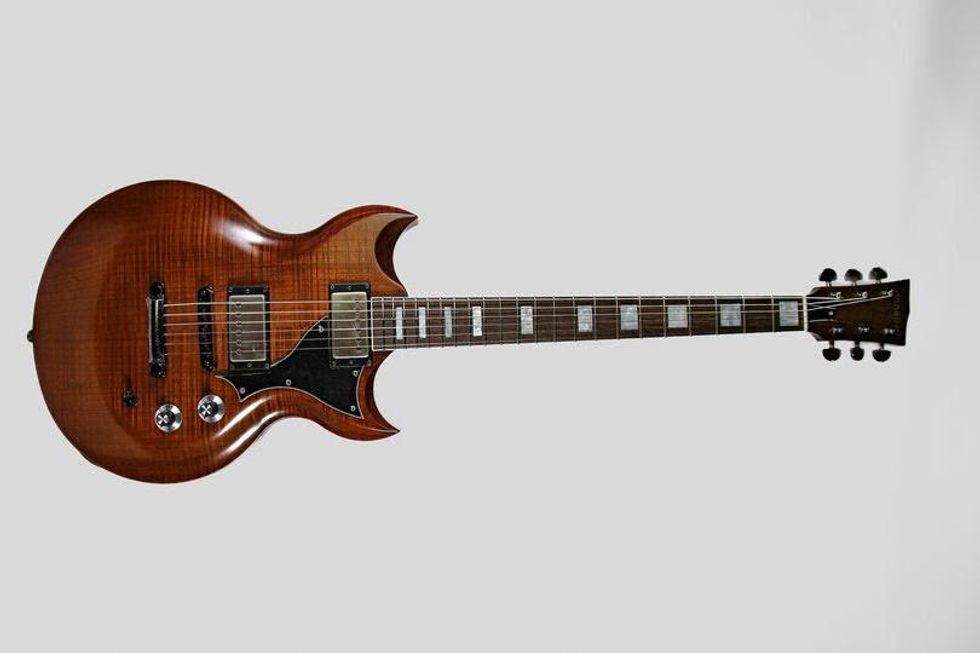 Dunable
This full-amp-stack-in-a-box pedal brings a new flavor to the Guitar Legend Tone Series of pedals, Missing Link Audio's flagship product line.
Adding to the company's line of premium-quality effects pedals, Missing Link Audio has unleashed the new AC/Overdrive pedal. This full-amp-stack-in-a-box pedal – the only Angus & Malcom all-in-one stompbox on the market – brings a new flavor to the Guitar Legend Tone Series of pedals, Missing Link Audio's flagship product line.
The AC/OD layout has three knobs to control Volume, Gain and Tone. That user-friendly format is perfect for quickly getting your ideal tone, and it also offers a ton of versatility. MLA's new AC/OD absolutely nails the Angus tone from the days of "High Voltage" to "Back in Black". You can also easily dial inMalcom with the turn of a knob. The pedal covers a broad range of sonic terrain, from boost to hot overdrive to complete tube-like saturation. The pedal is designed to leave on all the time and is very touch responsive. You can get everything from fat rhythm tones to a perfect lead tone just by using your guitar's volume knob and your right-hand attack.
Features 
Three knobs to control Volume, Gain and Tone
Die-cast aluminum cases for gig-worthy durability
Limited lifetime warranty
True bypass on/off switch
9-volt DC input
Made in the USA
MLA Pedals AC/OD - Music & Demo by A. Barrero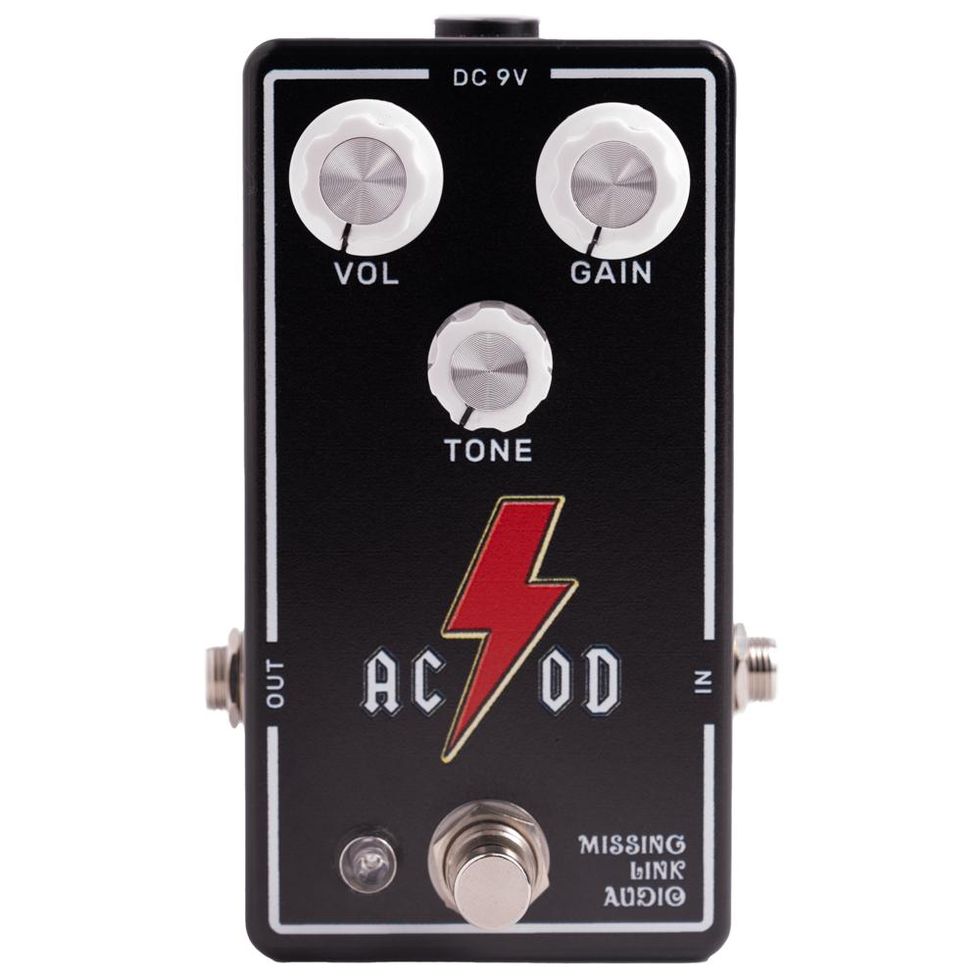 www.mlapedals.com.