The brighter side of the mahogany equation.
Bold voice for a small-bodied, all-mahogany flattop. Great value. Excellent build quality.
Strong midrange could prove too strident for some.
Godin Fairmount Composer QIT
godinguitars.com
4
4.5
4.5
4.5
I'm a big believer in the all-mahogany, small-body acoustic formula. In the studio, through a nice microphone and signal chain, a mahogany concert-, grand-concert-, or auditorium-sized guitar can make the sweetest sound you ever heard. And in a good fingerstylist's hands they can exhibit a lovely dynamic range—albeit usually within what you'd call the "mellow" spectrum.
Godin's Fairmount Composer QIT puts a cool twist on the all-mahogany formula (in this case the back and top are solid mahogany and the sides are layered). It possesses much of the contoured, warm trebles and bottom end that make guitars like the Martin 00 and 000-15 and Guild M-20 such inviting companions. But the Godin adds a perceptible dash of extra midrange that makes it a much bolder-sounding guitar for strumming. If you're a fully indoctrinated all-mahogany, small-body player (with all the biases toward low-key, toasty tones that such associations imply) these strong mids could come off as just a touch too forward. Some of this extra stridency may certainly abate as the guitar ages. But many players will probably care less if it does, and instead savor the extra presence that makes the Fairmount Composer a killer compact accompanist for more boisterous, and soft-to-loud dynamic picking.

The Godin adds a perceptible dash of extra midrange that makes it a much bolder-sounding guitar for strumming.
Like so many Godin family products, the Fairmount Composer is immaculately put together and is super playable. There are some interesting design idiosyncrasies—the back bracing seems extra robust, for instance—and Richlite was used on the fretboard as a wood conservation measure. But given the $899 street price—with a very nice set of electronics and tuner, at that—this Canada-built concert-body is an excellent value that can hang with instruments that cost many hundreds more.
Carpathian spruce with Brazilian back and sides are a home run for Flammang
So here we are, another issue, another ridiculously awesome acoustic guitar. I'm telling you, folks, we are living in the golden age of the acoustic guitar, and I'm gonna keep reviewing ridiculously awesome guitars as long as people keep building them. The latest gorgeous thing I have managed to wrap my hot little hands around is a guitar made by David Flammang. I visited David's shop in Greene, IA, several years ago, and became a Flammang fan, partly because his guitars are gorgeous, beautifully made and fantastic sounding, and partly because he's an outstandingly sweet human being. Flammang built his first guitar in 1990, and twenty guitars later in 1997 started building full time. A couple years ago I got to play Catfish Keith's Flammang, a deep-body, short-scale EL model with a flawless tobacco burst top, and it rocked my world.
I asked Flammang about his tone, and what drives him to make guitars. "In all my listening to acoustic music, I took note of incredible-sounding acoustic guitars and have set on a quest to find what causes their voice. I come from a woodworking background, and woodworkers, including guitar makers, are good at sharing." He continues, "It seems to me that good tone is relative to its purpose. The difference between, say, the Martin voice and the Gibson voice is usually distinct, but without one or the other, we probably would only have about half of the great music that has been produced." I was anxious to hear more of the Flammang voice.
Dear Penthouse

Our review guitar is simply stunning, a Grand Auditorium model. The top wood is pale, beautifully grained Carpathian spruce with an adorable rosette of ebony with a delicate spiraling pattern almost dancing its way around the soundhole. I honestly gasped when I opened the case and saw it. The ebony fingerboard fingerboard is blissfully blank, and the demure lower case "f" on the ebony headstock face makes a statement much like a single diamond pendant does on a beautiful woman. The ebony tuning machine buttons add to the elegance of the understatement. A few nights ago, my writers group got to talking about Iowans eschewing ostentation and flashiness for almost Spartan simplicity. There's nothing Spartan about this guitar, but Dave Flammang speaks understatement with a silver tongue.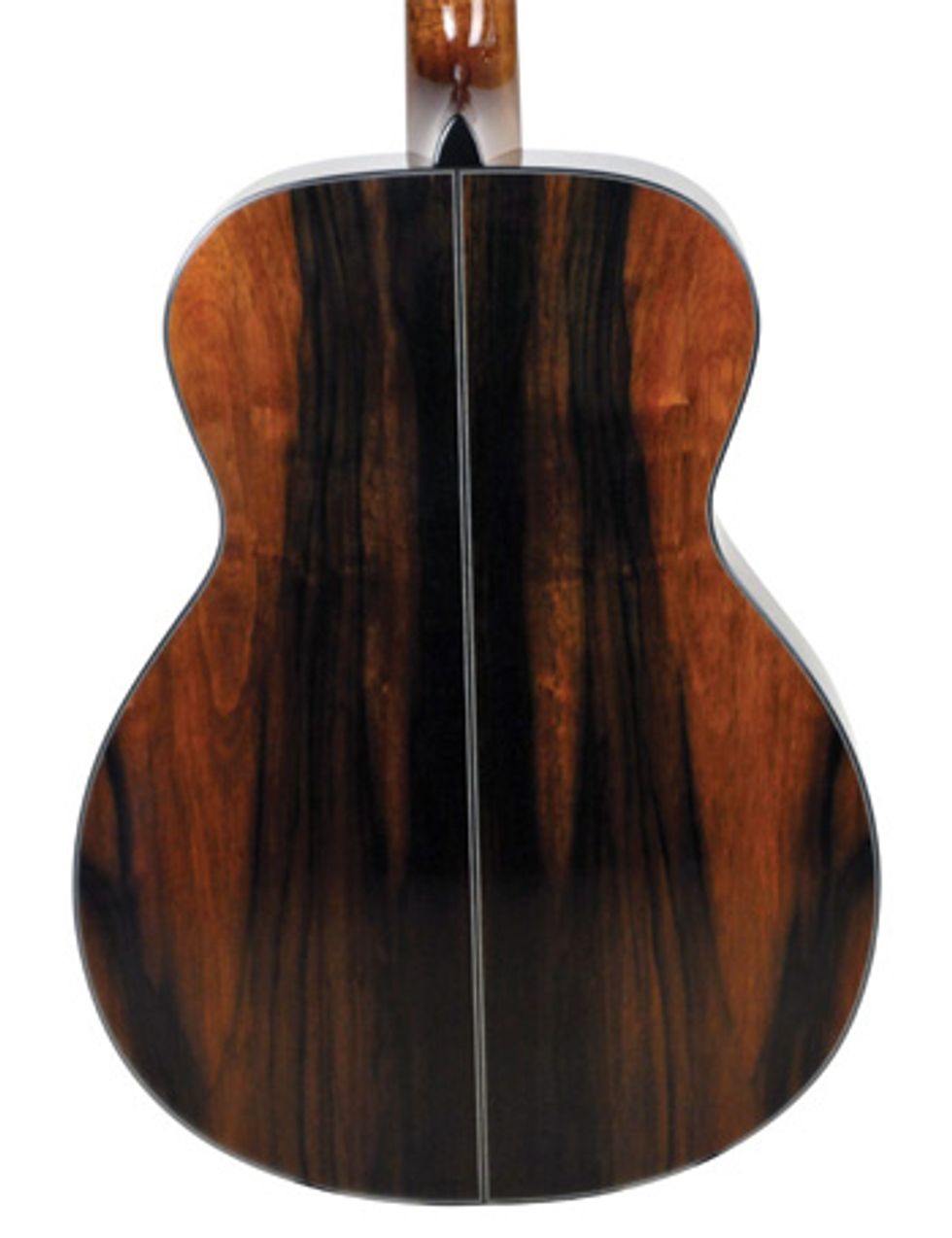 When you turn it over and check out the back and sides, that's when your hands start to quiver and you start to drool. It's not just Brazilian rosewood, it's drop-dead sexy Brazilian rosewood. The grain whirls like smoke, almost black in places over the immediately recognizable Brazilian brown. The sides complement the back perfectly, the ebony bindings complement the entire theme of understatement, and the finish is like silk under the fingers. The scent of the guitar is delicate; that hint of rose in the wood just about takes your breath away. The shape is lovely as well; the upper bout is 11" across, while the lower bout swells to 15" from a waist of 9.25".
Does She Go, Eh?

Oh, she goes. And goes and goes. The sustain is remarkable. We're used to bass ringing on and on forever, but the treble sustains on this guitar almost as long, too. This is what guitars are supposed to sound like: rich and brilliant, full and warm with no nasal midrange, and no mushy, muddy bottom end. Just play an open chord, like an Em7, and let it go. If you dig in you get an angelic roar, incredible volume and magical tone. If you play soft, you get delicacy and gentleness, but the tone doesn't wimp out and get thin or reedy sounding. Capo'd, the Flammang stays lively. There is the expected small loss of sustain and brilliance, but it's basically just a slightly darker version of the same tone, and no less desirable or beautiful.
It plays beautifully, too. It's nicely set up out of the box, but this guitar would take a custom set-up like a dream. I had no problems playing anything; it was completely comfortable for me. There's no pickguard, so the intention is most likely for fingerstyle playing, and with the fretboard 1.75" wide at the nut, it is wonderful for that, but this is an outstanding flatpickin' guitar, too, especially in open tunings that can really highlight the gorgeous and brilliant sustain. Recorded with a really good guitar mic (we chose an sE3 from sE Electronics), there is so much depth and detail that it sounds like you're inside it. There are no crunchy or snotty overtones to fight, no unmanageable boominess to wrangle. You just record it and you're done, which is outstanding, and exactly what you want in a studio guitar.
The Final Come-to-Mama Mojo
The Druids of ancient Ireland called themselves "carpenters of song." Once in a while you find a guitar that lives up to that idea. This one does. It literally (yes, literally) took my breath away from the moment I opened the case. What's not to love? Gorgeous woods and sweet understatement meet under six strings and sing like angels. Flammang says, "I'm looking for a complete, excitable voice that comes from wood. I want the person who plays my guitar to feel inspired to play that next note." Nobody could have said it better. As of this writing, this guitar was available at Stars Guitars in Cedar Rapids, IA.
Buy if...
you're looking for top-notch craftsmanship, gorgeous woods, beautiful tone and exquisite work.
Skip if...
you want something flashy instead of substantively simple.
Rating...


Fixing light wear on a Taylor acoustic requires precision
Taylor Guitars has definitely earned the title of being an "original" guitar maker, especially in light of their numerous innovations throughout the years. Among them, of course, are their patented New Technology (NT) necks, which seem to stay stable and straight in most climates, and the company's long-admired UV finishing process, which utilizes a finish and curing method that has consistently delivered excellent durability and acoustic properties.

So, when a Taylor 814C in need of some minor finish work around the rosette showed up at my shop, I knew I had my hands full. Most of the work would be done on the treble side above the pickguard where some of the finish and wood had been whittled away from years of pick and fingernail contact. Some Taylor owners might leave this alone, but Keith Dotray, the proud owner of this guitar, is looking forward to playing his Taylor for many years to come and he wants to protect the gorgeous rosette and spruce soundboard from any further damage.


To do this type of job, here are some of the supplies you'll need: hydrogen peroxide, Q-Tips, hair dryer, foldable cardboard protection mat, Badger airbrush, Evermask masking paper, dropfill toothpicks (Stew Mac #3110), No. 10 Thin Super Glue Cyanoacrylate (#0010), accelerator (#5984), guitar buffing arbor (#2080), UV sealer/ topcoat (Lawrence-McFadden) and a multi-cure unit with safety ware (UV III Systems Inc.).
Soundboard Preparation
The first step of this process involved the removal of the pickguard using light heat from a hair dryer while carefully and gradually pulling up on the guard. We'll replace it with a factory pickguard once the repairs are completed. The inside of the guitar was protected with a 5"x8"x1/8" piece of cardboard "protection mat" that was folded in thirds to fit through the soundhole. Once inside the guitar, it was opened up to protect the area from any liquid splatters or stray specs while the repairs were made. I used the hydrogen peroxide and Q-Tips for applicators to lift the dirt that was imbedded into the exposed wood area. After the surface was dry and clean I began to build up the worn away pockets with No. 10 Thin Super Glue Cyanoacrylate, using accelerator between each coat. Drop-fill toothpicks were used to apply the glue. The excess Cyanoacrylate was leveled with a razor blade and then wet sanded with 600-grit sandpaper before spraying a protective topcoat.
Spray and Bake
Now that the soundboard damage had been filled and leveled, I was ready to feather in a topcoat of Lawrence McFadden's UV sealer/topcoat by using my Badger airbrush to help spray a very thin coat. The inside of the body was protected from any finish overspray by using Evermask masking paper. In case you're wondering, the neck did not need to be removed to apply this new coat as there was plenty of open top surface to work with.
The UV topcoat R-1778 contains some solvents, and after spraying I allowed approximately 20 minutes of air flash for the solvents to evaporate before curing—or "baking"—the area with my multi-cure ultraviolet unit. When working with any hand held UV-curing system you always have to make sure that you have adequate protection from the ultraviolet light by properly protecting your eyes and skin with a safety shield, leather gauntlets and overall protective body coverage as shown in the photo above. For this small amount of sprayed finish, I only needed three minutes of "baking" and the UV topcoat was 100% cured. Once cured, there is virtually no shrinkage.
After finishing sanding the entire area I used my guitar buffing arbor from Stew Mac to feather in a consistent sheen to the soundboard. Then, with a small amount of Naptha on a cloth, I removed any buffing compounds that may have been present in the area where the replacement pickguard was going to go. Masking tape works well for pre-marking the new pickguard area to ensure a perfect lay. Taylor pickguards have a strong adhesive back so it's always a good idea to do a couple dry practice runs first.
Using the right equipment made this job a oneday project, whereas a traditional nitrocellulose finish touchup would have taken weeks. And all I can say is, Wow! Using my multi-cure system is great, but seeing a big smile on the owner's face was even better. I would like to give a special thanks to Taylor Guitar's Chris Bearden for sharing his knowledge on the building team at Taylor. Chris works in Taylor's customer service department and is well qualified to address any customer concerns, including service repair center tech questions.
If you're coming out to the NAMM show, please stop by and say "Hi." I look forward to meeting "Restoring An Original" readers.
John Brown

John Brown, of Brown's Guitar Factory, is the inventor of the Fretted/Less bass. He owns and operates a full guitar manufacturing and repair/restoration facility, which is staffed by a team of talented luthiers. He is also the designer of guitar making/repair tools and accessories that are used today by instrument builders throughout the world.
brownsguitarfactory.com
info@brownsguitarfactory.com