Bound to appeal to a wide swath of fingerstylists and singer-songwriters, Breedlove''s new Oregon Series C20/SMYe has enough range to sound feather-delicate or downright propulsive.
Ever since Breedlove Guitars formed in the early '90s, the company has emphasized forward-thinking design and alternative materials. Larry Breedlove, after all, was a former Taylor employee, and as such had learned a few things about modern acoustic-guitar construction. But Breedlove's adopted home in central Oregon, and the wealth of wood from the region, seems every bit as big an influence on what the company's guitars would become. And emphasis on sustainable materials and an outside-the-box view of tonewoods like walnut and myrtlewood led to unique and evolutionary instruments that helped put Breedlove on the map.
In the years since, Breedlove has explored more traditional designs and materials, too. But the C20/SMYe from the new Oregon series feels like revisiting the company's earliest, more radical design impulses, and it possesses a distinct personality and voice that is bound to appeal to a wide swath of fingerstylists and singer-songwriters—particularly those with an understated and nuanced touch.
Left Down Myrtlewood Street
Even at a distance, it's hard to mistake the C20/SMYe for anything other than a Breedlove. The company's signature headstock, which tends to be a polarizing factor for some players, is a dead giveaway. But the concert-sized body also speaks to Breedlove's go-your-own-way styling sense. It's a little more curvaceous, pinched at the waist, and wider at the bass bouts than a traditional concert-sized guitar like a Martin 00. Instead, the 15" body and more dramatic shape make it more akin to a Taylor Grand Concert or a fatter Gibson L-0. The less formal styling is tempered in small measure by touches like the herringbone-like binding. In general, though, the guitar is a showcase for more modern design sensibilities. Past the 12th fret, the pearloid dot inlays on the ebony fretboard are on the treble side of the fretboard and between the high E and B strings. Below the 12th fret, the dots are situated between the 5th and 6th strings. At the 12th fret, the offset dots suggest a sort of figurative hand off between octaves—an easy detail to miss, perhaps but a thoughtful touch.
The blonde-on-blonde look of the Sitka spruce top and myrtlewood back and sides may not be as typical of a match as the spruce top and maple back and sides on a Guild or Gibson jumbo, but the earth-and-stone hues of the myrtlewood lend the guitar a sort of organic visual cohesiveness.
The Middle Way
The first thing you're likely to notice about the Breedlove's playability is how instantly agreeable it feels. The action is pretty low despite a saddle and bridge design that creates a considerable break angle behind the saddle—a nice combination when you consider long-term maintenance. The lowish action makes chording easy, but it's also very friendly to fingerstyle maneuvers—making hammer-ons, pull-offs, and legato phrases relatively effortless.
If the C20/SMYe's playability makes it seem like a natural fingerstyle machine, the prevailing tones make it feel doubly so. This is a very midrange-y guitar, and if you're the kind of fingerstylist who works with a nuanced, delicate touch, you'll savor the detail, dynamics, and overtones you can coax out of it with very little effort. These applications reveal the similarities between the Breedlove's spruce-and-myrtlewood composition and sounds commonly associated with spruce and maple—bright, warm, and not too bossy. The union of warmth and articulation makes it a great guitar for the studio. It can be both compact and present in a mix as fingerstyle accompaniment to a vocal, or yield a bounty of rewards for players who use a thin pick and/or light touch for propulsive Jeff Lynne/ELO/Wilburys-style strummed rhythms. In these contexts, the Breedlove sits both succinct and airily spacious in a mix—adding bounce, atmosphere, and an almost 12-string- or Nashville-strung-like presence.
Ratings
Pros:
Beautifully responsive and articulate for nuanced fingerpicking work. Excellent high-mid presence for rhythm work. Unique voice. Great studio guitar.
Cons:
Not much low end.
Tones:


Playability:


Build/Design:


Value:


Street:
$1,499
Company
breedlovemusic.com
If there's a flip side to the beautiful, harmonic responsiveness to light picking, it's that the C20/SMYe can be equally unkind to a heavy hand—at least when set up with the low action the guitar seems meant to have. The compact body and myrtlewoodand-spruce recipe produces a lot less bass thump. In fact, in standard tuning, the low E doesn't generate much at all. The way the guitar is set up, tuning down to C–G–C–F–A–C or even DADGAD did little to summon much additional low end. For players who value the exquisite midrange attributes, the lack of big, resonant bass may be a plus—especially in the studio. But if you're used to the low-end of, say, a rosewood OM or a dreadnought, the absence of that boom can throw you for a curve.
Plugged in, the C20/SMYe's Fishman Ultratone undersaddle transducer can help you dial in a little more bass, but you'll likely have to augment it via your amp's (or mixing desk's) EQ, because while the pickup does a very good job of communicating the guitar's ample midrange content, rolling back its tone control too much shaves off some of the gorgeous detail. Dial up the right amount of low end on your amp, though, and the Fishman gives you a little more bass without substantial sacrifice in high-mid articulation.
The Verdict
While it may not put a lot of low-end tonnage at your fingertips, the C20/SMYe has enough range to sound feather-delicate or downright propulsive—and it feels positively slinky while doing either. If you can't live without the low end of your D-28, this Breedlove probably won't do the trick. That said, players who love the C20/SMYe's warm and bright myrtlewood tones but miss the bass might well find a solution in the Oregon Series dreadnought. But if you've already got a boom box in your collection and you're looking for a less rough-hewn voice for fingerstyle and strumming, the C20/SMYe would be a great addition to your quiver.
Looking for more great gear for the guitar player in your life (yourself included!)? Check out this year's Holiday Gear Finds!
This full-amp-stack-in-a-box pedal brings a new flavor to the Guitar Legend Tone Series of pedals, Missing Link Audio's flagship product line.
Adding to the company's line of premium-quality effects pedals, Missing Link Audio has unleashed the new AC/Overdrive pedal. This full-amp-stack-in-a-box pedal – the only Angus & Malcom all-in-one stompbox on the market – brings a new flavor to the Guitar Legend Tone Series of pedals, Missing Link Audio's flagship product line.
The AC/OD layout has three knobs to control Volume, Gain and Tone. That user-friendly format is perfect for quickly getting your ideal tone, and it also offers a ton of versatility. MLA's new AC/OD absolutely nails the Angus tone from the days of "High Voltage" to "Back in Black". You can also easily dial inMalcom with the turn of a knob. The pedal covers a broad range of sonic terrain, from boost to hot overdrive to complete tube-like saturation. The pedal is designed to leave on all the time and is very touch responsive. You can get everything from fat rhythm tones to a perfect lead tone just by using your guitar's volume knob and your right-hand attack.
Features 
Three knobs to control Volume, Gain and Tone
Die-cast aluminum cases for gig-worthy durability
Limited lifetime warranty
True bypass on/off switch
9-volt DC input
Made in the USA
MLA Pedals AC/OD - Music & Demo by A. Barrero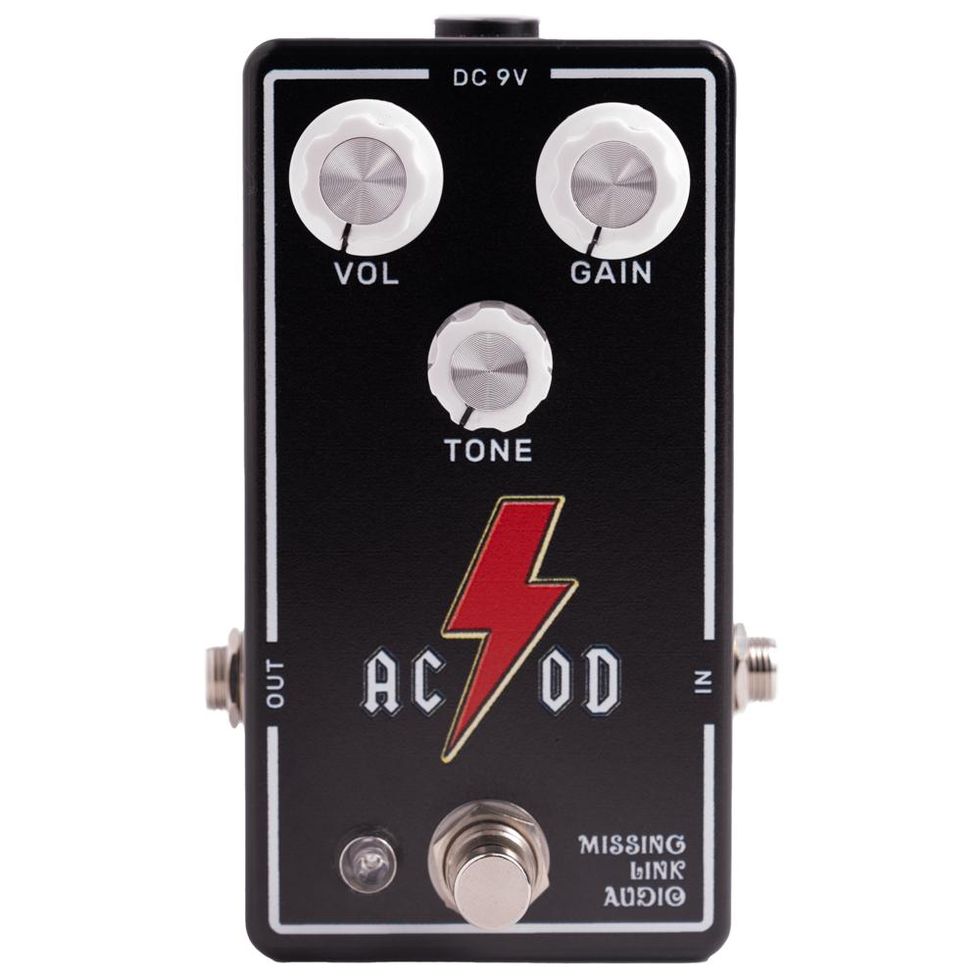 www.mlapedals.com.
Sporting custom artwork etched onto the covers, the Railhammer Billy Corgan Z-One Humcutters are designed to offer a fat midrange and a smooth top end.
Billy Corgan was looking for something for heavier Smashing Pumpkins songs, so Joe Naylor designed the Railhammer Billy Corgan Z-One pickup. Sporting custom artwork etched onto the covers, the Railhammer Billy Corgan Z-One Humcutters have a fat midrange and a smooth top end. This pickup combines the drive and sustain of a humbucker with the percussive attack and string clarity of a P90. Get beefy P90 tone plus amp-pummeling output with the Railhammer Billy Corgan Z-One.
Patented Railhammer Pickups take passive guitar pickups to a new level with rails under the wound strings lead to tighter lows, and poles under the plain strings offer fatter heights. With increased clarity, the passive pickup's tone is never sterile.
Railhammer Billy Corgan Signature Z-One Pickup Demo
Designed for utmost comfort and performance, the Vertigo Ultra Bass is Mono's answer to those who seek the ultimate gigging experience.
Complete with a range of game-changing design features, such as the patent-pending attachable FREERIDE Wheel System, premium water-resistant and reflective materials, shockproof shell structure and improved ergonomic features, the Vertigo Ultra Bass takes gear protection to the next level.
The Vertigo Ultra Bass features:
Patent-pending FREERIDE Wheel System that allows for wheels to be attached on the case in no time, giving you the option to travel with it seamlessly
Upgraded materials, including a water-resistant 1680D Ballistic Nylon outer shell, plush inner lining and new reflective trim for maximum backstage and night visibility
Enhanced protection with a shockproof shell structure and heavy-duty water-resistant YKK zippers for protection from the elements
Improved ergonomics and functionality including added back support and load-lifting detachable shoulder straps with side release buckles
Flexible storage options with added space for touring essentials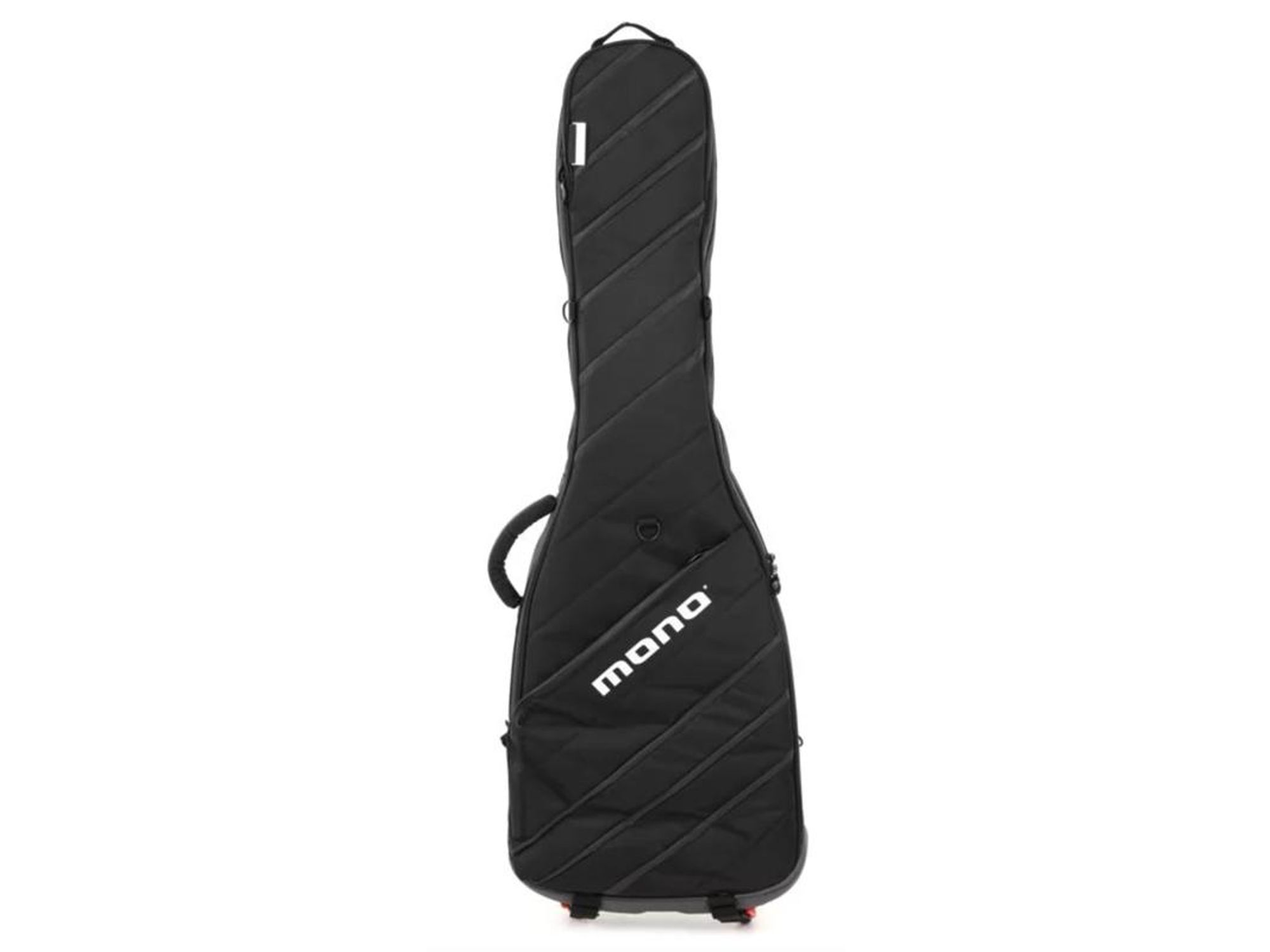 For more information, please visit monocreators.com.
Mono