Inside Breedlove's New Thinline Acoustic Guitar Series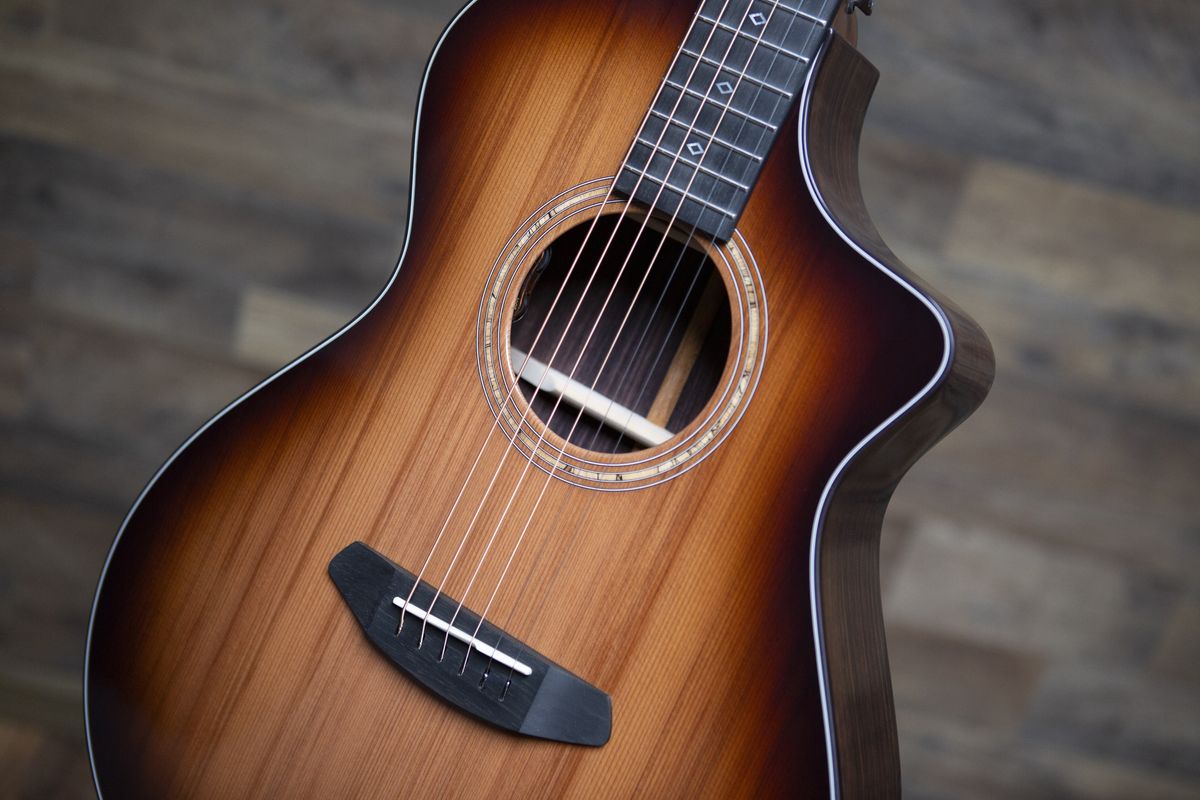 How the Bend, Oregon, builders create slimmed-down instruments that have full-bodied sound—blending modern acoustic science with traditional craftsmanship.
---
While thinline acoustic guitars have been on the scene for some time, they've typically required a compromise between ergonomic comfort and a full-depth instrument's warm, rich sound. Eliminating this compromise was core to the vision behind Breedlove's new thinline guitar body shape. Our goal was to create an acoustic guitar body nearly an entire inch shallower, while retaining the full-depth tone and response guitarists expect from a Breedlove.
The story behind this modern guitar advancement combines our passion for art and acoustic innovation. It was an exercise in thoughtfully melding the application of our proprietary Sound Optimization technology with astute craftsmanship and, like any worthwhile pursuit, a lot of time, trial, and error.
Let's dive into the technology-driven R&D process and explain the tonal benefits of our Sound Optimization process. We also encourage you to pick up one of these Breedlove Thinlines yourself to hear how the thin, ultra-light body responds to the room, coming alive in your hands. Tuck it close and give it a strum.
But first, let's start with the advantage a thinline body offers: comfort. Thinline guitars have a shallower depth than standard body shapes. You can tuck them in close to your own body and feel more engaged with the strings. The lack of bulk and heft are also fantastic for smaller players fatigued by larger-bodied acoustics. Ultimately, you feel more connected when playing a thinline.
Breedlove craftsman Ian Cook explains, "Bringing a thinline guitar in tight is an intimate feeling that connects you with the instrument. When you can combine that with playing comfort and inspiring full-depth-like tone, you're experiencing something special."
MEET YOUR MAKERS: Breedlove Guitar's Ian Cook
Breedlove builder Ian Cook explains the company's Sound Optimization process—a mix of scientific assessment and hands-on craftsmanship.
In the Beginning
Here's how we made a guitar body thinner and maintained the desired sound. We knew we wanted to use our Concert body shape as the platform for this new design. We had already engineered it for optimal ergonomics and tonal balance. We just had to figure out how to slim it down while keeping everything, sonically, that makes it a Breedlove favorite.
First, we tested quite a few body depths to find the perfect starting point. We also had to achieve the ideal taper from the sound box's heel block to the tail block on the lower bout. This was much more complicated than slicing inches off the body. Then came the really hard part.
Crafting the Tone
So much of an acoustic guitar's tone comes from its size. The bigger the body, the more air that can move inside the soundbox, producing the big, billowing low end we all love. In the past, if you thinned a guitar down, you lost that tone.
Though nearly an inch thinner than our standard Concert, the Breedlove Thinline body achieves its full-size tone via specialized bracing that we fine-tuned through our Sound Optimization process. If this is the first time you've heard of Breedlove Sound Optimization, click this link to learn more about it. Then, watch the video below to see the process for yourself.
Breedlove Sound Optimization
See how much of Breedlove's Sound Optimization process is based on embracing the nature of wood. Not every potential top or back makes the grade.
We built countless prototypes, fine-tuning each one until our designers and builders cracked the code, creating an acoustic guitar with the ergonomics and intimacy of a thinline body and the voice of a full-depth instrument—all of the benefits, none of the compromises.
Sounds too good to be true? Breedlove Wood Management and Product Development Manager Angela Christensen thought so, too. "The results even surprised us," she says. "If you couldn't see the guitar that was being played, you would never guess it had such a thin profile!"
These new guitars come in three distinctly different models, now playable at your local Breedlove dealer's shop. Here's a look at each one.
Premier Concert Thinline Edgeburst CE
The first Thinline in our Made in Bend Premier Series is the Premier Concert Thinline Edgeburst CE. This slimmed-down acoustic brings together solid redwood and rosewood without losing any of those woods' articulation or bell-like projection. It also retains the Concert's signature low-end warmth. Through Sound Optimization, we fine-tune each piece of these tonewoods for optimal frequency response, creating a guitar that sounds as captivating as it is comfortable to play.
Breedlove Premier Concert Thinline Edgeburst CE Acoustic Guitar
This articulate redwood and rosewood instrument is hand-voiced and entirely handmade in our Custom Shop, to achieve ultimate comfort and tone.
Oregon Series Concert Thinline Stormy Night
Also handcrafted in Bend, the Breedlove Oregon Concert CE in our Stormy Night finish showcases myrtlewood's unparalleled beauty. The tonewood and Thinline Concert body shape deliver a balanced, detailed voice with a rich resonance equally suited for strumming and nuanced fingerstyle, even when plugged in via its onboard L.R. Baggs electronics.
OREGON CONCERT THINLINE STORMY NIGHT MYRTLEWOOD ACOUSTIC GUITAR
Crafted with full sustainable Oregon myrtlewood, this instrument has a finish inspired by a desert storm over an Arizona night sky—as visually striking as it is inspiring to play.
Performer Pro Performer Thinline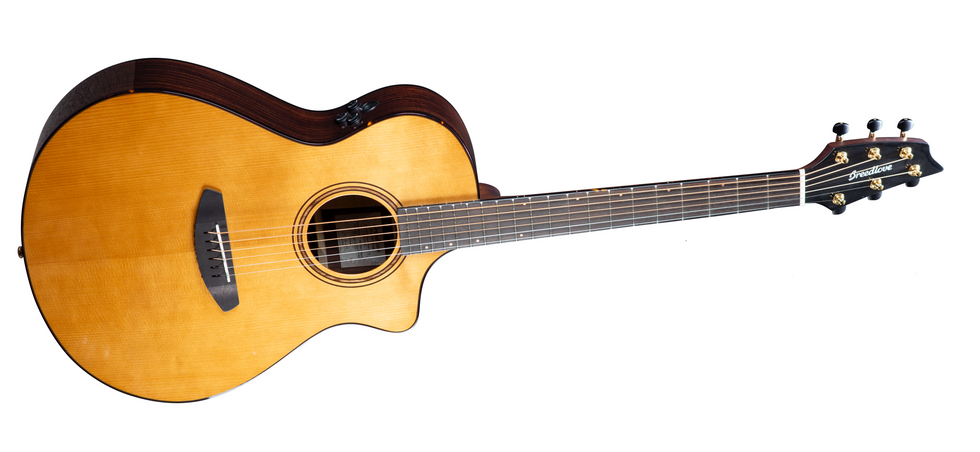 The Organic Pro Performer Thinline is our production thinline acoustic guitar. Although it was initially designed to accommodate players preferring a smaller instrument, we quickly realized that no one in the shop wanted to put the guitar down. It's just so comfortable! With a solid European spruce top and solid Indian rosewood or African mahogany back and sides, this no-compromise guitar gives an intimate and ergonomic feel to a classic look and sound.
Add in Fishman Flex Plus-T electronics, and you have a pro-level, stage-ready acoustic-electric guitar you'll want to play for hours on end. For more information on all of Breedlove's handcrafted acoustic guitars, visit breedlovemusic.com.