This museum-ready flattop was built by a legendary Chicagoan luthier duo.
In the early 20th century, Chicago's reputation was one of grit, and the city was full of factories, gangsters, and slaughterhouses. But in a small shop on the North Side's Elm Street, brothers Carl and August Larson built fine acoustic instruments under a variety of brand names, including ornate statement pieces like this Maurer 595.
You could hang this on a wall in Versailles, and it wouldn't look out of place. A 1920s 12-fret of impeccable beauty, the guitar positively drips with inlays. An elaborate pearl and abalone tree-of-life vine runs the length of the neck, from the top of the slotted mahogany headstock down its ebony fretboard. Within the herringbone purfling around the bound body and rosette, even more abalone decorates and dazzles. The ebony bridge features inlays of two ivory stars.
Measuring 15" wide and with a 25 1/2" scale length, the body is 3 1/4" deep, a bit shallower than you'd expect. It has a spruce top with Martin-style X-bracing underneath, and solid Brazilian rosewood back and sides. The neck is 1 7/8" wide at the nut, giving players more room across the fretboard.
This Maurer is a premium example of the work of the Larson Brothers, a pair of Swedish immigrants that occupy a unique space in American guitar craft. From about 1900 to the 1940s, they ran a tight operation that competed, in quality and innovation, with heavyweights like Gibson and Martin.
The guitar's inlays, made of both pearl and abalone, run the length of the neck, from the headstock all the way down the fretboard.
Alongside archtops, mandolins, and harp-style guitars, the brothers built steel-string flattops like this Maurer—and started building them a full two decades before their rivals. But, while successful in their time, the Larsons were still very little-known in comparison. The fact that they didn't release guitars under their own name, but a whole constellation of others—for their own brands Maurer, Prairie State, and Euphonon, for retailers like Wm. C. Stahl and W.J. Dyer, and more—didn't help with name recognition.
Nonetheless, they were pioneers in modern acoustic lutherie, experimenting with reinforcement measures and building techniques. In 1904, August Larson patented his laminated bracing design, where he'd insert thin strips of harder rosewood or ebony within softer spruce braces, which helped add more rigid structure without too much more weight. He employed this technique in the Maurer 595 (you can see its "Pat" stamp inside the soundhole). In 1930, he patented a unique steel-rod contraption found in many Prairie State guitars, though not seen in our Vintage Vault find. Like most flattops built by the Larsons, this Maurer 595 also isn't quite flat, thanks to another reinforcement measure the Larsons adopted. Built "under tension," these tops have a permanent, slightly arched shape that, like their laminated bracing, helps withstand the pressure of steel strings.
You could hang this on a wall in Versailles and it wouldn't even look out of place.
The precise level of detail and the problem-solving tenacity that the brothers brought to their work was no doubt spurred by August's monastic devotion. Reportedly, he lived in the shop with a small bed and little furniture and was essentially married to his work (so much so that his one romantic marriage was short-lived). While it can't be known who exactly did the inlay work on this instrument—August, Carl, or one of their part-time employees—it's easy to imagine August hunched over a bench for hours upon exacting hours to get them right. And if not August himself, someone working with equal fervor in his shadow.
August Larson lived in his workshop, and it's not hard to imagine him or another dedicated employee toiling over the building of this guitar.
Photo by Jake Wildwood/Reverb
While we don't know the exact year or have price lists for 1920s Maurers, this 595 represents the very top of the brand's "best grade" guitars. So, it likely sold, originally, in the vicinity of $100, approaching the expense of higher-end Martins and Gibsons. Today, what had been low-end Maurers can fetch thousands of dollars, even in fair condition. Top-of-the-line builds like this 595 can fetch $20,000 or more if they're collector-grade. Fortunately for all would-be buyers out there, this exact 595 has had enough repair work to be a little less expensive but remains in remarkably near-original shape.
Reverb seller Jake Wildwood, a self-described "country guitar doctor" that has worked on many Larson Brothers instruments, repaired the guitar, and writes that the work was minimal and quick: the removal of a metal bolt that had been placed in the heel, a neck reset, and some standard fret and setup work. Beyond the reproduction tuners, new bone saddle, and evidence of some repairs, this 595 is original. A 100-year-old guitar ready for its next century, with a current asking price of $17,000.
Sources: Gruhn's Guide to Vintage Guitars, Vintage Guitar Price Guide, The Larsons Brother History (acousticmusic.org), Reverb listings and transaction data.
An extroverted Grand Auditorium—and a smooth-playing fingerstyle machine.
Not long ago we were celebrating with wonder the return of top-notch quality to the affordable acoustic guitar realm. But even in the slow-changing guitar world, good affordable acoustics are now old news. These days many manufacturers are building good under-a-grand guitars with vintage-correct specs like Adirondack spruce soundboards and hide-glue construction, or modern boutique touches like exotic tonewoods and bold design deviations.
Designed in France and built in China, Lâg's TSE701ACE resides at the "modern boutique styling on a budget" end of the spectrum. Its excellent playability and Fishman electronics provide a high-performance feel and an agreeable personality.
With no single register predominating, it's excellent
for fingerstyle moves.

Reptilian Cool
The TSE701ACE is based on the Grand Auditorium body shape—a format often preferred by fingerstylists. Its top is solid Sitka spruce top, and the sides are layered snakewood, a South American species with reptile-skin figuring. The neck is khaya (African mahogany), and the fretboard and bridge are Mozambique ebony.
It's an interesting-looking guitar. A sculptural headstock and a fretboard devoid of position inlays suggest a modern high-end jazz guitar. The unconventional snakewood rosette flares at the bottom to include the image of a Mesoamerican deity. All-black hardware and an opaque black neck finish add to the clean, modern look. But as bold as these design moves are, the deeply figured snakewood is even more striking.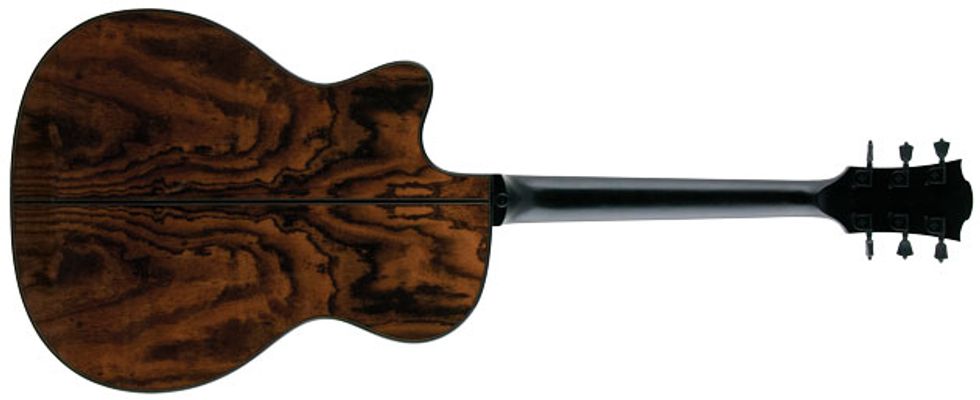 Removed from its snazzy faux-snakeskin hardshell case, the TSE701ACE feels a little heavy, perhaps because of its electronics. While the build quality is good, there's some room for improvement. The frets feel smooth and silky, but there are traces of tooling marks on the fretboard. The body's gloss finish is clean, but inside the box things are a little rough: The finish sanding is poor at the rout for the truss rod's access point, and leftover wood particles from the manufacturing process rattle when you shake the guitar.
Slinky Snake
The TSE701ACE's slender neck provides a decidedly modern feel that will appeal to electric guitarists. Out of the box the action is low and effortless, though when played forcefully the low action causes some buzzing, particularly on the low strings at the lowest frets—nothing a simple setup couldn't solve. Notes are even in tone and volume across the fretboard, save for the bottom strings at the highest registers, which are a bit murky.
Ratings
Pros:
Great playability. High-quality electronics. Unique design and cosmetics.
Cons:
A little expensive for an imported guitar with laminated back and sides.
Tones:


Playability:


Build/Design:


Value:


Street:
$850
Lâg Guitars USA Tramontane Special Edition TSE701ACE
lagguitars.com
Overall the guitar sounds bright and civilized, if a little dry. (Though like any new solid-topped guitar, this one might simply lack the resonance that can come with age.) What the instrument lacks in liveliness, it makes up for in balance. With no single register predominating, it's excellent for fingerstyle moves. On the other hand, it's not an instrument that wants to be bashed with abandon. That doesn't exempt it from rhythm duties: Strummed with moderate force, chords have sturdy presence and good note separation. Complex, closely voiced chords sound just as clear as basic open ones.
Some players insist that a 1.75" nut width is a must for fingerstyle, but the TSE701ACE's 43 mm nut (about 1.69") effectively debunks that notion. Fingerstyle techniques feel perfectly natural here, and the guitar's even tone translates well to alternate tunings like DADGAD and open G. However, the instrument doesn't seem to amplify picking-hand nuances like a good, all-solid-wood OM.
The TSE701ACE also serves well for single-note soloing. It may not be the right guitar to compete with banjo and fiddle at a bluegrass jam, but it sounds sweet and well defined for Django Reinhardt-style gypsy-jazz. And thanks to the Fishman electronics, it would also work well for soloing in almost any acoustic rock or pop situation.
The Fishman INK Body system combines the company's Sonicore pickup with a body-mounted transducer, an onboard preamp (with volume, body, notch, treble, middle, and bass controls), and a chromatic tuner with an LCD display. The system is a marked improvement over the lone undersaddle pickups you tend to encounter in this price range. Plugged into a Fender Acoustasonic amp, the guitar sounds authentically acoustic, and the body sensor is great for percussive thumping techniques.
The Verdict The TSE701ACE has cool, idiosyncratic style. It sounds good, plays even better, and amplifies well. It's not a guitar for traditionalists, and it's a bit expensive for an instrument with laminated sides and back. But great playability and reliable, expressive electronics make it a solid gigging flattop for just about any acoustic player other than a ham-fisted rock strummer.
Watch the Review Demo:

PG tests three astoundingly versatile acoustics from Taylor, Martin, and Larrivée.
It's easy to understand why dreadnoughts are the best-selling acoustic guitar type. On a shop floor and in the heat of a quick test drive, the average dread will sound bigger and bolder than just about anything else. But you have to wonder, if the average buyer had a whole day to lounge about and compare the average dread to a small-bodied flattop like the three guitars reviewed here, how would the big guy fare? Comfortable, pretty, compact, versatile, and nuanced—small bodies like 00s, 000s, and grand orchestras are full of personality, color, and subtlety. And they're typically pretty forgiving, if not flat-out superior, in recording situations.
The three guitars profiled in this roundup—the Larrivée OM-40, Martin 000-15M Burst, and Taylor 214ce SB DLX—offer a sometimes-startling breadth of sonic options in the $1,200–$1,500 range. If you're ready for an upmarket move from your affordable or mid-priced acoustic, each is an intriguing option full of surprises and rich rewards.
Click next or choose the flattop you want to see and hear more about:
Larrivée OM-40
Martin 000-15M Burst
Taylor 214ce SB DLX
Larrivée OM-40 Review
Like a benevolent mad scientist, Jean Larrivée bends acoustic design convention to beautiful and original-sounding ends. At first glance, the new OM-40 looks like one of the least idiosyncratic Larrivées in memory, but bracing modifications beneath the trad exterior help make this mahogany-and-spruce guitar a unique and often potent-sounding OM.
Trad with a Twist (or Two)
As the headstock shape, herringbone purfling and rosette, and diamond inlay less than subtly suggest, the OM-40 is partly an homage to Martin's OM-28. But this isn't some slavishly exact replica: The body and neck binding are pretty Canadian maple, the back and sides are mahogany like on an OM-18, and the whole guitar has an exceptionally smooth satin finish.
Tuned down to D, the bottom string generates the kind of rib-shaking low end you associate with a jumbo.

The bracing, with its aggressive scalloping and parabolic shapes, also deviates from tradition. The craftsmanship is, for all practical purposes, perfect. The only trace of irregularity I found was the point where the two ends of back purfling meet—an offset of a fraction of a millimeter. Otherwise, the guitar looks like it was obsessively examined for blemishes with an electron microscope.
Properly Orchestral
Fingerstylists love OMs for their wide string spacing (1 ¾" at the nut). On a 25.5" scale, 14-fret neck, that means plenty of space for intricate picking, cool chord voicings, and bends. The Larrivée is inviting on all of these counts, though players with smaller hands may want to spend extra time with the guitar to determine whether the wide spacing inhibits playability or induces fatigue.
Ratings
Pros:
Beautifully sensitive, dynamic, and responsive to light fingerpicking. Near-flawless construction. Resonant bass.
Cons:
Brash midrange when strumming.
Tones:


Playability:


Build/Design:


Value:


Street:
$1,424
Larrivée Guitars OM-40
larrivee.com
A spacious fretboard isn't the only way the OM-40 is oriented toward fingerstylists. It's very responsive to a soft touch, and it feels especially dynamic and expressive when you go easy with your picking hand. The flip side to this sensitivity is that the midrange can sound downright explosive if you play heavily or use fingerpicks. At times, the midrange was aggressive enough to overpower the ample bass output, which is impressive for a guitar of this size. Tuned down to D, the bottom string generates the kind of rib-shaking low end you associate with a jumbo, especially with the extra punch of a flatpick. Played with a bare thumb, is has a pretty, blooming resonance.
As lovely as the OM-40 sounds when plucked with the fingers, it can be bratty and brash when strummed hard. Notes that sound lively and ringing (especially on the third and fourth strings) can seem upper-mid heavy when you dig in with a flatpick. Even with a lighter touch, the sonic sum of all six strings strummed sound a little, well, contemporary—hopped-up in the mids and bit compressed. Given how expertly this guitar is built and how great it sounds when played lightly, you have to wonder if time will soften these tendencies. At least some of the brashness from first-position chords seems like the result of new strings meeting glimmering new frets without a trace of mellowing patina. The guitar just feels like it needs a little breaking in.
The Verdict
The OM-40 is really a fingerstylist's machine. Even though this guitar is likely to achieve better balance over time, its midrange is just a touch too aggressive to sound sweet for heavy flatpicking. But if you tend to forego flatpicks and fingerpicks for the feel of bare flesh and nails on strings, you'll find the OM-40 beautifully balanced and full of expressive range. While our test guitar had no electronics, it's easy to imagine how a nice pickup—particularly a magnetic one—could mellow out the twitchy and sometimes explosive midrange, making this a killer stage guitar for fingerstyle players. The OM-40 isn't for everyone, but it could be a go-to machine for nuanced fingerstylists. —Charles Saufley
Watch the Review Demo:

Click the other flattops in the roundup:
Martin 000-15M Burst
Taylor 214ce SB DLX
Martin 000-15M Burst
How do I love thee, mahogany? Let me count the ways: I love thee on old Les Pauls. I love thee on Fender-style "parts" guitars. (Try it and see!) But I most truly love the crap out of thee on small-bodied steel-string acoustics.
So no surprise that I adore this pretty new Martin. It's a simple but elegant 000 brimming with gorgeous, studio-ready tones at a sensible street price of $1,399.
Simple, Not Plain
There's no purfling or binding here—only a minimal rosette and understated pearlescent position markers. Instead, Martin invested in what counts: great-sounding materials and stellar workmanship. But despite its simplicity, this guitar is a looker, with an eye-catching burst top beneath a simple satin finish.
This guitar boasts stunning dynamic range. I swear, it makes you play with increased drama and contrast.
The 000-15M felt and sounded great right out the case. The frets are comfy, and the build is flawless. Yeah, there was some new-guitar tightness, but after an hour or so of playing, things seemed to open up, though maybe that's because I was learning how to exploit the guitar's expressive nature.
How expressive? Incredibly! This instrument boasts stunning dynamic range. I swear, it makes you play with increased drama and contrast. The same goes for its tonal range: Shifting your picking hand in small increments yields big color shifts. I especially love the response when you pluck toward the fretboard—the warm, fat tones can sound almost like a nylon-string classical. (Thank you, mahogany. Did I mention that I love thee?)
Getting Picky
But before you run out to buy one of these, be aware of what small-bodied mahogany guitars can and can't do. This isn't a very loud instrument. Nor is it zingy: Notes have clear, decisive fundamentals, but you don't get the high-end sizzle typical of many modern acoustics.
Ratings
Pros:
Great build. Good looks. Ravishing tones.
Cons:
Easily overpowered by aggressive strumming.
Tones:


Playability:


Build/Design:


Value:




Street:
$1,499
Martin 000-15M Burst
martinguitar.com
(Fine by me—I prefer these burnished, vintage-flavored tones.) All registers are beautifully balanced. There's no shortage of lows while recording, but the 000-15M tends not to project them strongly across the room.
Also, the guitar's hair-trigger response may simply be a little too volatile for some players. I don't want sound like a jerk by saying this is an instrument for advanced guitarists, but those with solid picking-hand technique will probably feel most at home here. And while I loathe the cliché that big-bodied guitars are for strumming and small bodied-ones are for fingerstyle, it's kind of true in this case. Pickstyle strumming can sound great at moderate levels, but aggressive strumming easily overpowers the guitar, and bearing down harder can paradoxically make tones seem smaller. The 000-15M probably isn't the right axe for heavy-handed open-G strummers.
But dang, does it record well! Savvy session players often prefer small-bodied acoustics because they realize that the lows and mids those models lack are precisely the frequencies that tend to get deliberately filtered out come mix time. Here, the pre-EQ sound is fabulous (though engineers are likely to boost the highs in many cases).
The Verdict
I love this pretty guitar and its warm, supremely expressive tones. The 000-15M doesn't respond particularly well to aggressive strumming or inconsistent technique, so this may not be a great choice if you're Woody Guthrie bashing away at a rowdy union rally, or just someone trying to project unamplified acoustic tone to the back pew in church. (Note, though, that this model is also available with built-in electronics, and it would probably sound great in big rooms when properly amplified.) But the 000-15M is most sublime in the studio, close-miked to capture all its gorgeous tonal detail. Provided you know what you're getting into with this body style and these materials, I can't recommend this guitar more highly. —Joe Gore
Watch the Review Demo:
Click next or choose the flattop you want to see and hear more about:
Larrivée OM-40
Taylor 214ce SB DLX
Taylor 214ce SB DLX
While Taylor makes exquisite and extraordinary high-end flattops, they have a well-deserved reputation as a safe bet for the everyman guitarist. The company's manufacturing practices—especially in the affordable and mid-priced ranges—emphasize consistency as much as productivity. Bob Taylor has always placed a premium on a well-rounded playability and agreeable tonality that work across many playing styles. It would be hard to find a guitar that better embodies these facets of Taylor's design philosophy than the stage-ready, solid-spruce and layered-rosewood 214ce SB DLX.
Eager to Please
At a glance, the Mexican-made 214ce SB DLX seems designed for players seeking a little flash in their lives. The rosewood-veneer back and sides boast spectacular (and expensive-looking) grain pattern. The pearloid rosette and deep amber-and-wine hues of the tobacco sunburst add additional splashes of fancy. The look isn't overstated or garish, but it has a stage presence that will appeal to those unburdened by puritanical flattop design notions.
The 214ce SB DLX has the personality of a willing, able, and well-dressed buddy riding shotgun.
Like most Taylors we see, the 214ce SB DLX is pretty much flawlessly assembled. There's not a trace of poorly sanded bracing, no telltale marks of errant glue application. The seams at the neck joint and around the binding are perfect.
Bright Kid In The Class
I'm accustomed to (and happiest with) the mellow, toasty sounds of all-mahogany and mahogany-backed acoustics. So it's easy to be struck by how bright and willing the 214cs SB DLX feels in comparison to those flattop types. It's super-defined in the upper midrange. Fingerpicked notes and flatpicked arpeggios have popping immediacy well suited to the transparent-sounding electronics.
Ratings
Pros:
Beautifully playable (especially with a light fingerstyle touch). Flawless build. Transparent-sounding electronics.
Cons:
Midrange-heavy. A little compressed when you dig in hard.
Tones:


Playability:


Build/Design:


Value:



Street:
$1,249
Taylor Guitars 214ce SB DLX
taylorguitars.com
The bright sonic profile means you don't have to fight too hard to generate ringing fingerstyle tones. The guitar also has excellent string-to-string balance that highlights the detail in melodic fingerstyle runs and chord melodies. The low-end output complements the chiming mids and highs. It's neither too burly nor anemic, with an almost piano-like sustain, especially in lowered tunings.
If there's a downside of this light-touch agreeability, it's that the guitar can sound a bit hyper when you dig in. Flatpick stabs that many bluegrass and blues pickers use as a matter of course can seem a bit thin compared to the contoured, overtone-rich sounds you get from flesh and nails on string. This tone recipe often works out well, especially when strumming with abandon. Here, the almost compressed quality of the Taylor reacting to the flatpick keeps chords nicely controlled for percussive or syncopated strumming. Beware though: To take advantage of this capacity, you must have a high tolerance for contemporary, midrange-heavy sounds.
The Verdict
The 214ce SB DLX has the personality of a willing, able, and well-dressed buddy riding shotgun. The forgiving electronics, mid-centric tone palette, and overall playability suggest that you could fill every role from rhythm support in a band to mellow fingerstyle accompaniment. What's more, the Taylor feels ready for the rough-and-tumble rigors of steady gigging. It's beautifully and sturdily built.
If this guitar comes up short with anyone, it will probably be fingerstylists who seek woody, earthy nuance, or singers and bands who prefer a more mysterious, husky acoustic sound. (Lo-fi artists who dig the subdued character of a dusty old Harmony need not apply.) If you could attach a short, all-encompassing description to the 214ce SB DLX (tough for a guitar that does so many things well!) it would be "high fidelity." If you like your acoustic tones lively, present, and distinct, this Taylor provides the perfect path to those ends.
—Charles Saufley
Watch the Review Demo:
Click next or choose the flattop you want to see and hear more about:
Larrivée OM-40
Martin 000-15M Burst