Lâg Tramontane Special Edition TSE701ACE Review
An extroverted Grand Auditorium—and a smooth-playing fingerstyle machine.
Not long ago we were celebrating with wonder the return of top-notch quality to the affordable acoustic guitar realm. But even in the slow-changing guitar world, good affordable acoustics are now old news. These days many manufacturers are building good under-a-grand guitars with vintage-correct specs like Adirondack spruce soundboards and hide-glue construction, or modern boutique touches like exotic tonewoods and bold design deviations.
Designed in France and built in China, Lâg's TSE701ACE resides at the "modern boutique styling on a budget" end of the spectrum. Its excellent playability and Fishman electronics provide a high-performance feel and an agreeable personality.
With no single register predominating, it's excellent
for fingerstyle moves.

Reptilian Cool
The TSE701ACE is based on the Grand Auditorium body shape—a format often preferred by fingerstylists. Its top is solid Sitka spruce top, and the sides are layered snakewood, a South American species with reptile-skin figuring. The neck is khaya (African mahogany), and the fretboard and bridge are Mozambique ebony.
It's an interesting-looking guitar. A sculptural headstock and a fretboard devoid of position inlays suggest a modern high-end jazz guitar. The unconventional snakewood rosette flares at the bottom to include the image of a Mesoamerican deity. All-black hardware and an opaque black neck finish add to the clean, modern look. But as bold as these design moves are, the deeply figured snakewood is even more striking.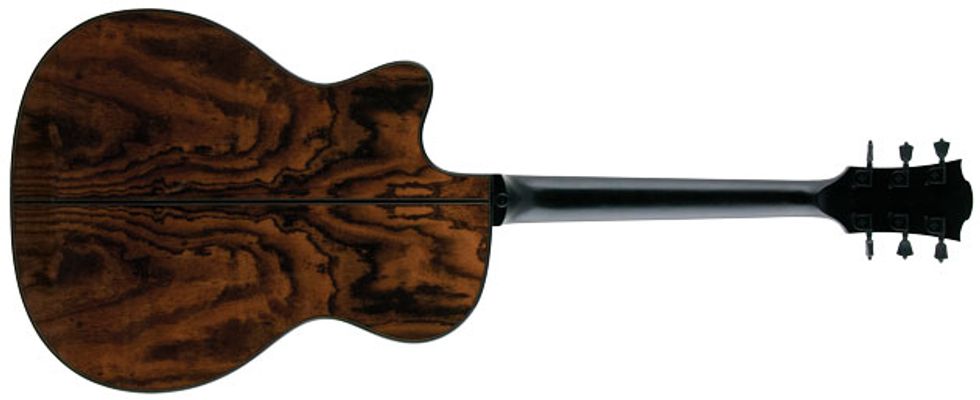 Removed from its snazzy faux-snakeskin hardshell case, the TSE701ACE feels a little heavy, perhaps because of its electronics. While the build quality is good, there's some room for improvement. The frets feel smooth and silky, but there are traces of tooling marks on the fretboard. The body's gloss finish is clean, but inside the box things are a little rough: The finish sanding is poor at the rout for the truss rod's access point, and leftover wood particles from the manufacturing process rattle when you shake the guitar.
Slinky Snake
The TSE701ACE's slender neck provides a decidedly modern feel that will appeal to electric guitarists. Out of the box the action is low and effortless, though when played forcefully the low action causes some buzzing, particularly on the low strings at the lowest frets—nothing a simple setup couldn't solve. Notes are even in tone and volume across the fretboard, save for the bottom strings at the highest registers, which are a bit murky.
Ratings
Pros:
Great playability. High-quality electronics. Unique design and cosmetics.
Cons:
A little expensive for an imported guitar with laminated back and sides.
Tones:


Playability:


Build/Design:


Value:


Street:
$850
Lâg Guitars USA Tramontane Special Edition TSE701ACE
lagguitars.com
Overall the guitar sounds bright and civilized, if a little dry. (Though like any new solid-topped guitar, this one might simply lack the resonance that can come with age.) What the instrument lacks in liveliness, it makes up for in balance. With no single register predominating, it's excellent for fingerstyle moves. On the other hand, it's not an instrument that wants to be bashed with abandon. That doesn't exempt it from rhythm duties: Strummed with moderate force, chords have sturdy presence and good note separation. Complex, closely voiced chords sound just as clear as basic open ones.
Some players insist that a 1.75" nut width is a must for fingerstyle, but the TSE701ACE's 43 mm nut (about 1.69") effectively debunks that notion. Fingerstyle techniques feel perfectly natural here, and the guitar's even tone translates well to alternate tunings like DADGAD and open G. However, the instrument doesn't seem to amplify picking-hand nuances like a good, all-solid-wood OM.
The TSE701ACE also serves well for single-note soloing. It may not be the right guitar to compete with banjo and fiddle at a bluegrass jam, but it sounds sweet and well defined for Django Reinhardt-style gypsy-jazz. And thanks to the Fishman electronics, it would also work well for soloing in almost any acoustic rock or pop situation.
The Fishman INK Body system combines the company's Sonicore pickup with a body-mounted transducer, an onboard preamp (with volume, body, notch, treble, middle, and bass controls), and a chromatic tuner with an LCD display. The system is a marked improvement over the lone undersaddle pickups you tend to encounter in this price range. Plugged into a Fender Acoustasonic amp, the guitar sounds authentically acoustic, and the body sensor is great for percussive thumping techniques.
The Verdict The TSE701ACE has cool, idiosyncratic style. It sounds good, plays even better, and amplifies well. It's not a guitar for traditionalists, and it's a bit expensive for an instrument with laminated sides and back. But great playability and reliable, expressive electronics make it a solid gigging flattop for just about any acoustic player other than a ham-fisted rock strummer.
Watch the Review Demo: