A Larson Brothers Work of Art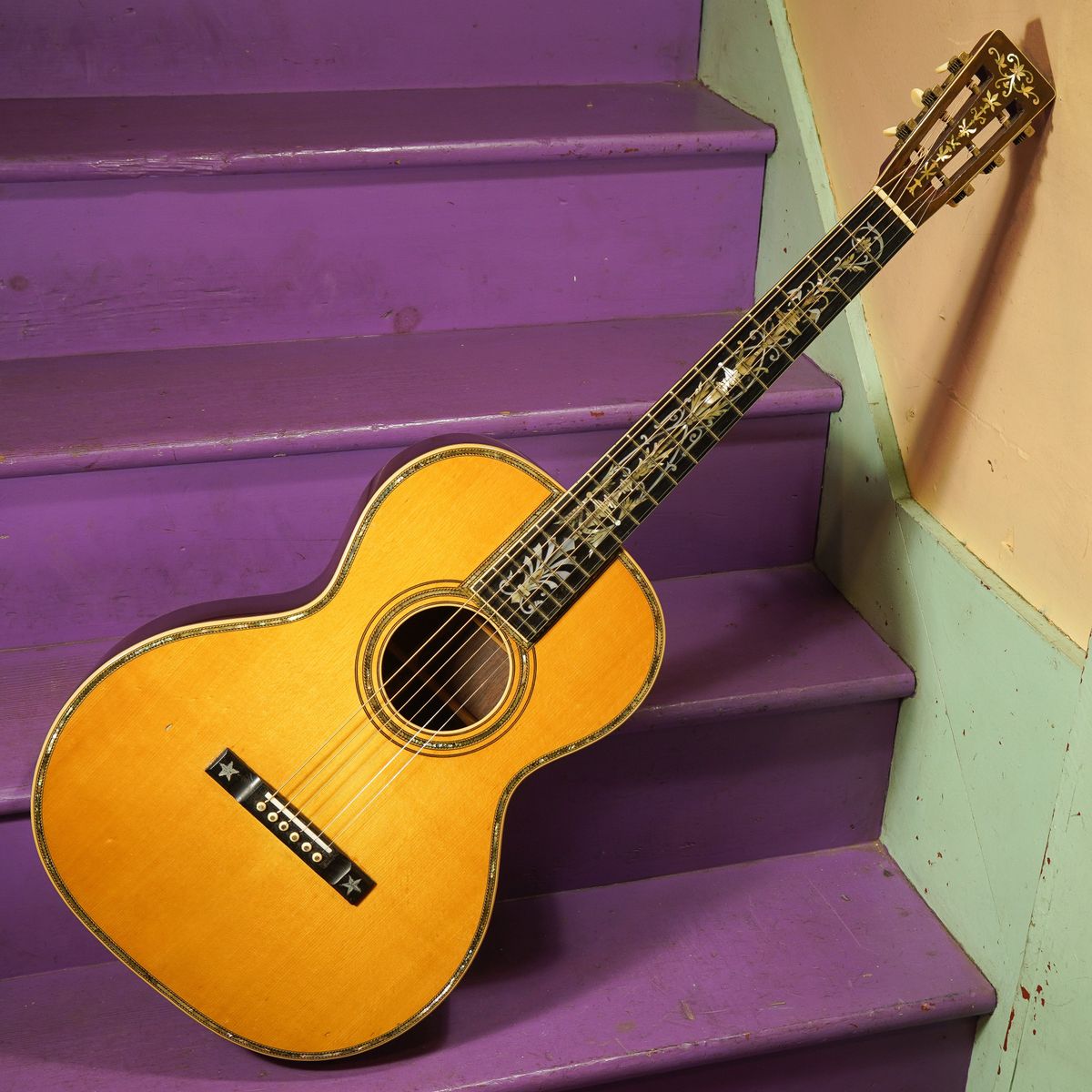 This museum-ready flattop was built by a legendary Chicagoan luthier duo.
In the early 20th century, Chicago's reputation was one of grit, and the city was full of factories, gangsters, and slaughterhouses. But in a small shop on the North Side's Elm Street, brothers Carl and August Larson built fine acoustic instruments under a variety of brand names, including ornate statement pieces like this Maurer 595.
---
You could hang this on a wall in Versailles, and it wouldn't look out of place. A 1920s 12-fret of impeccable beauty, the guitar positively drips with inlays. An elaborate pearl and abalone tree-of-life vine runs the length of the neck, from the top of the slotted mahogany headstock down its ebony fretboard. Within the herringbone purfling around the bound body and rosette, even more abalone decorates and dazzles. The ebony bridge features inlays of two ivory stars.
Measuring 15" wide and with a 25 1/2" scale length, the body is 3 1/4" deep, a bit shallower than you'd expect. It has a spruce top with Martin-style X-bracing underneath, and solid Brazilian rosewood back and sides. The neck is 1 7/8" wide at the nut, giving players more room across the fretboard.
This Maurer is a premium example of the work of the Larson Brothers, a pair of Swedish immigrants that occupy a unique space in American guitar craft. From about 1900 to the 1940s, they ran a tight operation that competed, in quality and innovation, with heavyweights like Gibson and Martin.
The guitar's inlays, made of both pearl and abalone, run the length of the neck, from the headstock all the way down the fretboard.
Alongside archtops, mandolins, and harp-style guitars, the brothers built steel-string flattops like this Maurer—and started building them a full two decades before their rivals. But, while successful in their time, the Larsons were still very little-known in comparison. The fact that they didn't release guitars under their own name, but a whole constellation of others—for their own brands Maurer, Prairie State, and Euphonon, for retailers like Wm. C. Stahl and W.J. Dyer, and more—didn't help with name recognition.
Nonetheless, they were pioneers in modern acoustic lutherie, experimenting with reinforcement measures and building techniques. In 1904, August Larson patented his laminated bracing design, where he'd insert thin strips of harder rosewood or ebony within softer spruce braces, which helped add more rigid structure without too much more weight. He employed this technique in the Maurer 595 (you can see its "Pat" stamp inside the soundhole). In 1930, he patented a unique steel-rod contraption found in many Prairie State guitars, though not seen in our Vintage Vault find. Like most flattops built by the Larsons, this Maurer 595 also isn't quite flat, thanks to another reinforcement measure the Larsons adopted. Built "under tension," these tops have a permanent, slightly arched shape that, like their laminated bracing, helps withstand the pressure of steel strings.
You could hang this on a wall in Versailles and it wouldn't even look out of place.
The precise level of detail and the problem-solving tenacity that the brothers brought to their work was no doubt spurred by August's monastic devotion. Reportedly, he lived in the shop with a small bed and little furniture and was essentially married to his work (so much so that his one romantic marriage was short-lived). While it can't be known who exactly did the inlay work on this instrument—August, Carl, or one of their part-time employees—it's easy to imagine August hunched over a bench for hours upon exacting hours to get them right. And if not August himself, someone working with equal fervor in his shadow.
August Larson lived in his workshop, and it's not hard to imagine him or another dedicated employee toiling over the building of this guitar.
Photo by Jake Wildwood/Reverb
While we don't know the exact year or have price lists for 1920s Maurers, this 595 represents the very top of the brand's "best grade" guitars. So, it likely sold, originally, in the vicinity of $100, approaching the expense of higher-end Martins and Gibsons. Today, what had been low-end Maurers can fetch thousands of dollars, even in fair condition. Top-of-the-line builds like this 595 can fetch $20,000 or more if they're collector-grade. Fortunately for all would-be buyers out there, this exact 595 has had enough repair work to be a little less expensive but remains in remarkably near-original shape.
Reverb seller Jake Wildwood, a self-described "country guitar doctor" that has worked on many Larson Brothers instruments, repaired the guitar, and writes that the work was minimal and quick: the removal of a metal bolt that had been placed in the heel, a neck reset, and some standard fret and setup work. Beyond the reproduction tuners, new bone saddle, and evidence of some repairs, this 595 is original. A 100-year-old guitar ready for its next century, with a current asking price of $17,000.
Sources: Gruhn's Guide to Vintage Guitars, Vintage Guitar Price Guide, The Larsons Brother History (acousticmusic.org), Reverb listings and transaction data.