How to bring the mojo of modulation, delay, distortion, and other effects to your recordings of … everything.
We guitarists have a long tradition of changing the electric guitar's inherent tone by experimenting, inventing, and developing new tones and timbres through effects. More specifically, effect pedals. I believe our continued open-mindedness has kept our instrument relevant throughout the many decades and proven just how limitless a musical chameleon it truly is.
There is also a parallel tradition, almost as long, of using guitar pedals in unintended ways on other musical material. This time, in honor of our all-things-pedal issue, I'm going to show you how to set up and use your existing pedals on other audio sources besides your guitar. Before we get too far into the woods and try to connect our pedals to and from our audio interface, I want to briefly address two subjects—"levels" and "balanced/unbalanced signal cables"—that are important to understand, so you'll get the best results.
Listed from weakest to strongest, there are four types of signal levels in the audio world: mic, instrument, line, and speaker level.
Mic level is the signal voltage generated by a microphone and is so weak, it requires using a preamplifier (preamp) to bring it up to line level.
Instrument level is the inherent signal output level (impedance varies) put out by an instrument, like the electric guitar or bass. It also requires a preamp to bring it up to line level.
Line level is the highest of the three levels but still needs a preamp and comes in two varieties: consumer (-10 dBV) and professional (+4 dBu). The latter is what your audio interface will boost everything up to before sending the signal to your monitor speakers.
Speaker level comes after all the signals (any of the previous three) are collectively boosted to line level and is then (post-amplification) output to your monitors. Because of the comparatively high voltage, this is why we use dedicated speaker cables and not instrument cables to connect the output of your interface to your monitors.
Now, let me quickly define the difference between balanced and unbalanced signal cables.
Fig. 1
• Unbalanced signal cables: The two most common are our standard, high impedance 1/4" TS (tip, sleeve) instrument cables and RCA cables [Fig.1].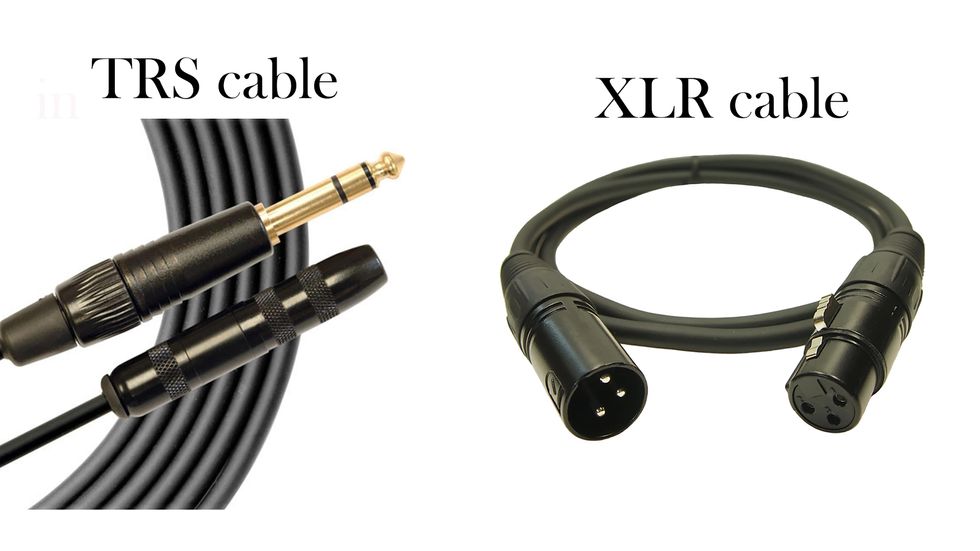 Fig. 2
• Balanced cables: The two most common are XLR cables and TRS 1/4" cables [Fig. 2].
Using this knowledge, we can get started making some musical mayhem and connecting our pedals.
Step 1: Connect a balanced XLR or 1/4" TRS cable from a line output of your audio interface and to the input of your reamp box. I highly recommend the Radial EXTC Effects Reamper Class A Guitar Effects Router ($329 street), which further offers the possibility of combining two different effects loops. The reason why we need a reamp box (there are many on the market) is because it will convert the balanced, line level output of your audio interface to an unbalanced, instrument levelsignal that guitar pedals are designed to accept. A good reamp box can also match the impedance of your particular instrument for even better signal fidelity.
Step 2: Connect a standard 1/4" instrument cable from the output of the reamp box to your pedal(s).
Fig. 3
Step 3: Connect another 1/4" instrument cable from the output of your last pedal to either your guitar amp and record your new tracks through your guitar amp, or plug into a regular DI box (which will convert the signal back to a balanced, line-level stage) and take that output to the input of your audio interface. If you have the Radial EXTC Effects reamper, you can do this all in one box [Fig. 3]!
Once this is set up, you can start sending any track you wish from your DAW/audio interface to all your pedals and go crazy! Soak your vocals in pitch-shifted, distorted reverb. Flange your synths and add delayed chorus. Or bit crush your drum tracks.
What I particularly love to do is play with various delay pedals' feedback amounts and delay times as I record and get all of those quirky pitch-shifted pings and pongs from adjusting those values on the fly. You can also consider adding distortion and harmonies to a vocal on key words or phrases within your song. Your imagination is the only limit!
Finally, I encourage you to drop me a line at recordingdojo@premierguitar.com if you have questions and requests for future topics to cover. Until next time, namaste!
This mod enables variable splitting of humbucker pickups, allowing you to easily blend your desired amount of humbucker and split-coil tones.
Hello and welcome back to Mod Garage. As a follow-up to the "Tapping and Splitting: What's the Difference?" column in the October 2021 issue, this month we'll take a closer look at variable splitting of humbuckers that's also known as the "spin-a-split" mod. This mod can be applied to all humbuckers with a 4-conductor wiring because we need access to the start and end of both coils. You can't do this mod to humbucker pickups with a standard 2-conductor wiring. Most humbuckers can be converted from 2-conductor to 4-conductor wiring; however, you need to open the pickup for this, which can be a delicate job. That job is best left to a guitar tech, because destroying the pickup is easy to do.
The basic idea of this mod is very simple. With a switch, you can split the humbucker to a single-coil pickup resulting in two very different tones: 100 percent humbucker or 100 percent single-coil. The variable coil-splitting mod uses a pot instead of a switch, so you don't have only two given tones but also anything in between, giving you precise control over the amount of split.
This is not just about balancing tone, but also balancing hum-free operation. The more humbucker you have, the less hum and noise will be present and vice versa. With the pot fully opened you have 100 percent humbucker, and with the pot fully closed you have 100 percent single-coil. But it's easy to dial in any tone you want, for example, 70 percent humbucker plus 30 percent single-coil, which gives a good proportion of hum-free operation.
Another cool bonus is that when you have too much bass or overdrive in full humbucker mode, you can use the spin-a-split to instantly clear things up.
So, you'll have easy access to a huge range of tones from only one humbucker pickup by mixing single-coil and humbucker sounds. You can also mimic other pickups with this mod, such as P-90s or Filter'Trons. Another cool bonus is that when you have too much bass or overdrive in full humbucker mode, you can use the spin-a-split to instantly clear things up.
The idea is not new. It first showed up in the mid 1970s and Hartley Peavey is the person to whom all the credit must go. Most people think this is an easy mod, which only partly hits the nail, and I'll explain why in just a moment.
Let's have a look at the basic configuration and how this mod works (Fig. 1). You need a spin-a-split pot for each humbucker pickup you want to install this wiring into. As usual, I chose the Seymour Duncan color code to demonstrate the mod because it's the quasi-standard in the guitar world. If you want to transfer the color code to humbucker pickups from another company, you can use one of the many color code transfer charts on the internet.
As usual, the green and the bare wires go to ground so there's nothing new here. The black wire is the output, going to a pickup-selector switch or to the input lug of a volume control. The red and the white wires are going to the middle lug (lug #2) of the spin-a-split pot while the bottom lug (lug #3) is grounded. When the pot is turned all the way down, the red and white wires will be connected directly to ground, which is a normal coil-split setup for single-coil tone. When the control is turned all the way up, the red and white wires are not connected to ground at all, which means normal humbucker mode and tone.
The idea is not new. It first showed up in the mid 1970s and Hartley Peavey is the person to whom all the credit must go.
This is where the trouble starts. In reality, both wires are still slightly connected to ground but with a large resistance, depending on what pot you use for this. This will drain a good portion of volume and tone to ground. A perfect and easy fix to get rid of this lingering connection to ground is using a no-load pot, which removes the ground connection when the pot is turned all the way up.
If you want to use a tone pot as a spin-a-split pot, you'll find a 500k or 250k audio pot. It's essential to replace this one with a no-load pot or convert the existing pot into a no-load pot by breaking the connection internally. If for any reason this is not possible, you should use a 100k pot, but finding them in guitar-friendly configurations is a challenge. Linear pots work best for this mod, so with a little luck you'll find a 500k linear tone pot in your humbucker guitar, which is a perfect base for this mod by making it a no-load pot.
Fig. 2
As you can see, it's not as easy as it seems, and as always, the devil is in the details.
In closing, here's an illustration (Fig. 2) of the spin-a-split mod together with a volume pot for the same pickup. Instead of connecting the wire to the input of the volume pot, you can connect it to a pickup-selector switch if you have more than one pickup in your guitar.
That's it! Next month we'll do a mod for Stratocaster guitars called the "Ricky King" mod, so stay tuned. Until then ... keep on modding!