Photo by Andrea Boccalini
The jazz bassist returns to share the four fundamental things that every bassist should work on.
Last month, I had the immense pleasure of speaking with New York upright-bass extraordinaire Scott Colley. Over the last 40 years, Scott has played in all kinds of amazing situations led by some of the most celebrated names in jazz, including Herbie Hancock, Abbey Lincoln, Pat Metheny, Michael Brecker, Andrew Hill, Chris Potter, Roy Hargrove, Dave Binney, Carmen McRae, Joshua Redman, and so many others. Naturally, we had so much to discuss that one article just wasn't enough (see last month for the first part of this interview). This portion focuses on more bass-specific questions from that same interview.
PG: Scott, you've had some really incredible bass teachers, and you've also been teaching for many years: What are four things that you think every bassist should work on?
Scott Colley: These four things apply to every instrument. I want to stress that the things that are important for bassists to work on are also important for every other instrument. As a bassist, you definitely know when you play with somebody who hasn't mastered these four things. All of the instrumentalists that I love to hear as bass players, and the people that I love to hear on any other instrument, have these very solid components in common. Lastly, none of the things that I'm about to mention are things that you achieve and are yours for life. They're a process and need to be nurtured constantly. I still regularly work on these myself.
One—consistent time. This will serve you in any genre of music. Whether you're required to maintain consistent time or not in the music you're currently playing, your ability to do it when it's necessary, or in other words, maintain the same tempo from point A to B, is vital. You have to nurture this skill constantly because as you play with different people, even great drummers, they'll influence what we'll broadly refer to as "your absolute time." For sure, as a bassist, this is a skill that you need.
Two—feel. Your relationship to time in the moment, like: "What does this feel like? Am I playing a funk groove, is it swinging, is it straight eighths?" Whatever the feel—and this is true of classical music; this is true of everything—does it feel good? Does it feel the way that I intend?
"I still practice each one of these things that I'm mentioning to you every day, even if it's for 10 minutes before I go to a soundcheck, while I'm on the road playing every night."
PG: So, how do you go about working on these?
Colley: The way I practice these is with a metronome or some form of "absolute," knowing that playing with individuals is not that. But I'll practice with a metronome for a while, and then, after a certain time, turn the metronome off and turn the recorder on. I'll analyze the recording for:
A—Is my time consistent? Am I able to maintain a consist tempo from point A to B? And B—Does it feel good in the moment? If not, then why? What am I not making in the groove, or what was I doing when the tempo drifted from 60 bpm to 65 bpm? What was I doing in that moment—triplets, quintuplets? Did I not know where to shift?
PG: How long are these recordings you make?
Colley: They're all just really short. Just one to two minutes.
Three—tone. When I went to California Institute for the Arts, I was very fortunate to work with a bass player named Fred Tinsley, who was in the Los Angeles Phil [Philharmonic] and, before that, the New York Phil. He also played with Dexter Gordon and a bunch of other great jazz musicians. He sounded a lot like Wilbur Ware when he played jazz and was an amazing classical bassist. The whole physical approach that I have to the instrument is distilled from things that I learned with Fred. Fred was all about using the weight of your body to play the instrument and the things that are challenging on acoustic bass. So, when I started working with Fred weekly, he was like, "Whoa, whoa, whoa…. Slow down all that stuff. Here's the bow. Use the bow." He slowed everything down and had me play long tones all the time, focusing on finding a center on the instrument. He would say, "There's no hurry to learning this. There's no shortcut to learning this."
Four—intonation. Lastly, working on intonation on acoustic bass is a constant. Again, it's not some trophy that you obtain where you say, "I now have great intonation." It takes constant work and maintenance. Yes, it's about "Where does my hand go," but also, "Once my hand is in that right position, am I really listening to the note?"
As with any other person who is 18, 19, 20 years old, I also wanted everything to "happen now." But now that I've been doing this for decades, I still practice each one of these things that I'm mentioning to you every day, even if it's for 10 minutes before I go to a soundcheck, while I'm on the road playing every night. These are the fundamentals that I will constantly work on until I stop playing. You know … that's just the way it is!
Photo by Scott Friedlander
The profoundly prolific guitarist leads his band of tricksters through a surrealist sonic exploration of deep, esoteric rhythms and intricate interplay on Thisness.
On his new album Thisness, Miles Okazaki is credited as playing guitar, voice, and robots. If you imagine that the reference to robots is some sort of artsy kitsch—like trapping a Roomba Robot Vacuum into a tight space to sample its struggles as it percussively barrels into the four walls—you're very far off the mark. Okazaki—who has an elite academic pedigree with degrees from Harvard, Manhattan School of Music, and Julliard, and currently holds a faculty position at Princeton University (after leaving a post at the University of Michigan, to which he commuted weekly from his home in Brooklyn for eight years)—wasn't kidding.
"The robots are machines that I made in Max/MSP," clarifies Okazaki. (Max/MSP is visual programming language for music and multimedia.) "It's kind of a long story, but I've been doing this stuff on the side for 20 years or so. Some of the music theory, some of the conceptual stuff involved in the album, I programmed into these things that I built. These improvising machines can do things that humans can't do. They'll play faster than humans, but they'll fit in because they're playing the same type of material."
I'll Build a World, by Miles Okazaki
Okazaki explains that he creates parameters for the robots to improvise within: "I'm just telling this robot, 'Play at this tempo and play this many subdivisions per beat—eight subdivisions or something like that—so that it's linked up with the drums." For pitches, he assigns a scale and can control the phrasing. "I'm saying for the pitch choices, 'You're going to use a chromatic scale and you're going to play each note of that scale until you exhaust the scale without repeating a note,' which makes a 12-tone row. It could be any scale, but that's one of the settings that I have made in there. [After each 12-tone row is done] I tell it, 'You're going to take a little break, but I don't want it to be the same break every time,' so that it's a phrase."
To get a sound that convincingly blended in with the rest of the tracks, Okazaki had keyboardist Matt Mitchell run the robots through his Prophet Six analog synth. "I wrote a file of them improvising and ran that file through the synth," explains Okazaki. "Matt would do the sounds for it," so both the robots and Mitchell used the same Prophet Six in their own way.
"I've never been that interested in imitating anybody's style."
Okazaki, a family man with three children, seems busy in all parts of his life, but he must have learned to maximize his time because he's incredibly productive. In 2018, he recorded his magnum opus, the critically acclaimed Work—a five-hour, 70-song marathon of the complete works of Thelonious Monk, all performed on solo guitar. It's a project he's wanted to do since his teen years. But in the process, he labored so relentlessly that he ignored his body's warning signs and suffered a repetitive stress injury. That didn't stop him from intensely preparing for and entering the New York City Marathon just a few months later. When that chapter was over, Okazaki again focused on his musical pursuits and proceeded to record several more albums, both as a leader and side musician.
Thisness is Okazaki's fifth album in a three-year period and reflects his collaborative approach. It features his Trickster band, which includes Mitchell on keyboards, Anthony Tidd on electric bass, and Sean Rickman on drums. Okazaki has worked with each of these musicians for years, both in his own group and in saxophonist Steve Coleman's, and they've developed a creative relationship that made it possible to record complex music quickly. The entire album was recorded over a two-day span with the quartet recording live on day one and overdubs the following day.
The Trickster band (left to right): bassist Anthony Tidd, keyboardist Matt Mitchell, drummer Sean Rickman, and Miles Okazaki.
And the music on Thisness is incredibly complex. Though Okazaki has studied Indian music seriously, his compositions are also somewhat reminiscent of contemporary Western classical music. You'll see no shortage of odd note groupings, polyrhythms, and mixed meters carving out space for intricate atonal melodies throughout. Plenty of advanced jazz musicians that proudly boast about their ability to play John Coltrane's "Countdown" in all 12 keys would cower in fear if they were asked to perform some of Okazaki's works.
Despite the puzzling, esoteric nature of his compositions, Okazaki's roots draw from the jazz tradition. After initially starting on classical guitar at age 6, he developed an interest in jazz at 12 and was doing solo guitar gigs at a local Italian restaurant by age 13. His first guitar teachers were Michael Townsend and Chuck Easton (a bebop-influenced Berklee grad), and he took music theory group classes in a cabin in the woods with a teacher named Alex Fowler.
Miles Okazaki's Gear
Miles Okazaki can be seen with a host of instruments, but his 1978 Gibson ES-175, which has a Charlie Christian pickup, is his most common 6-string companion.
Photo by John Rogers
Guitars
• 1937 Gibson L-50
• 1940 Gibson ES-150 Charlie Christian (bought with matching EH-150 amp)
• 1963 Gibson C-O Classical
• 1978 Gibson ES-175 with Charlie Christian pickup
• 2018 Slaman "Pauletta" with Charlie Christian pickup modified with adjustable pole pieces drilled into the blade. A hum-canceling coil was recently added by Ilitch Electronics.
• 2002 Yamaha SA2200
• 2016 Kiesel HH2
• 2008 Caius quarter-tone guitar
Amps
• Quilter Aviator Cub
• Quilter Tone Block 200
• Raezer's Edge Twin 8 cabinet
Effects
• Boss OC-2 Octave
• Boomerang III Phrase Sampler with Side Car controller
• One Control Mosquito Blender Expressio
• Gamechanger Audio Plus Pedal
• Dunlop CBM95 Cry Baby Mini Wah
• Boss RV-5 Digital Reverb
• Analog Man Peppermint Fuzz
• MXR GT-OD
• Electro-Harmonix Micro POG
• Dunlop DVP4 Volume
• Sonic Research ST-300 tuner
Strings and Picks
• Thomastik-Infeld Flatwound .013s (Gibson ES-150 Charlie Christian and Slaman "Pauletta")
• Thomastik-Infeld Flatwound .014s (Gibson ES-175 with Charlie Christian pickup and Caius)
• Thomastik-Infeld Flatwound .012s (Yamaha SA2200)
• Thomastik-Infeld Flatwound .011s (Kiesel HH2)
• D'Addario Roundwound .014s (Gibson L-50)
• D'Addario Pro-Arte high tension nylon (Gibson C-O)
• Fender .88 mm for .012 strings, 1.0 mm for .014 strings
• Homemade picks using Pick Punch (Preferred material is American Express Delta Sky Miles Credit Card)
• Ilitch Electronics Driftwood pick
• Knobby picks bought from an Instagram metal shredder
During his teens, Okazaki went through a jazz-snob phase, and although he hails from Port Townsend, Washington, he never got into the nearby Seattle scene. "The '90s, Nirvana and Soundgarden.… No, I kind of missed all that," he admits. "I was there, but I was into Wes Montgomery and Thelonious Monk. I was stuck in the '60s and '50s at that point." He still cites those musicians, in addition to Grant Green, George Benson, and Charlie Christian (whom he hailed as "the greatest guitarist that ever lived" in a blog post) as influences.
After attending Harvard University, where he earned a bachelor's degree in English Literature, Okazaki came to New York to pursue his master's degree in guitar at Manhattan School of Music. There, he found a mentor in Rodney Jones, a jazz/R&B player with tremendous chops. "I studied with, and continue to study with, Rodney," explains Okazaki. "He was my teacher from 1997. I worked pretty closely with him for about 10 years, rebuilding my technique. My technique wasn't good. You know I didn't really have a teacher before him that really talked about guitar so much. I had teachers, but it was more just sort of like other people from other instruments. His technique is based on a hybrid George Benson type of deal. It has to do with the picking, but also there are many, many things that have to do with micro movements of the right hand. So, I spent a long time studying that. I still don't really play like that, but I play kind of like a hybrid version of his hybrid version. Now mine is mixed with some other stuff."
TIDBIT: On his new album, Okazaki creatively repurposed an influence in his approach to "And Wait for You": "I played a piece of a Charlie Christian solo that I'm kind of riffing on. That's a phrase from 'Stompin' at the Savoy' but obviously the context here is a little different."
Jones referred Okazaki to legendary saxophonist Stanley Turrentine, and Okazaki did a few gigs with the soul-jazz master shortly before his passing in 2000. It was around this period that Okazaki made his mark on the NYC jazz scene. He worked with vocalist Jane Monheit and was initially cast as a straight-ahead guitarist. "For a long time, I was just a standards player. I was pigeonholed in that area," he recalls. "I did this weird stuff on the side—well, I didn't consider it to be weird—but it was hard for people in their mind to imagine that you do different things."
The guitarist found he was able to fully explore other sides of his playing when he landed a gig with Steve Coleman, whose M-Base Collective created a new language of incredibly challenging, forward-thinking music. From 2008 until 2017, Okazaki's artistry thrived as he played alongside Coleman.
"I don't know how many people you know that can play in James Brown's band. It's harder than playing in my band, that's for sure."
Very few players can comfortably hang with both the down-to-earth, bluesy jazz sounds of George Benson and the futuristic, ultra-heady maze of Coleman's music like Okazaki can. The guitarist sees the two approaches as sharing common heritage. "Benson's language is blues and R&B, and Steve Coleman's is, too. There's different theories and stuff behind it, but it's not technically different to me," he explains.
"If it was language, I'm interested in the grammar, not so much what language I'm speaking about," he explains. "Or if it was cooking, I might be interested in the principles of 'how do you cook a piece of meat,' as opposed to, 'I'm doing French cooking.' George Benson has a style for sure, and a lot of people, when they learn about George Benson, will also sort of imitate his style. I've never been that interested in imitating anybody's style. I kind of want to have my own style."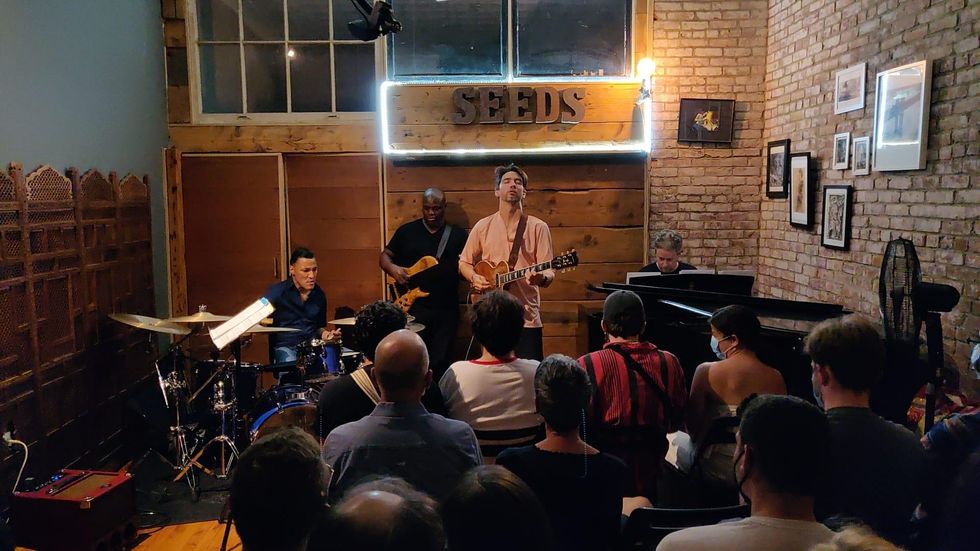 Trickster performs during their recent residency at SEEDS:: Brooklyn.
Photo by Alain Metrailler
Okazaki's style is radically different from both the sounds of his main guitar influences and other offerings in today's jazz landscape. His abstruse music has been called academic, but that's a label the guitarist isn't particularly fond of. "I would push back a little on 'academic' because, first of all, I don't like academic music," he says. "I don't like any type of art that has to be explained. When I go to an art museum, I don't want to have to read the little blurb. I don't want anybody to have to know anything about music to appreciate it. There are things involved in how it's made that are interesting to me, but I don't care if they're interesting to anybody else, or I don't want that to be a feature of it that's really that important, unless people want to look for that."
For Okazaki, his music might be also called academic, or complex, or cerebral, but that doesn't explain his purpose, or set him apart. "James Brown is complex, or Robert Johnson is complex," he says. "All these things are complex, meaning that they're not easily explained. I don't know how many people you know that can play in James Brown's band. It's harder than playing in my band, that's for sure."

"The test is: Does it sound good, or does it not sound good? That's the only question for me."
Complexity comes in many forms. Just because a piece of music happens to be based on one chord "that doesn't mean that it's simple," Okazaki observes. He believes the opposite is true as well. "There are things that take a lot of work, and there's a lot of machinations involved, and a lot of manipulation of materials and thought, and construction, and it still sounds like shit," he laughs. "And there are things that are just one chord and amazing."
As much as Okazaki is known as a musical thinker who can throw down some heavy information in his compositions and playing, what matters most is how it sounds. "It might look good on paper, but if it doesn't sound like anything, then it's not good," he says. "The test is: Does it sound good, or does it not sound good? That's the only question for me."
Trickster's Dream - "The Lighthouse"
While watching the Ken Burns documentary Jazz, I realized all the music I love was born from the jazz and blues of Bessie Smith and Louis Armstrong.
Ancient Egyptian paintings and sculptures all look like they were created by a sixth grader. They are stiff, flat profiles with feet, nose, and chin pointing in the same direction: no depth, no realism. All art was this primitive until the 5th century, when Greeks took a giant step forward … literally. They developed contrapposto, where a standing human figure is posed with their weight resting on one leg. The weight shift brought organic movement, bringing the paintings and sculptures to life. (Check out the 5th century Kritios Boy, which is the earliest known Greek statue to use contrapposto.)
Similarly, look at European art from the medieval times, or the Middle Ages, from the 5th century to the 15th century. Much of it is cartoonish—flat, distorted, and unrealistic. Baby Jesus almost always looks like a weird little man, not an infant. No wonder they called it the Dark Ages. Then Leonardo, Michelangelo, Raphael, and others, inspired by the ancient Greeks, built on this realism and brought about the Renaissance, pushing the world forward and making art come to life. I look at Ancient Egyptian art and feel nothing. I look at Michelangelo's Pieta and weep. That's what art is about.
I recently rewatched Ken Burns' 10-part miniseries, Jazz. Sometime during the 2,280 minutes of running time, it occurred to me that American music went through a similar evolution as the world of visual art. Much as the Renaissance artists brought realism to art, jazz musicians— specifically Bessie Smith and Louis Armstrong—brought realism to music. Here's a little backstory.
"I listen to vaudeville; I feel nothing. I hear Armstrong and I weep."
In 1877, when Thomas Edison invented the phonograph, he was looking for a way to improve telegraph communications, going for what he called a "speaking telegraph." Maybe it's because Edison's first recording was of him singing "Mary Had a Little Lamb," but quickly people figured out that if you're going to record something, music is probably a solid option.
Partly fueled by Edison's game-changing inventions, the United States was becoming a true superpower, leading the world in industry, tech, finance, etc. The Burns documentary suggests this was when U.S. leaders, trendsetters, and titans of industry thought that it was time for an American Bach to legitimize the nation's contribution to the world's music. They looked to the universities, the military, and the establishment to provide this musical genius.
One of the earliest recording artists (in the late 1800s) was John Philip Sousa, "the March King" of America. With all due respect, it's amazing that records caught on. I'm as patriotic as the next person, but who in their right minds pours a class of wine and cranks up "The Stars and Stripes Forever" to relax at the end of a long day? Sousa's marches feel as stiff and lifeless as an ancient Egyptian wall painting.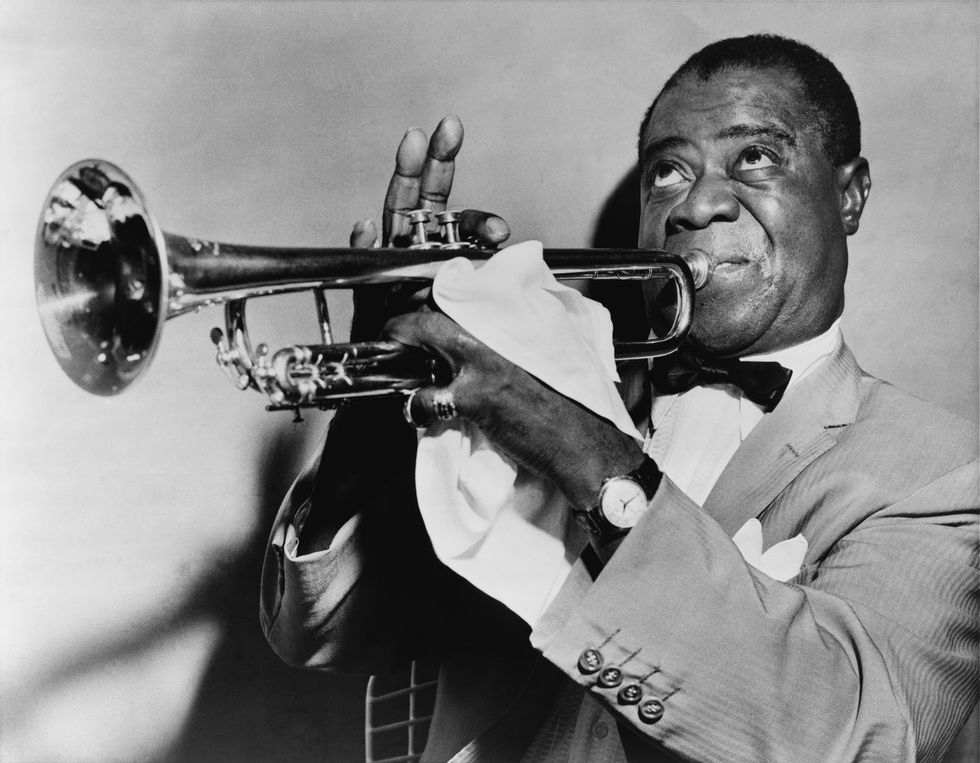 Louis Armstrong: When it comes to authenticity and swing, the buck starts here.
A decade later, in the early 20th century, vocalists dominated record sales. They were mostly vaudevillians like Billy Murray and Arthur Collins, who had hits like "You're a Grand Old Flag," "Give My Regards to Broadway," and "The Yankee Doodle Boy." They were theater performers, trained to act melodramatically while singing and speaking in a loud, affected manner so they could be understood in the back of a theater. It was a stage voice—not the voice of someone genuinely communicating or expressing emotion.
Then, in the 1920s, music took a contrapposto step in an unlikely way. One of the biggest artists of the early 1920s was Al Jolson, who performed in blackface, stealing bits from African-American culture and making it more palatable to a xenophobic white audience. Based on Jolson's success, Columbia Records execs thought, "Hey, instead of a white guy in blackface singing a white guy's interpretation of Black music, why not record the people they're stealing from?"
"The powerful were looking to themselves for the answer when what they sought came from slaves and their poorly treated descendants. The poetry of it all."
Columbia found and recorded Bessie Smith, a Black orphaned blues singer who grew up supporting her impoverished family by busking on the streets of Chattanooga, Tennessee. Smith's genuine performances connected with record buyers. The "Empress of the Blues" became a wildly successful entertainer, which opened the gate for Louis Armstrong. Not only did Armstrong introduce the world to a swinging groove, his genuine, conversational voice made those trained, affected voices seem wooden by comparison. I listen to vaudeville; I feel nothing. I hear Armstrong and I weep.
It's the classic unlikely origin story, like baby Jesus being born in a manger. The necessary hero/savior rarely comes from the establishment. The powerful were looking to themselves for the answer when what they sought came from slaves and their poorly treated descendants. The poetry of it all.
Duke Ellington, Elvis, Chuck Berry, the Beatles, the Stones, Miles Davis, Prince, Zeppelin, Clapton, and pretty much everything I love descended from the jazz and blues of Bessie Smith and Satchmo. When Duke Ellington was asked how he felt when he couldn't stay at the hotels where he performed, he replied, "I merely took the energy it takes to pout and wrote some blues."