The legendary animated metal band is back with Dethalbum IV, a Def Leppard-in-an-arena-sized approach to gruesome, Cannibal Corpse-style riffage. Metalocalypse mastermind Brendon Small tells us how his cartoon came to life.
If fate hadn't intervened, Dethklok's newest album, Dethalbum IV—the first since 2012's Dethalbum III—probably would've sounded quite different than it does. That's because Dethklok mastermind Brendon Small would've enlisted his tried-and-true equipment: enviable guitars up the wazoo, a go-to Marshall cabinet with Celestion speakers, and at least a few mics. Instead, some thieves saw to it that Small take a different approach when they robbed his home studio.
"I think some people saw me carrying guitars back and forth and crowbarred my studio door, so my main A-league guitars were kaput," Small recalls somberly. After the robbery, he moved everything out and went undercover. "I went into the modern world of direct recording," he explains. "It pushed the record into a different place than my normal 'safety gear' would've." In the theater world, one might raise their hands above their heads and exclaim gleefully, "unexpected results!"—the inevitable and, often, positive outcomes of unintended actions.
Metalocalypse: Dethklok | Gardener of Vengeance (Lyric Video) | Adult Swim
If anyone knows a thing or two about unexpected results (and theatrics), it's Brendon Small. Having cultivated a career that he refers to as "whatever it is that I do for a living," Small somehow managed to marry a Berklee College of Music guitar education with Emerson College comedy-writing classes to create a wildly unique career path for himself. Born in 1975, Small first gained widespread recognition as the creator, writer, and co-producer of the animated television series Home Movies, which aired from 1999 to 2004. The show followed the humorous exploits of a young boy named Brendon, his friends, and their amateur filmmaking endeavors. Small's most notable achievement, however, came with the creation of Adult Swim's animated cult classic Metalocalypse. It was the medium through which he finally, successfully, combined his songwriting and comedy-writing talents.
Premiering in 2006 and running for four seasons, Metalocalypse depicted the fictional band Dethklok embarking upon absurdly dark adventures as the self-proclaimed "heaviest metal band ever created." Metalocalypse blended humor, satire, and heavy metal culture with sharp musical performances and scores, creating a unique and, ultimately, beloved experience for metalheads and animation fans alike. Small created and produced the series, provided the voices for several main characters, and composed most of the music featured in the show, including the tracks performed by Dethklok. In August, nearly a decade since the cliffhanger ending of The Doomstar Requiem – A Klok Opera in 2013, Metalocalypse finally returned with a full-length animated movie. Written and directed by Small, Metalocalypse: Army of the Doomstar brings Nathan Explosion (vocals), Skwisgaar Skwigelf (lead guitar), Toki Wartooth (rhythm guitar), William Murderface (bass), and Pickles (drums) back together for another action-packed journey.
Brendon Small's Gear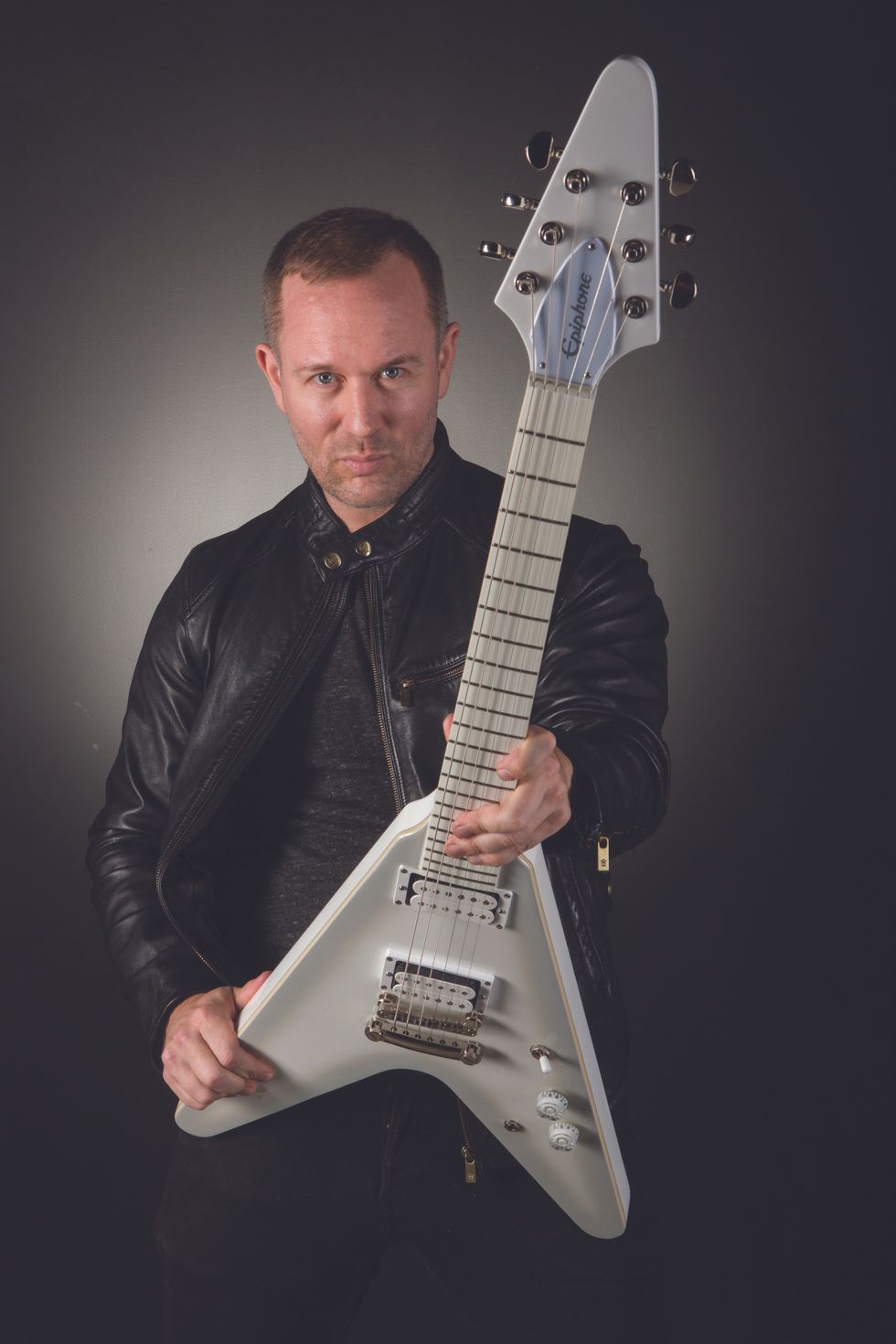 Dethklok creator Brendon Small resurrected the animated band this year after a decade-long hiatus.
Guitars
Epiphone Brendon Small GhostHorse Explorer
Fender Jazz Bass
Gibson Explorer
Gibson Snow Falcon Flying V
Ibanez JS240PS with Sustainiac mod
Ibanez Tom Quayle Signature TQM1
Amps & Effects
Neural DSP Quad Cortex Quad-Core Digital Effects Modeler
Strings & Picks
Dunlop DEN09544 Electric Nickel .095–.044
Dunlop Ultex 1.14mm
Released in conjunction with the movie, Dethalbum IV is a bludgeoning aural assault that showcases Small's knack for combining glossy production with "some of the ugliest sounds" he could conjure. "There's this melding of the putrid and the beautiful that I'm trying to smash together," he attests. Songs like "Aortic Desecration," "Gardner of Vengeance," and "Poisoned by Food" may be lyrically silly and satirical—even gross—but the music is serious business, on par with Mastodon, Lamb of God, and other like-minded metal bands who combine cunning songcraft with stunning instrumental proficiency. Riff-heavy, melodic, and merciless, Dethalbum IV is an expertly crafted record where death growls are overtaken by soaring melodies and vice versa, guitar histrionics are undergirded by monstrous grooves courtesy of drummer Gene Hoglan, and the production aesthetic, perhaps largely due to Small's unintended switch to direct recording, is easily Dethklok's slickest yet.
Simply put, Dethalbum IV is a fierce musical statement that deftly combines hook-laden melodicism with fist-pumping metal. "There was a point where I was listening to this record, and I'm standing back and going, 'This is much more aggressive and much heavier than a Dethklok record normally,'" Small explains. "[Producer] Ulrich Wild really landed the bird with this one, getting it to that aggressive and modern place, which is somewhere between Cannibal Corpse and Def Leppard's Hysteria." Small calls this amalgamation of influences "stuff that hits your DNA" when you're a kid. "The impressionable parts stay with you," he admits.
"Doing a Dethklok show is like storming the beach at Normandy during a laser tag battle."
Despite being Dethklok's de facto studio guitarist, what really sets Small apart from many other contemporary shredders is that he considers himself a writer first and foremost. "Ever since I had a guitar, I was always trying to write music on it," he says. "Even when I couldn't play it, I would just start to write ideas or lines or a riff on the lower strings." Composition first, and then form-fit around it, he likes to say. "I like to come up with stuff, either in the script form or with some kind of instrument hanging around, from keyboard to guitar to spoons—whatever I can do."
Even though he ultimately gravitated towards traditional recording techniques (like a mic in front of a speaker cab), Small admits that having digital options early on made his guitar and comedy-writing career possible. "I don't think I could have made music unless I had that Line 6 POD in the very beginning," he admits. "I'm a writer who happens to play guitar, and I have to find a way to mangle these sounds into something that makes sense. I've got to get the sounds down in the big notepad that is the Pro Tools session."
Though his return to direct recording was a matter of necessity, it was influential to the overall sound of Dethalbum IV, and Small asserts that he tried to let the music unfold naturally. "At some point, I look at the record and go, 'Whatever this is, I can't stop it from being what it needs to be,'" he says. "There's something in the pineal gland that's driving it from the astral plane pushing it forward." Ultimately, he attests, the Dethklok characters start to take over in his mind: "Nathan Explosion is making decisions, and Skwisgaar wants more notes, and I'm like, 'Okay, I'll see if I can make it work because I'm not as good as that guy,' so I have to really work it."
After thieves plundered his home studio, Small decided to record Dethalbum IV without any amps—a homecoming of sorts for the early Line 6 POD user.
Speaking of Skwigelf, Small cites one big difference between Dethalbum IV and previous Dethklok records. "Now Skwisgaar has a whammy bar and 24 frets," he chuckles. "There are dive-bombs on this record that I never did before, but I wanted to be able to do what Jeff Beck did, get a little bit more expressive—go from the fixed bridge to the whammy. I've had guitars with it, but I just wanted to finally put them on the record. There's just a little bit more goose in it."
"I think if you've decided to jump onto the carnival train that is your own creative life, you have to bob, weave, fail, and succeed all in a matter of 20 minutes every single day."
Small's cross-section of music and comedy began during his time at Boston's Berklee College of Music in his junior year. "I started having forward thoughts of my impending doom, like, 'I'm going to graduate, and what the hell am I going to do with this guitar? I love it, I hate it. What am I going to do?'" he recalls. He was also having a hard time corralling the school's curriculum into a solid identity for his own guitar playing. "I'm in a jazz chord lab figuring out what Joe Pass used to do. Then, I'm thinking about Danny Gatton in my country lab, and then I have advanced concepts of prog-rock where I'm learning about Gentle Giant, and then I'm in traditional harmony trying to mimic an étude or learn how to write a chorale, or voice leading, or figured bass, or any of that cool stuff, and I'm having some kind of musical identity crisis and fearing the end of school and the real world."
Instead of going the weekend-warrior route via gigs posted on a corkboard at Berklee, Small pursued internships at two different jingle houses in New York. One was David Horowitz Music Associates, and the other was Michael Levine Music. "Michael Levine wrote the Kit Kat theme: 'Give me a break, give me a break…,'" Small sings. He soon realized that his roommate Jed, from Emerson College, had what he deemed a much cooler internship with Conan O'Brien.
For real-life concert appearances, Small brings Dethklok to life alongside an all-star band that includes Mike Keneally (guitar), Nili Brosh (guitar), Bryan Beller and Pete Griffin (bass), and Gene Hoglan (drums).
Small's fly-on-the-wall experience tagging along with Jed at the late-night talk show prompted him to draw up a plan for his future. "I went back to Berklee in my final year, and I started taking writing classes along with Emerson [students]," he explains. His assignments included writing a spec script and a sample episode of a TV show, and demonstrating he could write character, story, jokes, and tone. "I saw that it's like a good piece of music," he says. "You've got an A theme, a B theme, and maybe a C theme, and how do they all intertwine into this final pocket at the very end?" Conceptually and structurally, it made sense for Small: "It was like the études I was studying. There was something baroque about it that I understood."
These combined college experiences ultimately led Small to start thinking about the intersections of songwriting, screenwriting, and acting, and how that combination might be a viable career path for him. "If you can make sense of your guitar enough to score music, I think ultimately that's a battle of you versus yourself," he says. "Once you prove that you can take this foreign object [a guitar] and make it a part of you, you can do that with anything. You just have to learn where the knobs are, where the frets are, how to bend notes, and how to find your rhythm. Everything's a storyline, from a piece of music to a piece of media. Whatever it is, there's a beginning, a middle, and end. Ultimately, it did me well to think of them as similar things."
"Everything's a storyline, from a piece of music to a piece of media. Whatever it is, there's a beginning, a middle, and end. Ultimately, it did me well to think of them as similar things."
To bring Dethklok to life for this year's Babyklok Tour alongside Babymetal, Small enlisted heavyweights Mike Keneally (guitar), Nili Brosh (guitar), Bryan Beller and Pete Griffin (bass), and Hoglan (drums). While preparing to hit the road, Small was focused on the aspects of live performance that the concert experience demands of him. "Doing a Dethklok show is like storming the beach at Normandy during a laser-tag battle," he chuckles. "There's lights and craziness and fog and haze, and you're like, 'Where am I?' There's a lot of muscle memory and position memory that has to be there. I have to think about the lyrics, the vocalizing, and if all I can see is the low E string, and I'm on the high E string, I have to trust that my hand remembers where it needs to be."
Circling back to "whatever it is I do for a living," Small offers the following wisdom for those interested in pursuing an artistic life: "I think if you've decided to jump onto the carnival train that is your own creative life, you have to bob, weave, fail, and succeed all in a matter of 20 minutes every single day," he says. "How do you stand back and try to conceptualize and solve a problem? I think that's what makes it fun, and treacherous, and terrifying, and filled with failure, and a little bit of success."
YouTube It
Dethklok shreds a live performance of "Thunderhorse" for the Adult Swim Festival Block Party, combining thrilling Metalocalypse-style animation with furious technical performances.
Photo by Ken Settle
Remembering the art and life of one of the world's greatest and most innovative instrumentalists, who died on Tuesday, January 10, at age 78.
Legends are immortal, but not human beings. And so, Jeff Beck, an immortal of the electric guitar, died from bacterial meningitis on Tuesday in a hospital near his sprawling county estate, Riverhall, in Wadhurst, England, at age 78.
To call Beck a giant of the instrument nearly diminishes his monumental and singular accomplishments. He established his own supremely influential language of the guitar and spoke it fluently for more than six decades. Although he never sang on his recordings, in his hands the 6-string was vocal—fluid, melismatic, melodic, and most important, full of heart. Attending a Jeff Beck concert was to witness inspiration at its most wild and relentless. And to bask in a tone so large and purposeful that it could seemingly be heard around the planet.
Which it was. Beck was known and revered across the globe—an instrumentalist who made albums for the first two decades of his career, (starting with the Jeff Beck Group's still stunning and innovative 1968 debut, Truth) that routinely made the top 20. Those include his groundbreaking duo of mid-'70s recordings, Blow by Blow and Wired, that transformed fusion into part of the soundtrack of popular culture. But Beck was not a jazz or rock guitarist. He was an omnivore, who digested every style—country, rockabilly, swing, Tin Pan Alley, punk, skronk—to both put his seal on them and twist them to his own ends, turning the Beatles' "She's a Woman" into a reggae playground and transforming an idea taken from a theme by composer Maurice Ravel and turning it into the epic, soaring, and harmonically supercharged "Beck's Bolero."
"Whenever I pick up a guitar, it will always be heavily blues influenced, but I try to push it further, because you have to expand your scales and melodic thinking." —Jeff Beck
When I asked Beck about his approach, during the '80s, he replied, "Whenever I pick up a guitar, it will always be heavily blues influenced, but I try to push it further, because you have to expand your scales and melodic thinking. But I'll play a blues solo on a non-blues song, bending the notes into whatever the song takes. That's my whole thing: trying to explore the blues to the maximum, really. It's in the blood."
Note that Beck said, "whatever a song takes," not whatever it needs. The courage and will of his playing were consistent, impulsive, and limitless. Listen to "Morning Dew" from Truth. His guitar toys with themes, playing fragments of melodies, dropping patches of wah wah, howling, rather than weaving a defined rhythm or tune through the song. Then hear "Pull It," from 2016's Loud Hailer, an album cut with vocalist Rosie Bones and guitarist Carmen Vandenberg of the English punk outfit Bones UK. Made nearly 50 years after Truth, that song is also telegraphy as music—dots, dashes, fuzzy blots of tone. And yet both performances not only work—they're riveting.
Beck considered blues to be the core of his music but saw its opportunities for expansion as limitless.
Photo by Ross Halfin
Beck was born in Wallington, Surrey, England, on June 24, 1944. Les Paul was his first guitar hero, followed by Cliff Gallup, B.B. King, and Steve Cropper. He became friends with Jimmy Page when they were both teenagers, and, while attending Wimbledon College of Art, he fell in with David "Screaming Lord" Sutch, with whom he first recorded in 1962. But Beck really began his 60-years-plus of breaking rules in 1965, when he replaced Eric Clapton in the Yardbirds. There, he pushed the group's blues envelope with his inflammatory guitar on "Shape of Things" and the demented "Over Under Sideways Down," where his hammer-ons, slides, and bends created the number's sitar-influenced riff. Although Beck was unhappy in the Yardbirds, his 18-month membership earned him his first induction into the Rock 'n' Roll Hall of Fame in 1992, followed by a second induction for his work as a leader and solo artist in 2009.
The inevitable formation of his own band, the Jeff Beck Group, featuring Rod Stewart and future Rolling Stone Ronnie Wood, occurred in 1967, and with the next year's Truth, he presaged Led Zeppelin's recasting of blues as psychedelic manifesto. Beck's playing on that album remains practically avant-garde at its least restrained, yet still directly speaks a dialect of the blues. But with the notable addition of pianist Nicky Hopkins, the Group tilted further into rock with its next release, 1969's Beck-Ola. Two more albums, Rough and Ready and Jeff Beck Group, followed, with the latter including "Going Down." Beck's version of the Don Nix tune that Freddie King had made famous became an instant FM radio staple.
"I saw Beck use the whammy bar alone to play a slow, lovely feedback melody through his array of amps, and then point the guitar's headstock straight down into the stage and push himself into the air by placing his hands on the rounded back end of the body. When he touched down, he tossed the guitar—still feeding back—into his arms, hit two notes that revealed where the tuning had drifted, and flawlessly picked up the melody he'd been playing before his acrobatic stunt."
That band was followed by the short-lived Beck, Bogert & Appice, who released an album of the same name in 1973. The group was a trio, with vocalist/bassist Tim Bogert and drummer Carmine Appice, from the Vanilla Fudge and Cactus. All along Beck had continued to maintain a studio career (which continued almost to the present) and had played on Stevie Wonder's Talking Book the year before. Beck, Bogert & Appice's rendition of Wonder's "Superstition" was one of their album's highlights, along with a beautiful slide-guitar-dappled reading of Curtis Mayfield's "I'm So Proud."
After this soul-music-influenced outing, Beck experienced a kind of rebirth. He was already a Gibson Les Paul player, but while recording in 1972 in Memphis he found a 1954 goldtop that was refinished in oxblood by its previous owner. That guitar is depicted in Beck's hands on the cover of 1975's all-instrumental Blow by Blow, which sold a million copies in the U.S. and reached number four on Billboard's Hot 100 album chart. The epochal Blow by Blow alone is enough to ensure that Beck's legendary status will endure. It's full of monumental performances, including his emotional tribute to Roy Buchanan, "'Cause We've Ended as Lovers," perhaps the greatest blues-inspired instrumental ever recorded.
Longtime friends Jeff Beck and Eric Clapton share the stage at the 2010 Crossroads Guitar Festival.
Photo by Chris Kies
And the die was cast. Although he went on to make albums and cut singles with exceptional vocalists—perhaps most notably a soulful 1985 version of the Mayfield gospel song "People Get Ready," with Rod Stewart, that's become a classic—from that point on Beck dedicated himself primarily to instrumental music.
The next year's follow-up, Wired, built upon Blow by Blow's success with performances of Charles Mingus' "Goodbye Pork Pie Hat" and Jan Hammer's "Blue Wind" that also set radio afire. More important, though, was the arrival of the Fender Stratocaster on its cover. For the rest of his life, Beck and Stratocasters were mostly inseparable onstage and in the studio. And by using banks of amps and unsparing volume, he crafted a unique sound on the single-coil instrument, huge and compelling, with a horn-like fluidity and endless, sustained tone.
His technique on the Strat's vibrato arm was extraordinary. It was as if it was grafted to his hand, or, at least, seemingly never left it. His subtle—and often radical—bending and pulling of notes with the bar made his playing even more voice-like, able to carefully craft and negotiate micro- or macro-tonal changes effortlessly. His intimacy with the Strat made for some truly uncanny performances.
In a '90s concert at the Great Woods Amphitheater in Mansfield, Massachusetts, I saw Beck use the whammy bar alone to play a slow, lovely feedback melody through his array of amps, and then point the guitar's headstock straight down into the stage and push himself into the air by placing his hands on the rounded back end of the body. When he touched down, he tossed the guitar—still feeding back—into his arms, hit two notes that revealed where the tuning had drifted, and flawlessly picked up the melody he'd been playing before his acrobatic stunt.
Beck's romance with the Stratocaster caught fire during the recording of 1976's Wired album.
Photo by Ken Settle
Beck continued to make excellent studio albums—most notably There and Back, Jeff Beck's Guitar Shop, Jeff, Emotion & Commotion, and Loud Hailer. He also racked up high-level session credits, recording with Roger Waters, Jon Bon Jovi, Kate Bush, and Tina Turner. And he accumulated eight Grammy Awards—seven for Best Rock Instrumental Performance. His most recent album was 18, a 2022 collaboration with Johnny Depp. Beck's final public performance was touring behind that release, on November 12, in Reno, Nevada.
After Beck's family announced his death on January 11, fellow guitar virtuoso Eric Johnson shared his thoughts on social media: "Hearing about Jeff Beck is a shock. He was one of the most original guitarists I ever heard. He never conformed to status quo guitar or conventional playing, always reaching for a new dimension, which he achieved multiple times. He was the most expressive lyrical storytelling guitarist there ever was and that's why non-musicians loved him. He garnered more affection from audiences than other guitar heroes because he had such a musical poetry to his playing.
"I believe that he and Jimi Hendrix were the most inventive and original rock guitarists there ever was. I had the gift of being able to visit with Jeff a few times and that is a treasured memory in my life. The guitar world will go on, but it won't be the same without the most inventive 6-string visionary we have been graced with on this planet. Joyous wishes to you, Jeff, as you soar on to your next magnificent adventure. Thank you for teaching me and inspiring me to want to play guitar."
JEFF BECK LIVE Cause We've Ended As Lovers
Photo by Jordi Vidal
To honor Jeff Beck's life and legacy, countless guitarists and friends have shared tributes to one of the most influential guitarists of our time.
Yesterday, it was announced that Jeff Beck had passed away at 78. Guitarists Jimmy Page, Joe Bonamassa, Zakk Wylde, Buddy Guy, Brian May, Carmen Vandenberg, and more offered loving tributes. Brian May states: "He was inimitable, irreplacebable - the absolute pinnacle of guitar playing." See the tributes below.

Read our full tribute here.
Jimmy Page
His technique unique. His imaginations apparently limitless. Jeff I will miss you along with your millions of fans. Jeff Beck Rest in Peace.https://t.co/4h1DfXXmWI

— Jimmy Page (@JimmyPage) January 11, 2023
Joe Bonamassa
To say we are all devastated by this news is an understatement. I simply cannot get my head around it. Rest in Peace Jeff. The greatest that ever touched a guitar. pic.twitter.com/hoeHTCJ4nh

— Joe Bonamassa (Official) (@JBONAMASSA) January 12, 2023
Buddy Guy
The loss of our friend Jeff Beck is crushing. All our love and prayers go out to his family, his friends, and his fans around the world. Until we meet again, Jeff. - Team BG pic.twitter.com/579qviqPSc

— Buddy Guy (@TheRealBuddyGuy) January 12, 2023
Queen's Brian May & Roger Taylor
RIP Jeff Beck 🙏

"He was inimitable, irreplaceable - the absolute pinnacle of guitar playing." - Brian May

"A totally unique and magical talent." - Roger Taylor pic.twitter.com/PxBNgBiu1Q

— Queen (@QueenWillRock) January 12, 2023
Billy Gibbons
I met Jeff Beck when I was 17 and I was glad to know a guy like that, a guy who was able to show me how this guitar playing thing should be approached and that's still very much the case. Jeff was a wondrous soul and we already miss him tremendously.
@jeffbeckmusic #JeffBeck pic.twitter.com/qW8R0b7pCz

— Billy F Gibbons (@BillyFGibbons) January 12, 2023
Alice Cooper
"When I was 16 years old, The Spiders, who became the original Alice Cooper band, opened for the Yardbirds. That night I experienced the greatest guitar player I had ever heard. Half a century later Jeff Beck is still the greatest guitarist, PERIOD…. pic.twitter.com/awwMOXOJDm

— Alice Cooper (@alicecooper) January 12, 2023
Tony Iommi
I was totally shocked to hear the very sad news of Jeff Beck's passing. Jeff was such a nice person and an outstanding iconic, genius guitar player - there will never be another Jeff Beck. His playing was very special & distinctively brilliant! He will be missed. RIP Jeff -Tony pic.twitter.com/i6BGdqTUKU

— Tony Iommi (@tonyiommi) January 11, 2023
Mick Jagger
With the death of Jeff Beck we have lost a wonderful man and one of the greatest guitar players in the world. We will all miss him so much. pic.twitter.com/u8DYQrLNB7

— Mick Jagger (@MickJagger) January 11, 2023
Brian Wilson
I'm so sad to hear about Jeff Beck passing. Jeff was a genius guitar player, and me and my band got to see it close up when we toured with him in 2013. One of the highlights we did was "Danny Boy" – we both loved that song. Love & Mercy to Jeff's family. pic.twitter.com/eZFHpHgiKt

— Brian Wilson (@BrianWilsonLive) January 11, 2023