Jared James Nichols joins us in setting goals for our guitar playing in 2023. Plus, current obsessions!
Q: What is your New Year's guitar resolution for 2023?
Jared James Nichols—Guest Picker
Photo by David McClister
A: I have one! It's something I've been thinking about a ton. I want to slow down and be more in the moment with my playing. Now, don't take me wrong, I don't mean "slow down" in terms of speed or my career. I wanna live in my performances, treating every single note with focus, power, and intent. 2023 will be the year for me to sing through my guitar.
Jared James Nichols' Current Obsession:
My current obsession is listening and jamming along with bootlegs from my favorite band, Mountain. I recently unearthed a treasure trove of bootleg concerts from 1969-1974. SO KILLER. I've been into Leslie West's playing forever, but these shows have literally blown my mind. His playing, tone, and attitude are on a different level in this era. So inspiring!
Dominic De La Cerda—Reader of the Month
A: One of my guitar New Year's resolutions for 2023 is finally being able to start recording my guitar tracks on a new laptop. I bought a Scarlett Solo 3rd Gen interface in January this year and used it once. I also want to get into the 8-string world. I just found out that Harley Benton finally has a warehouse in the U.S. I watched a video about how you can order Harley Benton guitars from Reverb, to get them from the U.S. warehouse. If anyone has ever played the R-458, how comfortable is it?
Dominic De La Cerda's Current Obsession: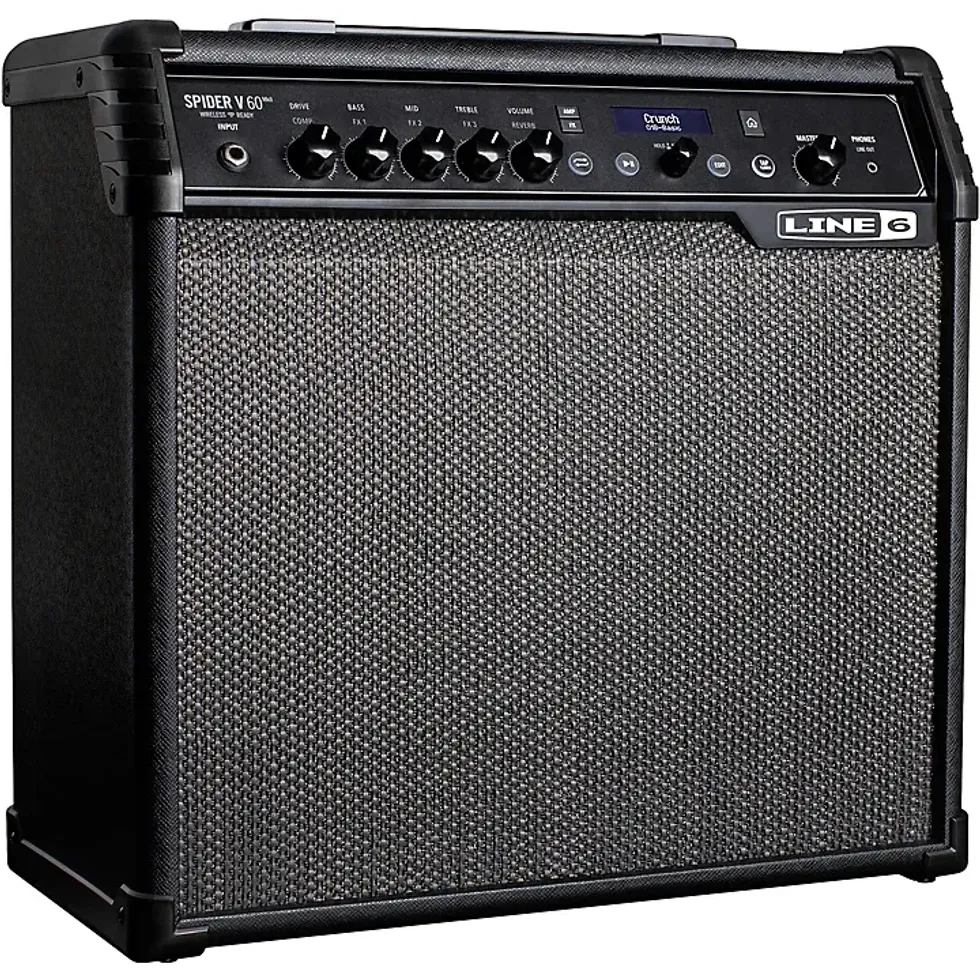 I bought a new rig back in July: a Line 6 Spider V 60 MkII. Almost bought the Catalyst 60, but wanted the Spider V 60 MkII, due to its built-in looper, drum loops, 128 presets, and more than 200 cab and amp models.
Kate Koenig—Associate Editor
Photo by Seva Jagat
A: It's my goal for 2023 (or, as soon as possible) to become comfortable with playing more elaborate fingerpicking songs onstage, which basically means getting over some fingerpicking-specific stage fright. I've been a lifelong fingerpicker, but don't normally feature fast-paced, thoroughly picked songs in my performances, so I'll be onstage and get so in my head that it's like I've never done it before. That would be a nice thing to get over … but I think I'm making progress!
Kate Koenig's Current Obsession:
My current obsession is a perennial one for me: Nick Drake's C–G–C–F–C–E tuning. It's been my ambition recently to write enough songs in this tuning that it would justify preparing a second guitar to be used in a set. I've also been trying to implement the fingerpicking pattern Drake uses on his cover of Bob Dylan's "Don't Think Twice, It's Alright"—just a simple, handy picking template. However, I want to avoid overusing it, so I've been trying to research and possibly invent alternatives!
Jason Shadrick—Associate Editor
A: Around this time each year I really try and recommit myself to the fundamentals: tone, time, taste, and touch. Those are the common threads that connect our favorite guitarists. I spend time quietly relaxing as much as I can while playing simple phrases where I can really connect with the notes. Maybe it's more of a musical meditation, but it works for me.
Jason Shadrick's Current Obsession:
While preparing to teach at Joe Satriani's guitar camp, I went back through his catalog and rediscovered his self-titled album, which is about as close to a blues album as Satch has ever made. For years I would watch the documentary about this album before school. The band was incredible: Nathan East, Andy Fairweather Low, Manu Katché, and Glyn Johns producing. I learned a lot and still hear little nuggets that inspire me.
Check out the latest tracks from Joe Satriani, Dhani Harrison, Victor Wooten, Chelsea Wolfe, and Bruce Cockburn.
Photo by Joseph Cultice
The 6-string giant talks inspiration, stage fright, the joy of reverb, Hendrix, guitars (of course!), practicing, his new album What Happens Next—and the Knights Who Say "Ni."
The title of Joe Satriani's new album is What Happens Next. That's a question we all ask ourselves from time to time, but in Satriani's case, it's an answer. After 31 years as a solo recording artist; collaborations with Mick Jagger, Steve Vai, Ian Gillan, and Alice Cooper; his ongoing membership in the rock supergroup Chickenfoot: his curation of the scalding touring concert series G3; and a commercial yardstick that includes 15 Grammy nominations and more than 10-million albums sold, Satriani's last two projects were a kind of reckoning.
In the making of his previous album, 2015's Shockwave Supernova, and the filming of a documentary, Beyond the Supernova, which was filmed by his son ZZ during the album's tour, he wrestled with his largely secret career-long stage fright. It wasn't debilitating, but he felt that it kept him from being, as he puts it, "just Joe from Long Island, playing in front of a bunch of people."
There is, of course, also the notion of what does an artist as accomplished as Satriani—who has the ability to shred, soar, transport, and sometimes tear open his soul with a plectrum, six strings, and a signature model guitar—do for his next magic trick? The answer he found in What Happens Next was, essentially, writing and performing music that's rooted in the sounds that excited Joe from Long Island. His new album goes back to a power-trio foundation, with fellow Chickenfooter and Red Hot Chili Peppers drummer Chad Smith and the ubiquitous bass powerhouse Glenn Hughes. And its baseline is the classic rock and soul that first fired the imagination of the kid from Carle Place. Built on a live-performance backbone, the album embraces the chicken-shack rhythms and heady funk perfected by Jimi Hendrix and Curtis Mayfield in tunes like "Forever and Ever" and "Headrush," and stokes its own primal energy in "Cherry Blossoms." The reckless boogie of bands like Humble Pie and Mountain reverberates in the opener "Energy." And, being a Joe Satriani recording, the album is ceaselessly melodic and textured, reaching high planes of tone and compositional invention without sacrificing all three players' devotion to rocking out.
When we talked with Satriani, he was about to begin the six weeks of practice he uses to prepare for each tour. He spoke about his sources of inspiration, his battle with butterflies and the positive side of self-consciousness, painting and drawing, his roots, the freedom that comes with playing instrumental music, the joy of reverb, and, of course, his guitars and the making of What Happens Next.
What makes you happy?
Family relationships are at the core, and I would imagine that's the same for everybody. I hate to admit it, but artists need support. Musicians need managers and lawyers and accountants and techs around them, but the creative part, the soulful part, really needs a loving, supportive family structure, and also one that is intellectually and artistically challenging. Not for a second do I take for granted how much support, love, and help I get from everybody that's part of my inner circle.
Playing next to Steve Vai, Paul Gilbert, or John Petrucci is incredibly rewarding, but it's also frightening.
During points of incredible stress, creativity also comes through and does something. You go through a life tragedy and you write a piece of music that represents it. But besides a couple of songs that came out of some horrible moments, most of my best work came from when I was free to forget about all that stuff and just work on creativity.
If we move that microscope even closer: Imagine you're at a studio session, and you're not happy with your guitar sound, and the producer is telling you to hurry up—versus the engineer or the producer telling everyone to leave the room so the artist can play around for a few hours until he finds the sound that makes him happy. So, when you're in that situation where, as guitar players are, you're just endlessly searching for that right tone, that right effect, or the right guitar, it's great when the people around you give you that space and time to find that tone, before forcing you to start performing.
The take-away is: Don't even think about it. Just concentrate on the music, being prepared, physically and emotionally, for the project, and then that part of you that's the professional musician takes over. That's the part that deals with scheduling, and the wrong gear, and having to change studios, or personal issues. Those things are always going to happen and you'll never work out a formula for it.
While listening to your music, I'm often visualizing things or am taken to a different place. That makes me wonder what other art form has the most profound effect on you?
Definitely visual art. I have three sisters, but the two oldest, the twins, are professional artists, so for as long as I can remember, when I would walk into their bedroom as a little kid, they were always drawing and painting, and I grew up with their art around the house. It became part of what I thought people did. I'm nowhere near as good as they are. As a matter of fact, I'm pretty terrible, but I really do love to draw.
TIDBIT: Satriani reunited with his frequent collaborator, producer/engineer/mixer Mike Fraser, to make What Happens Next. Fraser has also mixed every AC/DC album since 1990's The Razors Edge.
And this past 12 months, I embarked on a campaign to teach myself how to use paint and canvas, which is something I never did. I always worked with pens and then computer manipulation. It's been very transporting. I'll put on a record and I'll get out a fresh canvas, and I'm in another world for hours. Most of the stuff turns out terrible [laughs], so it's definitely not a professional venture. I'm doing it just because I love doing it, and when my fingers get tired from playing guitar, it's a great way to stay creative and give the fingers a break.
And that channels into your music?
I think everything does. I continually get inspired by really big things—events in the world, in my world, too—and little things that don't make any sense, like you wake up too early one morning and you look out the window and see the light of the dawn hitting a tree in your backyard a certain way, and suddenly you've got an impression of something unique. You're fascinated by life itself, and suddenly there's a musical idea. I can never be a visual artist. I can't really get perspective together. I struggle with three-dimensional representation. But what I enjoy doing in two dimensions is capturing certain feelings. Once I got comfortable with what I couldn't do, and what I could do, then it sort of set me free. So, I can spend time drawing and then look at it and say, "Now, musically what's going on with this character that I've just drawn?"
Let's talk about Little Kids Rock, the organization you support that promotes music education in schools.
I got involved through Jon Luini of Chime Interactive [a digital services and multi-media production company]. He's a bass player and very community-minded, so he uses the internet to bring people together for different causes. He wanted to find a way to get instruments into the hands of kids at schools with struggling or no music programs. I loved the idea, and over the years—when I've had the time—I've visited schools to help some kids get guitars in their hands and get materials to schools that need music programming back in their daily lives. When I went to public high school—I started in the late '60s—I had orchestra, band, chorus, music theory, advanced music theory … in Carle Place, Long Island! The whole town is, like, two square miles. I got an education in music from a Juilliard graduate who taught music theory at this public high school. And they also had a good football team and a wrestling team and everything else.
A few years ago, I visited a high school and a middle school here in San Francisco with Little Kids Rock. They only had one music program, and the only reason it existed, I think, was because Little Kids Rock came in and decided to lay down all these guitars and sheet music and to bring materials to make up for the shortfall in the budget. There was no art program in the school. I couldn't believe it. How are you gonna turn these beautiful young kids into fascinating adults for our society if you don't educate them? It's just insane.