17 Guitar & Bass Heroes Hail Their Heroes
Joe Satriani, Thurston Moore, Molly Tuttle, Tommy Emmanuel, John Doe, Lzzy Hale, Kurt Vile, Wayne Kramer, Chris McQueen, and eight more of today's greats discuss the contemporary players who give them the shivers.
Guitars heroes don't just play guitar. They live it, breathe it, and love it. And their lifelong fandom extends not only to the instrument but to the players they share it with. We asked 17 of today's most interesting, inventive guitarists in a wide span of genres about their favorite peers. Their answers are thoughtful, heartfelt, and fascinating—providing insight into not only who they admire but the qualities in their heroes' playing that inspire them, which in turn reveals much about what they love about guitar. So, plug in and read on!
Buddy Miller

on Marc Ribot
Marc Ribot is my guy. I find him fearless, and he knows so much, but it's not like he applies everything he knows to everything he plays. He can do anything, and it all goes through the filter of Marc, so he doesn't try to stay in the idiom he's recording. There's something subversive about his playing, and him as a person. He's an agitator. That's what I love about him. He'll turn over the applecart, but in a beautiful way. And when I play with him, he challenges me, and makes me play better, and makes me think … but not too much. You don't wanna think too much, so what's in you just comes out. And he can balance that. He's got that brain on/brain off thing.
---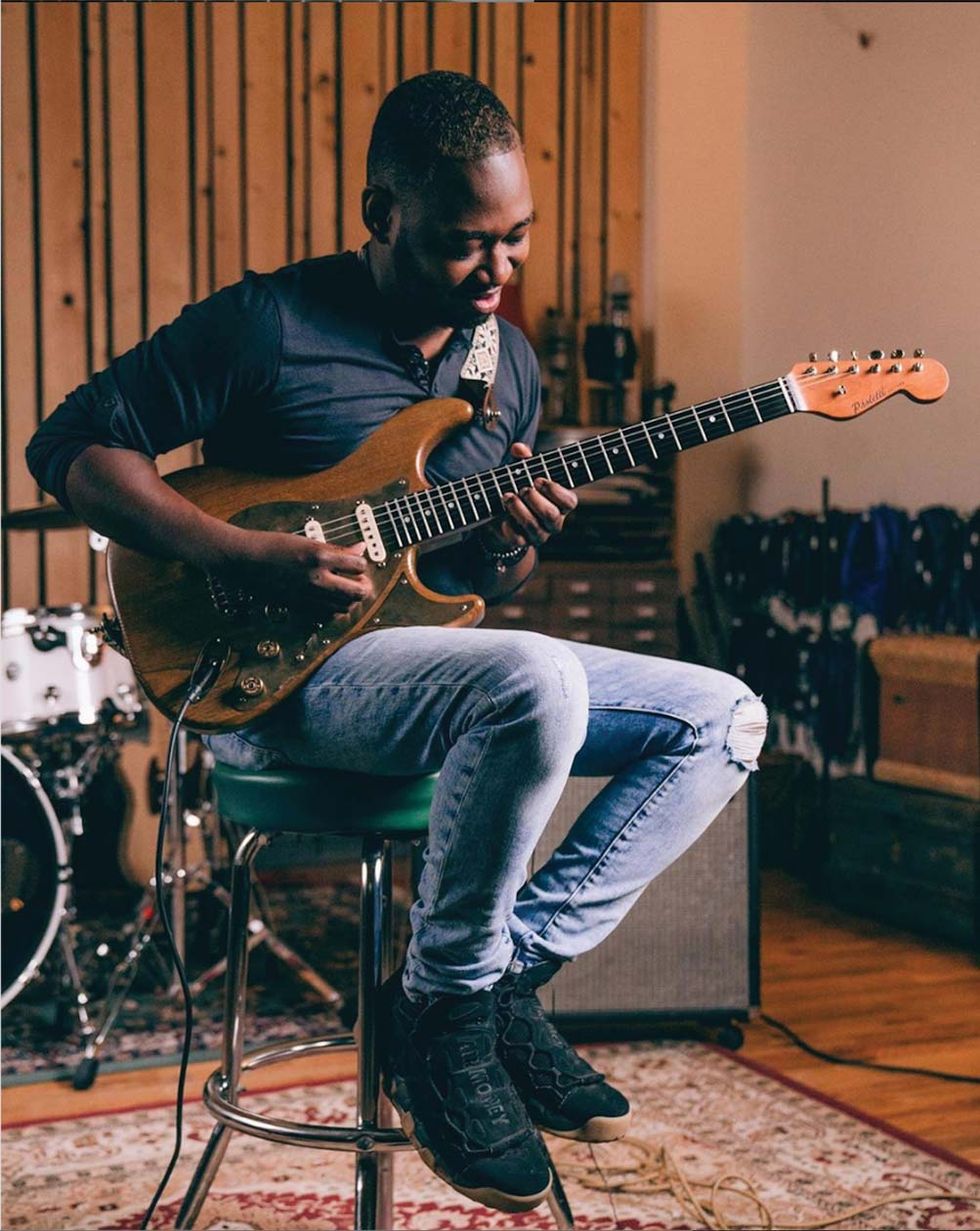 Snarky Puppy's Chris McQueen

on Isaiah Sharkey
Isaiah Sharkey is the kind of player that never stops boggling my mind. Somehow, he manages to have complete control over what he's doing and still have the spirit of pure freedom and exploration. I love to watch him solo over a simple vamp. It's like a composer playing with variations. He comes up with succinct musical ideas that have their own internal phrasing, and then he'll shift to some completely different way of playing. One moment might be straight-up blues, the next, advanced bebop, and the next a chordal approach. And in each style, he has such mastery that everything feels comfortable, almost whimsical, and flows. Most importantly, he has ridiculously solid rhythm. He has that deep time feel that the best musicians have, where he can endlessly experiment without faltering. Sometimes it's right on the beat, sometimes it's behind, sometimes it's shifting around and then suddenly jumping back into the pocket. I also find him inspiring in that he's such a complete musician: singer, songwriter, bandleader, rhythm and lead player.
---
Gilad Hekselman

on Mike Moreno
When
Premier Guitar
asked me to choose
one
guitarist of my generation that inspires me, it was a hard call. There are really many great ones. But one that has always been among the top of my list is Mike Moreno. Mike is a master of tone, phrasing, and harmony. He has elements in his playing that are very old-school in the way he produces sound, harmony, and swing, but at the same time his approach to phrasing, space, texture, tone, and rhythm are modern and unique. The sound he gets out the instrument, whether he plays electric or acoustic, is always so round, rich, and punchy that it makes melodies sing and chords shimmer. His lines have all these twists and turns—not just a string of eighth-note lines but a story that has hills, valleys, and surprises along the way. I love his use of open strings, not only within chords but also inside lines. But most importantly, he has the only secret ingredient that I really look for when I listen to someone play: He is soulful! When I'm searching for some guitar inspiration, someone to get me out of my box, I'll often go check out some Mike Moreno, whether live, on records, or on YouTube.
---

Photo by ShervinLainez
Baroness' Gina Gleason on Big Thief's Adrianne Lenker
Photo courtesy of Abraxan Hymns
Among many wonderful guitar-playing contemporaries, someone I constantly return to as a listener and am constantly inspired by is Adrianne Lenker. Her ability to create complex chord and fingerpicking patterns while maintaining delicate and catchy melodies is something that never fails to captivate me. I find myself hypnotized, weaving in and out, following along with her fingerstyle acoustic parts in songs like "Symbol" and "Womb" [off her 2018 solo album,
abysskiss
] and "Cattails" [off Big Thief's 2019 album
U.F.O.F.
]. I love the range she covers as an acoustic player—there is something reminiscent of Nick Drake and Bert Jansch. One of my favorite shows ever was her solo acoustic show in Philly at the First Unitarian Church in early 2019. I was blown away at how a single person could fill the room with so much music. In addition to her acoustic proficiency, she is also one of my favorite lead guitar players. I could listen to Adrianne play guitar solos all day—acoustic and electric!!—and never cease to be overwhelmed with joy because of the honesty and emotion she is able to convey through her instrument. Add her lyrics and songwriting on top of all that ... she rules.
---

Photo by Larry DiMarzio
Joe Satriani

on Steve Vai
Photo by Joseph Cultice
I've known Steve since he was 12 years old, and over the years he's consistently demonstrated a pure love of music as well as a determination and drive that is awe-inspiring. Just a few months ago, he sent an MP3 to me and a few other guitar buddies just to get some feedback on an epic guitar composition/live performance piece he was working on. As one would expect, it was brilliant, and it blew us all away. In that recording, I could still hear the spirited 12-year-old Steve—so excited to be playing electric guitar, making music, and daring to change the world with his musical visions. His dedication to exploring all avenues of his creative soul has never wavered.
---

Photo by David Robinson
Baroness' John Baizley

on Converge's Kurt Ballou
Photo courtesy of Abraxan Hymns
I look up to and admire almost all of my peers, as I feel they are generally superior players to me. I've learned much from the bands Baroness has toured and worked alongside. But if I have to choose one at the moment, I'll choose Kurt Ballou from Converge. When so much guitar territory has been covered and perfected by earlier generations, I reserve my appreciation for the outsiders: those rare guitarists who manage to give life to sounds and styles as-yet unheard. To watch Kurt perform is to see a guitar used to its fullest capacity. Kurt's feel for his instrument is a thing of beauty. He wields dissonance as if it were melody, he has an encyclopedic understanding of the infinite nuances of noise, and an adventurous heart when it comes to tone. Additionally, his control and technique have that enviable quality of seeming entirely effortless. I consider Kurt a model guitarist for the modern era—a musician with an inspired approach to playing, mind-bending quality and consistency of output, and impressive ambition and dedication to his craft. He's a truly creative player/songwriter. When we look back at the musical history of the first two decades of the 21st century, I expect Kurt Ballou will have achieved a historic place among the great guitarists of this era.
---

Photos by Janis Tillerson (left) and Chris Sikich (middle)
X's John Doe

on Kevin Smith, Kelli Mayo, and John Bazz
Photo by Autumn De Wilde
Three favorite bass players come to mind. Kevin Smith tours with Willie Nelson, and I've had the pleasure of working with him over the last few years. He has melody, precision, style, and power on the upright. The upright is a beast, but Kevin handles it like he was born to. He can slap with the best but doesn't need to do it all the time, thank you. He knows music old and new and loves to turn you on to something you might not have heard.
Kelli Mayo from Skating Polly only uses three strings on her custom Fender, but that's all she needs. She follows the punk-rock ethos where anything is possible. I truly love her fearlessness and innovation. I play chords on electric bass and she does, too—maybe that's why I like her.
John Bazz from the Blasters is an old friend and contemporary, but every time I see him play, I want to be him. He simplygets it. He finds new ways to say something in rock 'n' roll or roots music that may have already been said. I don't know any other bass player who has broken two strings in a night playing with his fingers and mounted a bottle opener on his P bass.
---

Photo by Bob Hakins
Kirk Fletcher

on Chris Cain
Photo by Jonathan Ellis
What do you get when you mix Ray Charles, Albert King, B.B. King, early Robben Ford, and the California Bay Area? A small taste of Mr. Chris Cain—a virtuoso guitarist, soulful singer, and wonderful songwriter. Chris has forgotten more guitar than most guitarists know. Seeing Chris live makes you feel good about being alive, inspires you to practice, or maybe even toss your guitar out the window.
I saw Chris the first time when I was 19 at B.B. King's Blues Club in Universal City. I played in the opening band, and I remember him being so nice and paying me a compliment. I had no idea what I was about to witness. Chris took the stage and my life was never the same again. I was heavily into Larry Carlton and Robben Ford, as well as B.B. King and Albert King. I viewed those as two different worlds until I heard Chris. He's not a copy of these guys but created his own signature. I think one of the big things is his effortless fluidity and horn-like phrasing. And the sweetest bends in the business. As a performer he is just top notch. His wit and sense of humor makes you forget about this crazy world.
---

Photo by Linda Harvey
Kurt Vile

on Dallas and Travis Good
Photo by Jo Mccaughey
Among my contemporaries, if I were to pick one, it's actually a package deal. It's Dallas and Travis Good from the Sadies. They play guitar together sort of like the way the Louvin Brothers harmonized together. They're real brothers, and it's just in their blood. The Good Brothers is the name of their dad's band—the Grateful Dead helped put out their first album—and one of his best friends is Gordon Lightfoot.
Dallas is the psychedelic one, and Travis, the older one, is very traditional. A show-stopping trick is that they can grab each other's guitars and play each other's frets. Dallas, the more psychedelic one, is like a brother to me, if my brother was the same age and we weren't twins. Whereas Travis is definitely like the older brother that you truly look up to because it's just unbelievable how much soul and speed he has. He plays a Gretsch-style with the Bigsby. It just pours through them both.
They've backed up everyone from Neil Young to Neko Case. We've worked together and we plan to work together more. They are the realest things out there today. They do plenty of contemporary guitar things, but I feel like they're just not affected or altered whatsoever by the modern age, which is what I try to do as well. So, it's just traditional but not like retro or pastiche, either, because they're influenced by things like punk and the Gun Club, and modern things as well. They're influenced by their surroundings, but I feel like a lot of music is affected by computers. It's very hard not to be. Their shows are just unbelievable to see, it's beautiful.
I'm inspired and I'm also influenced by them. I take some things from them. Their music gives me chills, in the same way that draws you to your favorite bands and records. Whatever punches you in the gut … somewhere between the guts and the heart, or both—their music does all those things.
---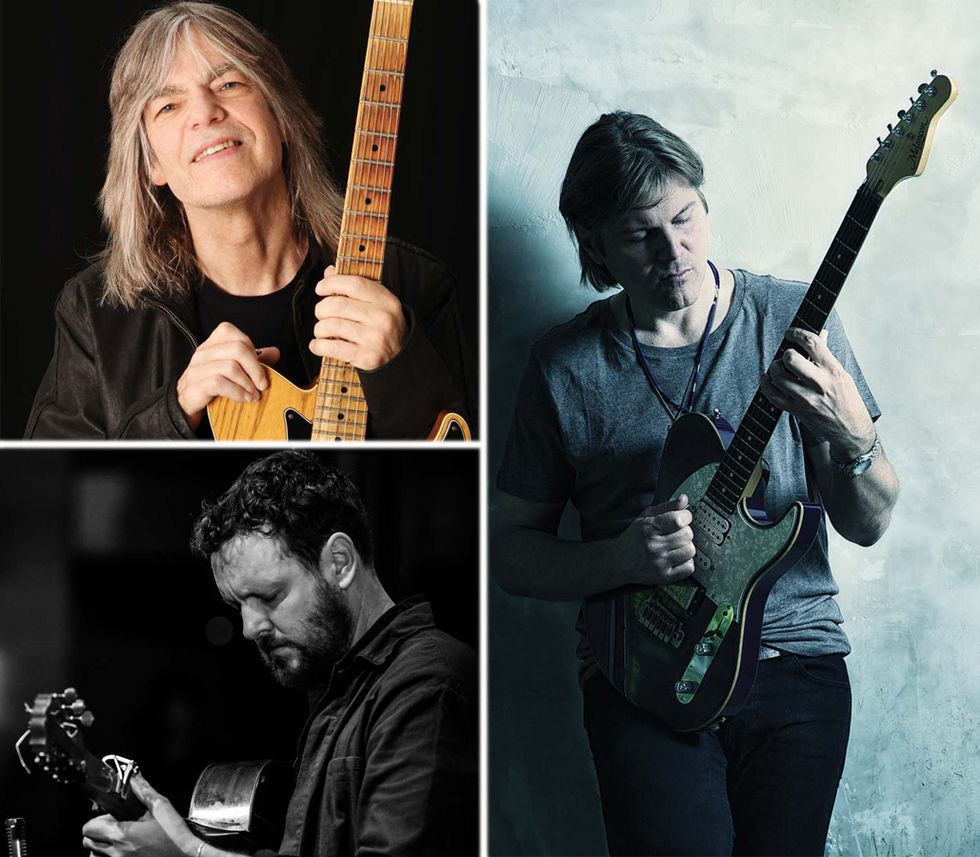 Leni Stern

on Mike Stern, Shane Theriot, and Derek Gripper
Photo by Sandrine Lee
Mike is my husband, so it's a little peculiar that he would be my favorite guitar player, but he is—always has been. He's constantly changing without losing his signature sound. For the last 30 years, I've heard him practice for at least six hours every day. That's just bound to get you to a stratospheric level. My favorite things are his time/feel, his articulation—especially on bends, the way he connects bebop lines and blues, his immense vocabulary, and the way he connects with the audience.
Shane Theriot is my favorite groove master! I love the songs he writes, the way he combines New Orleans grooves with modern lines and harmony. It's truly unique and very guitaristic. He has a super-recognizable touch on the guitar. I know it's him in three notes. He produced Dr. John's last album and is also one of my favorite producers.
Derek Gripper is a nylon-string guitarist from Cape Town, South Africa. Aside from having a revolutionary approach to playing Bach—in open tunings!—he has adapted West African kora music to the guitar. Some of these songs are older than Bach! It's a largely unknown, mesmerizingly beautiful repertoire. I have studied with him for the past two years. Check out One Night on Earth, his ninth recording.
---
Lzzy Hale

on Rebecca and Megan Lovell of Larkin Poe
Photo by Jeremy Ryan
One of the best guitarists among my contemporary peers is Rebecca Lovell of the American roots-rock band Larkin Poe. She plays guitar, and her sister Megan is the slide queen. So much talent between these two girls! I first met Rebecca in Nashville celebrating her now-husband Tyler Bryant's birthday, and immediately fell head over heels for her music. In addition to being extremely down to earth and humble, the girls in Larkin Poe are unsigned and have never needed a label to garner success. They're nominated for a Grammy this year and have toured with all of the greats! All at the young ages of 28 and 30. Rebecca's approach to guitar is honest and unique to her, which is something that's been missing in the current community. She wears her heart on her sleeve, as if you're peeking into her diary every time she takes a solo.
---

Photo by Alysse Gafkjen
Molly Tuttle

on David Rawlings
Photo by Kaitlyn Raitz
My favorite guitar player is Dave Rawlings, whose style is really unique. It's accessible, but so true to who he is. The way he crafts a solo.… It builds in a way I hear other people build solos—it climaxes and then comes to an ending—but the way he gets there is so
him
. And even the guitar he plays [a 1935 Epiphone Olympic archtop] is so different than anyone else's I know. His way of backing up a singer has also been really inspiring. I first heard him through Gillian Welch. I was listening to her when I was just starting to write songs, but I was also still working on guitar a lot. As I listened, I heard his interesting guitar playing and it spoke to me. I got the idea to use a lot of tension over chords and to use intervals like minor seconds that some people might find a little dissonant, but he uses those in a really cool way.
---

Photo by Joey Martizen
Robert Randolph

on Gary Clark Jr.
Photo by Jim Arbogast
My favorite guitarist that inspires me the most today is Gary Clark Jr. He has found a way to take the blues to another level, as well as mixing in classic-rock guitar sounds. He's been writing great songs, and has been singing his ass off in every one of his songs. I've watched him grow and it's been a pleasure to see him explode onto the mainstream while still embracing his bluesy soul roots. He also continues to expand on his sound and craft. It's been truly inspiring to sit back, watch, and enjoy it.
---

Photo by Chris Kies
Thurston Moore

on James Sedwards
I was always drawn to guitarists who played the instrument as a tool of personal expression, regardless of any level of "proper" technique. As much as the traditional virtuosity of Jimmy Page, Alvin Lee, Joni Mitchell, Johnny Winter, and other masters of the 1960s impressed me, I was equally awed by anyone extending the instrument's parameters.
Jimi Hendrix breaks all the rules while having an impeccable grasp of every critical aspect of guitar playing in the instrument's history. I use the present tense because his playing remains alive and well, and will always inform anyone looking to liberate themselves from any hint of constriction. Outliers like Derek Bailey, Keith Rowe, Glenn Branca, Lydia Lunch, Pat Place, Greg Ginn, Arto Lindsay, Lee Ranaldo, Rudolph Grey, and Masayuki Takayanagi also informed me for their resistance to critical expectations for genuine guitar skills mixed with an inherent respect for exhibition of advanced traditional technique. That balance betwixt the experimental—where the focus is sheer bloody-mindedness—and "proper" guitar playing is where I found the most sentient intrigue. Equal value could come from the Ritchie Blackmore-infused shredding of Lita Ford or the abstractions of free-jazz noise players like Sonny Sharrock, Henry Kaiser, Eugene Chadbourne, and Davey Williams.
Meanwhile, a few years ago I was introduced to James Sedwards by my sweetheart, Eva [Prinz]. She claimed a young gent on the floor just below her flat lived, breathed, and ate guitar from morning till eve. James reminded me we had first met when he and a mate snuck into the artists' area at the 1991 Reading Festival, where Sonic Youth had played with Mudhoney, Nirvana, and Iggy Pop. James had been all of 15 years old, and he would subsequently devote attention to not only the majesty of James Patrick Page but also to noise-guitar destruction, both playful and serious. By 1998 he'd been recognized at Wembley's National Guitarist of the Year competition, which heralded him as having, "the perfect blend of technical expertise and inventiveness," and in 2003 he came in second place as judged by Brian May and Mr. Page himself, playing Led Zep's "Immigrant Song" at the U.K. Riffathon guitar competition.
I knew none of this when I met the lad the second time. But when I relocated to London in 2014, James was the first musician I thought of working with. He's a full-blown rock 'n' roll shredder with the seemingly effortless fretboard mastery of J Mascis and Nels Cline. I asked him to employ some semblance of that lead-guitar action on a few tracks for my 2017 album, Rock n Roll Consciousness, and what transpired was mind-blowing. He would basically destroy on the very first run-through. But James isn't looking, as far as I can tell, for guitar-hero worship. He's looking for the glory of genuine transcendence. James' controls are set for the future, not only on our 2019 release, Spirit Counsel, but with his Nøught project—which is an incredible display of his restless interest in high-energy shred and as good a place as any to hear his excellence.
---

Photo by Jan Anderson
Tommy Emmanuel

on Jack Pearson
I see so many amazing players everywhere … the more I travel, the more I discover new players. In the last 10 years of living in Nashville, Tennessee, I've been fortunate to get to know a man I consider the greatest I've seen. His name is Jack Pearson. He used to play in the Allman Brothers Band and with Gregg Allman, too. He has the best tones, best feel, and total control when he plays. Jack is just as at home playing Django or Rev. Gary Davis tunes as he is playing high-powered blues-rock. I've had the pleasure of playing alongside Jack and felt the power and depth of his knowledge and experience. His love of music and playing for the people is inspiring to all who see him live. Then I see him singing with the voice of an angel and tearing it up in a bluegrass setting, either on guitar or mandolin. What a talent, and what a gentle giant he is. Love and respect Jack, from your lifelong admirer!
---

Photo by Erik Nielsen
Vinnie Moore

on Randy McStine
Photo by Martin Hutch
One player who people should keep an eye out for is my friend Randy McStine. Randy has been playing guitar and doing vocals in my band for a couple years, including playing bass on a couple tracks for my new record,
Soul Shifter
, and has also played in Stu Hamm's band. He's starting to get some visibility as a solo artist in the prog genre, has played Progstock 2019, and is currently on the road opening for a prog band called the Pineapple Thief.
Randy's a real tasty and musical player and very diverse stylistically. He's got quite a bit of technique, but always plays something that's right for the song, with a lot of vibe that is harmonically interesting. He's really good with subtleties like micro bends, dynamics, and little nuances such as sliding into notes à la Jeff Beck. Randy's ideas are interesting, and he's got some great original material on his releases. He also fronts a three-piece band called the Fringe, as guitarist and lead vocalist, and does a lot of solo gigs playing acoustic guitar and singing. There are a lot of videos online where you can hear him doing experimental stuff with acoustic guitar that's manipulated in unusual ways with reverb and noise, as well as looping. I like his touch and tone a lot, and I would definitely recommend checking him out online or, even better, live.
---

Photo by Shannon Kringen
Wayne Kramer

on Jeff Beck
Photo by Jeff Brinn
By 1965, I'd been playing the guitar for six or seven years, and could get around on it a bit. I learned all the new music coming from England and was incredibly excited about the possibilities the guitar represented. One band stood out: the Yardbirds. Yardbirds records had a ragged edge that was intangible and precious to me. It was like they were playing right next to me, in the same room. The sound was
real
. Imperfectly perfect. The songs were odd: strange Gregorian chant melodies juxtaposed with American blues and pop in a way no one else was doing. The things I heard Jeff Beck play were unlike any of our contemporaries. He was on his own planet, and that's the planet I needed to live in, too.
Beck was pushing the limits of traditional guitar playing more than any rock musician I'd ever heard up to that time. He held the key to open the door to where the electric guitar was going for me. His technical ability was head-and-shoulders above anyone else—and still is. The record Having a Rave Up with the Yardbirds revealed a future full of new music played by new musicians for a new audience, and I wanted some of it.
The MC5 was deeply influenced by this record and together we learned almost every song. The "rave up" parts were my favorite. When the band would turn the tempo over and play in double time while ignoring the key structure and just playing the guitar as a noisemaker. It was the sound of liberation. Beck prepped me for free jazz. Finally! I knew where I was going with my music. It's a fact that music imprints on a young person's brain during puberty in a way that is completely different from the rest of your life. The combination of raging hormones and a lust for life drilled these records into my very soul. They put me on a path that, with a few exceptions, has given me the most amazing life in music. I am doubly blessed to have lived during this period in history and still have the excitement for music I had then. It's 61 years later and Having a Rave Up still gives me goosebumps.
---