Photo by Jim Bennett
The new album By the Fire, featuring Moore's 6-string "secret weapon" James Sedwards, unleashes a psychedelic blast of Jazzmaster-fueled positivity.
Thurston Moore is onstage cranking up one of his signature Fender Jazzmasters to a darkened room at Rough Trade East, London's record-shopping mecca. The space is empty except for a sound and camera crew, there to document a slimmed-down trio version of his band—with My Bloody Valentine's Deb Googe on bass and Jem Doulton on drums—in gritty black-and-white for the livestream launch of Moore's new album, By the Fire. With his adopted city on the verge of another lockdown, and his home country in the throes of a bitterly contested presidential election, the stakes couldn't be more dire. But Moore and his mates aren't there just to shake their fists or chew the scenery.
"I'm thinking about fire as this emblematic action," he says, "but this record is not a big angry protest record. It's actually going the other way. I wanted it to be a good energy, as a political move against all the bad energy in the air. I always say putting records out is a political move. There's a responsibility to it, especially if you're past the age of 19 or 20. I'm 62, so I think there's a dignity in that exchange. That's probably not something I was so articulate about or aware of as a younger person, but it's interesting to me now because I see that as something very real. When you put records out, or if you're working in a discipline of creative impulse, and you're creating something to be in the marketplace, that's a bit of a responsibility. So I always see it as very political."
Tracked almost entirely at Total Refreshment Centre, a multi-use art space, and Paul Epworth's the Church Studios, both in London, the sessions for By the Fire concluded just before the pandemic hit, but they capture a band that, after three albums together, is clicking and communicating on a deep and visceral level. "The music I'm bringing into this group is not wholly dissimilar to the music I brought into Sonic Youth through the years," Moore says. "It's just more contemporary, more now. It all comes from the same lineage and the same vocabulary. It's always progressing in a certain way, but it'll always have that similarity, that recognizable factor."
Back in 1981, when Moore co-founded Sonic Youth with Kim Gordon and Lee Ranaldo (with drummer Steve Shelley coming on board in '85), the band was so aggressively underground and anti-establishment that none of them even considered the possibility they'd have a legacy to look back on, let alone the accolades for sparking a transformative New York art-punk movement that still reverberates loudly to this day. That experimental ethos informs the music that Moore brings to his current band, with a couple of key differences: where Sonic Youth was more of a democracy, Moore is now calling the shots. And, on top of that, he has stunt guitar-savant James Sedwards riding shotgun.

The ex-Sonic Youth co-leader hits the limits of his well-traveled 1959 Jazzmaster's fretboard while playing Riot Fest in 2015. Photo by Chris Kies
"James is such a high-technique guitar player," Moore raves. "I mean, he wakes up and he has guitar for breakfast—he is the guitar, you know?" Brit aficionados of experimental music would concur. Sedwards' own adventures with his mathy noise-rock unit Nøught, which emerged from the same artsy Oxford scene that spawned Radiohead, are the stuff of local legend. The band often draws comparisons to American post-rock acts like Shellac or Slint for their freeform sonic ferocity, while Sedwards' approach to the guitar—always inquisitive and seemingly insatiable—prompted none other than John Peel, during a filming of his 1999 series Sounds of the Suburbs, to praise Sedwards as "the first person who's not been a footballer that I've been jealous of."
Sedwards didn't make the Rough Trade set, but he makes his presence felt on By the Fire. Not surprisingly, Moore recognized their potential as a team—Sedwards also favors a Jazzmaster, and is an avowed Sonic Youth fan—early in their collaboration. "If you listen to the first record we did," The Best Day, released in 2014, "for the title song, I thought it would be cool if James stepped forward and possibly played a lead or something. And what he did was so incredible, I was just like, 'Oh, this guy is a secret weapon, and I'm really under-using him here.' So I've slowly been asking him to shred some leads here and there. I don't want to do it on every piece, but he does come up with something new every time."
"James is such a high-technique guitar player. I mean, he wakes up and he has guitar for breakfast—he is the guitar, you know?"
On the whole, By the Fire signals something new for Moore and the entire band. The album feels rooted in a spiritual mood of bliss—a good deal of that stemming from the vivid lyrics of poet Radieux Radio in such songs as the opening "Hashish"—but Moore is also painting with a much wider brush than he did on 2017's Rock n Roll Consciousness. Where that album tapped into an accessible thread of avant-garde rock with echoes of the classic canon (Jimi Hendrix, Pink Floyd, Velvet Underground), this one runs with that notion and raises the stakes, from the heavy-booted rawk of Black Sabbath ("Cantaloupe," which pivots on a searingly Iommi-like solo from Sedwards) to the extended noise explorations, reminiscent of Moore's mentor Glenn Branca, that propel the nearly 17-minute "Locomotives." Add the electronic soundscapes of Jon Leidecker (aka Wobbly, also of Negativland) and the further contributions of Steve Shelley (who lends a hard-driving backbeat to the trance epic "Breath"), and By the Fire delivers on multiple promises Moore made to himself when he was mixing the album.
"We do have this intrinsic nature of wanting to communicate," he explains, "and to keep each other safe, and to find harmony amongst all the distortion that's in the air. By the Fire is a very simple title as such, but it's definitely about communication. That's just the nature of the record. It was all done before the pandemic, but the thing is, it was put together during the pandemic, so to be in quarantine defined a lot of the narrative, too, as far as how I sequenced it, and just the vibe of it. It's informed by this time of contemplation and anxiety—this new world we're living in together."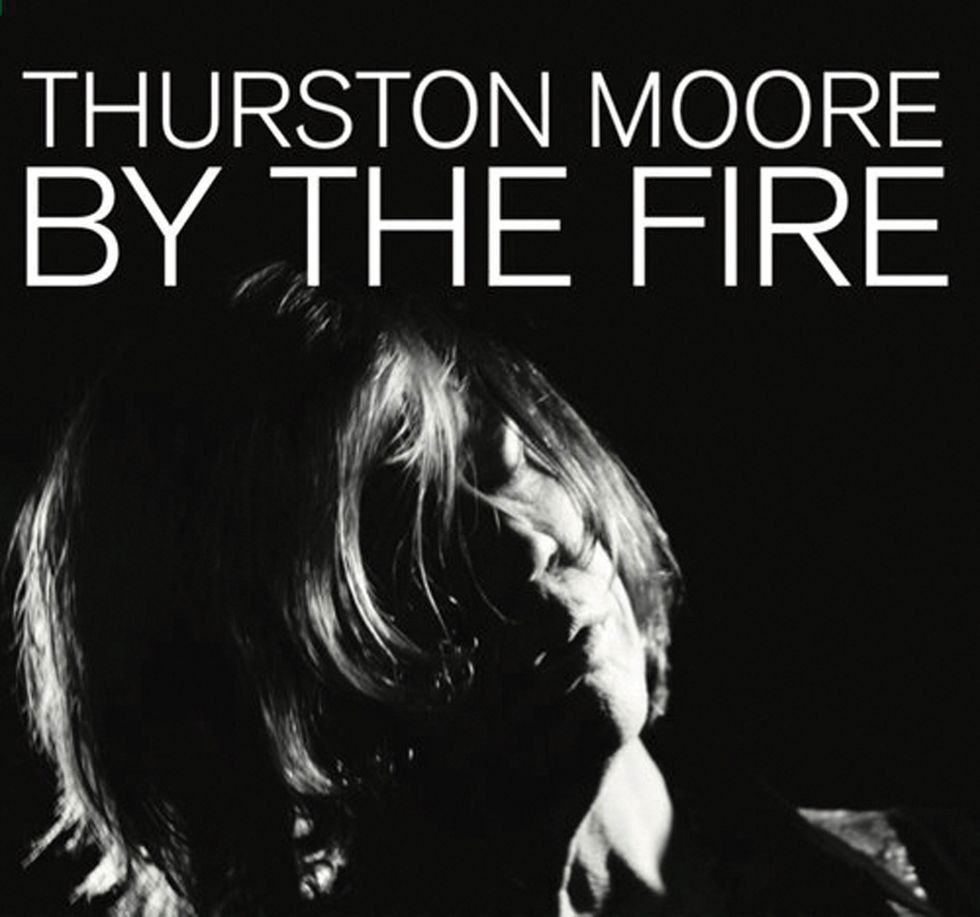 TIDBIT: Although Moore's new release was recorded pre-COVID, he explains that "it was put together during the pandemic, so to be in quarantine defined a lot of the narrative, as far as how I sequenced it, and just the vibe of it. It's informed by this time of contemplation and anxiety—this new world we're living in together."
At its core, how does this band function differently from the way Sonic Youth did?
Well, Sonic Youth was a thing unto its own. It was a sum of its parts. Even though I might have been the instigator, we grew up together, and there was no hierarchy in the band. That's something that I don't think can be repeated, and I'm not really willing to repeat it. I didn't really want to start a band again and have that kind of relationship.
I spent 30 years playing with Lee Ranaldo, and Lee is such an amazing guitar player, and he was always looked upon as possibly the lead guitar player in Sonic Youth. And if there was one, it was him, but that was never the relationship we had between all of us. Lee had his own voice, so we called him the Lee guitar player. With James, there's nothing he really plays like Lee—and I never really wanted to have that replicated anyway, because I thought that would be rather a clunky thing to do. It just didn't feel right.
When I started talking to James, I knew he was quite a different guitar player than Lee is, so that sets the music apart. Deb does that with her bass playing, too. I never tell her at all what to play. She just somehow finds that magical root that drives the song. So I've been really loving playing with this group. It's been like eight years, almost. We've been together longer than most groups, historically, you know? With Steve and Jem, the drummers have changed around a little bit, but James and Deb and myself have been a nucleus for quite some time now.
For one thing, you've talked about turning James loose on guitar solos, and he takes a pretty massive one on "Cantaloupe."
That was just a simple song—something that I wrote really quickly and thought, "Oh this is cool; let's do this as a band." So I showed it to the band and we put down the basic track, and I said to James, "You know, this section would really smoke with a lead." And he did it in one take. He went in there, in the alternate tuning [C–G–D–G–C–D], laid it down, and I was just like, that's ridiculous. So he has that ear and that ability. He can shred in that really traditional way, but he always has this edge, this sense of jumping off the experimental cliff, you know?