"Premier Guitar" hops over the Atlantic to Frankfurt, Germany, to drool over teeming aisles full of attention getting new gear at Musikmesse 2011—the world's biggest gear show.
Acres upon sprawling acres of instruments and ever-flowing taps of ale (or
bier, as the locals say) aren't all that differentiate Musikmesse from its gear-show counterparts in America and elsewhere.
Of course, the NAMM shows in Anaheim and Nashville have tons
of titillating tone toys, too, but this annual gathering of music manufacturers in Frankfurt,
Germany—which was held this year from April 6–9—is a refreshing opportunity to sample
sonic and design flavors that aren't quite as common at stateside gear shows.
Here, luthiers like Switzerland's Claudio Pagelli and Hungary's Balázs Mihályi, Zoltán
Mihályi, and Zoltán Ughy (from Blasius Guitars) parade eclectic designs while heavyweight
European manufacturers like Warwick, Framus, and Hughes & Kettner host visitors in
huge, bustling, and often loud exhibit spaces. US-based outfits like Fender, Gibson, and
PRS usually take advantage of Musikmesse's springtime schedule to unleash at least a
couple of new items, too. And then there are promising upstarts like Stark Amps and Nick
Page Guitars turning heads with unique, beautifully built designs.
LEFT: This dashing dandy at the Gewa Bags booth
had us wondering if we weren't letting our sartorial
standards slip. In the end, we decided our garb was
rock ready but that we could also use a little more sun.
Still, Gewa's gigbags are pretty nice way to tote your
axe. gewamusic.com RIGHT: Frankfurt's New.MusicAcademy promoted its
forward-thinking educational efforts by deploying several
young ladies with a portable Vox amp, a Vox Virage
electric, and an iPad stocked with song transcriptions.
LEFT: While we totally dig classic instruments, we also contend there's not enough envelope pushing
going on when it comes to stringed instrument design. That's why we were psyched to come
across the ViolaFon, an axe that lets you play standard guitar on frets 1 through 9, and then rip
like Stéphane Grappelli—in wicked fi ddle style—higher up on the neck. We couldn't help wondering
what Page would have done to "Dazed and Confused" with one of these. violafon.com RIGHT: Bassist Alain Caron (left), drummer Damien Schmitt (behind Caron), and Frank Gambale tear it
up for a big crowd at the plexiglass-enclosed Markbass performance booth. markbassit.com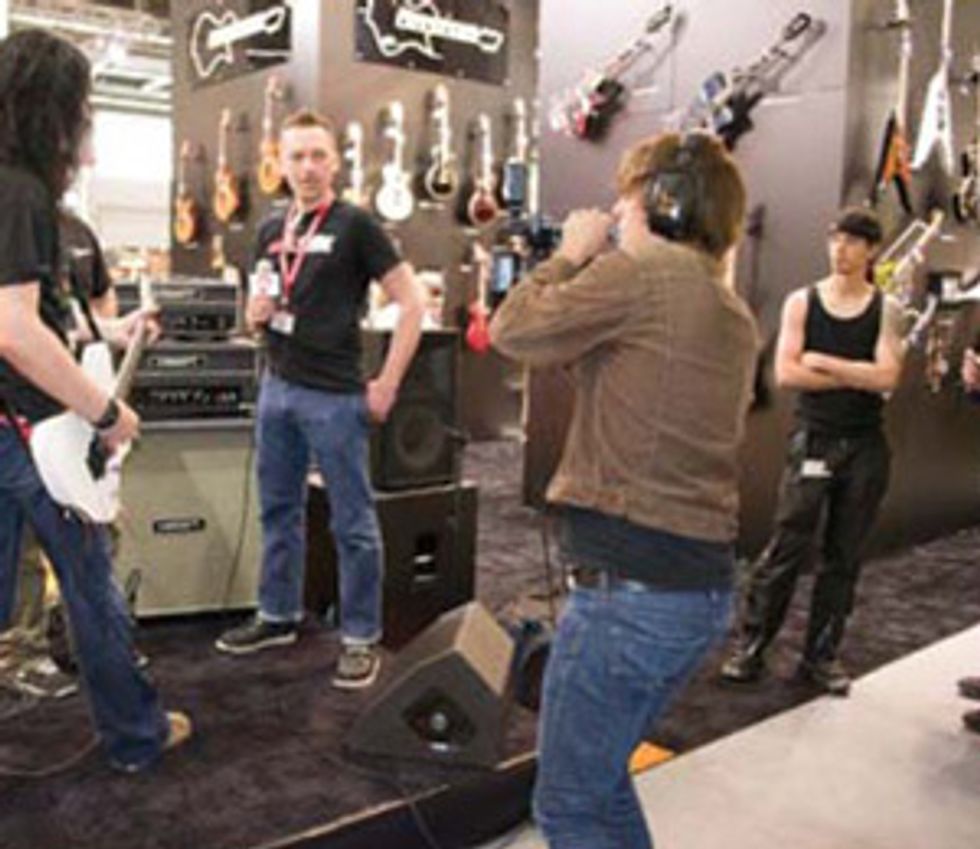 LEFT: A crowd gathers to watch Hiwatt's Alfonso Pinzon (back), an unnamed demo player, and PG's
Charles Saufley (right) and Shawn Hammond (middle) shoot a video demo of the new Hiwatt
Custom 20 and Custom 50 heads ( hiwatt.com ), which are now being handwired in the US. Watch
this and other Musikmesse demo videos at premierguitar.com.
Premier Guitar perused all this and more as we tirelessly walked the aisles of
Musikmesse to chronicle the newest, most intriguing guitars, amps, and effects we could
find. Actually, "tirelessly" isn't quite the word—our dogs were barking pretty hard as we
journeyed back and forth from one cavernous hall to the next—but the coolness of it all,
in addition to our steadfast commitment to bring you as many drool-worthy demo videos
as possible from the floor, kept us trudging onward despite the blisters and parched
throats. So be sure to visit premierguitar.com/video to check out our lineup of professionally mic'd HD videos after reading about what we've assembled here. Enjoy!
Guitars
Pagelli Andre Archtop and Ekolette Solidbody

Few luthiers design with so little regard to boundaries—real or perceived—as Swiss builder Claudio Pagelli. He builds inspired acoustics,
archtops, and electrics with an irreverent aesthetic that rarely stays on one path very long. The Andre archtop (left) was built to celebrate
his 30th anniversary in business and features a body and neck of Canadian maple, a top crafted from moon-cut Swiss alpine spruce, ebony
binding, Schertler tuners with tagua-nut buttons, and a Häussel pickup. Like so many of Pagelli's designs, it pulls off the tough act of
being classic and deconstructionist at once.
As for the Ekolette (right), it seems to be a blend of the extroverted stylings of Italian electrics from Bartolini, Eko, and Gimelli. Its
name, says Pagelli, is a mix of Eko and Echolette—a German amp company from the '60s and '70s—and the shape is based on a bass
design from years ago. "We always thought it would be a great shape for an electric guitar." Specs include a mahogany body and neck,
a maple top, an Indian rosewood fretboard, Q-tuner neodymium pickups, Gotoh bridge, and Kluson-style tuners. "The back and sides
match the color of the pickups," Pagelli explains, "but the rest is covered with vintage-stock Italian mother-of-toilet-seat [pearloid]. The
sound is very open and clear—almost acoustic—but with lots of sustain."

(LEFT) Gibson Les Paul
Studio Baritone

Fans of growling baritones channeled
via brawny 496R (neck)
and 500T (bridge) humbuckers
have cause to celebrate at the sight
of this 28"-scale beauty with a
"'50s Rounded" neck profile and
Grover tuners. Finished in pretty
honeyburst, this thump machine
looked bossy just hanging there.

(RIGHT) Lâg Imperator
I3000 Master

Michel Lâg Chavaria brought his
guitars to the US just two years
ago, but they've been something
of a fixture in Europe for decades.
The new Imperator I3000 Master
has a mahogany body with a
spalted, quilted, or flamed maple
top, a choice of hardware finishes
("black satin," nickel, or "antique
gold"), and DiMarzio, Seymour
Duncan, or EMG pickups.

By 1966, the Telecaster had changed considerably from its early '50s incarnation, while still retaining the same basic layout and function.
"Honky-tonk heaven: A 1966 Telecaster and a 1969 Vibrolux Reverb. (Note the original "Fender Instruction Manual for Telecaster and Esquire," with funky artwork depicting two dancing women and three suited men playing . . . Jazzmasters.)"
Although the versatile Fender Telecaster has undergone many changes and cosmetic facelifts in its 61-year history, it has remained a simple, useful tool that allows musicians to get their point across with minimum fuss. Combined with the right amp, a Tele can be effective for playing blues, rock 'n' roll, soul, funk, country, pop, and even jazz.
By 1966, the Telecaster had changed considerably from its early '50s incarnation, while still retaining the same basic layout and function. In 1959, the original one-piece maple neck saw the addition of a more traditional rosewood fretboard, and pearloid dot position markers replaced the clay dots in early 1965. Also during the Tele's evolution, the black single-ply pickguard morphed into a 3-ply white pickguard.
In early 1966, the Tele's original "spaghetti" logo was replaced with this "transition" logo.
Although a 1966 Telecaster's specifications still called for an ash body with a blond (the "e" was dropped in 1960) finish, the '60s blond had become considerably creamier and more opaque than the original '50s butterscotch blonde. The final detail setting a 1966 Tele apart from its predecessors is the "transition" logo decal that replaced the original "spaghetti" logo early that year.
The 1969 Fender Vibrolux Reverb—the other half of this handsome duo—has features common to that year, including a silverface control panel, bluish grille cloth, and aluminum trim. This amp came equipped from the factory with two JBL 10" speakers.
You'll find a wealth of detailed information on Fender Telecasters in A.R. Duchossoir's
The Fender Telecaster
and learn amazing amp lore in
Fender Amps: The First Fifty Years
by John Teagle and John Sprung.
LEFT: The two 8Ω JBL D110F speakers play a huge role in this Vibrolux Reverb's bold sound.
RIGHT: The JBL badge indicates factory-installed premium speakers.
Dave 's Guitar Shop
Dave Rogers' collection is tended by Laun Braithwaite and Tim Mullally and is on display at:
Dave's Guitar Shop
1227 Third Street South
La Crosse, WI 54601
davesguitar.com
Photos by Mullally and text by Braithwaite.
"I never wanted to make someone else's instrument any more than I wanted to copy someone else's painting," says artist and luthier Peter Malinoski.
"I never wanted to make someone else's instrument any more than I wanted to copy someone else's painting," says artist and luthier Peter Malinoski. "I make one-of-a-kind guitars one at a time." This philosophy pushed Malinoski—a bassist who learned guitar—into building guitars in 1986 because he wasn't satisfied with what was available in stores. "I've never understood the idea that companies still believe solidbody electric guitars should be built as they were 60 years ago," says Malinoski. "From that first instrument, I was hooked on the idea of making wildly different electric guitars. I see one-piece, bolt-on necks, and bodies with formless, flat backs that lack acknowledgement of the third dimension as a compromise."

For the past 25 years, Malinoski has applied his Master of Fine Art degrees in Woodworking and Functional Design with his creative vision to construct instruments that are aesthetically influenced by 21stcentury design. "I developed a system to mount the electronic components onto a single wooden plate that attaches to the front of the guitar body," says Malinoski. "There is virtually no neck pocket—the three-piece neck is glued and screwed to the top of the body and the pickup plate rises up to meet the height of the neck."

This approach allows Malinoski to sculpt and contour both the front and the back of the guitar to accentuate its form and eliminate the need for cover plates. He says the combination of woods and mounting the pickups directly to the wooden plate produces a truer overall tone that's enhanced by sensing vibrations transferred through the body, as well as the strings. As for the reasoning behind the three-piece neck, he believes it "creates a stronger, more stable structure and prevents the neck from dead spots because it is unlikely all three pieces have the same resonant frequency alignment."

While not everyone might find his guitar designs visually appealing, Malinoski is more than okay with that. "My guitars and basses are not meant to be the do-all, end-all instrument for every utilitarian player," says Malinoski. "They aren't built the same, they don't look the same, and they don't sound the same as any other instrument. My intention is to create unique and beautiful instruments for making unique and beautiful music."


Fez #65
This semi-hollow model has an oiled Spanish cedar body with a white ash pickup plate. Its oiled zebrano neck has a 24.75"-scale bird's-eye maple fretboard and a walnut headstock. The guitar is loaded with a Malinoski Type 2
humbucker
that he describes as "being a Fender-style pickup, but with more midrange and a darker sound because I use larger magnets." In addition, the #65—like all other Malinoski models—comes with a passive piezo transducer under the bridge "to add an acoustic brightness while maintaining the low end of the magnetic pickups."
Toro #48
One of Malinoski's more adventurous creations, the Toro #48 looks like a rounded cross between B.C. Rich's Mockingbird and Virgin models. This particular Toro has a white ash body, a handpainted acrylic green finish, and a pickup plate carved from quilted maple. Made from mahogany and white ash, the neck sports a 24.75"- scale olive fretboard and 24 large frets. The Toro comes with two Malinoski Type 2 humbuckers and a passive piezo bridge transducer.
Rodeo #66
Featuring an oiled Spanish cedar body with an oiled ambrosia maple pickup plate, the curvaceous, 25.5"-scale singe-cutaway shown here is a Rodeo #66. In addition to its passive piezo bridge transducer, the guitar sports a Malinoski Type 2 humbucker in the neck position and Type 3 humbucker at the bridge.
Rodeo Bass #71
This 26-fret Rodeo bass has an oiled hardrock and figured maple neck with a 32"- scale padauk fretboard. The beast's poplar body has a handpainted acrylic-blue finish and its ambrosia maple pickup plate houses Malinoski Type 2 bass humbuckers. Like its guitar siblings, the bass comes with a passive piezo bridge transducer. Other appointments include Wilkinson tuners and a Hipshot SS bridge.
Raja #72
The Raja #72 has an oiled Spanish cedar body, an oiled flame-birch pickup plate with white ash controls, Malinoski Type 2 and Type 3 humbuckers in the neck and bridge positions, respectively, a passive piezo bridge transducer, Sperzel Trim-Lok tuners, and a Skyway Vibrato bridge. The maple neck is topped with a 24-fret, 24.75"-scale padauk fretboard and boasts a cherry headstock.
Pricing and Availability
Pricing for each guitar varies, but the base price for the Rodeo models are $2000, the Fez and Toro start at $3200, and the custom Raja begins at $4500. And when it comes to customer input, Malinoski welcomes new ideas—to an extent. "I'm willing to accommodate wishes regarding scale length, materials, finishes, and other things," he says. "But the line is drawn at the point where ideas diverge from my basic design integrity or philosophy." Malinoski's workshop is a one-man operation, and his current wait time is four to six weeks.
petermalinoskiart.com