"Premier Guitar" hops over the Atlantic to Frankfurt, Germany, to drool over teeming aisles full of attention getting new gear at Musikmesse 2011—the world's biggest gear show.
Acres upon sprawling acres of instruments and ever-flowing taps of ale (or bier, as the locals say) aren't all that differentiate Musikmesse from its gear-show counterparts in America and elsewhere. Of course, the NAMM shows in Anaheim and Nashville have tons of titillating tone toys, too, but this annual gathering of music manufacturers in Frankfurt, Germany—which was held this year from April 6–9—is a refreshing opportunity to sample sonic and design flavors that aren't quite as common at stateside gear shows.
Here, luthiers like Switzerland's Claudio Pagelli and Hungary's Balázs Mihályi, Zoltán Mihályi, and Zoltán Ughy (from Blasius Guitars) parade eclectic designs while heavyweight European manufacturers like Warwick, Framus, and Hughes & Kettner host visitors in huge, bustling, and often
loud
exhibit spaces. US-based outfits like Fender, Gibson, and PRS usually take advantage of Musikmesse's springtime schedule to unleash at least a couple of new items, too. And then there are promising upstarts like Stark Amps and Nick Page Guitars turning heads with unique, beautifully built designs.
LEFT: This dashing dandy at the Gewa Bags booth had us wondering if we weren't letting our sartorial standards slip. In the end, we decided our garb was rock ready but that we could also use a little more sun. Still, Gewa's gigbags are pretty nice way to tote your axe. gewamusic.com RIGHT: Frankfurt's New.MusicAcademy promoted its forward-thinking educational efforts by deploying several young ladies with a portable Vox amp, a Vox Virage electric, and an iPad stocked with song transcriptions.
LEFT: While we totally dig classic instruments, we also contend there's not enough envelope pushing going on when it comes to stringed instrument design. That's why we were psyched to come across the ViolaFon, an axe that lets you play standard guitar on frets 1 through 9, and then rip like Stéphane Grappelli—in wicked fi ddle style—higher up on the neck. We couldn't help wondering what Page would have done to "Dazed and Confused" with one of these. violafon.com RIGHT: Bassist Alain Caron (left), drummer Damien Schmitt (behind Caron), and Frank Gambale tear it up for a big crowd at the plexiglass-enclosed Markbass performance booth. markbassit.com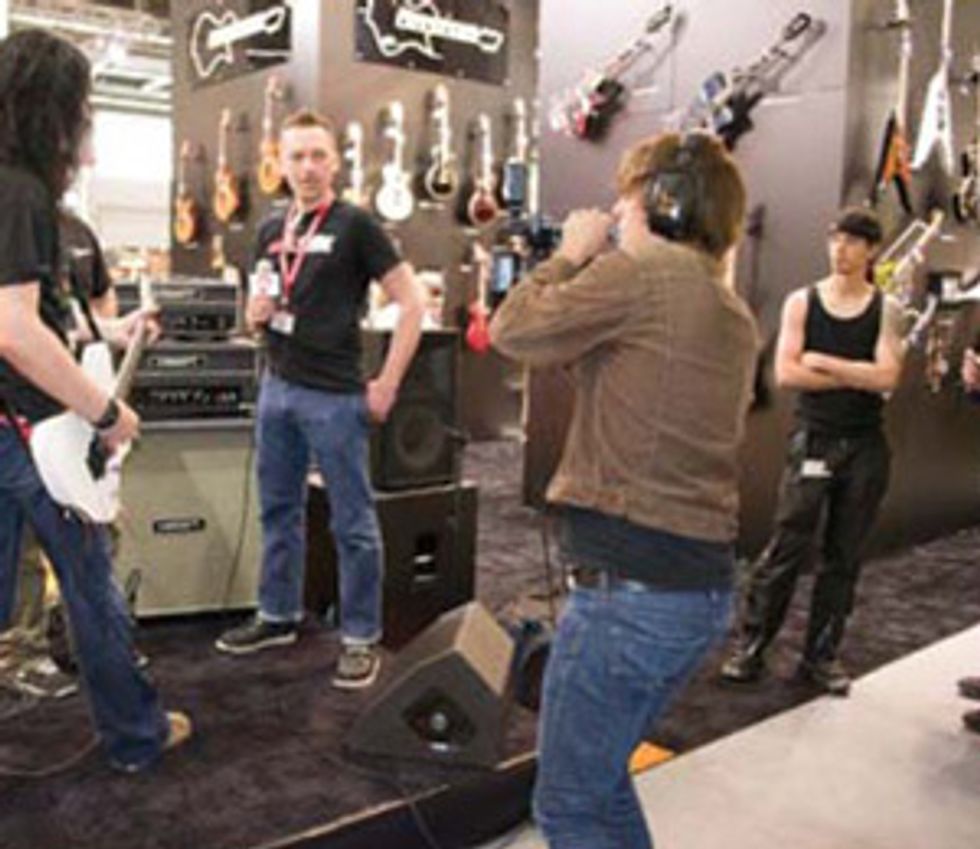 LEFT: A crowd gathers to watch Hiwatt's Alfonso Pinzon (back), an unnamed demo player, and PG's Charles Saufley (right) and Shawn Hammond (middle) shoot a video demo of the new Hiwatt Custom 20 and Custom 50 heads (hiwatt.com), which are now being handwired in the US. Watch this and other Musikmesse demo videos at premierguitar.com.
Premier Guitar
perused all this and more as we tirelessly walked the aisles of Musikmesse to chronicle the newest, most intriguing guitars, amps, and effects we could find. Actually, "tirelessly" isn't quite the word—our dogs were barking pretty hard as we journeyed back and forth from one cavernous hall to the next—but the coolness of it all, in addition to our steadfast commitment to bring you as many drool-worthy demo videos as possible from the floor, kept us trudging onward despite the blisters and parched throats. So be sure to visit premierguitar.com/video to check out our lineup of professionally mic'd HD videos after reading about what we've assembled here. Enjoy!
Guitars
Pagelli Andre Archtop and Ekolette Solidbody
Few luthiers design with so little regard to boundaries—real or perceived—as Swiss builder Claudio Pagelli. He builds inspired acoustics, archtops, and electrics with an irreverent aesthetic that rarely stays on one path very long. The Andre archtop (left) was built to celebrate his 30th anniversary in business and features a body and neck of Canadian maple, a top crafted from moon-cut Swiss alpine spruce, ebony binding, Schertler tuners with tagua-nut buttons, and a Häussel pickup. Like so many of Pagelli's designs, it pulls off the tough act of being classic and deconstructionist at once.
As for the Ekolette (right), it seems to be a blend of the extroverted stylings of Italian electrics from Bartolini, Eko, and Gimelli. Its name, says Pagelli, is a mix of Eko and Echolette—a German amp company from the '60s and '70s—and the shape is based on a bass design from years ago. "We always thought it would be a great shape for an electric guitar." Specs include a mahogany body and neck, a maple top, an Indian rosewood fretboard, Q-tuner neodymium pickups, Gotoh bridge, and Kluson-style tuners. "The back and sides match the color of the pickups," Pagelli explains, "but the rest is covered with vintage-stock Italian mother-of-toilet-seat [pearloid]. The sound is very open and clear—almost acoustic—but with lots of sustain."
pagelli.com

(LEFT) Gibson Les Paul Studio Baritone
Fans of growling baritones channeled via brawny 496R (neck) and 500T (bridge) humbuckers have cause to celebrate at the sight of this 28"-scale beauty with a "'50s Rounded" neck profile and Grover tuners. Finished in pretty honeyburst, this thump machine looked bossy just hanging there.
gibson.com
(RIGHT) Lâg Imperator I3000 Master
Michel Lâg Chavaria brought his guitars to the US just two years ago, but they've been something of a fixture in Europe for decades. The new Imperator I3000 Master has a mahogany body with a spalted, quilted, or flamed maple top, a choice of hardware finishes ("black satin," nickel, or "antique gold"), and DiMarzio, Seymour Duncan, or EMG pickups.
lagguitars.com