Streamline your stage or studio rig and increase your tone options at the same time with one of these speaker-simulation pedals.
For any player who is less than enamoured with the idea of repeatedly hauling a heavy cab to a gig or studio session, and the effort involved with cabling and mic placement, the addition of a cab sim pedal to your 'board could be a gamechanger. We've rounded up a sampling of 10 options to help you minimize your footprint while maximizing your efficiency and tone.
Designed to be the missing link between a guitarist's rig and the PA or audio interface, this pedal is loaded with 32 Two Notes cabinets, eight power amps, eight mics, and eight rooms to choose from.
TWO NOTES
This handy DI and speaker simulator offers powerful control over your sound, including cabinet size and cab tightness, and a means to avoid miking up your rig onstage.
HUGHES & KETTNER
Designed for guitarists who want to create their own cabinet response settings, rather than rely on presets, this pedal allows players to define their sound and get an accurate reproduction of it when gigging or recording.
DSM NOISEMAKER
This pedal has mathematically modeled every aspect of three iconic tube amps, and includes nine of Iridium's IR cabinets with 24-bit 96 kHz resolution for the entire 500 milliseconds of its impulse responses.
STRYMON
Featuring two banks of eight Mesa cab presets for 16 proprietary IRs and the ability to upload third-party IRs, this pedal also functions as a tone-rich, silent practice tool with a set of headphones.
MESA/BOOGIE
With five cabinet simulations, a multi-channel USB-C audio interface, and Bluetooth tech to listen to backing tracks, this pedal was designed with practicality in mind, to empower modern musicians.
DARKGLASS ELECTRONICS
With 30 cab models to choose from and microphone and power-amp simulation ideal for recording or silent practice, this mini can help transform a pedalboard into a complete guitar rig.
MOOER AUDIO
This two-channel cabinet/speaker/miking simulator uses advanced DSP processing techniques coupled with clean and robust circuit designs for minimal noise and optimal headroom.
GFI SYSTEM
Featuring 14 guitar- and bass-cabinet impulse responses and dual inputs and outputs, this emulator also has separate level controls so players can balance each cab's volume in the mix.
DIGITECH
This compact pedal houses 40 legendary guitar and bass cabinet IRs, a 4-band EQ with 12 dB boost/cut, and a hi-res OLED screen for easy operation in any recording or live scenario.
HOTONE
An octave stomp can open creative doors in myriad ways—from adding muscle to your sound to unleashing octave-fuzz assaults, simulating a 12-string, and more.
Whether fattening up your clean tone, creating an all-out octave-fuzz assault, simulating a 12-string, or something just completely different, an octave effect can turn your guitar into a whole 'nother animal and inspire your sound crafting. We've rounded up a sampling of 10 solid options for you to get your octave on.
Features on this updated classic include a vintage mode for the mono sound of the OC-2, a poly mode for chord playing, and a new octave-up effect which can be blended with the octave-down effects.
BOSS
Like the original, this stompbox has a frequency doubler to create an octave-up effect, which cleans up nicely for ring-modulator-style sounds to all-out huge octave fuzz.
WAY HUGE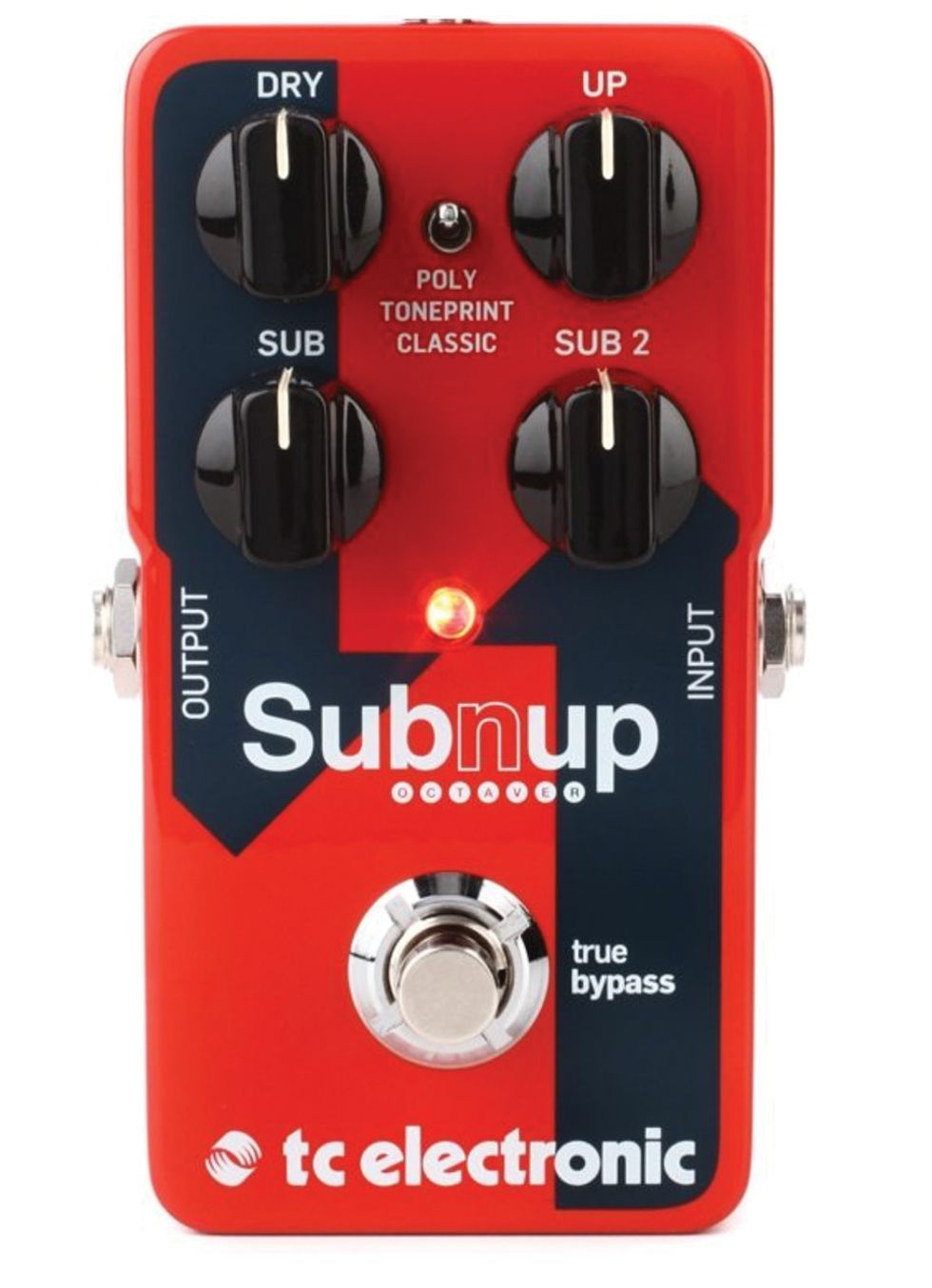 This polyphonic octave pedal features an old-school monophonic octaver and individual blend controls for dry, octave-up, and two sub-octaves—to cover everything from complex chords to groovy single-note lines.
TC ELECTRONIC
This analog octave-up pedal features the octave effect from EarthQuaker's Hoof Reaper, and makes easy work of going high and tearing loose with it's no-control design.
EARTHQUAKER
Featuring 11 different octave modes and the ability to adjust the lower, upper, and sub sections of a signal, this mini was designed to deliver precise octave effects with no distortion.
MOOER
This pedal's preamp section is specially voiced for very dynamic playing response for high-octave lead tones on the neck's higher registers, but also a big array of fuzz tones anywhere else on the neck.
CATALINBREAD
Here's a quad-octave generator that provides the ability to conjure up any combination of four separate octaves, and features three presets, a filter control, and a tremolo effect.
WALRUS AUDIO
Offering octave-up, octave-down, and a 5th up, this pedal boasts ultra-fast polyphonic tracking, individual volume controls, and a master-mix dial.
T-REX
The smallest member of the POG family, this polyphonic octave generator was designed for stellar tracking, features separate level dials for dry, sub-octave, and octave-up, and houses an extra dry out.
ELECTRO-HARMONIX
This analog octave-up pedal lets you play up either one or two octaves, and features separate volume dials for each channel along with four internal gain trimmers to adjust for playing style.
ZVEX