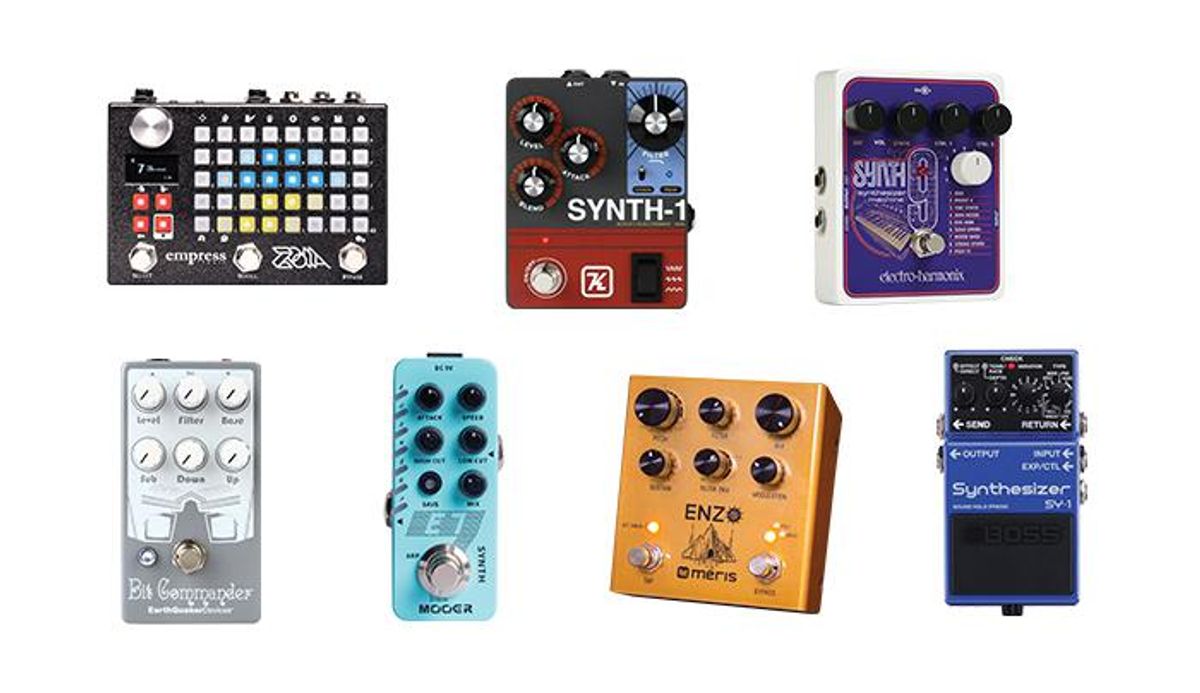 It's ok for a guitar to not sound like a guitar.
As much as we all love juicy, organic guitar tones, it can be just as inspiring to go the opposite way. Combining various modulation effects, envelope filters, oscillators, and more can result in sounds that owe more to Kraftwerk than Led Zeppelin.
---
Boss SY-1
A compact version of the company's well-known polyphonic synths offers 11 types of sounds each with 11 different variations. It also includes a parallel loop, guitar/bass mode, and expression pedal support.

$212 street
Source Audio C4
An incredibly deep collection of Eurorack-style tones are available via a rather straight-forward 4-knob setup and the companion Neuro editor (available for Mac, PC, and mobile devices). It offers four independent voices, 11 envelope followers, and two programmable 16-step sequencers.

$239 street
Meris Enzo
This multi-voice synth is a digital unit with an analog signal path for maximum clarity and response. It has stereo outputs, MIDI, switchable buffered bypass, and more. On the effects side, it houses two tap-modulated delays, mono, poly, and arpeggiated synth modes, and an extremely shapeable envelope.

$299 street
Electro-Harmonix Synth9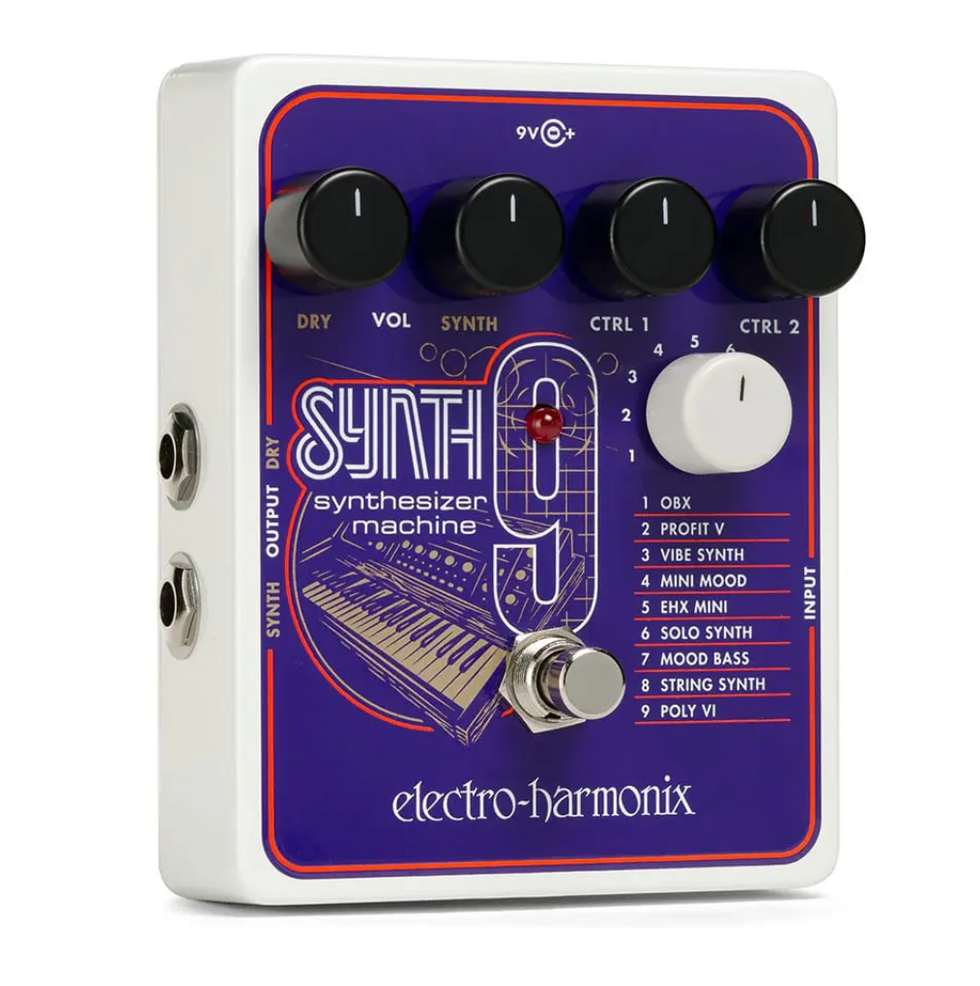 Containing nine different synth voices including emulations of some of the most recognizable synth sounds, this pedal offers independent volume control of both your dry signal and synth signal plus two CTRL knobs that change function depending on the preset.

$247 street
EarthQuaker Devices Bit Commander
This monophonic analog synth offers a three-octave (one up, one down, and two down) range to blend the glitchy with the pedestrian. Depending on what fret you're on, the results can be either destructive or spacey.

$189 street
Pigtronix Space Rip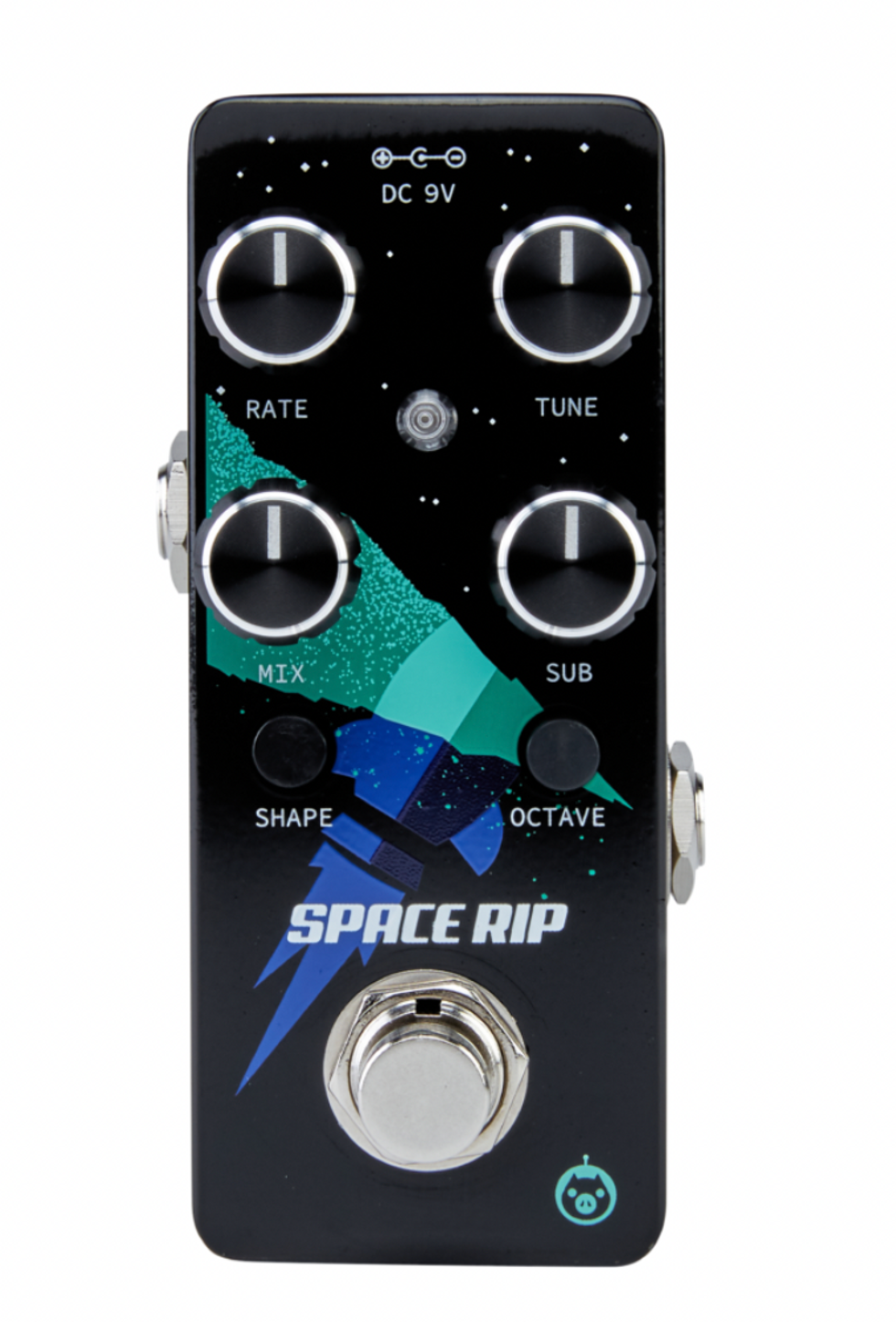 This is tiny pedal that includes an onboard VCO that produces square and sawtooth waveforms that are controlled via rate and tune knobs. It also has an octave button that drops the entire signal down 12 frets.

$179 street
Mooer E7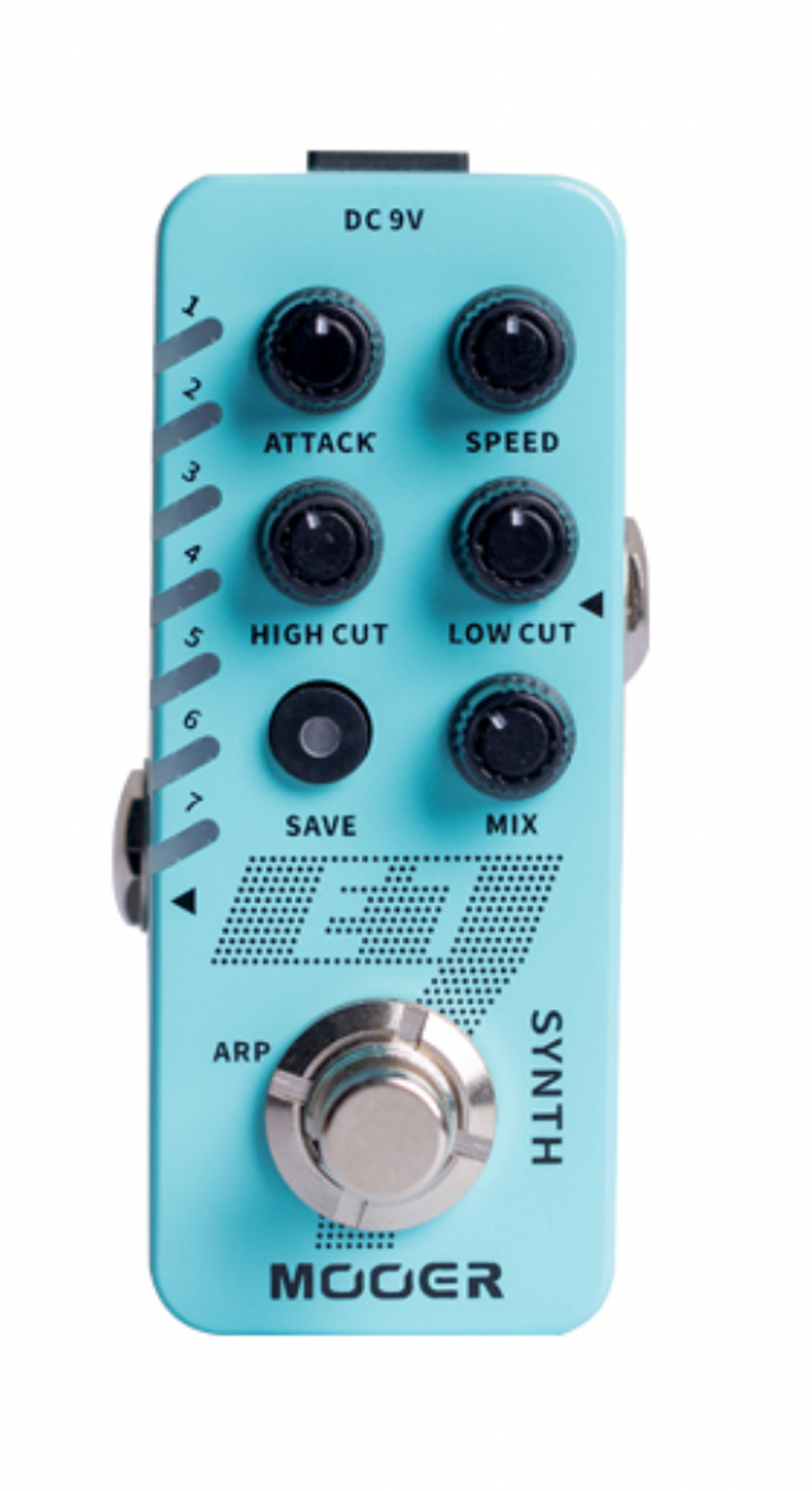 Dig polyphonic synth sounds but don't have a lot of space? The E7 offers seven different types of synth tones, seven slots for presets, and controls for attack, speed, high and low cut, and mix.

$97 street
mooeraudio.com
Empress Effects ZOIA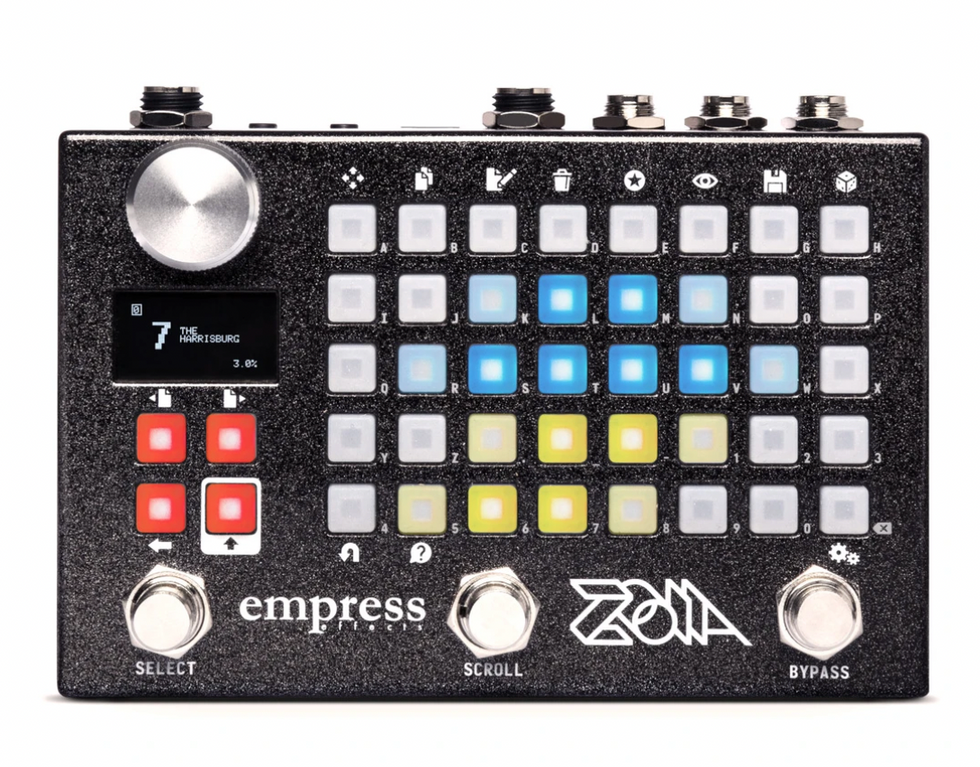 Think of this as a DIY approach to creating your own modular synth. It has a library of more than 80 different modules that cover a host of effects such as delay, reverb, compression, bit crusher, and more. Plus, you can save up to 64 different patches.

$499 street
Red Witch Synthortron II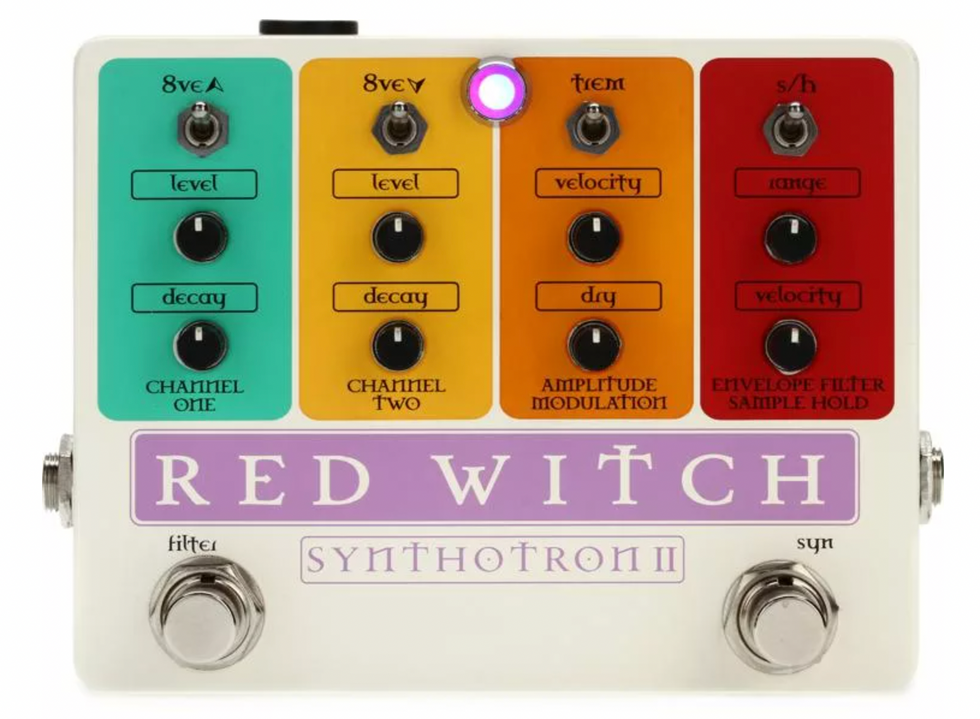 Packed with two synth oscillators, along with dedicated controls for amplitude modulation and envelope filter, this analog machine offers a wealth of different options that range from wickedly weird trem to sample hold, and more.

$279 street
Keeley Synth-1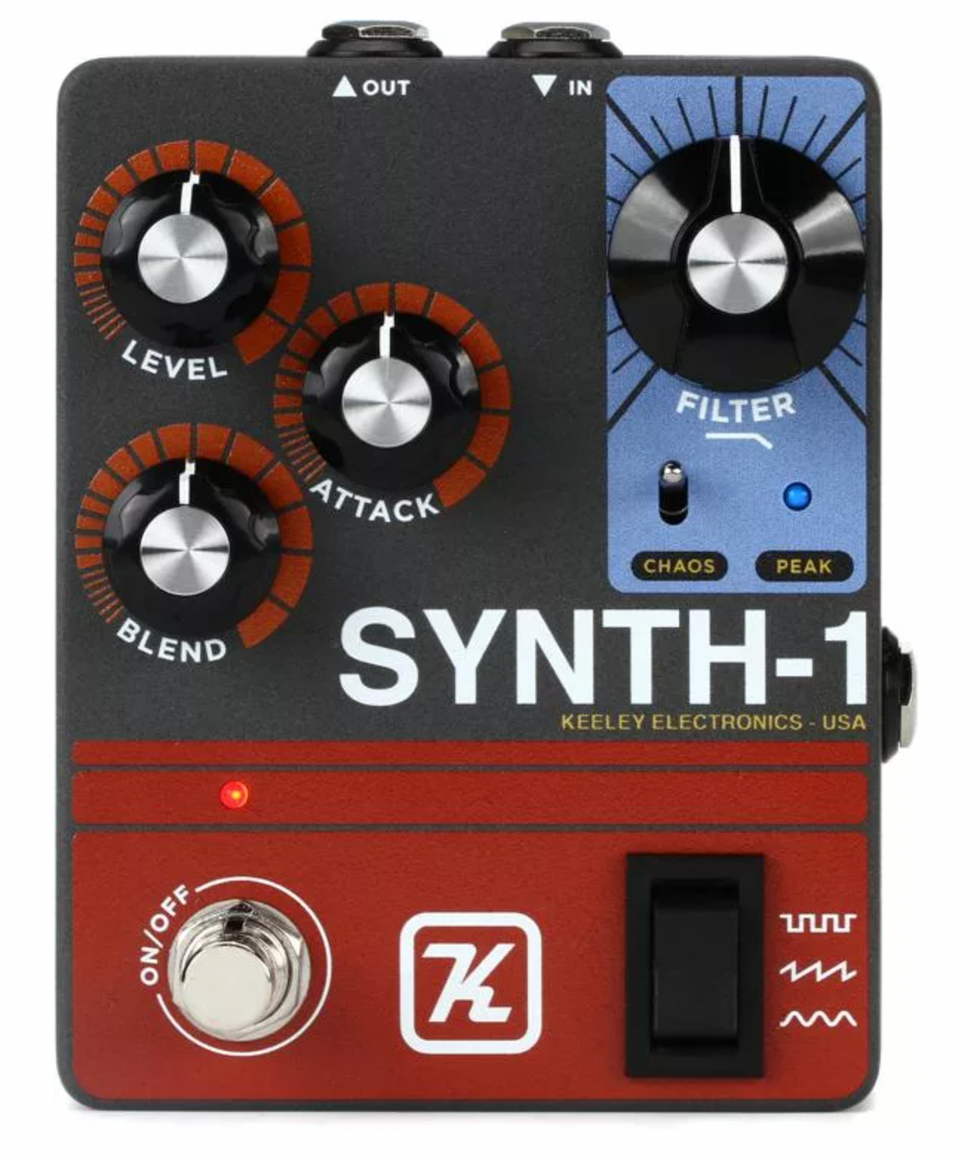 This single-note wave generator offers quite a few different sounds via a relatively simple control set. It has attack, level, and blend knobs along with a powerful filter section that shapes the EQ of the fuzz. You can also hook up a TRS expression pedal to alter the filter in real time.


$179 street
Looking for more great gear for the guitar player in your life (yourself included!)? Check out this year's Holiday Gear Finds!
Outlaw Effects introduces their next generation of NOMAD rechargeable battery-powered pedal boards.
Available in two sizes, NOMAD ISO is a compact, versatile tool that offers the convenience of a fully powered board plus the additional freedom of not having to plug into an outlet. NOMAD ISO is ideal for stages with limited outlet availability, quick changeovers, busking outdoors, temporary rehearsal locations, and more!
NOMAD ISO builds upon the legacy of the ultra-convenient and reliable NOMAD rechargeable pedalboard line originally launched in 2018. The brand new NOMAD ISO editions feature eight isolated outputs (1 x 9V DC, and 1 switchable 9V/12V DC) for even more versatility and clean, quiet power. With an integrated lithium-ion battery pack boasting 12800mAh capacity, NOMAD ISO can fuel a wide array of pedals, and will last over 10 hours* on a single charge.
Each NOMAD ISO pedal board includes adhesive hook & loop pedal-mounting tape, eight (8) standard DC connector cables, and one (1) reverse polarity DC cable, giving you everything you need to build your ultimate "off-the-grid" rig. A rugged, road-ready padded gig bag with shoulder strap is also included, to safely protect your gear while you're on the move.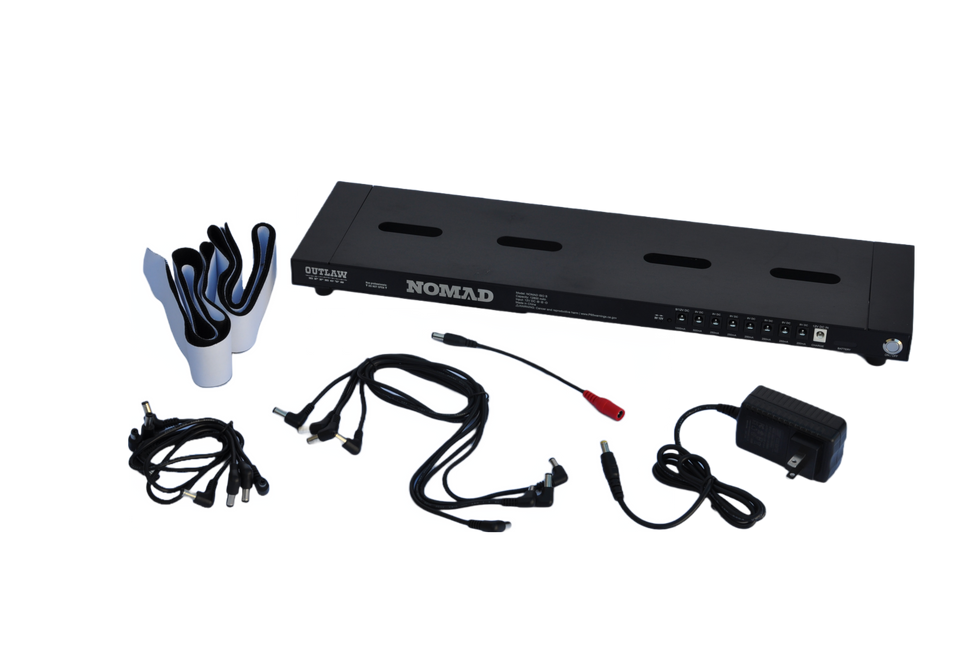 Dunable announce new Minotaur model featuring Grover Rotomatic Keystone tuners.
The Minotaur's DNA is rooted in their classic Moonflower model, which Dunable discontinued in 2017. However, they have long since wanted to create a fresh take on a carved top guitar design, and various attempts to rework the Moonflower led them to a brand new concept with the Minotuar.
Dunable's goal is to give the player a guitar that plays fast and smooth, sounds amazing, and gives maximum physical ergonomic comfort. The Minotaur's soft and meticulous contours, simple and effective control layout, and 25.5" scale length are designed to easily meet this criteria.

Dunable Minotaur!
Features
25.5" scale length
Dual Humbucker
one volume, one tone, push pull for coil splitting
Grover Rotomatic Keystone tuners
Grover Tune O Matic bridge with brass Kluson top-mount tailpiece
jumbo nickel frets
12" fretboard radius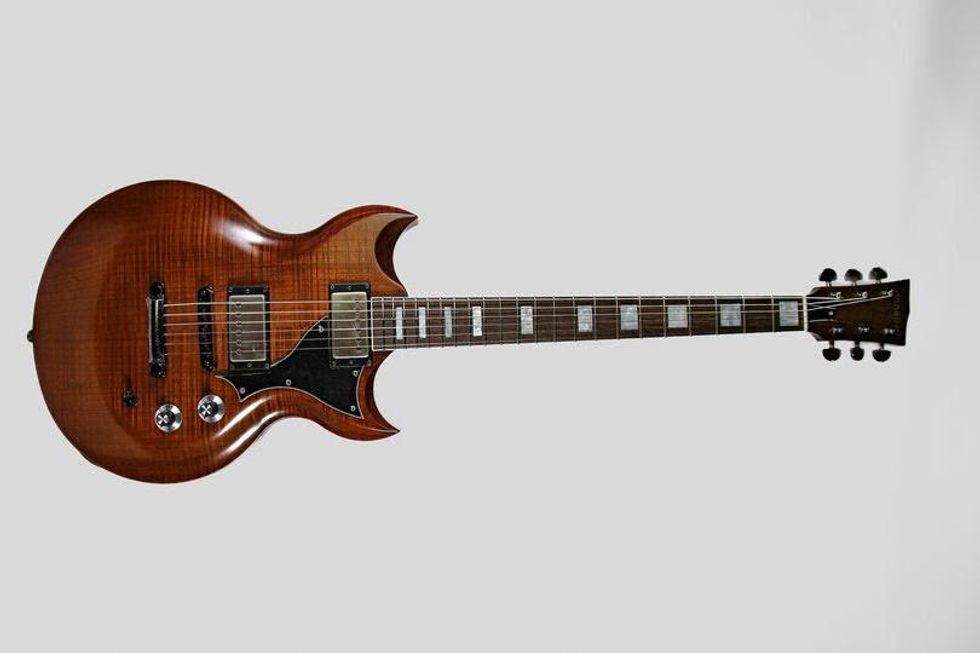 Dunable
This full-amp-stack-in-a-box pedal brings a new flavor to the Guitar Legend Tone Series of pedals, Missing Link Audio's flagship product line.
Adding to the company's line of premium-quality effects pedals, Missing Link Audio has unleashed the new AC/Overdrive pedal. This full-amp-stack-in-a-box pedal – the only Angus & Malcom all-in-one stompbox on the market – brings a new flavor to the Guitar Legend Tone Series of pedals, Missing Link Audio's flagship product line.
The AC/OD layout has three knobs to control Volume, Gain and Tone. That user-friendly format is perfect for quickly getting your ideal tone, and it also offers a ton of versatility. MLA's new AC/OD absolutely nails the Angus tone from the days of "High Voltage" to "Back in Black". You can also easily dial inMalcom with the turn of a knob. The pedal covers a broad range of sonic terrain, from boost to hot overdrive to complete tube-like saturation. The pedal is designed to leave on all the time and is very touch responsive. You can get everything from fat rhythm tones to a perfect lead tone just by using your guitar's volume knob and your right-hand attack.
Features 
Three knobs to control Volume, Gain and Tone
Die-cast aluminum cases for gig-worthy durability
Limited lifetime warranty
True bypass on/off switch
9-volt DC input
Made in the USA
MLA Pedals AC/OD - Music & Demo by A. Barrero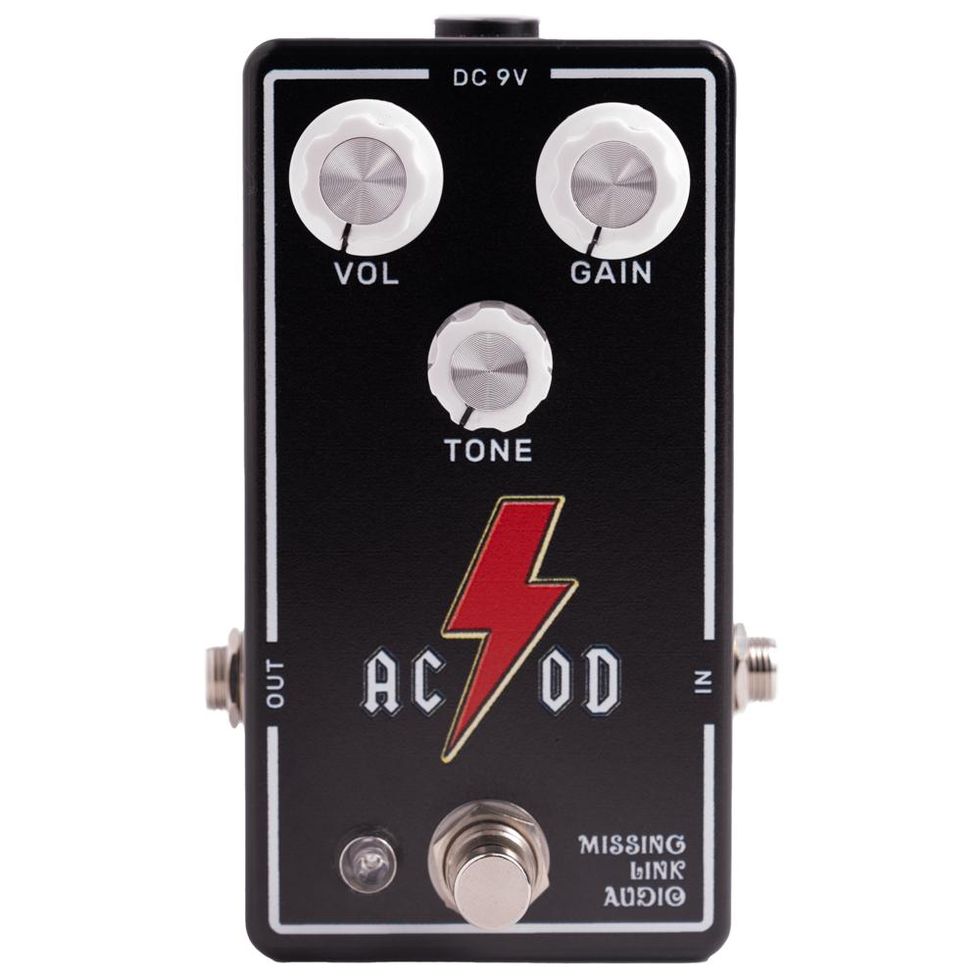 www.mlapedals.com.