The CBX Gated Reverb is designed to give you full control over a classic studio trick, popularized in the '80s by Phil Collins and Bruce Springsteen, known as gated reverb.
When it comes to studio tricks, many recording engineers had to invent their own effects. Double tracking and flanging started as manual manipulations of magnetic tape and the machinery used to process it. One such effect is gated reverb, the combination of digital reverb and noise gate, "invented" in the '70s but popularized in the '80s by one Phil Collins. Like many now-legendary effects, gated reverb was invented by accident using the Solid State Logic SL4000 Talkback Mic channel and AMS RMX16 digital reverb units. The premise is simple enough: the gate is a function of the signal strength; once the signal level drops below an adjustable threshold, the reverb tail snaps shut. Our CBX recreates this magical symbiosis with an overdrivable preamp, adjustable reverb lag time and a full wet-dry blend. The result is a lovely and expressive "always-on" reverb that stays in its lane and won't interfere with the all-important mix.
Controls
Lag: This adjusts the delay between the original note played and the onset of the gate. You can use the lower half of the control to fine-tune your picking attack, and just past noon gives you slapback and reverse-esque sounds. Think of it as a pre-delay control for the gate.
Gate: Controls the sensitivity of the gate. Keep this low for the least amount of gating and longest reverb trails, turn up for running higher gain devices before or making the effect more subtle. When the Gate knob is all the way down, the gate is removed from the circuit. This can be manipulated with your guitar's volume control by lowering the signal level and forcing the gate to clamp shut.
Mix: Controls the balance between dry and wet signals. When set to its minimum, you will hear just the dry signal fed through the preamp. At maximum, the reverberated signal is the only thing present.
Verb: On a reverb pedal with no gate, this would control how long the reverb tail rings out. But since there's a gate, this essentially governs the thickness of the reverb. Setting this knob low gives some mild reverberation and maxing it out gives a huge, harmonically rich reverb sound.
Pre: Controls the level of the onboard preamp.
The Spaces In-Beween The Space | Catalinbread CBX Gated Reverb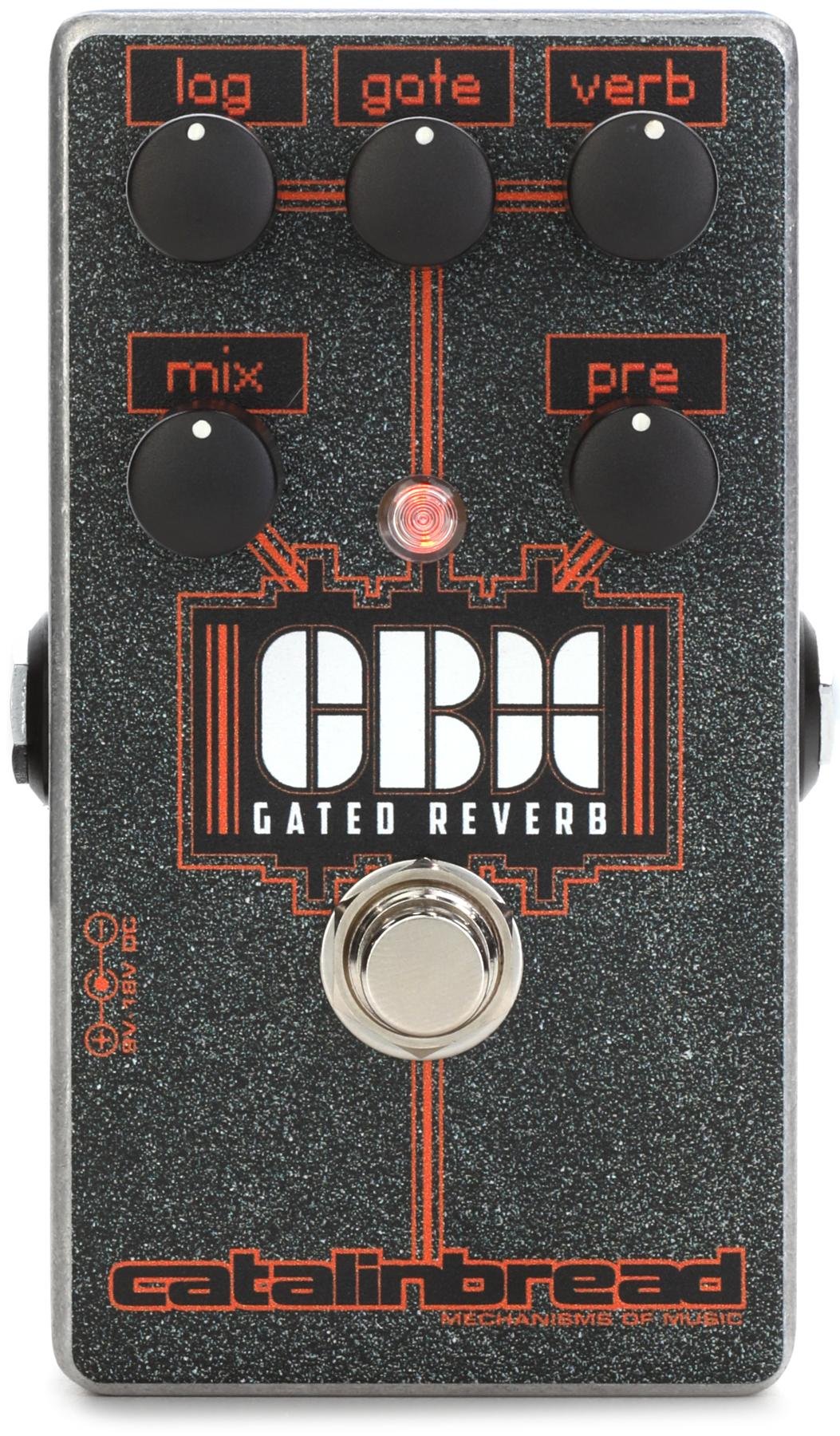 For more information, please visit catalinbread.com.
Catalinbread
Reverb and distortion collide and shapeshift via joystick control in Walrus's latest weirding machine.
The Melee was designed to unapologetically use a joystick to meld reverb and distortion into one massive blaze of sound. With the flip of the order switch, run the distortion into the reverb or reverb into distortion; signal chain is your call now. For the explorer, the Melee can run one of three different reverb programs Ambient, Octave, and Reverse.
In a "less is more" approach, Walrus has intentionally decided on controls that are fun to use and will inspire a wealth of creative output. Use the joystick to control the amount of distortion by moving it up and down. Moving the joystick left and right will adjust your reverb mix. The tone and decay toggles have low, medium, and high settings. Modulation can be added to the wet signal by holding down the bypass switch and moving the decay toggle. The left position is no modulation, the middle is a slight modulation, and the right is a high modulation. Learn more here.
The guitar universe gathered momentum in a big way in 2022—which is easy to see in this year's wildly diverse parade of Premier Gear Award winners.
Here's a look at 2022's most notable new guitars, amps, effects, and accessories, reviewed by our editors and writers:
VALCO KGB Fuzz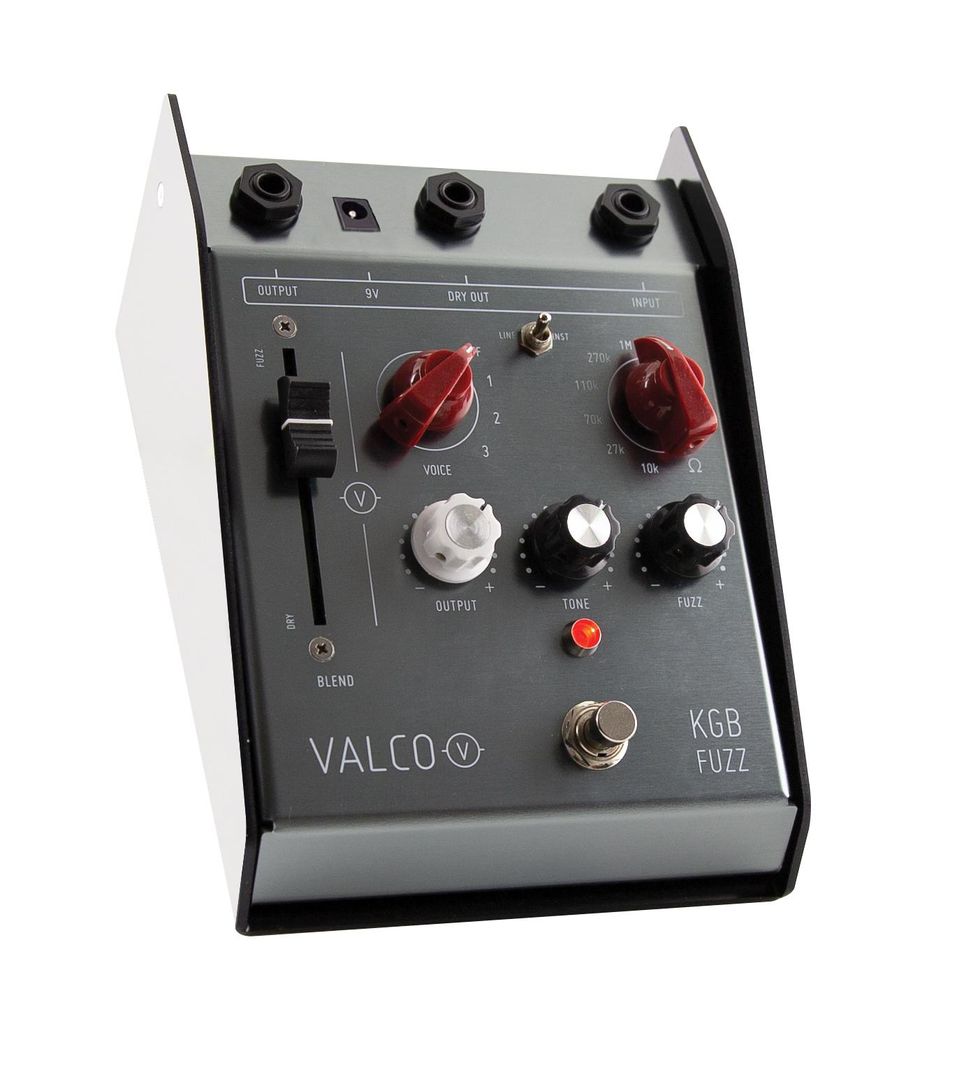 While it looks like the work of a Cold War-era mad scientist, this do-it-all dirt dauber is so versatile that it's easy to overlook its big footprint. It conjures up classic tones that could satisfy Muff, Tone Bender, and maybe even Fuzz Factory fans, but the KGB is also a super-characterful, straight-ahead distortion in its own right that sings with fuzz at minimum and offers six adjustable impedance settings, creating a tonal cornucopia.
$299 street, valcofx.com
BOGNER Ecstasy Mini
Historically, big rock tones have required big hardware. However, Joe Charupakorn was quite taken with this shoebox-size ripper that aims to deliver the vibe of its (much) larger counterpart. At 30 watts, the class-D solid-state amp offers way more gain than its 4-pound weight suggests is possible. In addition to the expected EQ controls, the Ecstasy Mini offers a quartet of toggles that emulate a Variac-style control, deliver even more gain, and shape the midrange—all for the price of a boutique pedal.
$329 street, bogneramplification.com
BOSS SY-200
Guitar synthesis gets the MINI Cooper treatment. There are 171 wildly tweakable sounds and 128 presets inside this rugged 5" x 4" box with an easy-on-the-eyes display and friendly layout. You want '70s cheese or prog? Eighties Crimson? Classic Floyd? Radiohead? It's all on tap and easily accessible with a little help from the online manual. Killer for newcomers or guit-synth veterans looking to slim down their board or rack.
$299 street, boss.info
DUNLOP Pivot Capo
Dunlop's newest screw-tension capo didn't solve every last problem associated with assisted fretting. It's still not quite as convenient as a trigger capo for making changes fast. But string grip—particularly on low strings—is excellent and the variable tension solves a lot of intonation issues. If you switch between guitars with different fret sizes a lot, the Pivot could be a savior.
$29 street, jimdunlop.com
ELECTRO HARMONIX Ripped Speaker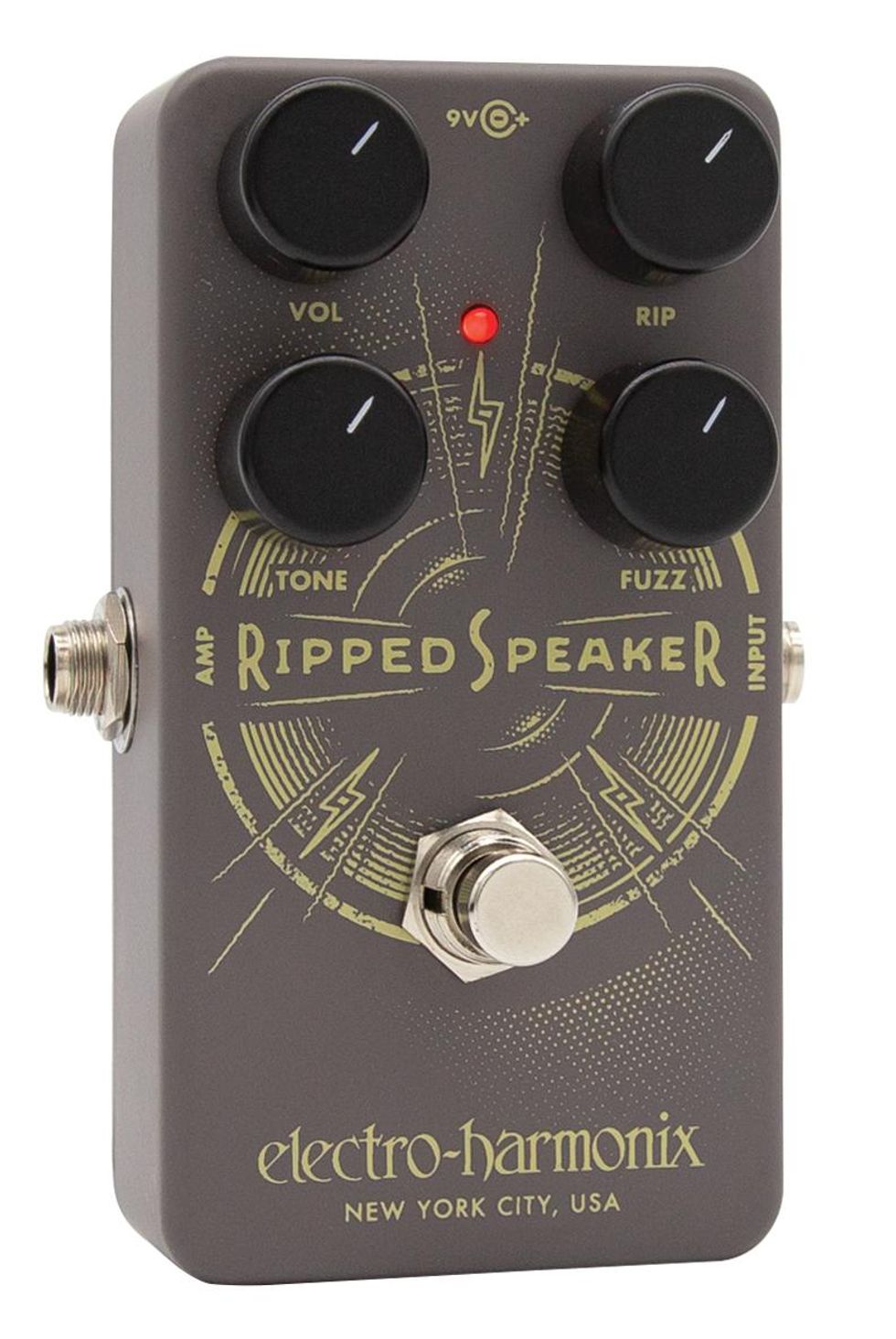 The Ripped Speaker lives up to the promise of its name, delivering damaged tones that evoke early raw rockers. But thanks to wide-ranging fuzz, tone, and rip controls—the latter of which is a bias-starve knob—there's a lot on tap. It's easy to conjure everything from Fuzzrite-style distortion to gated fuzz sounds befitting a player like Adrian Belew to pure deconstructed noise sputter, making the Ripped Speaker a unique, versatile fuzz that won't break the bank.
$110 street, ehx.com
REVEREND Flatroc Bigsby
The Flatroc Bigsby looks a lot like an homage to Gretsch on the surface. But the Retroblast humbuckers that drive the output from this versatile solidbody will probably sound and feel familiar to anyone that has the pleasure of playing a vintage-voiced, low-output PAF. Gibson-style tones are far from the only sounds on tap here, though: an awesomely practical bass contour control can re-cast the Flatroc to play the part of everything from Rickenbacker to Stratocaster to catalog 1960s Japanese instruments.
$1,119 street, reverendguitars.com
KEELEY Compressor Mini
Keeley's experience with pedal compressors might be, forgive the pun, unparalleled. Okay, maybe he has a few rivals for the King of Comps title. But the Compressor Mini confirms that he can run the range from super flexible and feature rich to stupidly simple, as is the case here. The Compressor Mini's simplicity belies how rich it can sound. A tone-recovery circuit preserves high-end and a parallel compression scheme sums clean signal at the output in a manner that preserves a lot of string detail. It's also super quiet. And at $129, it's a cool way for fans of simple compressors to elevate their output without breaking the bank.
$129 street, robertkeeley.com
Keeley Compressor Mini Demo | First Look
BLACKSTAR Dept. 10 Dual Drive
Packing an actual 12AX7 into a drive pedal not only adds the comfort of glowing glass to the experience but gives this two-headed stomp impressive versatility. The smartly designed setup allows the Dual Drive to comfortably fit at the beginning or the end of your board, due to the excellent cab sims and uncluttered layout. At $299 it's right in the sweet spot for dual-function pedals that balance features and value.
$299, blackstaramps.com
Blackstar Dept. 10 Dual Drive Demo | First Look
UNIVERSAL AUDIO Volt 276
UA can count an enviable wealth of iconic, well-regarded high-end pieces of hardware and software among their stable. And while a legacy like that can make entry into less rarified and affordable markets tricky, UA delivered big time in the form of the Volt 276. The Volt doesn't feature the same fancy 1176 compressor and UA-610 preamp models from UA's Apollo and Luna operating environments. But the models here (as well as the included Marshall and Ampeg emulations) are effective tone sweeteners all the same. A clearly caring approach to the hardware design means it also looks great on a desktop, which is much more than a lot of affordable interfaces can claim.
$299 street, uaudio.com
TC ELECTRONIC SCF Gold
Talk about venerable. TC's original Stereo Chorus Flanger appeared in 1976. And even in those nascent days of modulation stomp design, the SCF emerged in very realized form. In this newest incarnation, it remains an excellent alternative to other chorus/flanger combos. A clear top end makes it a lot less murky sounding than many other analog modulators. We suspect its relatively low price and jack-of-all-trades versatility will put a lot of fence-sitters over the top.
$149 street, tcelectronic.com
TC Electronic's 1st Pedal Reissued! SCF Gold Stereo Chorus Flanger Demo | First Look
BOSS IR-200
Perhaps the ultimate modeling/IR box for space-conscious players on a budget, the IR-200 has 128 presets, eight core amp models, 244 cab and mic IRs, three reverbs, and stereo, MIDI, effects-loop, USB, headphone, auxiliary-input, and footswitch/expression-pedal connectivity. And the interface is intuitive, with top-mounted controls for gain, level, bass, and treble. If high-end modelers seem intimidating or pricey, this device could be your huckleberry.
$399 street, boss.info
SCHECTER Sun Valley Super Shredder Exotic Hardtail
Fine-tuned shred machines made Schecter Guitars' name in the 1980s. This outlier eschews more metal elements, like a double-locking trem and active pickups. However, those omissions make the guitar more versatile than many of its counterparts. That's also largely thanks to the ability to split the pickups in several different variations.
$1,249 street, schecterguitars.com
MAESTRO Comet Chorus
For its splashy return to the effects fray, Maestro dressed up its new pedals in some of the coolest enclosures we've ever seen. But the pedals distinguish themselves in terms of sound and function, too. And the Comet Chorus emerged as especially distinguished. Its ability to approximate rotary speaker sounds and generate complex compound modulations—thanks in large part to the "orbit" mode that blends in tremolo—made it one of the most distinctive modulation units we played all year.
$149 street, maestroelectronics.com
Maestro's Five New Pedals | First Look
MAGNATONE Starlite
Little amps like the Fender Champ can be superstars in the studio. Magnatone's Starlite owes much in terms of inspiration and design to the Fender Champ. But it also offers a best-of-all-worlds take on the Champ's familiar tune by bridging tweed, black- and silver-panel variants. Much of this flex is achieved via a tone control that adds midrange, softens transients, and adds saturation. It's a simple fix to the intrinsic limitations in super simple circuits, but it really stretches the Starlite's functionality and appeal—which is copious on the style side, too.
$1,299 street, magnatoneusa.com
PRS SE Silver Sky
This $849 guitar plays like a million bucks! The Indonesia-made version of PRS' John Mayer signature S-style is truly exceptional within the vintage tradition, with superb, wide-ranging tones, a fast-action neck, an improved cutaway over many other S-type designs, and a bridge-pickup-dedicated tone pot. Smooth medium-jumbo frets, a reliable vibrato arm, and an 8 1/2" fretboard radius are among the other virtues that make the SE Silver Sky a pro instrument at a bargain price.
$849 street, prsguitars.com
PRS SE Silver Sky John Mayer Signature Demo | First Look
FROST GIANT Architect of Reality
Heads up, Sabbath fans! The Architect of Reality essentially drops the preamp section of Laney's '80s Advance Overdrive Response heads at your feet. These amps had an extra gain stage and a slightly darker sound that Tony Iommi put to service. And this pedal possesses destructive amounts of volume, gain, and low-end that are capable of conjuring wall-of-amps doom. To achieve this, the JFET-driven Architect pumps 9V AC up to 36 volts. It's probably best with high-wattage/high-headroom amps, and have a noise gate handy, but rejoice in occupying the mythical space between distortion and fuzz, where destruction and chaos feel like real propositions.
$250 street, fuzzworship.com
STRYMON Zelzah
Enough of us grew up with simple, 1-knob phasers that the Zelzah will probably scare a few old-school phase folk. True, Zelzah's impressive under-the-hood capabilities could give a just-the-basics-please modulation user pause. But like most of Strymon's pedals in this format, there is a basic elegance here that lets the uninitiated work fast and intuitively, too. In addition to rich 4- and 6-stage phaser colors, Zelzah also features switches for barber pole and envelope phase modes, a useful resonance switch, and a voice control that enables access to flange and chorus tones. A one-stop mod shop? Sounds like a fair assessment to me.
$349 street, strymon.net
First Look: Strymon Zelzah Multidimensional Phaser
CATALINBREAD Cloak
At heart, the Cloak is a straightforward, huge-sounding room reverb with a minimalist control set: room size, high-cut, mix, and shimmer knobs, and an internal slider for selecting between trails and true-bypass operation. But with its highly adaptable nature—the pedal paired beautifully with single-coils and humbuckers, overdrives, and several amps—and lovely fidelity, the range of possible sounds is wide. Shawn Hammond wrote, "With mix at max and higher room-size settings, high-cut tamed some of the more garish aspects of shimmer 'verb and turned my guitars into veritable film-scoring machines."

$210 street, catalinbread.com
SOURCE AUDIO ZIO
As reviewer Dave Hunter noted, the ZIO is far from a one-trick-pony boost. Built in collaboration with Christopher Venter of SHOE pedals, this all-analog affair offers four different preamp voicings and three different tone settings. Simple enough, but the resulting tones—especially in the studio mode—are sweet, juicy, clear, and articulate. Our reviewer loved it so much he even imagined a board that would feature two ZIO units to take full advantage of the many sounds it can make.
$199 street, sourceaudio.net
MARTIN 000-18 Modern Deluxe
How do you refine a model that's essentially perfect? Martin isn't the first guitar company to grapple with that problem. But there's something about the nakedness of an acoustic guitar that renders the issue quite challenging. Martin made the 000-18 Modern Deluxe extra special with some superficial improvements: pearl inlay logo, Indian rosewood binding, and Waverly butterbean tuners. There are practical improvements, too, like the asymmetric-profile neck. But the things that make the 000-18 Modern Deluxe extraordinary are the same things that make any great Martin a gem—tones of extraordinary depth and touch response that feels, at times, telepathic.
$3,599 street, martinguitar.com
FENDER Hammertone Delay
For all its success in the business of building iconic guitars, Fender's effect history is relatively spotty. But their affordable, simple Hammertone pedals certainly have the potential to stick around. The Hammertone Delay's combination of design economy and fun-to-use factor make it a tasty proposition for 99 bucks. But the pedal's personality and breadth, which ranges from almost spring-like reverb overtones to cool Abbey Road ADT tricks and super-clear digital tones, make it a stuffed and super-practical delay for the price.
$99 street, fender.com
Fender Hammertone Pedals Demo | First Look
SOLAR GC1.6AFAB
The combination of familiar lines with modern tech made Ola Englund's sleek rock machine a standout. Loaded with a pair of Fishman Fluence Modern pickups and an EverTune bridge, the GC1.6AFAB takes a meticulously crafted model and adds a ton of value. Each pickup has independent volume controls along with a push-pull to move between two different voices. The crisp and fast response of the pickups along with the value made this ultra-playable guitar a can't-miss.
$1,349 street, solar-guitars.com
Solar Guitars GC1.6AFAB Demo | First Look
Ola Englund's latest features upscale appointments and a slick playing experience for just $1,299. Video by Carlos Cotallo Solares (https://www.youtube.com/c...
API TranZformer CMP
Once you really get into pedal compression, tough decisions can await. Classic and simple, but maybe noisy? More complex and studio-level control with more headaches on stage? API's TranZformer CMP isn't exactly simple. In fact, the control set evokes API's legendary studio comps like the 2500 Stereo Compressor, which are powerful but not exactly LA-2A-level streamlined. But that experience with studio-grade gear pays big dividends in the TranZformer CMP, which runs quiet and affords a painterly approach to compression with its flexible array of knobs and switches.
$280 street, apiaudio.com
EVH 5150 Iconic Series 40W 1x12 Combo
A more affordable take on the 5150 amp design, this 2-channel closed-back combo was called "insanely versatile and capable of sounds from clean to ultra-high gain to the most extreme molten metal" by reviewer Joe Charupakorn. The channels each feature low- and high-gain modes, and channel 2 includes a noise gate. Other features include an XLR output with speaker emulation, a power amp mute switch, a preamp out, an effects loop, and a 40W/10W power level switch.
$899, evhgear.com
EVH 5150 Iconic Series Combo Demo | First Look
BILT The Amp
Delivering 12 to 15 watts of cathode-biased, class AB tone via a 5Y3 rectifier tube, a pair of 6V6s, and a pair of 12AX7s, the guitar builder's first amplifier—a collaboration with Milkman—is a modern love letter to the venerated tweed Deluxe. But the Amp is no recreation or clone. Just check out its 5-way bass knob and large, handsome cabinet. The result is a loud, midrange-forward combo that sounds great at all volume levels, but thrives when cranked, where it delivers full-on tweed sag.
$2,999 base price, biltguitars.com
YAMAHA Revstar Standard RSS02T
Yamaha has been a force in 6-string electric circles since the 1960s. But their current flagship electric model, the Revstar, was introduced in 2015 and has since been overhauled with an impressive array of features including a chambered body and updated pickups. Our review model sported a pair of P-90s that were a natural fit for blues and classic rock. Big, punchy tones had lots of single-coil chime. Plus, the price is really hard to beat.
$799 street, yamaha.com
Yamaha Revstar Standard RSS02T Demo | First Look
JACKSON AUDIO The Optimist
The whole subset of Klon-inspired circuits is a rabbit hole many fall into. However, the particular variation included in Cory Wong's signature pedal turned reviewer Jason Shadrick's mind around. Each overdrive circuit feels rich and full, but it's the active EQ that comes close to being the MVP. Jackson has always taken great care in making sure the sweep of the controls is useful and musical, and the Optimist might be their most finely tuned setup yet.
$349 street, Jackson. Audio
CHARVEL Guthrie Govan MJ San Dimas SD24 CM
This Japan-built version of the shredder's signature instrument offers a high-level playing experience. The proprietary tremolo has a wide range of motion, both descending and ascending, thanks to a recessed body cavity underneath the unit, and it offers commendable tuning stability. Elsewhere, accoutrements like a heel-mounted truss rod adjustment wheel and knurled chrome knobs with glow-in-the-dark numbers deliver upscale details. With easy playability and hot, articulate pickups, the SD24 CM is a signature guitar fit for a player fluent in a breadth of styles.
$2,799 street, charvel.com
LINE 6 DL4 MkII
The ubiquitous green delay machine returns in a slimmer modern update. It's still big, but even on the modern pedal landscape, the DL4's spacious knob-controlled design feels refreshing, with plenty of room to tweak and stomp around. More importantly, it's remarkably easy to jump in and find a breadth of unique delay sounds that range from classic to wildly experimental. All the original sounds are onboard, as are just as many new ones, plus a full range of reverbs and the classic looper function.
$299 street, line6.com
Line 6 DL4 MkII Delay Modeler Demo | First Look
CATALINBREAD Tribute
I often tell chums griping about their tone to try an EQ pedal. It's not a very glamorous solution. But it's often an effective one—especially when carving out just-right fuzz and drive tones. Catalinbread clearly grasps the value of powerful EQ in shaping overdrive output—so much so that they've made the Tribute Parametric Overdrive as much an EQ device as a drive machine. The Tribute enables you to boost or cut ranges from 1.4 kHz on the midrange side to 70 Hz on the bass end by 12 dB in either direction. These EQ changes can transform the mood of the already flexible Tribute drastically, from focused boosts to much more aggressive fare.
$179 street, catalinbread.com
TAYLOR 724ce
Koa has always been treasured by builders for a distinct tonality that sits between rosewood and mahogany. Thanks to a partnership with Pacific Rim Tonewoods, Taylor was able to use a "select grade" koa that helped the company price the model at $2,000 less than some of their other Hawaiian koa-based models. Nobody would mistake this for a budget guitar, however. The sound is every bit as nuanced and complex as guitars with a more flamboyant slice of wood.
$3,499 street, taylorguitars.com
WAY HUGE Red Llama MkIII Smalls
It's all about simplicity with this 30th Anniversary update to an early boutique-era overdrive. The MkIII has a smaller footprint, but the 2-knob control set remains, featuring just volume and drive. Reviewer Dave Hunter praised the pedal's "thick, juicy, and chewy" tone, which retains clarity at high gain levels. "When a lot of ODs have started to sound very same-ish, it's remarkable that it remains so distinct, characterful, and loveable—even after 30 years."
$149 street, jimdunlop.com
Way Huge Red Llama Overdrive MkIII Demo | First Look
WREN AND CUFF The Good One
The lengths Big Muff scholars will go to chasing definitive and "best" Muff tones is well documented in these pages. Wren And Cuff's The Good One, though, is the result of an accidental discovery along the path to Big Muff enlightenment. The Good One is W&C founder Matt Holl's attempt to replicate a vintage "triangle" Big Muff that came through his shop for repair. Like many Muffs, it revealed a curious mix of components. But the sum, as duplicated here, is a Big Muff of uncommon range and clarity that delivers sharp, clear transients just as readily as classic Big Muff heaviness.
$309 street, wrenandcuff.com
UNIVERSAL AUDIO UAFX Ruby '63
Whether you beg, borrow, or steal, every electric guitarist that reads these pages should find a way to experience the sparkling, harmonically overflowing, and flat-out hot-and-rich colors of a vintage Vox AC30. But if you don't have the cash, connections, or criminal urges, UAFX's Ruby '63 is a mighty fine way to explore those sounds in a pedal. Ruby '63, of course, capitalizes on the modelling savvy and experience that make UA's digital production environments a revelation. And the same microscopic attention to detail—and above all feel—is here. Will the Ruby '63 transform a lousy amp into an AC30? Probably not. But the ease with which it imparts the aura and touch of a vintage Vox to a half-decent tube amp or recording interface can be thrilling—and enable you to speak in a distinctly Vox vernacular.
$399 street, uaudio.com
PIGTRONIX Star Eater
Pigtronix is justifiably guarded about what makes up the circuit in the Star Eater fuzz. It's pretty unique sounding. But when we ventured the notion of a Big Muff and a Shin-ei Super Fuzz bearing offspring, Pigtronix mastermind David Koltai admitted we were onto something. Similarities with these two fuzzes tell only part of the story, though. A sweepable filter generates tones that might make a Big Muff or Super Fuzz blush. And if that doesn't pique the interest of a jaded fuzz fanatic, I'm not sure what will.
$179 street, pigtronix.com
SOURCE AUDIO Atlas Compressor
This digital compressor offers six basic modes to conjure a wealth of tones, and each of its four knobs has both primary and alt functions. Even more sounds abound via MIDI functionality and Android/iOS connectivity to access Source Audio's Neuro Editor. The Atlas' tones should fool analog heads, and advanced digital capabilities might even lead to cool discoveries.
$229 street, sourceaudio.net
Source Audio Atlas Compressor Demo | First Look
MATTOVERSE Warble Swell Echo MkII
This digital delay has a warm voice that evokes classic BBD delays and old-school tape echo vibes. Its woozy modulation—accessed via a waveform knob, plus rate and depth controls—makes it easy to dial-in retro cassette-tape tones, while the swell footswitch and knob access the land of eternal feedback. For all these functions, the Warble Swell is still easy to navigate and feels simple.
$219 street, mattoverse.com
WALRUS Lore
The Lore isn't the most complete reverse reverb in the world. It lacks some of the magical takes on the effect that Led Zeppelin and My Bloody Valentine made immortal. But the manner in which it combines time-manipulation effects as well as octave and various interval-based textures often yields much more unpredictable results. If you're keen to scramble a boring song idea, Lore is a fast track to that goal.
$299 street, walrusaudio.com
EASTWOOD Dusty Spring
Stare at modern pedals long enough and you'll develop an appreciation for pure simplicity. And it would be hard to find a stomp so brainlessly, plug-and-go satisfying as the Dusty Spring. Calling Dusty Spring a lo-fi effect, as its name suggests, would be too simple. It dishes very convincing spring reverb approximations that would easily fool experts—especially in a mix. Rather, the "dirty" seems equally apt in describing its basic, rich earthiness—a quality that isn't always easy to find in affordable digital reverbs.
$149 street, eastwoodguitars.com
DEATH BY AUDIO Space Bender
Thank goodness for Death By Audio. Their irreverence isn't just a middle finger to circuit sameness. It's an attitude that results in amazing, truly unusual sounds. That goes for the Space Bender, which turns chorus on its ear—mixing and mangling modulation, delay, reverb, and filtering effects to ends that are both predictable and chaotic. Come for the chorus but stay for the deeper freakishness. The Space Bender will deliver—guaranteed.
$270 street, deathbyaudio.com
EARTHQUAKER Special Cranker
This ultra-touch-sensitive stomp is, indeed, special: a warm, medium-gain overdrive designed to sound like you've added another tube to your amp's preamp section. With germanium and silicon modes, there's tons of tone variety on tap, and the silicon side, especially, has a fat, full voice that is responsive to picking technique and preserves the integrity of complex chords. At less than $100, it's a bargain, too.
$99 street, earthquakerdevices.com
EarthQuaker Devices Special Cranker Overdrive Demo | First Look
SILKTONE Fuzz
If you're a germanium fuzz fan, this plain-Jane-named box is a gem. But there's nothing plain about its operation. A large dial controls temperature bias, which is traditionally a problem with heat-sensitive germanium transistors. There's a pickup simulator/debuffer so the Fuzz can dwell anywhere in your signal chain. And, adding to the fun, there's also a 2-way toggle for "classic" or meatier, more harmonically saturated "raw" bias modes. Plus, the volume dial works dynamically with the fuzz and clean-up knobs to let you go from deliciously grainy fuzz to thick, Muff-esque doom tones to skanky, toothy, stabbing boost/overdrive.

$249 street, silktone.org
FENDER JV Modified Deluxe Telecaster
Fender's Japan-built guitars of the 1980s and 1990s are among the company's most underrated. Among the many gems Fender Japan produced at the time, the Jerry Donahue signature Tele stands out. The JV Modified Deluxe Telecaster isn't a reproduction of the JD, but you have to think Fender builders had one eye on that design while putting together this one. The soft-V neck is there, and the Deluxe Telecaster appointments. And while the switching and pickups aren't exactly the same, the series and out-of-phase switching options open up similar tone territories. The JV Modified is as playable a guitar as we've handled all year—no small distinction.
$1,349 street, fender.com
ORANGE Distortion
Ade Emsley, the Orange engineer who oversaw the resurrection of the new/old Orange effects, decided to overhaul the Orange Distortion entirely. Stating plainly that he didn't think the original was very good, he started from scratch—building a new JFET-based amplifier circuit with preset bass and midrange settings and an adjustable treble pot on the pedal's interior. That might sound limiting, but the Orange Distortion is both wide- and rich-sounding, bursting with amp-like crunch and, at times, beautifully articulate.
$249 street, orangeamps.com
Orange Distortion, Sustain & Phaser Pedal Demos | First Look
ORANGE Phaser
It takes intestinal fortitude to build a new 1-knob phaser these days. Most companies have slipped into the phase-manipulation arms race quite willingly. But the control now in vogue does nothing to diminish the tone transforming, psychedelicizing power of a 1-knob phaser. And thankfully, Orange had the cover of a vintage-re-issue project to justify building this ultra-elegant phase gem. Modulations balance beautifully between low and high frequencies, and, as a consequence, it feels open, clear, and dimensional.
$249 street, orangeamps.com
MXR Duke of Tone
Lest any of you out there worry, the partnership between MXR and Analog Man's Mike Piera that yielded the Duke of Tone is no mere marketing exercise. The DOT is built to a very high standard of quality that we don't often see in affordable mini pedals. Most importantly, it sounds fantastic and is worthy company for the Analog Man pedals with which it shares lineage. At least for this reviewer, the boost is the highlight. But all three modes—boost, distortion, and overdrive—exhibit a smooth, robust voice that can save an otherwise lackluster tone in a flash.
$149 street, jimdunlop.com
MXR Duke of Tone Demo | First Look
REVVTilt Overdrive
Session ace Shawn Tubbs' signature overdrive is a mid-gain wonder. It's very midrange-forward, but the response of the EQ controls on both sides offers tone options that range from Mike Campbell chime to Dumble-influenced lead sounds. A standout feature is the tilteq control, which allows for surgical sculpting of frequencies on the fly without any hassle.
$269 street, revvamplification.com