Built around two high-gainsilicon transistors, the Goblin was designed to deliver an intense yet smooth and full-bodied fuzz tone.
The pedal features three control knobs: Drive, Fuzz and output Volume. The Drive control allows you to augment or diminish the natural "chubbiness" and density this circuit produces. With the "drive" control fully up, you'll get maximum bass and gain response, with more intense fuzz. Decreasing "drive" adds clarity and helps preserve natural pick attack and dynamics, especially if you're using high-output pickups.

The Fuzz knob controls the Goblin's voltage feedback-type fuzz circuit. The best way to find your ideal tone is to begin with Fuzz at its maximum setting and lower to taste. The more intense fuzz tones are to be found in the last quarter of the rotation so only subtle movements are necessary. The less intense fuzz tones found with the dial set at the noon position and below become useful when the pedal is used with an overdriven valve amplifier. Please note: It is totally normal for this dial to produce a slight static noise as it is adjusted.
Features
Hand made in Raleigh, North Carolina
Volume, Drive, and Fuzz controls
True bypass switching
9-volt DC via by standard external power - no battery compartment
Humanoid GOBLIN Tone Distorter
Available for purchase at: humanoidpedals.com
Humanoid
Affordable modulated analog delay in miniature.
An excellent sounding and affordable passport to the universe of modulated analog delay that also respects tradition.
Micro size is a blessing and, for some, perhaps a small curse.
5
4.5
3.5
5
Despite the spacey name, the Constellator isn't the most out-of-this-world contraption made by Pigtronix. For that prize, I would submit the Mothership 2 Analog Synthesizer, which is raving madness in a box. Madness is relative though, and the Constellator is possessed with a more warm-hearted insanity. And while this analog delay does playfully cross the line into modulation in two ways, it has more of a star- (or maybe shoe-) gazing vibe that's warm and old-school in tone, but looks beyond the orbit of conventional delay.
Little Dreamer
Modulated delay isn't new, of course, but it's harder to find in a stompbox this compact and affordable. The Constellator is tucked into a small, solid metal box that measures 1 1/2" x 1 3/4" x 3 3/4" and offers a maximum delay time of 600 ms. It's got your basic 1/4" in-and-out-mono jack set and requires a 9V DC barrel-type power supply. Needless to say, there is zero space for a battery option. There are four dials atop the Constellator: time, mix, mod, and repeats. The additional control is a push button just below those dials marked "feel"—a subtly vibey little function we'll get to in a bit.
When I investigate a new analog delay, I always pull out one of my favorite dinosaurs for comparison: the Analog Delay MXR made between 1976 and 1984. The MXR's characterful nature is, in part, ascribed to the use of MN3005 bucket brigade delay chips, the same chip at the heart of this Pigtronix stomp. The Constellator's time, mix, and repeat dials correspond with the big green MXR's delay, mix, and regen. And tonally, the little Pigtronix compares extremely well, providing the same warmth and richness as the MXR. With the repeats cranked, the Constellator also produces the familiar oscillating feedback trails that I love and prize for their Forbidden Planet quality.
All Mod, No Cons
Per usual, I plugged guitars with single-coil, humbucking, and gold-foil pickups into the Constellator, and used my Carr Vincent amp with the EQ straight up. I was extremely impressed with this little device's big embrace.
The controls had more range than my beloved MXR and performed flawlessly in traditional applications. The Constellator handles slapback duties like a champ. With more modulation, the repeats took on a sweet vibrating sound— imagine Scotty Moore's Echosonic with a slight hangover, and you'll get the idea. Spacier emissions were equally pleasing, and with time, mix, repeat, and mod controls at 3, 3, noon, and noon respectively, the Pigtronix moved into Magnatone turf and got dizzier as the mod dial went up. But I really enjoyed the more extreme settings, where notes seemed to warp and degrade as they hung and faded in the air. Punching in the feel button made this sound even weirder. The feel function is essentially a chorus, but it really accents the colors and degradation in the repeat trails, sounding, at times, like analog tape that has been stretched. Even so, clarity and definition remain in every picked or echoed note. This truly is a lovely sounding pedal.
There are a few snakes in the garden. The dials are quite tiny, and close enough to each other that I can just slip my thumb between them, which means adjustments on the fly require focus. There are grooves in the sides of each dial to make gripping them easier, but those of us with big paws may still be slightly challenged to make precise adjustments. Also, the feel button is so close to the mod and repeat dials that I accidentally popped it on with my big-ass thumb several times while making adjustments.
The Verdict
The Pigtronix Constellator is a mighty mite of an analog delay, with warm sounds that equal much pricier pedals. And the mod and feel controls take tones into infinity and beyond. But while its small size is an asset for the pedalboard space-challenged, that's also a slight issue for those of us who buy our gloves at Thornton Melon's Tall & Fat Stores. If that issue isn't a problem for you, the Constellator could become a valued tool for drawing your own map of the sonic stars.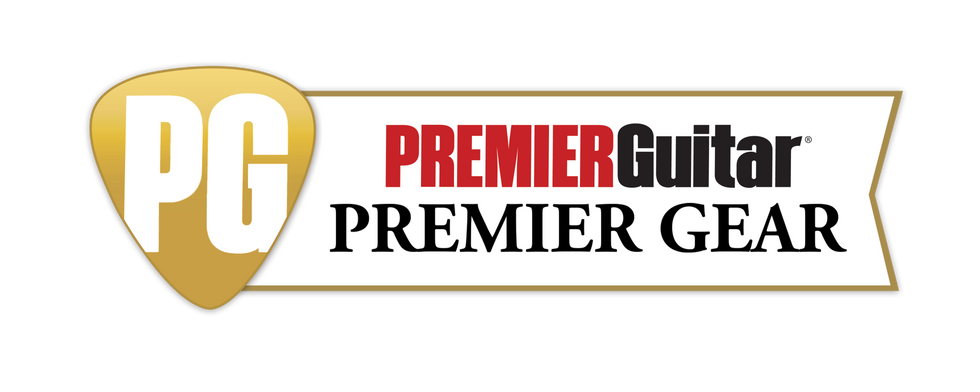 A backwards Strat, a radical Jetsons-y guitar, Def Leppard's secret weapon, and more pedals than currently listed on Reverb fill this YouTuber's tone lounge.
He's played with Santana, Stevie Wonder, and a host of other greats, and his lessons and demos on YouTube have garnered more than 15-million views—so there's a good chance you already know this Nashville-based guitarist.
Now, take a look inside his studio and eyeball an impressive armada of guitars, amps, and effects with PG's John Bohlinger.
[Brought to you by D'Addario XPND Pedalboard: https://www.daddario.com/XPNDRR]
Guitars
(Ronquillo has a lot of 6-strings, but we narrowed down this Rundown to a few favorites that do most of the heavy lifting.)
Pretty in Pink
This Nash S-81 features an EMG SL20 Pro Series Steve Lukather signature set of pickups, and it's strung with a D'Addario NYXL .010–.046 set.
Original Senn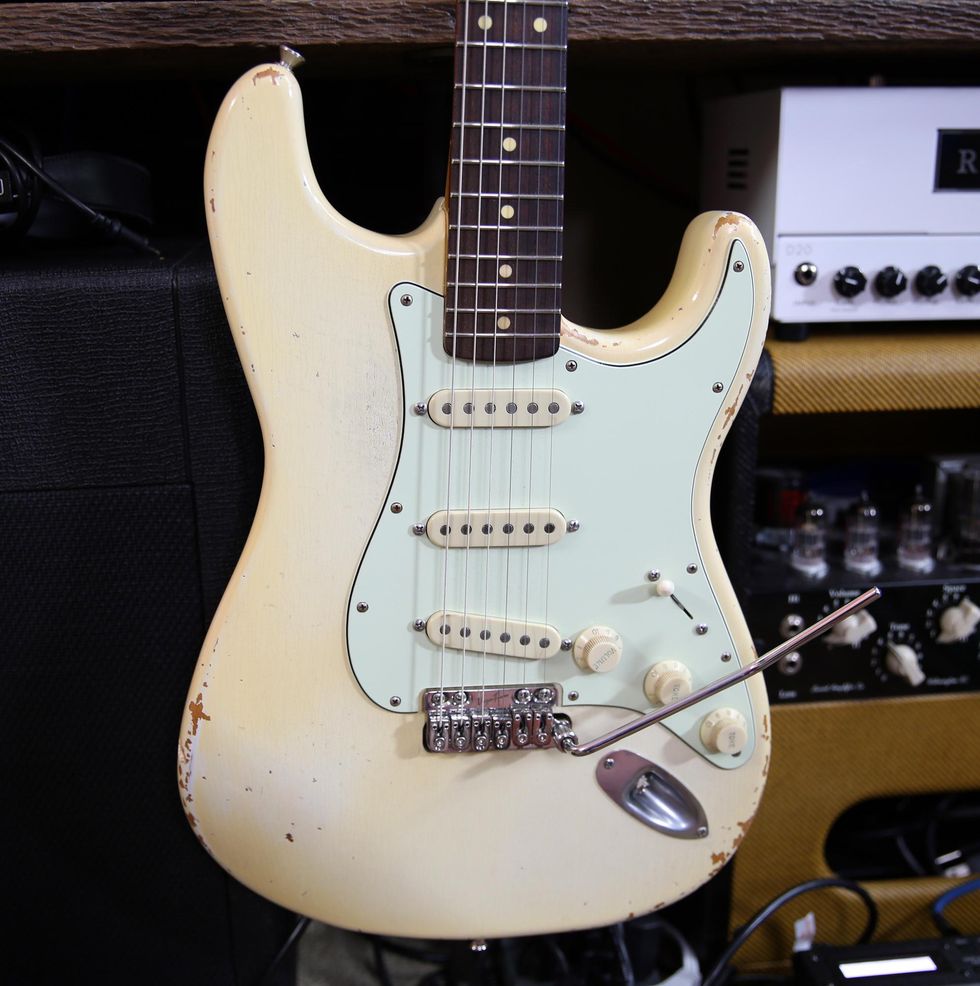 This is one of Nashville builder Jeff Senn's Fullerton S-styles, with Lollar pickups, a Vega-Trem tremolo, and a set of D'Addario NYXL .010–.046s.
In for the Pun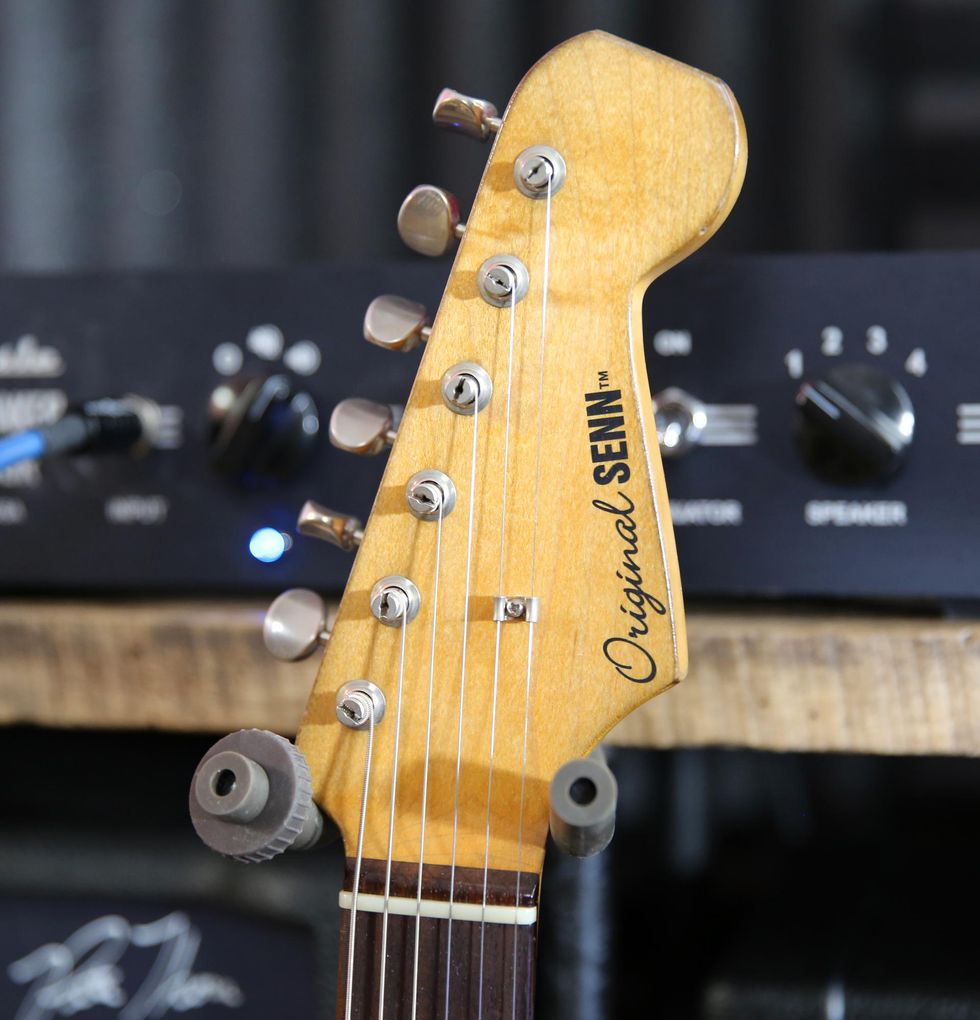 Yes, Senn thinks this is funny, too.
Bet on the Knaggs
Here's a Doug Rappaport signature Knaggs Kenai DR, featuring a Seymour Duncan Slash neck pickup and a Duncan Custom Shop '78 in the bridge. Ronquillo added a String Butler tuning stabilizer. Once again: D'Addario NYXLs, .010–.046.
Photo Finish
This Novo Custom Serus J features a one-of-a-kind "Ron-Tealio" finish with Brandonwound P-90s. Same D'Addario NYXLs. Cool speed dials and whammy bar tip, yes?
S-Style with a Twist
And now for something completely different, here's an RS Guitarworks Twisted. The guitar has an alder body and a rosewood neck, with Fralin Woodstock pickups. RJ uses a Stringjoy Hendrix set: .010, .013, .015, .026, .032, and .038. The lighter G string supposedly provides a more balanced tone.
Make Way for Junior
Here's another axe with history in its genes: a Grez Mendocino Junior. In classic Junior form, it has a 1-piece body, but it is made from reclaimed old-growth redwood. The neck is solid Honduran mahogany with a Macassar ebony fretboard. The pickup is a dog ear Wolftone MeanerP90. This one sports RJ's usual D'Addario NYXLs.
A Barney—Not the Purple One
This cherry sunburst 1964 Gibson Barney Kessel Custom is all stock, replete with bow-tie inlays and elegant binding. For a bit more beef, it's strung with Thomastik-Infeld George Benson strings: .012, .016, .020w, .028, .039, and .053. Note the cool badge at the bottom of the tailpiece.
Amps—Loud City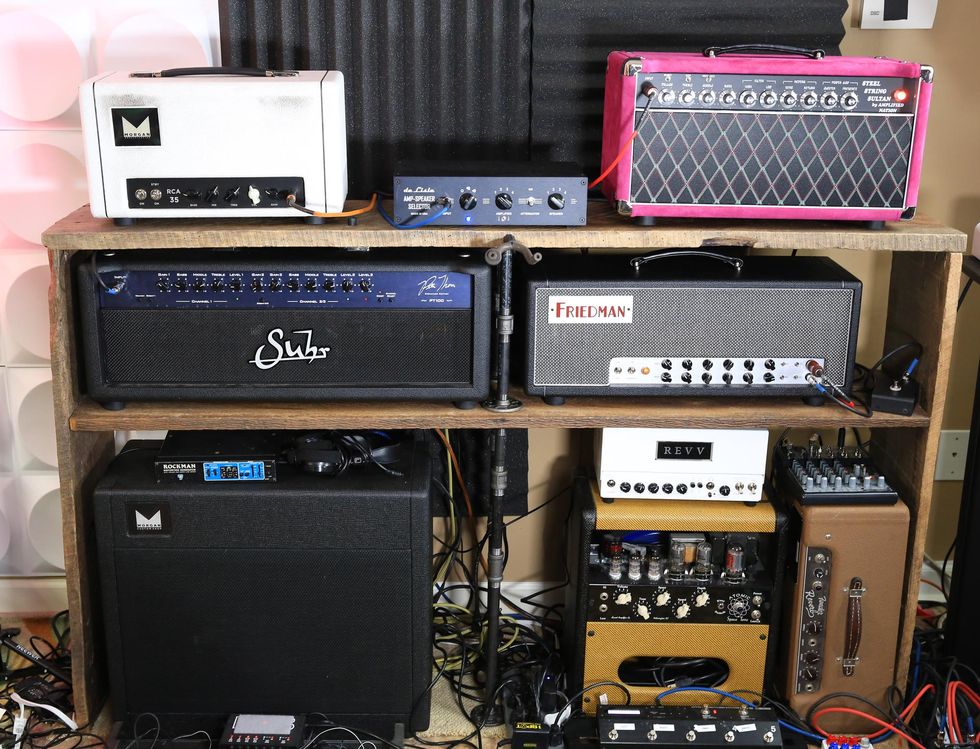 RJ has a lot of amps, so we narrowed it down to those in "Tonehenge," the part of his studio that houses his amplifiers that are in current heavy rotation.
Morgan Horsepower
Want classic American amp tone? Here's your pony. This 35W head uses two 5881 power tubes, two 12AV7s, and a GZ34 rectifier.
Yes, Suhr
This Pete Thorn signature has three channels, an effects loop, four EL-34 power tubes, six 12AX7 preamp tubes, and is set up for MIDI control.
Sibling Revelry
This Friedman Twin Sister uses 40 watts to go for classic British tone. It's inspired by the Marshall JTM 45. Each channel has a bright switch and a 3-position gain switch, and there are two 5881s and five 12AX7s lurking inside.
Sultan of String
With a nod to Howard Dumble, here's Amplified Nation's Steel String Sultan—a 25 watt version of this custom build. As you'd expect, the Boston-area company has packed it chock full of top-of-the-line components, including orange drop and NTE caps, and Classic Tone and Heyboer transformers.
White Box of Rock
Helping Ronquillo have even more options when it comes to recording and routing, he employs this Two Notes Torpedo Captor X Stereo Reactive Load Box.
The Chains We Forge in Tone
RJ is a pedal guy. His rig flows through a series of boards, but the signal from his guitar firsts lands here, at a JAM Pedals Wahcko wah and a Sabbadius Funky-Vibe Fillmore East edition.
Like a Peach
From there, the signal hits his "Fuzz Board," which includes a One Control Iguana Tail Loop 2 switcher feeding a King Tone MiniFuzz germanium, a Wes Jeans Texas Fuzz silicon fuzz face clone, an Expresso FX Fuzz Bender Mk 1, a Wren and Cuff Small Foot Box of War muff-style, a J.Rockett .45 Caliber overdrive, and an MXR CAE buffer.
Switch It Up
Since there are three more pedalboards in RJ's setup, this Boss ES-5 Switcher is sensible
The Main Vein
A lot goes down here. When that Boss switcher sends the guitar signal this way, it encounters a Peterson StroboStomp HD tuner, a DigiTech Drop, a DryBell Unit 67 EQ/boost/comp, a King Tone Octaland mini octave pedal, an AnalogMan Sun Face, a Pogo Pedals Zen Ray overdrive, a Nobels ODR-1, his signature Mythos Susmaryosep! boost/overdrive/echo, an LPD Eighty 7 distortion, a Vertex Boost, a Roland EV-5 expression pedal, a GFI Synesthesia multi-modulator, JAM's Harmonius Monk tremolo, and a Boss FRV-1 '63 Fender Reverb.
Next!
Currently to the right of the main board, these: a Voodoo Lab Micro Vibe, Fulltone's Ultimate Octave, a King Tone Duellist dual overdrive, MXR's FET Driver, and a LPD Seventy4 overdrive.
But Wait, There's More
You ain't seen nuthin' yet. Okay, you've seen a lot. But there's also, to the left of the main board: a Mythos High Road mini fuzz, a Beetronics Vezzpa Octave Stinger Fuzz, a Cornerstone Gladio dual overdrive. a Vertex Ultra Phonix Overdrive, and a Vertex Ultra Phonix HRM overdrive. He uses Truetone, Cioks, and T-Rex power supplies.
And Even More!!
Another board is home to four filthy boxes—a Metropoulos Supa Boost, Hudson Electronics Broadcast-AP preamp (Ariel Posen signature), Lovepedal Tchula Boost, and an Analogman Beano Boost.