Strats, Explorers, Les Pauls, AC30s, and a healthy amount of delay help form some of the most iconic tones ever recorded. Famed tech Dallas Schoo walks us through the ins and outs of The Edge's expansive setup.
This past June, PG traveled to the Wells Fargo Center in Philadelphia to catch U2's eXPERIENCE & iNNOCENCE Tour. Before the band's soundcheck, John Bohlinger hung with Dallas Schoo, who has been taking care of The Edge's ever-changing collection for over 30 years.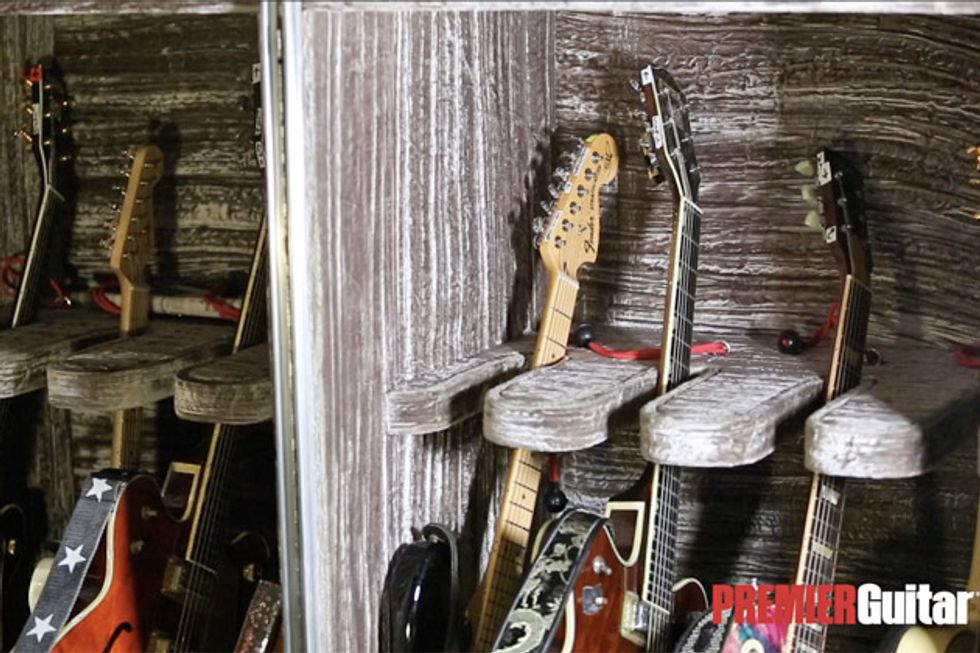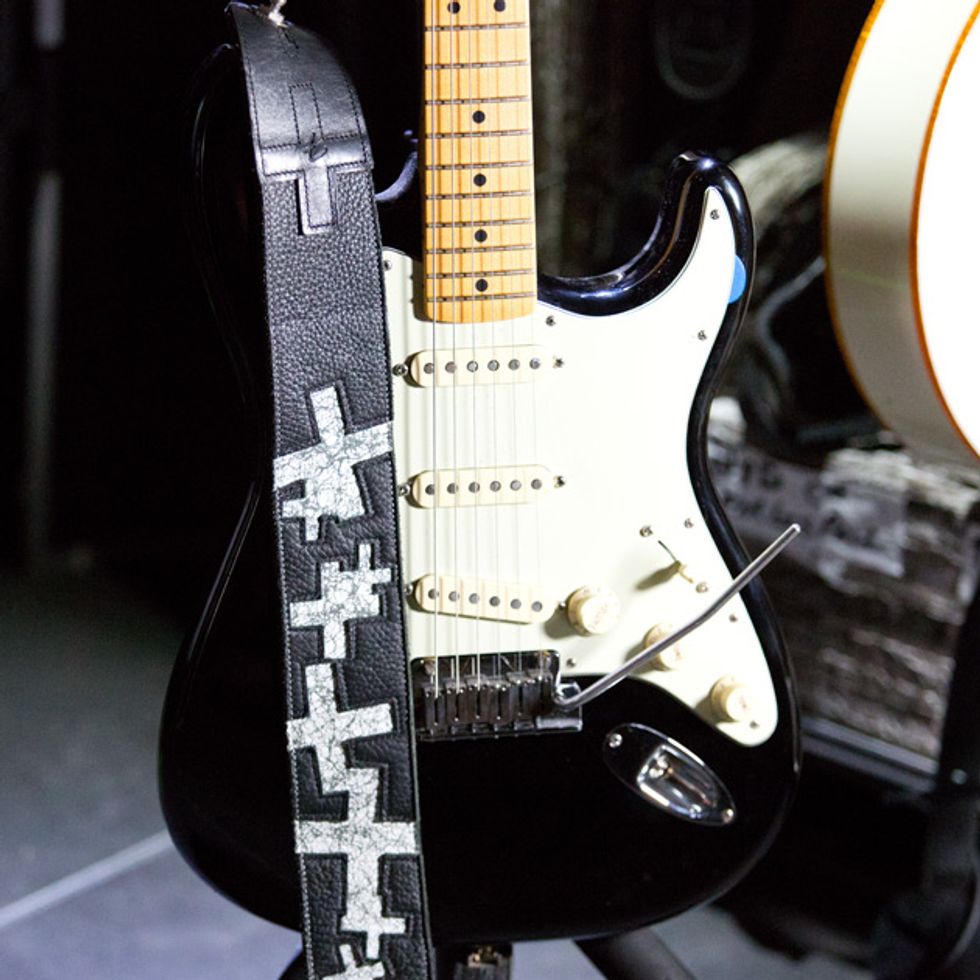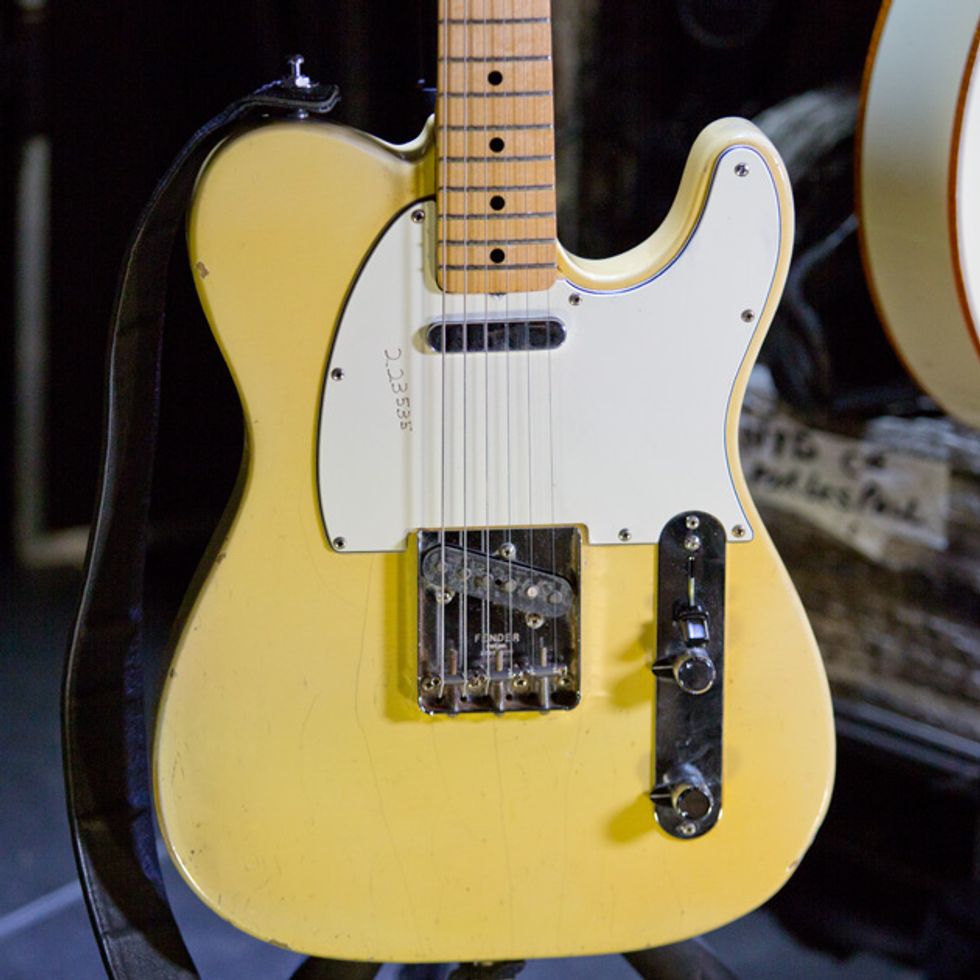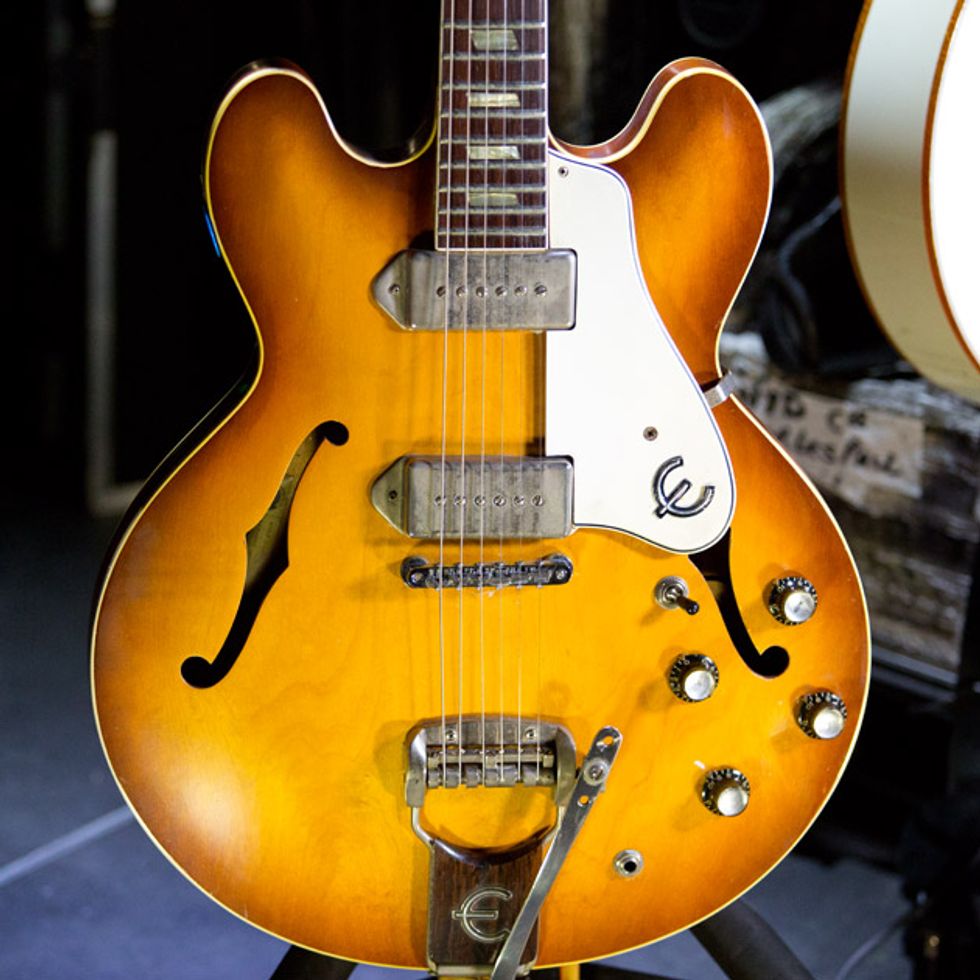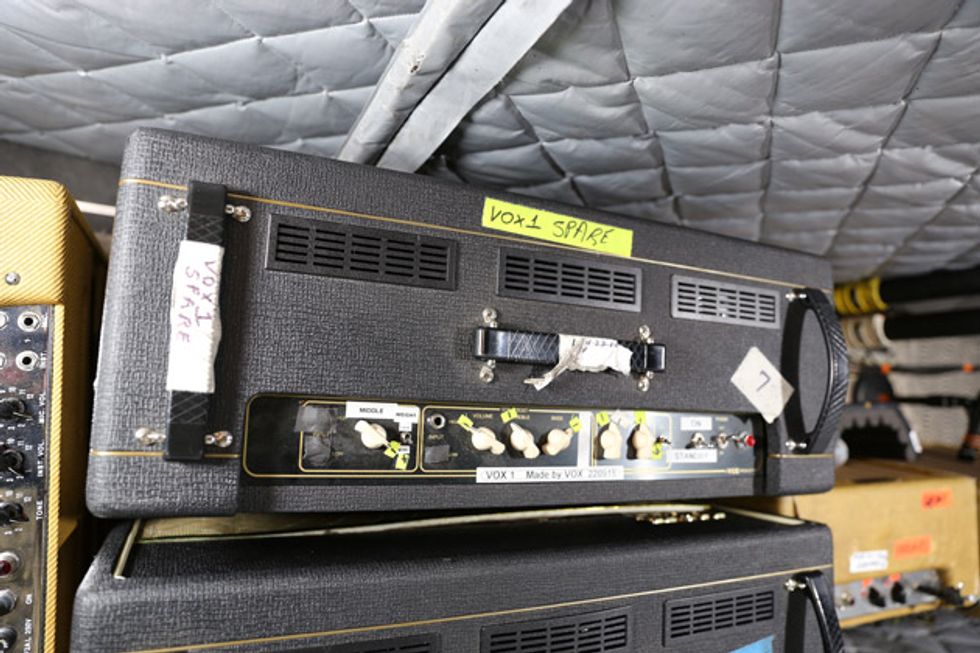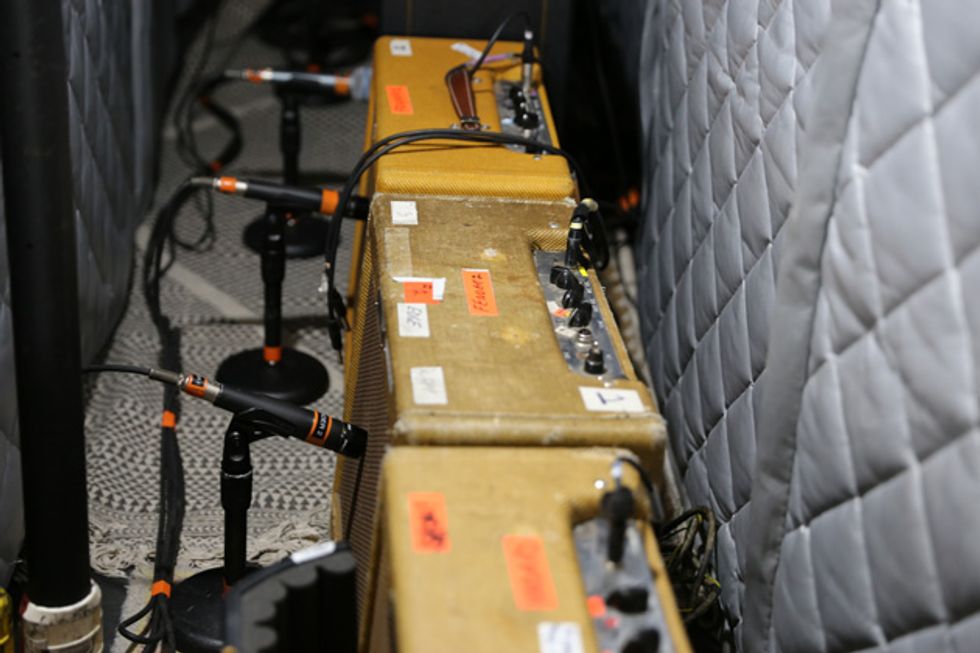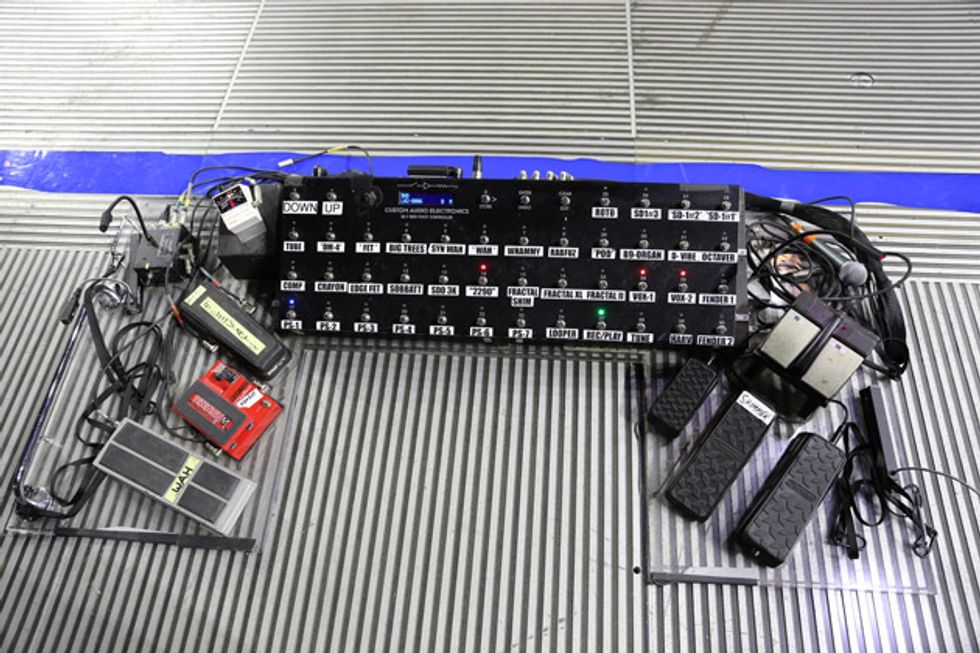 Click to subscribe to our weekly Rig Rundown podcast:

Be sure to enter for your chance to win a Fender The Edge Stratocaster.
Warwick brings a less-expensive version of their Adam Clayton Custom Shop signature model bass to the table.
Clip 1: Bass rolled off 15 percent, treble maxed
Clip 2: Bass rolled off 25 percent, treble rolled off 75 percent
Warwick's Adam Clayton Rockbass model is the younger, less expensive sibling of the U2 bassist's upscale Custom Shop model. The bass is made in Warwick's facility in Asia and includes variations on many of the accouterments sported by its higher-priced relative. Just like the Custom Shop model, the Clayton Rockbass is designed for generating P-bass flavored tones with a decidedly modern edge—but at a price point that's less likely to make jaws drop.
Kith and Kin
To the casual observer, Clayton's Rockbass looks virtually identical to his high-end bass produced in Warwick's Custom Shop. And despite the changes to help keep its price affordable, it still manages to deliver much of the original's versatility, smooth playability, and vintage thump. The instrument's curvy P-bass-meets-Dalí body is made of alder, which was chosen as a price-conscious alternative to the costly lightweight swamp ash used for the Custom Shop model. Its white crème finish has just enough yellow tint to give it a classy aged look while retaining a nice hint of sparkle. Both the single-ply black pickguard and small, wooden thumb rest of our review model looked flawless from a distance, but close inspection revealed frayed edges along the pickguard and a stripped screwhead in the thumb rest—minor issues, but ones you don't want to see on an $800 bass.
"The treble grew crisper as I dug into the strings with more punk rock vigor, and their edginess backed off a bit when I lightened my attack with subtler grooving."

Its raw, 3-piece maple neck (versus a 1-piece on the Custom Shop model) is bolted onto the body using a 4-bolt design and rounded joint, and features a 34" scale length, 21 jumbo bronze frets, and a modern 9.5" radius maple fretboard with black-block inlays. The neck on our review model felt smooth to the touch with a comfortable taper, but it should be said that the slot for the 9th fret wire looked like it had been miscut and the extra spacing hastily repaired with a dab of body filler. The strings are anchored in place using a standard 2-piece Warwick bridge, a Tedur nut, and a set of large, chrome tuners.
Clayton's Rockbass sports a single Seymour Duncan Quarter Pound pickup with passive MEC electronics, the output of which is shaped using controls for volume, bass, and treble. It's a simple setup that offers a clever way to tame the Quarter Pound's aggressive highs and lows while leaving the midrange intact—resulting in a more vintage-like growl instead of the modern scooped tone that the pickup tends to deliver when run full-bore.
Scion Tamer
After strapping on the bass, I was surprised at its lack of neck dive and how evenly its weight balanced against my shoulder. The body is more compact than a typical P-bass shape, but the elongated upper horn seemed to help in distributing its body-to-neck weight. Thanks to the position of the thumb rest, I was able to place my hand close to the strings for nimble and precise picking, and its small size prevented it from getting in the way when flatpicking close to the neck.
Ratings
Pros:
Passive EQ is highly dynamic and versatile. Comfortably tapered neck. Good balance.
Cons:
Some minor fit and finish flaws. A little pricey.
Tones:


Playability:


Build/Design:


Value:


Street:
$799
Warwick Rockbass Adam Clayton Artist Line
warwickbass.com
I began by setting the Rockbass's onboard EQ controls for full bass and treble, then plugged into an Ampeg SVT driving a 4x10 cabinet. The Quarter Pound pickup delivered the raw and aggressive tone that's made it a staple of hard-rock bass—an earth-moving concoction combining crisp and articulate highs, plus slightly scooped mids with an emphasis on the lower-midrange spectrum, supported by a frighteningly deep low end. The treble grew crisper as I dug into the strings with more punk-rock vigor, and their edginess backed off a bit when I lightened my attack with subtler grooving.
Fans of Clayton's trademark warm and thumpy bass tones with U2 might be surprised that his new signature bass comes loaded with a pickup that's so focused on the treble and bass frequencies. The trademark P-bass punchiness is there—without a doubt—but the stalwart highs and mammoth low end infused with it resulted in a tone that I would be hard-pressed to describe as "vintage." With a couple of quick adjustments of the onboard bass and treble controls, the pickup's raucous output can be shaped into those classic tones and many more.
To achieve a flatter tone, I simply dialed back both controls about a third to meet the midrange scoop. Using this setting as my starting point, I only needed to employ small adjustments to the controls to uncover a surprisingly wide gamut of useful tones for a variety of genres, including mellow blues, jazz, high-spirited classic rock, and gritty contemporary Americana. And as for tones close to those of the man himself, I had no difficulty in approximating them by turning the treble knob down a little below half-way, turning up the bass control to around 70 percent of its range, and adjusting the SVT's preamp-gain knob to taste for filling out the tone while warming up the low end.
The Verdict
The Warwick Rockbass Adam Clayton Artist line bass is a solid instrument that delivers an impressive range of vintage and modern tones. Much of that versatility can be attributed to a simple passive EQ system that excels in shaping—and taming, if desired—the tones produced by its high-output pickup. Our review model did arrive with a couple of minor build flaws. And while they didn't affect playability or function, they are hard to overlook on a bass with an $800 asking price. Blemishes aside, this new Adam Clayton model is still an attractive option for players looking for a simple and unique bass that covers plenty of ground.