Deluxe Memory Man creator Howard Davis collaborates with J. Rockett on a classic-sounding bucket brigade echo with digital control.
Nuanced, complex, and organic bucket brigade echo tones. Power modulation section. Great expression pedal functionality. High quality.
5
5
4
4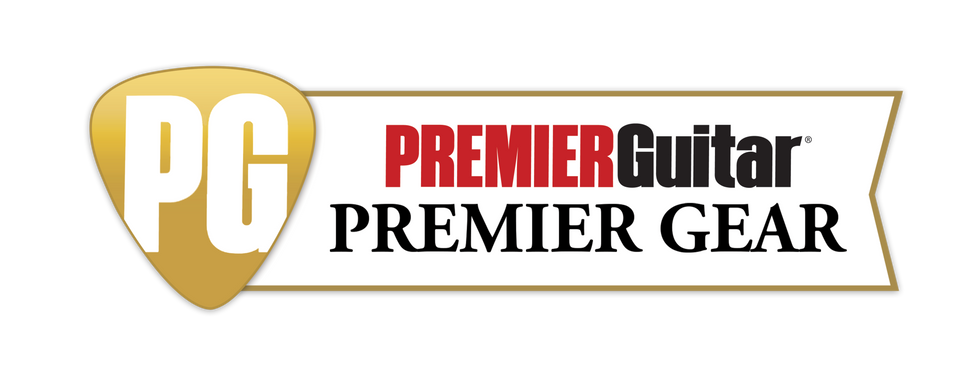 Though I treasure it, my vintage Electro-Harmonix Deluxe Memory Man has seen better days. Its aging innards make many mystery noises, the pots wobble and crackle, and it hasn't shrunk down to a more convenient size in the intervening decades. It could really use a top-to-bottom tune-up from an expert. Or, I could just consider chasing down a Clockwork by J. Rockett Audio Designs.
---
The Clockwork analog delay was co-designed with one of the foremost experts in Deluxe Memory Man circuitry. In fact, it was designed with the man who conceived the original Deluxe Memory Man, Howard Davis. Pedigree aside, Davis' design input is clearly audible in the authentically DMM-like output of the Clockwork. So is J. Rockett's knack for refining already near-perfect circuits. The Clockwork is lively, feels super dynamic and responsive, and features practical improvements on the original design, like switchable modulation, expression pedal functionality for delay time and repeats, and digitally controlled tap tempo.
Putting the Rock in Rockett
Original Deluxe Memory Man pedals could be a bit fragile. The folded steel enclosure on mine cratered around the footswitch, and the vibrato/chorus slider switch bought the farm years ago. There's little risk of such fates befalling the Clockwork's hardware. While just a fraction of the size of a DMM, it weighs more thanks to the burly and bulletproof enclosure. Switches and knobs all work like features from precision scientific instruments.
The improvements on the original DMM design are smart and pay immediate creative dividends. For starters, there's 600 ms of available delay, rather than the 300–400 ms maximum delay time of an original. There are also speed and depth controls for the Clockwork's modulation, rather than the single depth knob on the DMM. The modulation can be switched in and out with a footswitch, which was not possible on the DMM.
The expression pedal functionality for delay time and delay repeats also expands the Clockwork's color palette in thrilling, visceral ways
The tap tempo switch and expression pedal functionality for delay time and delay repeats also expands the Clockwork's color palette in thrilling, visceral ways. There's only one real noticeable absence from the DMM's feature set, and that's the vibrato/chorus switch. While J. Rockett opted for the vibrato effect exclusively, the extra control makes chorus and flange-like effects possible.
Radical Replay
If there's a word to sum up the feel of the Clockwork, it's "alive." To my ears, there is a genuinely organic feel in the way the repeats decay and blend into a cohesive wash as they slip into the ether—making Clockwork ideal for spacious repeat times and multiple echoes. Slapback sounds crackle with energy and attitude, especially when you add gain from the level control, which, by itself, adds everything from a barely discernable dB bump to a hot, mid-'60s Mike Bloomfield edge. At its highest gain settings, it will kick a tube amp into beautiful mid-gain crunch spaces. And adding fast-repeat, quick-decay doubling effects from the Clockwork's delay section can make rhythm riffs and leads sound sizzling.
The Clockwork's modulation section is vastly more versatile than the chorus/vibrato on a Deluxe Memory Man. The depth and speed controls have expansive range, and you can create much more varied and weirder textures than anything from an old EHX. At speed settings of about 75 percent of maximum, the vibrato pulses like a cross between fast bias tremolo and Magnatone amp vibrato. Dial back the speed a bit more, reduce the delay time, and bump the repeats to approximate reverb, and you have a very idiosyncratic, spacey, and slightly metallic rotary speaker tone that twists Memphis soul chord progressions and melodic leads into less familiar forms. Applying these similarly strong modulation tones to long delays and repeats yields woozy, queasy pitch wobble, or, at faster speeds, ray-gun trills.
The Verdict
I'm not the only person I know who is reluctantly retiring their Deluxe Memory Man to special-occasions-only usage. It's hard to imagine a more intriguing replacement than the Clockwork.It's a lot more fun than most digital DMM emulations. It feels more lively, more responsive, and interactive. Your opinions may vary if you like immaculate repeats. And if your pedalboard is stacked with a zillion other devices, the Clockwork's colorful, sometimes hazy and dirty delays might lose some magic and nuance in the wash of 10 pedals. The Clockwork still sounds amazing under such conditions, and you don't need a streamlined pedalboard to get the most out of it. But players who make the Clockwork a centerpiece of a smaller rig might be startled by how many pedals the lush and limber device renders redundant.
J. Rockett Audio Designs Clockwork Echo Demo - First Look
Looking for more great gear for the guitar player in your life (yourself included!)? Check out this year's Holiday Gear Finds!
Created in collaboration with legendary guitarist George Lynch of Dokken and Lynch Mob fame, the Mr.Scary Mod adds an adjustable tube gain stage and an onboard Deep control, which together are designed to enable an amp to have increased sustain while still retaining note definition and dynamics.
LegendaryTones, LLC today announced production availability of its new Mr. Scary Mod, a 100% pure tube module designed to instantly and easily expand the capabilities of many classic amplifiers with additional gain and tone shaping. Created in collaboration with legendary guitarist George Lynch of Dokken and Lynch Mob fame, the Mr.Scary Mod adds an adjustable tube gain stage and an onboard Deep control, which together are designed to enable an amp to have increased sustain while still retaining note definition and dynamics.
Originally released as the Lynch Mod in February 2021, the updated Mr. Scary Mod features the same core circuit as the Lynch Mod but is now equipped with a revised tube mix combo per George's preference as well as a facelift in a newly redesigned electro-galvanized steel enclosure. As with the Lynch Mod, each run will be limited and the first run in Pumpkin Orange with Black hardware is limited to just 150 pieces worldwide.
​The Mr. Scary Mod adds an adjustable tube gain stage on top of the cathode follower position, keeping note definition and articulation while further increasing sustain. Each Mr. Scary mod is meticulously built by hand in the USA, one at a time, and tuned using high-grade components. Equipped with a single ECC81 (12AT7) in the first position and ECC83 (12AX7) in the second, the Mr. Scary Mod can clean up beautifully when rolling down your guitar's volume, and still adds scorching gain when you roll it back up. This is a gain stage that's been tuned and approved by the ears of the maestro George Lynch himself.
"The Mr. Scary Mod excels with dynamics and is incredibly touch-responsive, allowing me to shift from playing clear, lightly compressed cleans to full-out aggressive sustain and distortion –and control it all simply by varying my guitar's volume control and picking," said GeorgeLynch. "In many ways, it's an old-school approach, but it's also so much more natural and expressive in addition to being musically fulfilling when you can play both the guitar and amp dynamically together this way."
The Mr. Scary Mod installs in minutes, is safe and effective to use, and requires no special tools or re-biasing of the amplifier. Simply insert the module into the cathode follower preamp position of compatible amplifiers (includes Marshall 2203/2204/1959/1987 circuits) and

immediately get the benefit of enjoying a hot-rodded amp that delivers all the pure harmonic character that comes with an added pure tube gain stage. The handmade in the USA Mr. Scary Mod is now available to order for $319.
For more information, please visit legendarytones.com.
October Audio has miniaturized their NVMBR Gain pedal to create two mini versions of this beautifully organic-sounding circuit – including an always-on gain device.
The NVMBR Gain is a nonlinear amp that transitions gracefully from clean boost to overdriven tones. Volume increases from just over unity to about 10db before soft-clipping drive appears for another 5db of boost. Its extraordinary ease of use is matched by outstanding versatility: you can use it as a clean boost, push a stubborn amp into overdrive or create a just-breaking-up sound at any amp volume.

October Audio's new family of mini NVMBR Gain pedals includes a switchable version that allows you to bypass the effect: one option features brand logo pedal graphics, while the other sports a fun "Witch Finger" graphic with a Davies knob as the"fingernail".
The second version in the new lineup is an always-on device featuring the Witch Finger graphic and Davies knob, with the same NVMBR Gain circuit that lies at the core of the switchable version.
Features:
Knob controls gain and clipping simultaneously
Stunning silver hammertone finish
Switchable versions are true-bypass, available with classic or witch finger graphics
Authentic Davies knobs, including the "fingernail"
9V center negative power supply required
Dimensions: 3.63 x 1.50 x 1.88 in​
Witch Finger (always on NVMBR Gain) demo
​All October Audio pedals are assembled in Richmond, VA, and available for purchase directly through the online shop. Street price is $109 for NVMBR Gain footswitch versions and $89 for the always-on device.
For more information, please visit octoberaudio.com.