Photo by Jen Rosenstein
After his longest touring break in 20 years, the Black Label Society mastermind talks about the evolution of Doom Crew Inc.—the band's first-ever studio album to feature a second guitarist.
There aren't many characters like Zakk Wylde left in the guitar-scape these days. The man has been a fixture—not to mention one of the biggest personalities—within guitar culture since emerging as one of the most respected players of the impossibly athletic late-'80s scene. Wylde's accolades, exploits, and influence span decades now, so chances are if you're reading a guitar magazine, the animated, self-styled "Viking" from New Jersey needs no introduction. However, for the uninitiated, Wylde rode the crazy train from virtual obscurity to practical ubiquity on the distinction of being the longest-serving guitarist (and frequent songwriting partner) for legendary metal vocalist Ozzy Osbourne—whom Wylde still reverently refers to as "the Boss."
The story of Wylde's ascension to Ozzy's court is the stuff of rock 'n' roll fantasy: At just 19, Wylde delivered an unsolicited, homemade demo tape, and soon he went from playing the club stages of the local rock circuit to arenas around the globe. It was the gig of a lifetime pulled from a high-school daydream for Wylde, whose own guitar lodestar has always been the late Randy Rhoads—the shred icon who shaped the sound of Osbourne's first two solo records after leaving Black Sabbath. But while Wylde's playing features no small share of Rhoads-isms, his unique mélange of swinging riffs, pentatonic flash, signature pinch-harmonic squeals, and a vibrato as wide as the bell bottom jeans he once favored went on to define the sound of the latter half of Osbourne's career—particularly on touchstone albums like 1988's No Rest for the Wicked and 1991's No More Tears.
Black Label Society - Set You Free (Official Music Video)
As a fully-fledged singer-songwriter in his own right, Wylde has used his band Black Label Society as the primary outlet for his many talents (including some decidedly delicate piano chops) since 1998. The quartet has gone through a few lineup changes over the years, but the latest iteration—Wylde, longtime bassist John DeServio, rhythm guitarist Dario Lorina, and drummer Jeff Fabb—has been together going on eight years now. The band recently released its 11th studio album, Doom Crew Inc., and returned to the road after laying low and waiting out the worst of the pandemic.
"I enjoyed the time home because I'm never home," Wylde tells PG over the phone from the confines of the BLS tour bus. "This was the longest I've been home in 20 years, and to be home for 18 months and wake up in my bed and be able to hang out with the family and the dogs in the morning and have coffee—without a doubt I enjoyed it." But he's quick to point out he spent time keeping his chops up at home, too, particularly by breaking out treasured Ted Greene books, like Modern Chord Progressions: Jazz & Classical Voicings for Guitar.
"The coolest thing about music—or anything, really—is the passing of the knowledge and the passing of the gift."
Hitting the Riff Gym … and Iommi's "Estate Sale"
But, even while biding pandemic time, hanging with family, and woodshedding, Wylde kept things brewing for Black Label Society. The group released the None More Black box set in April of 2021, and then, as the perpetually pumped Wylde explains, things shifted into an entirely different gear when the idea of a new album emerged.
"When it came time to make the next record, I asked my wife [and BLS manager], Barbaranne, when the guys were coming out to the Black Vatican [Wylde's home studio], and she said, 'In a month.' I was like, 'All right, I've got a month to write a record.' It's like if you're getting ready for a bodybuilding show—you've got 12 weeks to get dialed-in and start watching your diet and get as ripped as you can. I knew I had a month, so every day I would go out there with my practice amp, with the reverb set up so it sounds like I'm at Madison Square Garden, and start writing riffs."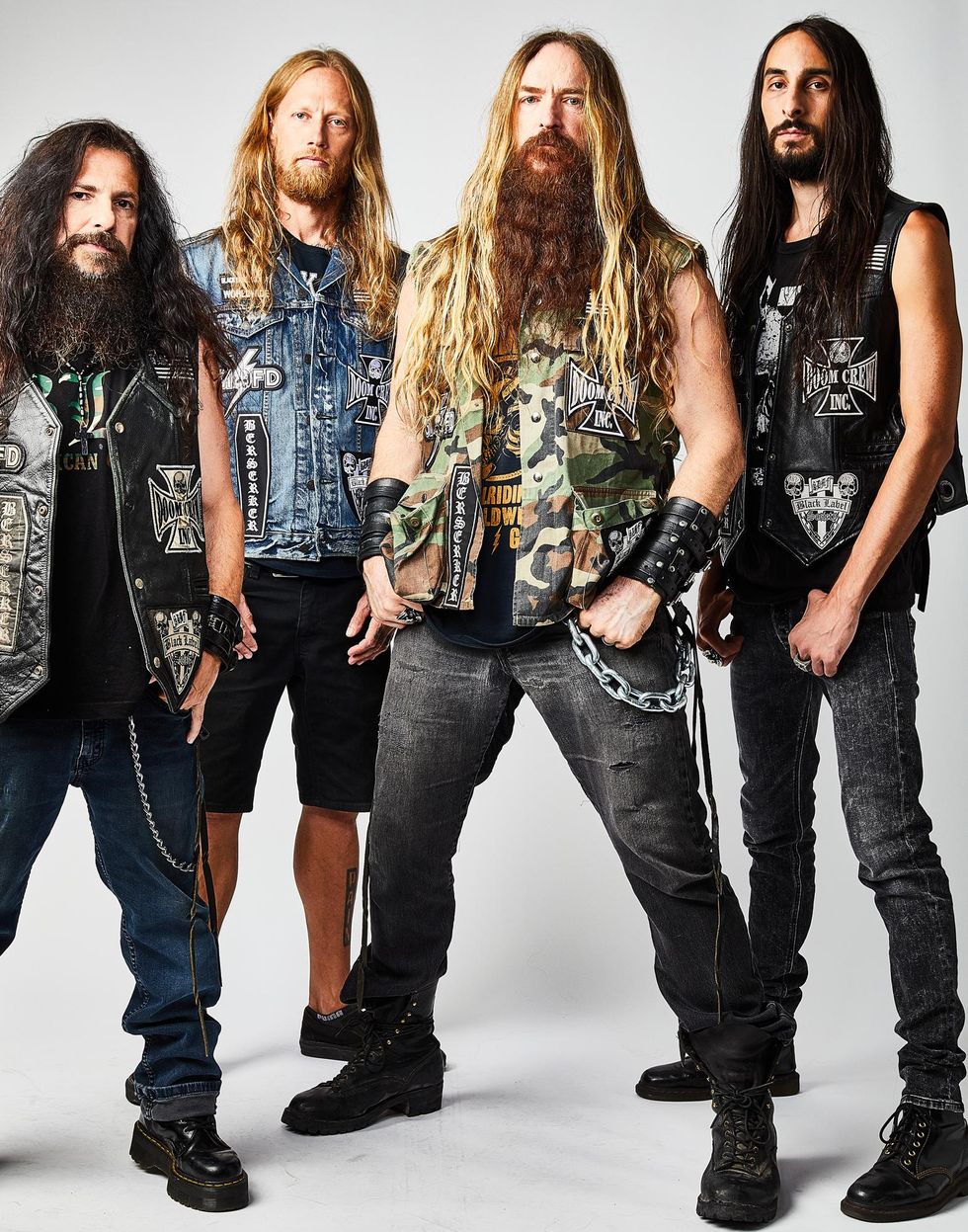 Black Label Society (left to right): John DeServio, Jeff Fabb, Zakk Wylde, and Dario Lorina.
Photo by Jen Rosenstein
And, indeed, Doom Crew Inc. finds Wylde and his BLS cohorts in competition form. "Every time I make a record, it feels like the first time, because you don't know what you're going to get at the end," Wylde says. "I still have a blast doing it because of that." Built on a foundation of chugging, churning, swinging riffs like those that have been the band's bedrock since day one, Doom Crew showcases Wylde's uncanny ability to draw fresh water from the well of inspiration that is Black Sabbath's first four records. Asked what it is about those LPs that keeps him so inspired after all these years, Wylde emits a barbarian laugh. "Tony Iommi is at the top of my list of influences—just as a songwriter! I laugh because, whether it's 'Gospel of Lies' or 'Destroy & Conquer,' it's like, 'Yeah, I got that riff at the Tony Iommi swap meet … behind a toaster at the Lord Iommi garage sale!'" Of course, ultimately, it's Wylde's personality as a songwriter and his touch as a player that define the songs. Sabbath's influence will always be a major ingredient in Black Label Society's sonic stew, but it's never going to be seasoned quite the same way twice.
Black Label Society's "Set You Free" Riff Rundown
While the songwriting on Doom Crew Inc. is classic Wylde fare, it's the first BLS record to feature a second guitarist. Wylde and longtime road sparring partner Lorina go toe-to-toe on several of the album's incendiary solo sections, trading licks and, at long last, bringing the counterpoint drama of the band's live shows to a studio album.
TIDBIT: Doom Crew Inc. is the first Black Label Society album to feature a second guitarist alongside Zakk Wylde.
"It was a natural evolution," Wylde explains. "On the older songs, like 'Stillborn' or 'Suicide Messiah,' we'd double certain parts together live, so I decided to add Dario in and have more fun at the party! We always extend the solo in 'Fire It Up' live, and that's become the big guitar solo of the night—we go back and forth like dueling banjos and it's always a good time. When we were doing this album, I was just like 'I'm going to extend the solos and we'll trade off here and here, and at the end we'll come in together and both play this line.'"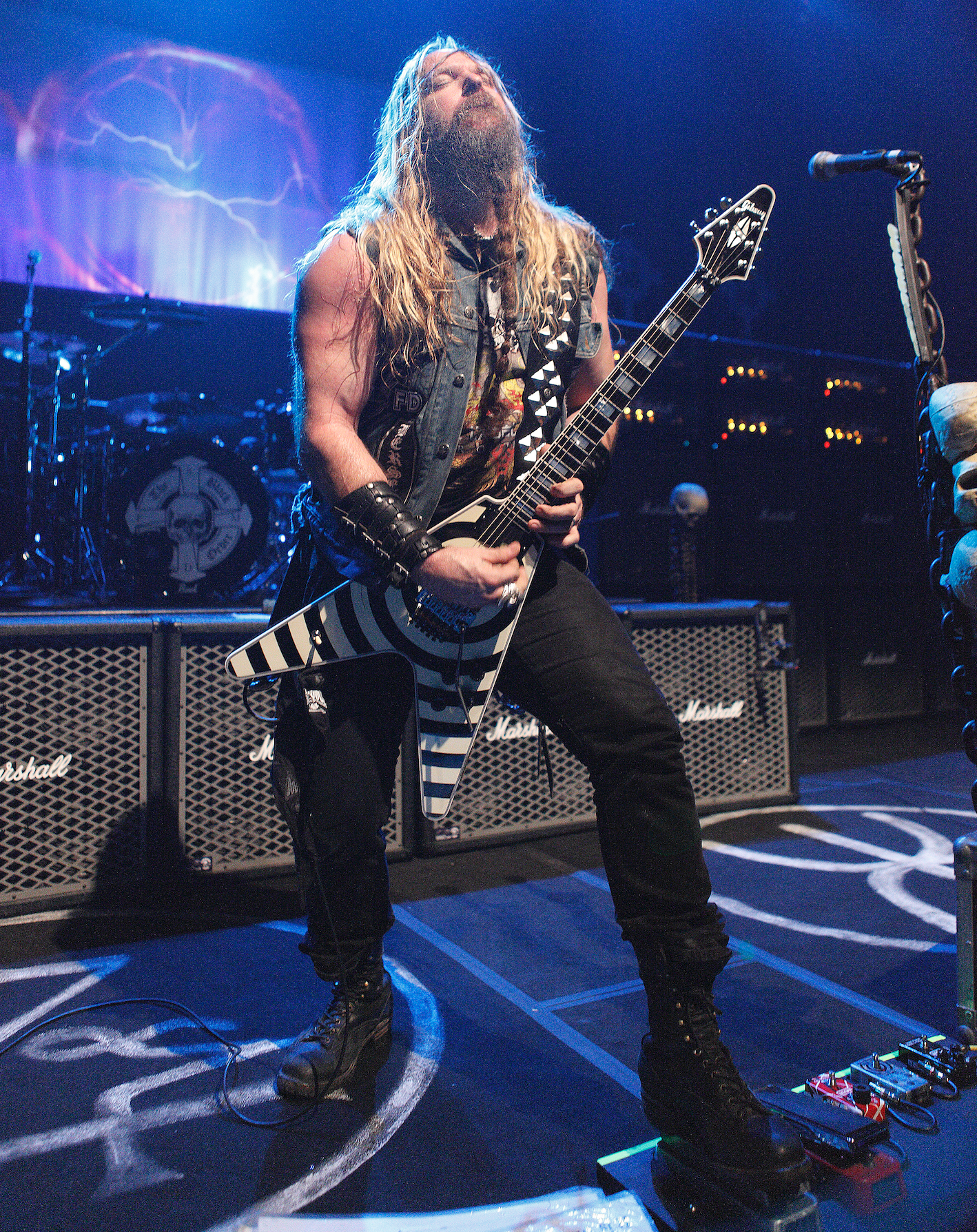 Wylde tremolo-picks the upper registers on a rare Floyd Rose-equipped Gibson V circa 2010.
Photo by Ken Settle
Wild About Audio Circa-1988
As many guitarists are no doubt aware, over the years Wylde hasn't been shy about collaborating with manufacturers on signature gear. At one point he had approximately 15 namesake guitars between the Gibson and Epiphone brands. However, Wylde's relationship with Gibson ended years ago, and the iconic 1981 "bull's-eye" Les Paul Custom he relied on for so much of his career (he calls it "Grail") has been retired. What's more, Wylde says every guitar and amp used on Doom Crew Inc. was made by his very own Wylde Audio brand, which is distributed by Schecter Guitar Research.
"Tony Iommi is at the top of my list of influences … it's like, 'Yeah, I got that riff at the Tony Iommi swap meet … behind a toaster at the Lord Iommi garage sale!'"
Asked whether he still participates in the time-honored pursuit of tone hunting, the BLS frontman says he essentially found what he was after in 1988. "I have a whole bunch of old amps at the [Black] Vatican—old Supros and stuff I've collected over the years that I may want to use for a certain color. But really, I have my Wylde Audio Master 100 [which is based on a Marshall JCM800 circuit] set up with the head and the 4x12 cab already dialed in and miked up. So I'm not a tone chaser in that regard. I'm basically using the same amp head and cabinet setup that I used for 'Miracle Man' on Ozzy's No Rest for the Wicked—EMGs, a Marshall, the whole nine yards! Why would I want to change it? It already sounds slammin' and it's everything I need!"
Zakk Wylde's Gear
Onstage in 2013, Zakk Wylde works the volume knob on one of his now-discontinued Gibsons, a signature ZV model.
Photo by Ken Settle
Guitars
Various Wylde Audio signature models
Strings & Picks

Wylde Audio .010–.056 sets "for rock jams"
Wylde Audio .010–.046 sets "for A440 piano stuff"
Dunlop Ultex heavy picks
Amps
Wylde Audio Master 100 head and 4x12 cab
Effects
Dunlop Zakk Wylde Signature Wah
Despite his storied reliance on Grail, Wylde doesn't favor a specific guitar from the many models whose headstock bears his surname. "The crazy thing is, I'll play three to five different guitars a night on tour, and with the VIP package we do, we give those guitars away at the end of the show. So I could hand you any one of those guitars and you could make a record with any one of them. The consistency of the Wylde Audio guitars is that good. They all have a mahogany body, maple neck, and ebony fretboard, and they all use the same EMG [81 and 85] pickups. You know when you pick up an electric guitar and play an open G chord, and you can already tell, unplugged, how it resonates and whether it's a good instrument or not? These all do that thing for me. So there wasn't just one on the record."
Rig Rundown - Zakk Wylde
Always Giving Props
Longtime fans (or anyone who follows Wylde's Instagram antics) can attest that, despite his success, Wylde remains both an impassioned student of guitar and an outspoken fan of his heroes. His adoration for Randy Rhoads and Tony Iommi is well documented, but he also lost a hero with the passing of Edward Van Halen in late 2020. "When I first joined Ozzy, I was 19 years old going, 'Okay, how do I sound like Zakk Wylde? You don't want to be compared to King Edward, so don't tap and don't use a whammy bar….' So, I just crossed a bunch of things off the list. I went out of my way not to sound like Eddie Van Halen, because everyone was trying so hard to be like him—yet it was still Eddie's influence changing my playing style! The coolest thing about music—or anything, really—is the passing of the knowledge and the passing of the gift. What Eddie did was the same thing that Michael Jordan did in inspiring everyone else in the league to be better. When Ed came out, we all had to try that much harder. At the end of the day, that's the best thing music does."