Oliver Ackermann of A Place to Bury Strangers joins us in discussing the players we'd pick to portray if we got our chance on the big screen. Plus: musical obsessions!
Question: If you could play the role of any guitarist in a biopic, who would it be and why?
Oliver Ackermann — A Place to Bury Strangers
Photo by Tyler Barclay
A: If I could play anyone in a biopic it would be Kurt Cobain. I definitely don't qualify as the most obsessed fan of all time. That perhaps goes to the runaway I drove around in my '89 Caprice constantly requesting to rewind back to "Drain You" over and over again.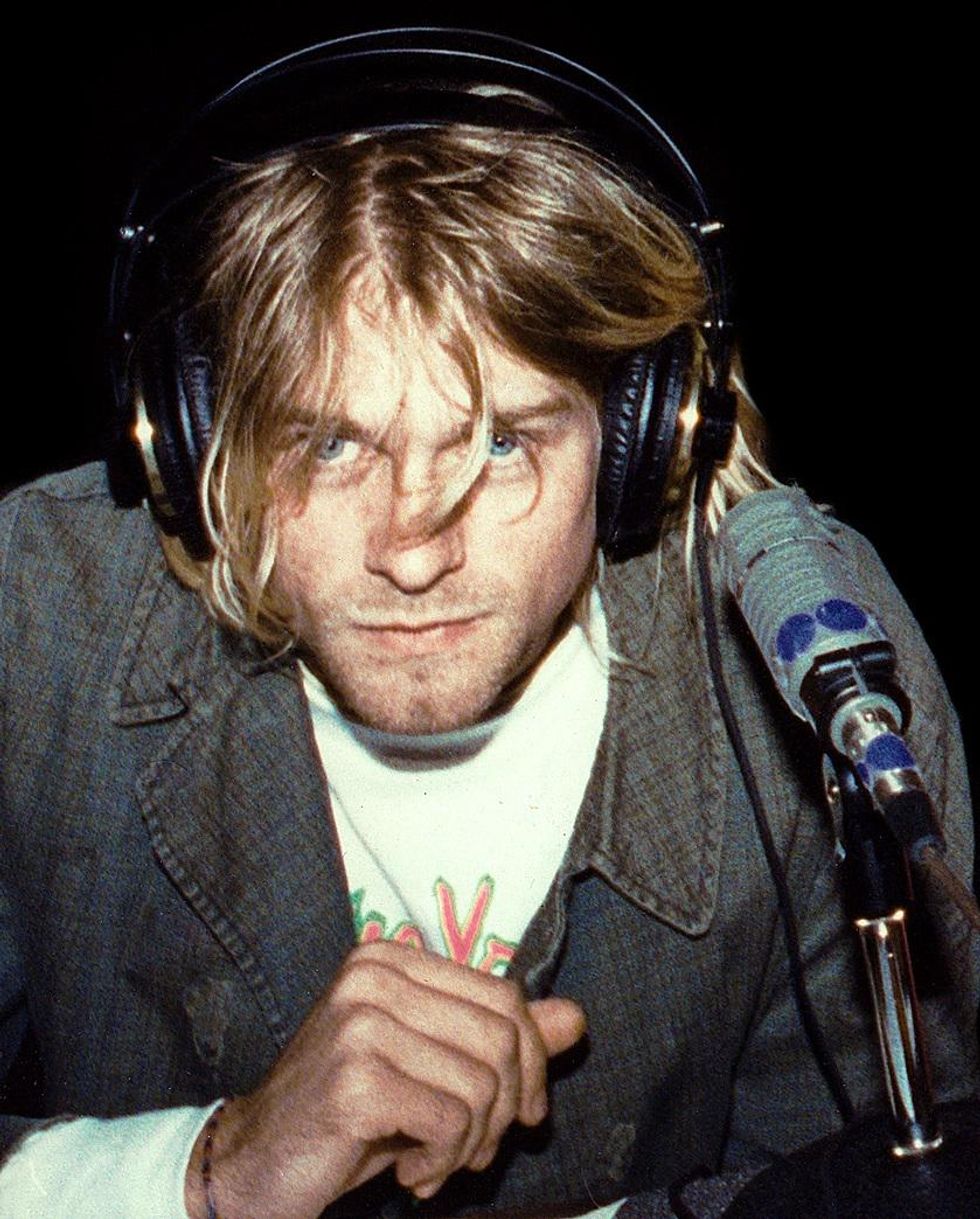 Kurt Cobain interviewed on Boston's WFNX radio, September 1991.
Photo by Julie Kramer
But Kurt for sure gave me the confidence that I could write a song and I just dove in and never looked back. I also think I could figure out those guitar parts, so there would be no weird miming to some complex solos. The real reason to do this, though, would be one of my favorite pastimes: jumping into drum sets.
Nirvana - Drain You (Live at Reading 1992) (Official Music Video)
Oliver Ackermann's Current Obsession:
Beyond-destroyed sounds. I guess that's always been my obsession, so it's more of a lifestyle. There's a little constant fight that goes on in my head where I think "this is just too messed up—what about pure fat sine waves, distinguishable rhythms, beautiful harmonies, and dreamy melodies?" And then when it comes down to it, it's just more exciting to swing a strobe light over your head and play a little AC interference. The other thing that's important is there ain't no faking. I better be drilling into my pickup or throwing my amp through the air. More high definition than surround sound 182 kHz is standing right next to me when I rip the strings off my guitar.
Sarah Gutierrez — Reader of the Month
A: Nancy Wilson. How could I miss the '70s and '80s—that's why!!! I grew up listening to Heart and being in a female fronted group would be a dream. I really loved her work on the movie Vanilla Sky. I remember frantically searching for who played, "Elevator Beat" in a movie that moved me. It certainly pulled at the heart strings.
Elevator Beat - Nancy Wilson
Sarah Gutierrez's Current Obsession: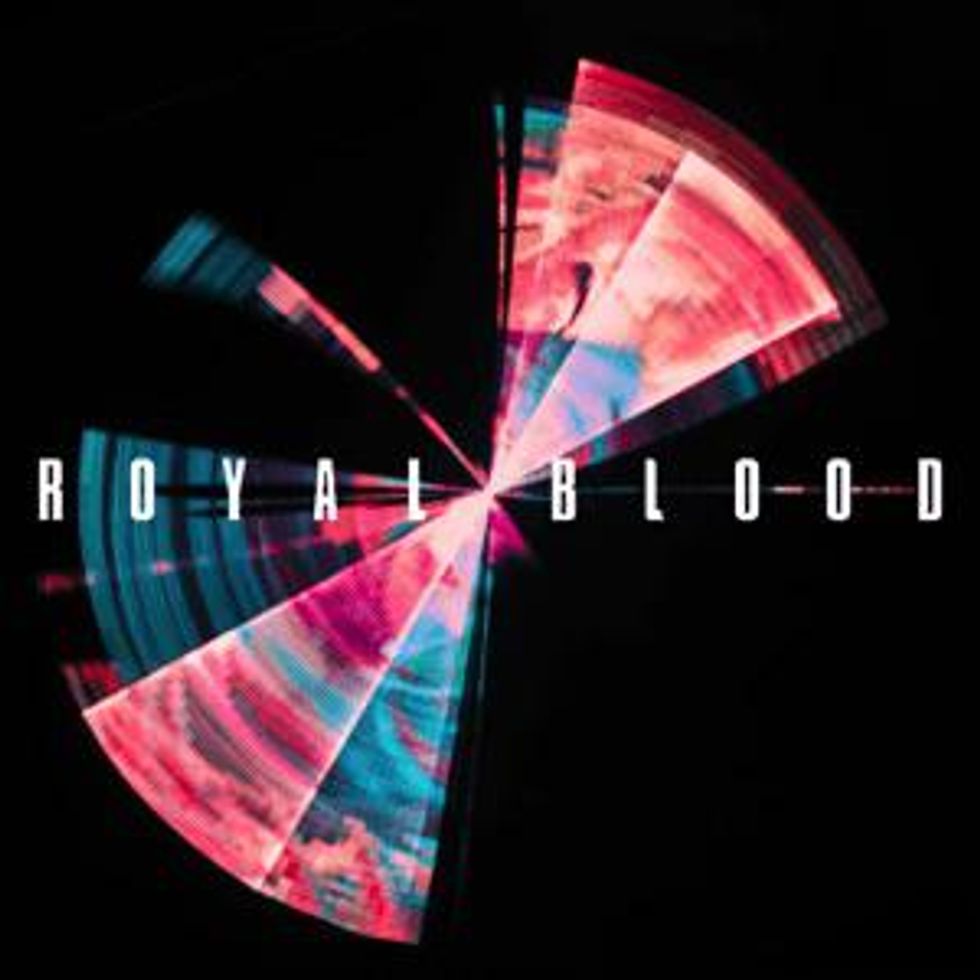 Royal Blood having Josh Homme as a producer for "Boilermaker" on Typhoons blew me away, along with Mike Kerr's riffs. Hometown & young self-produced "Drown." I love the drums! These boys from Gen Z really are the future of music. Des Rocs made my cry about following your dream when I saw them live in October. I love to turn up Cleopatrick as loudly and often as possible. Recently discovering Nothing but Thieves' self-titled album (heavily influenced by Jeff Buckley) gave me life—I'm thrilled to see them in Chicago next year.
Royal Blood - Boilermaker (Official Video)
Tessa Jeffers — Managing Editor
A: Kim Gordon. I'm not much into Sonic Youth, but I love Kim's solo stuff. She's a great bass player, and her guitar playing is raw and powerful (just like her voice).

Years ago, I read her biography, Girl in a Band, and it's a wildly interesting look into an artful life. She's a bold creator who rose out of the shadows of men to claim her own space, and I'm here for that.
Tessa Jeffers' Current Obsession:
French music. Recently I came across a rad song by Les Artisans called "Theoreme," and it prompted me to seek out other French artists. I knew Edith Piaf and Savages well, but new ones for me include La Femme, Christine and the Queens, and Serge Gainsbourg, who's apparently the "Elvis of France." J'adore!
Theoreme - Les Artisans (audio)
Joe Gore — Contributing Writer
A: Hector Berlioz, the great 19th century French composer. Unlike nearly all classical composers, he didn't compose at a keyboard. He wrote everything on guitar and a little whistle—including his revolutionary Symphonie Fantastique and the massive opera Les Troyens. Despite his humble tools, he's considered one of the greatest orchestrators ever. (Sadly, he never composed for guitar—only with it.) But the fun part would be portraying his larger-than-life personality. Talk about attitude! He was ambitious, angry, arrogant, and unspeakably funny. His prose is as amazing as his compositions, especially his Mémoires, my fave book about classical music. (Free English-language edition here.) On page one he writes, "I was brought up in the Catholic faith—the most charming of religions since it stopped burning people." And the snark never stops.
Joe Gore's Current Obsession:
Baude Cordier's "Belle Bonne Sage," a 14th-century love song notated in the form of a heart.
Medieval music! When I was a teen, my plan was to go into academia, specializing in early music. Life decreed otherwise. But now, in late middle age, I'm returning to the late Middle Ages. I've just recorded my first-ever solo album: a compilation of 14th-century pieces. I play the notes exactly as written, but using modern instruments, including lots of electric guitar. To modern listeners unfamiliar with the style, it sounds like music from Mars: eerie, beautiful, and totally frickin' weird. (Example: This love song by Baude Cordier, notated in the form of a heart.)
The Valco-produced English Tonemaster is a rare, lap-steel-inspired gem from the 1950s—when genres and guitar design were fluid.
The 1950s were a peculiar time for the electric guitar. Innovators, designers, and tinkerers were pushing the boundaries of the instrument, while musicians were experimenting with various playing techniques and sounds. There was an evolution of sorts (or de-evolution, depending on your slant) from solidbody "sit-down" guitars, like pedal and lap steels, to "stand-up" or "upright" solidbody electrics. If you look at an early Fender catalog—let's say from 1953—you'll see the Telecaster (and Esquire), the Precision Bass, and then a whole bunch of steel guitars. There was a shift underway, and many manufacturers began to blur the lines of what a guitar should look, sound, and play like.
So, let's examine a guitar from the mid-'50s that had a bit of a personality crisis, born out of the American Valco Company, which also suffered from fits of mania … but in the best ways. I've spoken about the company a lot in this column, but to summarize: Chicago-based Valco made instruments under several different brand names, including Supro, Airline, National, and Oahu. They were a quirky organization with a lot of interesting ideas and build styles. One of Valco's lesser-known brands was English Electronics, which was sold out of a music store/studio in Lansing, Michigan.
Here's a look at the distinctive strings-through bridge pickup.
The English Electronics Tonemaster is a perfect example of this transitional era in instrument production. Half lap steel and half electric guitar, this model was meant to appeal to all sorts of players and was totally unique. There was a similar and more common model in the Supro-branded lineup, the Supro Sixty, which made its appearance in the 1955 catalog and was among the first standard Supro electrics to feature a lap-steel pickup. Both the Supro Sixty and the English Electronics Tonemaster came equipped with similar single volume and tone knobs as well as that same pickup, whose design allowed for the strings to pass through the middle. In the Supro catalog, the pickup was described this way: "The dynamic 'locked-power' unit design provides the sensitive extra responsive punch that Western 'take-off' players are always looking for—each string has its own individual adjustment to assure perfect string output balance."
The English Tonemaster logo on the headstock is straight out of 1950s industrial design.
That lap-steel pickup in the bridge position made for a real treble-laden adventure. I love the "take-off" tone descriptor used in the catalog, because when one of these is dialed in, the guitar surely does have a sharp attack. The Supro Sixty was renamed the 1560S Ozark around 1958, but it kept the unique lap-steel unit at the bridge. The Supro Sixty/Ozark was cool and had a good five-year run. But the lesser-known, way cooler, and way rarer, cousin the Tonemaster was the king-daddy!
Half lap steel and half electric guitar, this model was meant to appeal to all sorts of players and was totally unique for its time.
I've never seen an English Electronics catalog and I don't know anything about the owner, Norman English, but I do know that one reason this guitar was unique in the Valco lineup was that it sported not one, but two, pickups: that lap-steel pickup at the bridge and a proprietary Valco unit at the neck. That neck pickup, which is often confused for a humbucker, is actually an in-house designed, patented single-coil with some amazing tones to offer. With these two units, the sound of the Tonemaster was wide-ranging, going from nasally and thin at the bridge to thick and loud at the neck. The Tonemaster also included a pickup switch, but the one on mine was more like a blender without a detent for each position. I'm not sure if my switch was broken or if it worked as intended. Thankfully, Valco used a serial number plate, often found on the back of the headstock, and that number put this guitar in the 1957 range.
The bridge pickup cover is on in this shot. The neck pickup is a single-coil, despite appearances.
Stuff like this makes me ponder the era when electric guitars and lap steels were transitioning to different styles of music and playability, and there weren't many definitive lines between country & Western, rock 'n' roll, swing, and rockabilly. Things were blurred and woven into one another, as they are in this guitar!
1950s English Electronics Tonemaster Guitar Demo
ESP Guitars announces 43 new LTD and LTD Deluxe guitar models to kick off the new year.
<p>A new Camo finish has been made available for the LTD and ESP James Hetfield Snakebyte. The Snakebyte features set-neck construction at 24.75" scale, 22 extra-jumbo frets, a TonePros locking TOM bridge and tailpiece, and James' own EMG JH SET active pickups. </p>
<p>The LTD Arrow Series has expanded with four new additions. The LTD Deluxe Arrow-1000 offers a quilted maple top in a Charcoal Burst Satin finish. It features neck-thru-body construction, a reverse headstock with matching finish, Macassar ebony fingerboard with stainless steel frets, a set of direct mount Fishman Fluence Modern Humbucker active pickups, and a Floyd Rose 1000SE bridge with stainless steel screws. The LTD Deluxe Arrow-1000NT (Charcoal Metallic Satin) offers a recessed TonePros TOM bridge with string-thru-body, neck-thru-body construction, stainless steel frets, and direct mount Fishman Fluence Modern Humbucker active pickups. The LTD Deluxe Arrow-1000 EverTune includes the innovative EverTune constant tension bridge system, and comes in Black. All Arrow 1000 models have compound radius fingerboards. The LTD Arrow-200 (Military Green Satin) offers a more affordable version of the Arrow Series with a set-neck design, an LTD Floyd Rose tremolo, and a set of high output ESP LH-301 pickups with black covers. </p>
<p>Seven new guitars have joined ESP's popular LTD EC Series. The LTD Deluxe EC-1000 Baritone comes in a 27" baritone scale, with a Charcoal Metallic Satin finish and black single-ply binding. Features include 24 extra-jumbo stainless steel frets, glow-in-the-dark Luminlay side dots, a TonePros locking TOM bridge with string-thru-body, and a set of direct-mount Fishman Fluence Modern Humbucker active pickups with black nickel covers. The new LTD Deluxe EC-1000 in See Thru Purple Sunburst offers 24 extra-jumbo stainless steel frets, and a set of EMG 60TW-R (neck) and EMG 81 (bridge) pickups. The LTD Deluxe EC-1000T CTM EverTune has a traditional full-thickness body, custom multi-ply binding on the guitar's front and back, and the EverTune constant tension bridge system. It also features Fishman Fluence Classic Humbucker pickups and 22 extra-jumbo stainless steel frets. </p><p>The new LTD Deluxe EC-1000T CTM in Violet Shadow has a gorgeous flamed maple top, traditional thickness body and multi-ply binding. This guitar includes a set of direct-mount Fishman Fluence Open Core Classic Humbucker pickups with multiple voicings, 22 extra-jumbo stainless steel frets, and a TonePro locking TOM bridge and tailpiece. The LTD Deluxe EC-1000T CTM in Charcoal Burst combines an elegant quilted maple top and a traditional full-thickness mahogany body (with no waist cut). It features a TonePros locking TOM bridge and tailpiece, matching headstock finish, 22 extra-jumbo stainless steel frets, and a set of direct-mount Fishman Fluence Open Core Classic Humbucker pickups. Another new EC Series guitar is the LTD Deluxe EC-1000T CTM Vintage Gold Satin, which features a traditional full-thickness mahogany body, multi-ply binding, a TonePros locking TOM bridge and tailpiece, 22 extra-jumbo stainless steel frets, and a set of direct-mount Fishman Fluence Open Core Classic Humbucker pickups with multiple voicings. Finally, a more affordable version of the EC Series has been announced with the LTD EC-201, which offers set-neck construction, 24 extra-jumbo frets, and a single ESP LH-150B pickup with antique nickel cover, which can be split for single-coil sounds with a push-pull volume knob. </p>
<p>ESP's EX Series has two new models for 2022. The LTD EX-7 Baritone Black Metal is a seven-string guitar at 27" baritone scale. It offers the Black Metal design theme of all-black finish, components, and hardware, and a Macassar ebony fingerboard with no inlays and glow-in-the-dark side markers. It features a set-thru maple neck, 24 extra-jumbo stainless steel frets, a TonePros locking bridge and tailpiece, and a single direct-mount EMG 81-7H pickup with black logo. The LTD EX-201 is an affordable way to get into the extreme EX shape, and offers a reverse matching headstock and a single direct-mount ESP LH-150B pickup with antique nickel cover, which can be split for single-coil sounds with a push pull volume knob. A high output pickup, the LH-150B is great for rock and metal, and has an antique nickel cover. ESP also made an addition to their F Series with the LTD Deluxe F-1001, which comes in the multihued, iridescent Violet Andromeda Satin finish. It features set-thru construction, an extra-thin maple neck that has a compound radius for maximum speed and comfort, 24 extra-jumbo stainless steel frets, a Floyd Rose 1000SE bridge with stainless steel screws, and a single direct-mount EMG 81TW active pickup with a brushed black chrome cover. </p>
<p>New models in the H Series and H3 Series include the new LTD Deluxe H-1000 EverTune in See Thru Purple Sunburst, featuring the EverTune constant tension bridge, 24 extra-jumbo stainless steel frets, and a set of Fishman Fluence Modern Humbuckers. Available in Snow White finish, the LTD Deluxe H3-1000FR has an extra-thin maple neck with a compound radius, 24 extra-jumbo stainless steel frets, a Floyd Rose 1000SE bridge with stainless steel screws, and EMG 66TW (neck) and EMG 57 (bridge) pickups in brushed gold covers. The LTD Deluxe H3-1000 in See Thru Black Cherry has a quilted maple top, and features a compound neck radius, 24 extra-jumbo stainless steel frets, a TonePros locking TOM bridge with string-thru-body, and a set of direct-mount Seymour Duncan Sentient (neck) and Pegasus (bridge) pickups. The LTD Deluxe H3-1007 Baritone is a 7-string, 27" baritone scale extended range guitar with a flamed maple top in See Thru Black Sunburst finish. It includes a set of direct-mount Seymour Duncan Sentient (neck) and Pegasus (bridge) pickups. </p>
<p>ESP has added new finishes for its popular '87 Series guitars. The LTD M-1 Custom '87 offers neck-thru body construction, a top-mounted Floyd Rose 1000 bridge, a single Seymour Duncan Distortion TB-6 pickup with a push-pull control for coil splitting, and an EMG PA-2 boost switch for when you need that extra push of raw power. For 2022, it is being made available in Dark Metallic Purple and Metallic Gold finishes. The LTD Mirage Deluxe '87 features a Floyd Rose 1000 bridge and a pickup set that includes a Seymour Duncan Distortion TB-6 in the bridge and Hot Rail single coil in the neck. Its new finishes for 2022 include Snow White and Metallic Gold. </p>
<p>Available in Black Satin finish, the LTD Deluxe MH-1000 Baritone offers the extended range of a 27" baritone scale. It features neck-thru-body construction, a compound neck radius, 24 extra jumbo stainless steel frets, a TonePros locking TOM bridge with string-thru-body, and direct-mount EMG 81 and EMG 60TW-R pickups with brushed black chrome covers. The LTD Deluxe MH-1000 comes in the beautiful new Black Ocean finish on its quilted maple top, and includes 24 extra-jumbo stainless steel frets, a Floyd Rose 1000SE bridge with stainless steel screws, and a set of direct-mount Fishman Fluence Modern Humbuckers with brushed stainless steel covers. </p>
<p>Three new models are being added to the Phoenix Series. The LTD Phoenix-7 Baritone Black Metal is an extended-range version of the Phoenix with seven strings and 27" baritone scale. It features neck-thru body construction, a Fishman Modern 7-String Humbucker pickup, and 22 extra-jumbo stainless steel frets, and a TonePros locking TOM bridge with string-thru-body. The LTD Deluxe Phoenix-1000 EverTune is the first Phoenix model to offer the EverTune constant tension bridge. Finished in Silver Sunburst Satin, it features neck-thru-body construction, 22 extra-jumbo stainless steel frets, and a set of Fishman Fluence Modern Humbuckers with black nickel covers. The LTD Deluxe Phoenix-1000 has a quilted maple top in a See Thru Black Sunburst finish. Features include neck-thru-body construction, a reversed headstock with matching finish, 22 extra-jumbo stainless steel frets, a TonePros locking TOM bridge and tailpiece, and a set of Seymour Duncan Phat Cat (neck) and Custom (bridge) pickups. </p>
<p>The SN Series is expanding with four new models. The LTD Deluxe SN-1000 EverTune is the first SN Series guitar to include the innovative EverTune constant tension bridge. Available in Charcoal Metallic Satin finish, it comes in an H/S/S pickup configuration with two Seymour Duncan Hot Strat single coils in the neck and middle positions, and a high-output Pegasus in the bridge. Other features include a roasted maple neck with compound radius, 22 extra-jumbo stainless steel frets (scalloped from frets 17-24), a matching-finish headstock, and a special mini toggle switch (same as found on the ESP Snapper models) provides even more tonal options. The LTD Deluxe SN-1007 Baritone HT is the first SN Series model with the extended range of seven strings and a 27" baritone scale. Offered in the textured Black Blast finish, it has a roasted maple neck with a compound radius, 24 extra-jumbo stainless steel frets (scalloped from frets 17-24), a black bone nut, a Hipshot hardtail bridge with string thru body, and a set of Fishman Fluence Modern Humbuckers. </p><p>The LTD Deluxe SN-1000HT Fire Blast has a textured, sandblasted Fire Blast finish over a swamp ash body, a roasted maple neck with a compound radius, 22 extra-jumbo stainless steel frets, a black bone nut, a Hipshot hardtail bridge with string thru body, and a set of Fishman Fluence Modern Humbuckers. The LTD Deluxe SN-1000FR (Snow White finish) includes a double-locking Floyd Rose 1000SE bridge with stainless steel screws, a roasted maple neck with a compound radius, 24 extra-jumbo stainless steel frets (scalloped from frets 17-24), a matching-finish headstock, and an H/S/S pickup configuration with two Fishman Fluence Single Width pickups in the neck and middle positions and a Fishman Fluence Classic Humbucker in the bridge. </p>

<p>Three new models are also joining the TE Series. The LTD Deluxe TE-1000 Snow White offers set-thru construction, 24 extra-jumbo stainless steel frets, a Hipshot hardtail bridge with string thru body, and a set of Fishman Fluence Modern Humbuckers. Two new lower-priced TE models join the series with the LTD TE-200 (Black finish, LTD fixed bridge with string-thru-body and a set of ESP LH-150 pickups) and the LTD TE-201 (Black Satin finish, LTD fixed bridge with string-thru-body, and a single ESP LH-150B pickup with antique nickel cover). </p>
<p>A new finish comes to the LTD TL-6. Now in Purple Sparkle Burst, the TL-6 is a chambered transducer electric guitar with a Graphtech NuBone-XB nut and saddle, a Fishman SONICORE pickup, and TL-3 preamp with onboard tuner. </p>
<p>Finally, three new guitars have been added to the Viper Series. The LTD Deluxe Viper-1000 Baritone is a 27" baritone scale guitar with 24 extra-jumbo stainless steel frets, a TonePros locking TOM bridge and tailpiece, and a set of EMG 60TW-R (neck) and EMG 81 (bridge) pickups. The LTD Deluxe Viper-1000 EverTune includes the innovative EverTune constant tension bridge, 24 extra-jumbo stainless steel frets, and a set of EMG 60TW-R (neck) and EMG 81 (bridge) pickups. The LTD Deluxe Viper-1000M offers a mahogany body in See Thru Black Cherry finish, 24 extra-jumbo stainless steel frets, a TonePros locking TOM bridge with string-thru-body, and a set of direct-mount Fishman Open Core Humbucker pickups. </p>

Detailed information and specifications for all "New for 2022" ESP and LTD guitar models is available at the ESP web site at espguitars.com