Respecting dynamics and artists' intentions, along with a knowledge of the core sounds of various genres, will propel your journey on the path to enlightenment.
Hello and welcome to another Dojo installment. This month, I'll share three simple secrets for getting better and more consistent mixes. In the ever-changing world of mixing music, engineers are constantly having to refine their chops while still being acutely aware of current trends, past traditions, managing expectations of artists—all while adding and refining their own contribution to recordings.
Regardless of musical genre, I'm often asked, "How do I make my mixes better?" I usually respond with "it depends." Mixing isn't math, there is no theorem or equation that will give you a precise approach. It's about emotion. Your job when you're mixing is to bring final focus and attention to fluid, emotional moments by guiding the listener on a highly curated journey. How can we even begin to approach this abstract goal? Tighten up your belts, the Dojo is now open.
Let's assume you already have an intimate knowledge of what the vision is for the song or album. This is a crucial step! It's one that I spend a great deal of time developing. I passionately feel that artists and bands deserve a mixer who is completely committed to their vision, and can add deep, meaningful contributions to their recordings while still being an objective voice that can bring an extra bit of magic to the project. Don't start mixing until you've done your homework and really understand the profound level of sacrifice that artists go through to make their music. You should feel the honor and responsibility that is involved as well.
Your job when you're mixing is to bring final focus and attention to fluid, emotional moments by guiding the listener on a highly curated journey.
Now here are those three secrets for better mixes:
1. Who's on Bottom?
My main goal is to get to the emotional core of the song as soon as possible. On first listen, I'm not worried about "is the hi hat too loud?" I bring the faders up to unity, as seen in Fig. 1, and just listen.

On the next listen, I get basic levels and determine which instruments are important in which sections. Quickly, I address the genre and determine "who's on bottom." There are usually two choices: bass (or synths or low-tuned, 8-string guitars) or the kick drum. Musical genres have certain expectations. For example, hip-hop and rap typically reserve the bottom end of the frequency spectrum for kicks and tuned 808 tones, while heavy rock usually wants the guitars in the bottom with just the attack of the kick drum above for articulation. Your understanding of this and the artist's tolerance for how far they're willing to push these expectations will help you decide. This doesn't mean the values can't switch based on certain sections of the song. I do this quite a bit, but overall, there should a clear winner and a clear approach.
2. Less Is More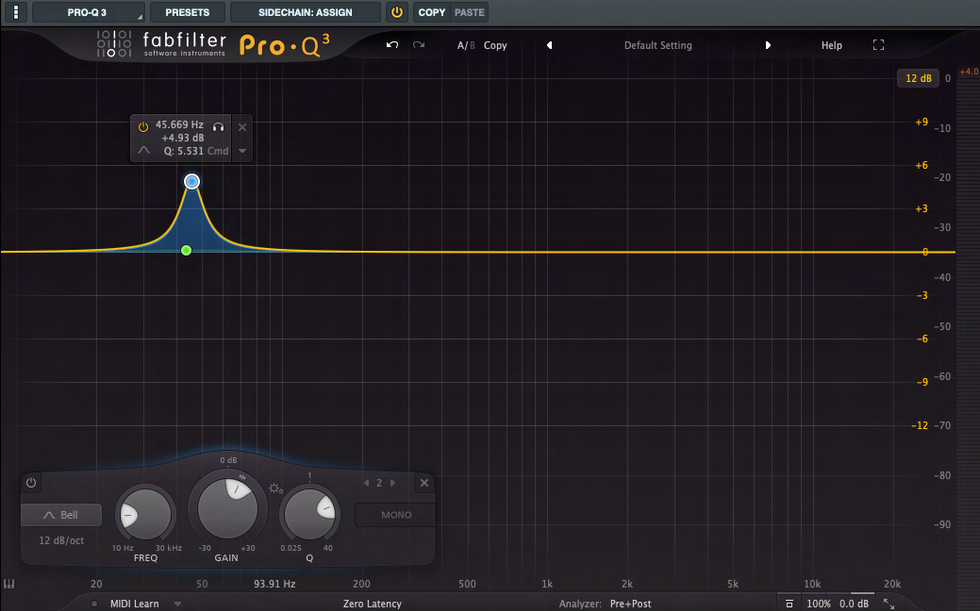 Fig. 2
When using EQ, employ it to cut problem frequencies. Far too often, folks boost frequencies of what they want to hear rather than going in and notching out problem areas. That results in everything getting louder and the problem areas don't go away. Does the kick drum have a ring to it? Go find that frequency by sweeping a gained-up, narrow Q point across the frequency spectrum [Fig. 2] until you find the ring—and then cut it!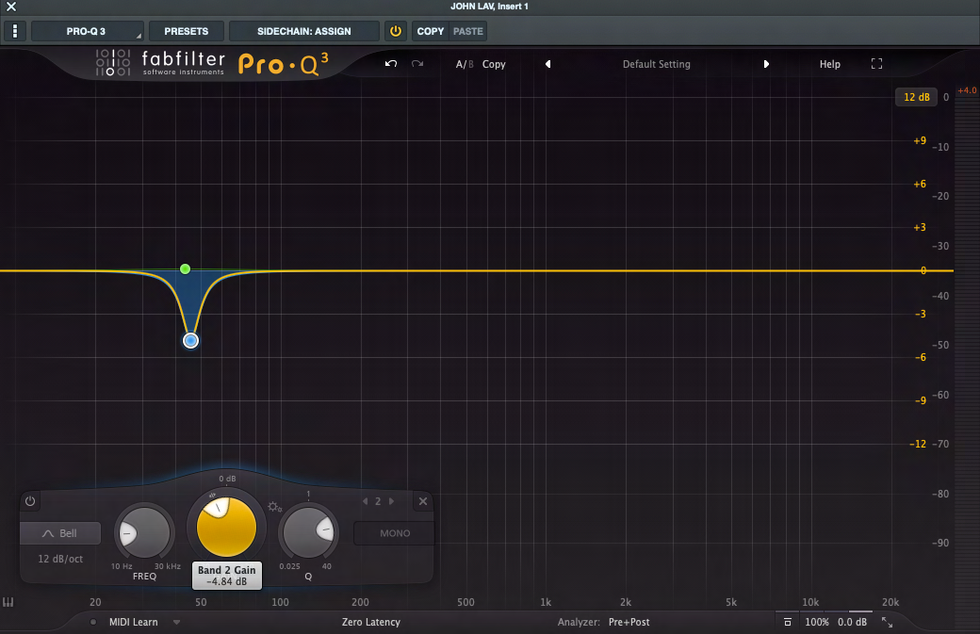 Fig. 3
The same can be done for shrill guitars, bass-heavy percussion, muddy keys, and particular notes of the vocal that really jump out and sound strident. Remember to boost with a narrow Q, sweep, isolate, and cut [Fig. 3].
3. Beware the Buzz Cut
Don't overdo compression. Most of the time when I use compression, I'm getting anywhere from 2 to 10 dB of gain reduction. Anything over that, and I need to have a valid reason why (squashing a drum kit, pinning a background vocal or synth, etc.). Try to preserve as much dynamic range in your mix as possible and your audience will be able to climb in the mix more, and their ears won't be fatigued.

Fig. 4
Take a look at a classic 2000s loudness war mix in Fig. 4. See how the music has a "buzz cut?" There's hardly any dynamic range. Everything is loud!
Fig. 5
Now look at Fig. 5. This a classic heavy metal song, and look the dynamic range.
FYI, Apple Music, Spotify, and others are really rewarding mixes with greater dynamic range, and if their algorithms determine your mix sports a buzz cut, they will lower your loudness level anyway, thus foiling your dastardly plan to win the louder-is-better contest.
Blessings and, until next time, namaste.
Meet your miniature amp masseuse.
Nice price. Great range in simple controls. Sweet preamp sounds. Great capacity for high-end detail.
Hard not to miss that wet/dry mix and post-compression tone control after you've used the Compressor Plus.
4.5
5
5
4.5
I fall in and out of love with compressors all the time. It's a relationship that's fickle—even downright dysfunctional at times. From one night to another, I might be down on my knees, thanking my comp for saving my life and my sloppy picking performance. The next, I'll curse the ways it strips my sound of its spirit and fire. The morning after is always awkward. Sorry, compressor—it's not you, it's me.
The magic of Keeley's Compressor is its easy and agreeable nature. It may not be the most extreme compressor in the world or the most versatile. But it walks the razor-thin line between transparent and potent with aplomb and sounds alive without being overbearing or oppressive.
Latest in Line
That Keeley's Compressor Mini does so much with so little is no surprise. Robert Keeley's little pedal empire was built on excellent modifications of the legendary Ross compressor, and his flagship eponymous Compressor remains one of the gold standards in the business. In a way, the Mini is a return to the original Keeley Compressor's roots.
While early Keeley comps were simple two-knob devices, the basic Keeley Compressor has since evolved into the Compressor Plus—a four-knob stomp with controls for tone, wet/dry blend, and a release time switch that compensates for the discrepancies in output from single coils and humbuckers. The Mini, however, has just output level and compression threshold knobs—leaving the attack, release, and ratio up to Robert Keeley's discretion. Thankfully, he has a knack for knowing how to set those parameters just right. Keeley also designed the circuit to be especially lively for a comp with so few controls. For one thing, the Compressor Mini uses parallel compression, which allows dry signal to pass before summing at the output, adding detail and presence to softer playing while louder transients are squished more aggressively. There's also a tone-recovery section which compensates for the high end lost in heavily compressed signals. The pedal sounds more balanced and alive for its inclusion.
There are lots of near-clean boost colors that add meat to jangly tones without sullying the chime.
Boost and Squish
If you've had much experience with compressors, particularly vintage pedal comps, you know they can add a fair bit of noise. The Compressor Mini, however, is almost startlingly quiet. Even at the highest preamp gain and threshold levels, the Keeley adds little perceptible hiss. The low noise floor makes it easier to use the level control aggressively, and at minimum threshold levels, the Keeley is a great near-clean boost. Unity gain generally occurs at around 30-40 percent of the level knob's range. And there are lots of near-clean boost colors that add meat to jangly tones without sullying the chime. (Rickenbacker and Telecaster players take note!) Humbucker players, too, will enjoy the extra headroom in the level control. Most settings north of noon lend a fat but tasteful bump in the low-mid zone that make the preamp sound extra sweet, muscular, and growly.
The compression effect itself is a delight. Your alignment with the sound of Ross and Dyna Comp-style compression will probably determine how well you relate to the Keeley's fundamental voice. And in spite of the extra top end generated by the tone-recovery circuit and parallel compression scheme, you still hear perceptible squish. Modern compressor users that have grown accustomed to wet/dry blends and other fine-sculpting niceties might find that squish confining. But players less affected by the limitations of old-school pedal compression may hear the Compressor Mini's sustained and ringing tones as thrilling. The extra weight and warm sustain that even modest level and compression threshold levels add to thin first-string output is significant. And it does a cracking job of highlighting string detail in complex chords. For lots of players in many musical situations, such qualities will be well worth any tradeoff in dynamics.
The Verdict
The Mini Compressor's size and outward simplicity belie the complexity of what's going on inside. The preamp alone sounds lovely and generates killer boost tones. But the compression is very nuanced for a stompbox comp lacking wet/dry blend and tone controls. In traditional pedal-compression settings, like country picking and Byrds-style jangle, it excels. And its low noise floor makes it an ideal pairing for high-gain pedals in need of smoothing or busy pedalboards with lots of noisy gain stages. At just 20 bucks less than the Compressor Plus, some players may want to pop for the bigger, more feature-rich alternative. But $129 is still a great deal. And if small size and the joy of setting and forgetting are priorities, the Compressor Mini is a value that's tough to beat.
PRS Guitars and John Mayer officially announce the PRS SE Silver Sky, an affordable version of the original with PRS trademark bird inlays and three single-coil pickups.
The PRS SE Silver Sky is a familiar iteration of Mayer's signature model, which was first introduced with John Mayer in 2018. The SE model starts with a poplar body, bolt-on maple neck, and rosewood fretboard with PRS trademark bird inlays. The 22-fret, 25.5" scale length neck features the original 635JM carve and an 8.5" fretboard radius, which will make the SE Silver Sky feel right at home. The SE Silver Sky comes in four colors: Dragon Fruit, Ever Green, Moon White, and Stone Blue.
At the heart of the instrument are the three single-coil pickups, which were meticulously designed to capture the voicing of the original Silver Sky. The 635JM "S" pickups capture the same round, full tone with musical high end that is never too harsh and add a bit of a bite. This guitar is anchored by a two-point steel tremolo, synthetic bone nut, and vintage-style tuners. Other design features include the PRS Silver Sky inverted headstock shape and the PRS double-acting truss rod (accessible from the front of the headstock for ease of use). This instrument ships with PRS Classic 10-46 strings and a PRS SE gig bag.
PRS SE Silver Sky John Mayer Signature Demo | First Look
"This guitar is the product of planetary alignment," said Jack Higginbotham, COO of PRS Guitars. "John has an incredible ability to sweat all the right details; PT CORT Indonesia has all the skill, enthusiasm, and courage to take on large-scale manufacturing; and our own guitar making is sophisticated enough to collaboratively design an instrument that is both complementary to original Silver Sky but also uniquely itself. All this comes at a time when guitar players are looking to us to provide musical solutions in ever larger numbers. We have had amazing experiences with the SE Silver Sky ourselves, and it feels wonderful to share those with guitar players around the world."
The SE Silver Sky | John Mayer Model | PRS Guitars