Witness the gear of the low-end gods—from Flea's massive Gallien-Krueger rig to Juan Alderete's bountiful boutique board, Tom Petersson's drool-worth collection, Billy Sheehan's dual-output Yamaha, and Roger Waters' iconic black P bass.
Sure, most of the magic conjured by the world's best players is in their hands, but obviously their gear is a huge deal, too—because they're still pretty particular about what they play. So take a break from honing your own chops for a bit, and check out what your heroes use to conjure their amazing tones. Who knows, maybe it'll help you rethink how you approach your music and give you some ideas for how to improve your own rig. Or just sit there and lust after all the cool stuff. Either way works.
Here we've compiled our top Rig Rundowns with some of the most badass bass legends on the planet:
Red Hot Chili Peppers' Flea
Roger Waters
Mr. Big's Billy Sheehan
The Mars Volta's Juan Alderete
Cheap Trick's Tom Petersson
Red Hot Chili Peppers' Flea
PG's Rebecca Dirks is On Location in Rosemont, IL, at the Allstate Arena where she catches up with Tracy Robar, tech for the Red Hot Chili Peppers' bassist Flea. In this Rig Rundown, we get to see what Flea is currently using on the I'm With You Tour, which includes Modulus Basses, Gallien-Krueger amps and cabs, GHS Strings, and various pedals from MXR, Malekko, Moog, and Electro-Harmonix.
Basses
Flea relies on his main Modulus bass for the majority of the set. It's outfitted with a Modulus Lane Poor pickup, which is no longer in production, an Aguilar preamp, and a Leo Quan Badass bridge. He keeps his knobs taped at his preferred settings (bass almost full up, treble rolled off) and only uses his volume knob live. The Modulus has a graphite neck that allows Robar to set Flea's action very low and Flea uses his signature set of GHS Boomers (.105 - .145).
In addition, he uses (left to right) a Modulus bass with custom Aboriginal finish and a Seymour Duncan pickup that's tuned to Drop D for "By The Way," a Modulus bass with the Aboriginal national flag with the controls built into a cavity on the back (only an on/off switch on the face) tuned down a half-step for "Breaking the Girl," a Chinese-made Flea Bass with custom Damien Hirst spin-art finish, his main Modulus, a backup Damien Hirst-painted Flea Bass, and a Fender P-Bass that isn't used live. Far left is a Fender Bass VI used by Josh Klinghoffer on "Happiness Loves Company" while Flea plays piano. In the gig bag is a five-string Modulus used for "Funky Monks."
Amps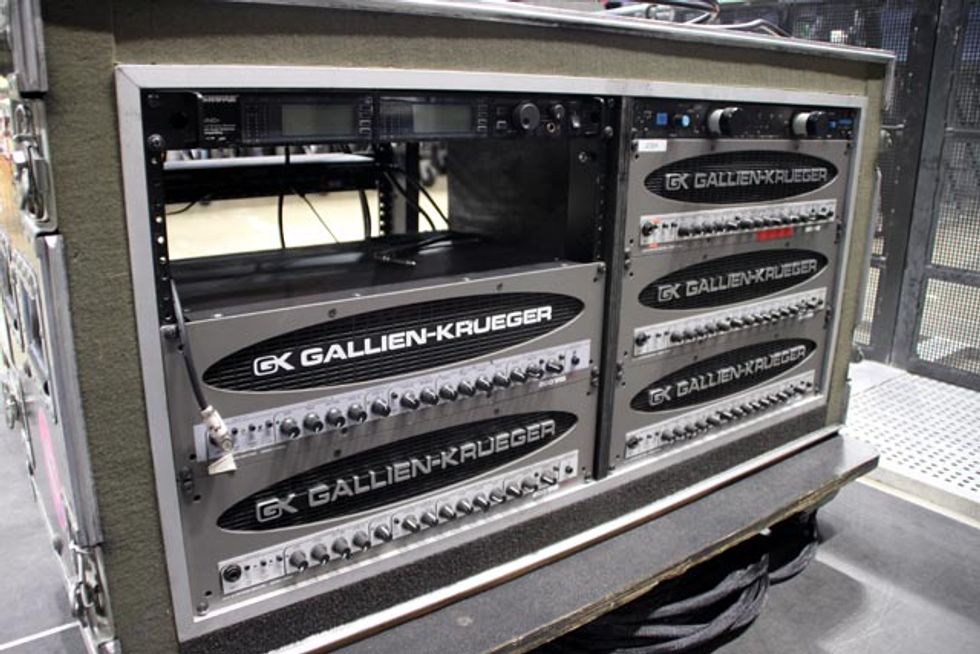 Flea uses three Gallien-Krueger 2001RB amps, one controls the other two as slaves. The amps run into three Gallien-Krueger 410 cabinets and three 115 cabs, all running. There are two additional 2001RB amps in the rack, one is used when Klinghoffer plays bass, and the other is simply a backup.
Effects

Flea doesn't use many effects, relying on these four for all of the tones he needs. Left-to-right he uses a Malekko Bassmaster for fuzz and distortion, MXR Micro Amp used as clean boost for slapping and leads, Electro-Harmonix Q-Tron used for "Sir Psycho Sexy," and a Moog Mooferfooger 12-Stage Phaser used just for fun. The board is powered by a Voodoo Lab Pedal Power 2 Plus.
Click here for a photo gallery with more detailed pictures of Flea and Josh's touring gear.
Roger Waters: The Wall Live
Basses
His main instrument since the 1970s, Waters uses this P-bass for all of his bass parts on the show. It's the model his signature model is based on. He uses Rotosound 66 strings. Waters keeps a clone of this guitar made by the Fender Custom Shop as a backup and he also has a clone with a rosewood neck that's used only for the front of the stage, where the instruments are supposed to be dark.
Amps
Waters uses an Ampeg SVT-6 Pro, with one spare, through three 4x10 cabs rewired to 8 ohms (two running with one spare). The same system is used throughout the Dark Side of the Moon and The Wall tours.
Effects
This is Waters' original Pete Cornish-built board that was built for him just before the original Wall album in 1980. It's kept in the back and controlled by his guitar tech. While he used to use the phaser and echo, he now primarily uses the Bassballs circuit as the delays are controlled via rackmounted TC Electronic units.
Mr. Big's Billy Sheehan
Basses
Sheehan uses his Yamaha Billy Sheehan Attitude bass on tour. He's currently using the third version, which has a specially-designed new neck pickup. Each pickup has its own output and separate Line 6 wireless units. The bass also has a deep neck joint that attaches at an angle. The guitar's body is made of artificially aged wood. As with all of Sheehan's basses, it has a Hipshot D Tuner. He uses a custom set of Rotosound strings gauges 43 - 110.
Amps/Rack
Sheehan uses a Pearce BC1 preamp, though he says he only has three left before "that's the end of it." He uses it for distortion and clean. He uses the Ashly Audio compression unit on the clean side of the Pearce, as well as on the Hartke LH1000 for his low end. In addition, he uses the ISP Decimator ProRack.
The signal comes out of the Pearce preamp and splits via the neck or bridge pickup into a LH1000 for low end and an LH1000 for pedals, as well as an HA5500 for his high end.

Effects


This pedalboard is basically similar to Taurus pedals in a different format that trigger a Roland SonicCell.

The Mars Volta's Juan Alderete
Basses

During the band's 2011 tour, Alderete chose to use his 1970 Precision fretless bass—the bass left the Corona, CA, with the fretless neck—for much of The Mars Volta's shows opening for Soundgarden. Alderete preferred the fretless with flatwounds—always Ernie Ball 2806 Flatwound .045–.100—because it's warmer and more musical with the flatwounds and lends itself to a better overall tone when combined with instrument's fretless neck and his abundance of quirky sounds emanating from his board. Two mods that were done to the bass before Alderete acquired it included a Stars Guitars brass bridge and a Bartolini single-coil in the bridge position giving the bass a P-J hybrid setup. The only modification he did do the bass was adding the Hipshot D-Tuner. His other two main basses for this run include a '64 Jazz bass and a '77 Precision that is modded with a P-J setup like his '70 P.
Amps and Cabinets
Just before heading out on this 2011 tour, Alderete switched his amp setup from his old standby SVT-VR heads and cabs to the newer PF-500 heads, which power PF-115 1x15 and PF-210 2x10 cabinets.
Effects
The TMV bassist is a big proponent of using compression on his tone—no doubt because of his love for Jaco—and has used a Boss CS-2 Compressor/Sustainer since his days with Racer X in the '80s. He says he leaves this pedal on probably 95 percent of the time because it adds some roundness to his high end. He's stuck with this retro box because it's the most musical compressor he's ever played. Next up is the Boss VB-2 Vibrato that he uses to accentuate and pop his harmonics out in the mix. And the third Boss pedal on his board is the OC-2, which he feels adds dimension to his tone while retaining musicality and still sounds like a bass guitar. For straight-ahead delays and ambient verb sounds, he kicks on the EarthQuaker Devices Ghost Disaster. To push his amps to near destruction and rattle the stage, cabinets, and rafters he calls on the DOD Meat Box FX32. For water-like phaser tones he goes with the Pigtronix Envelope and Rotary Phaser, which he loves combining with a sped-up VB-2 to create a choppy wake of noise. For modulated, tweaked-out delays and sampling abilities Alderete relies on the Line 6 DL4. And the other pedals on his board that are used for soundscape, interludes, and backups include a TC Electronic PolyTune, Wren and Cuff Tall Font Russian Fuzz, Boss PN-2 Tremolo/Pan, and a DigiTech PDS 20/20.
Cheap Trick's Tom Petersson
Basses
Petersson's main bass during this tour was a gemstone-encrusted Waterstone signature 12-string that he calls the Peacock because it was made for Cheap Trick's scheduled performance on NBC's
The Tonight Show with Conan O'Brien
, but before the show O'Brien left the TV network. Another signature Waterstone 12-string features the same Ludwig drum covering for its top that is used on guitarist Rick Nielsen's Disco Dick Hamer Standard. He tunes his 12-strings in triple unison to E-A-D-G. And although Petersson uses only 12-strings onstage, he warms up for every show with a heavily relic'd Fender Custom Shop P bass.
Amps and Effects
To get one of the most amazingly gritty and full live bass sounds you'll ever hear, Petersson uses all-tube Orange AD 200 MK III and Orange AD 50 heads raging through two Orange 4x12 cabinets. For backup purposes, he's got a Reeves Custom Studio/Stage MK II and an Orange Rockerverb 50 MK II. The only pedal that Tom uses is a Tech 21 SansAmp Bass Driver DI.