You could win a set of Railhammer Kyle Shutt Signature Pickups in this all-new giveaway! Giveaway ends November 19, 2021.
Railhammer Pickups Kyle Shutt Signature Pickups
Developed with Kyle Shutt of The Sword to power his signature Reverend guitar. Traditional output and clarity is similar to the Hyper Vintage but with smoother highs and a thicker tone overall. The weapon of choice when you need a versatile pickup that excels for fat cleans, classic crunch, or fuzz/high-gain riffing.
Railhammer Pickups
The British blues-rocker recalls the moment he first wanted to play guitar (and be Mark Knopfler) and details how the fingerpicker's melodic thumbprint has helped construct his own musical dialect.
Enter here for your chance to WIN a Seymour Duncan PowerStage™ 700! Giveaway Ends October 20, 2021.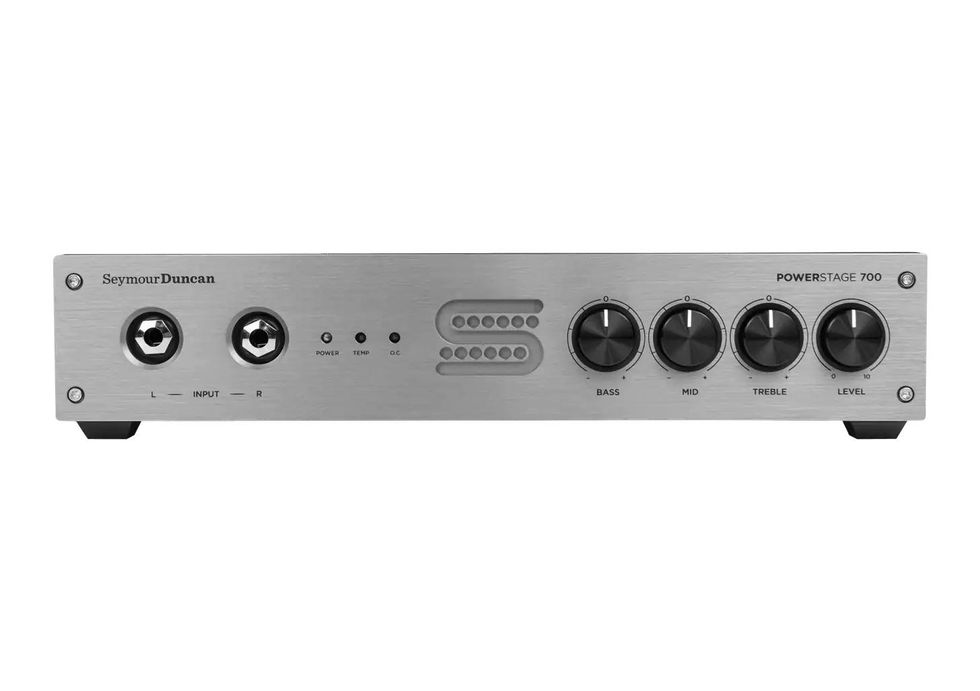 The PowerStage™ 700 is a game-changing product for guitar players that want uncompromising tone in a compact power amp. Maybe you love your tube amp but don't want to lug it around. Or you use a modeler that has a ton of functionality but doesn't sound as good when hooked up to your existing amp or direct to the PA. Perhaps you have the ultimate pedalboard and just need a better way of amplifying or running it direct. Do you dread fly dates or gigs because you're never sure what your backline will be?PowerStage is the answer, whether you're playing live or recording in the studio. When you create your tone from a modeler, pedals or effects processor, what you want is a clean, transparent power source that brings your tone to life. With PowerStage, you can bring your whole rig to the gig without compromising your sound, breaking your back or draining your bank account.
Seymour duncan
Dead Sara's Siouxsie Medley joins PG editors and our reader of the month to reveal recent guitar purchases and our latest musical obsessions.
What was the last guitar you bought and why? What's next on your wish-list?
Siouxsie Medley | Dead Sara
Photo by Steve Porter
A: A 1991 Gibson Les Paul Florentine was the last touring guitar I bought. I bought it from my buddy because the Les Paul Custom I was playing for years broke my ribs twice. Not even kidding, mid-show! Haha. That's not a knock on the Les Paul; it's just a heavy guitar for a chick who weighs a buck-five. So, the Florentine has been a breeze on my back and ribs but still has the chunky Les Paul sound that I love and is vital to the Dead Sara sound.
I've purchased a couple of old Silverstones for home use. My early '60s Japanese 319 model has such a special feel. The action on it is literal butter. I do all of my writing on it. It's my best friend. I'd love to get another Grammer acoustic. I have a '70s G10. Country artist Billy Grammer made a line of his own guitars and they're the best-sounding acoustics—they resonate for days.
​Current obsession:
Magic Wands, Viagra Boys, Harriet, Tom Waits, Future Islands, Aretha Franklin, Nina Simone, T. Rex, Sam Cooke, Richard Swift, and the list goes on.... I've been cycling through that list most heavily recently. Magic Wands will always have a soft spot in my heart, as the lead singer, Dexy, was my nanny as a kid and taught me how to play guitar. Don't know where I'd be without her influence. (And all the times she did my homework for me so I could keep practicing chords). Love her and her music.
Dorian Ford | Reader of the Month
Dorian Ford
A: I bought an American Original Fender Jazzmaster. I bought an American Pro Jazzmaster a couple years prior, and I wanted a more vintage-sounding Jazzmaster with a rhythm circuit, so I bought it. Next, I'm going to get an MIJ Jazzmaster, a Fender Coronado II, or an Eastwood Airline 59 3P DLX. I'm torn!

Current Obsession:
I don't know why, but lately I've been obsessed with the Dandy Warhols, specifically The Dandy Warhols Come Down album. Love the guitar tones on that album and the hooks are hauntingly catchy.
Ted Drozdowski | Senior Editor
A: A while back I concluded a decade-long search for a National. For a long stretch, money was an issue, but that didn't stop me. Thankfully, I didn't find The One until I had the scratch. It was right after Christmas 2018, and, on a whim, I played through a clutch of them on the wall at Carter Vintage here in Nashville. Two Style 1 Tricones really spoke to me: a 1930s and a 1997.

Photo by Laurie Hoffma
The '97 was easy to play, had better tonal detail and sustain, and was cheaper, so—no brainer. It also has a mysterious mandala-like symbol that George Harrison painted on some of his guitars welded onto it.
Photo by Laurie Hoffma
Plus, the owner knocked a couple hundred bucks off. Since then, it's appeared on my band's acoustic EP and some videos—and it makes me happy when I see it perched on its stand, every time. Dunno what's next!
Current Obsession:
Getting back to work on music. The first leg of the pandemic laid me out creatively. Now, I've got a patch of new songs and arrangements, and I'm working on a script.
Jason Shadrick | Associate Editor
A: The last guitar I purchased was my Schroeder Chopper TL. About eight years ago we reviewed one of Jason Schroeder's instruments and the feeling of having to return it stuck with me.
Once one of his Chopper TL models became available, I had to jump on it. It's a T-style that is light as a feather and just feels great. Naturally, the Lollar pickups sound great, too. It's become the standard to which all my other guitars need to measure up to. Next on my list is something in the 335 family. Still on the hunt for that.

Current Obsession:
With the recent demise of my band, I've noticed that finding something non-musical to fill my time helps and I'm deep in a chess phase. It's simple enough to break out your phone when you have a few minutes and solve a few puzzles. I highly doubt I'll be going pro anytime soon, but it's fun to dive deep into a world where nobody gives a crap about how transparent your overdrive is.
Epiphone, the accessible brand for every stage, has announced the worldwide release of the new B.B. King Lucille. The leading guitar brand has joined forces with the B.B. King Music Company to create a perfect replica of B.B. King's beloved Lucille. The historically accurate guitar will be available starting on October 19, in celebration of the legendary performer's birthday, at Authorized Gibson Dealers worldwide and on www.epiphone.com.
Epiphone is honored to present this B.B. King signature guitar, a perfect replica of his Lucille, to pay homage to the legendary career of one of music's greatest pioneers. Based on the famously named guitars of blues legend B.B. King, the Epiphone B.B. King Lucille in Ebony was inspired by the various Gibson ES models he played over the years--all of which were named Lucille. "We are honored to celebrate the life and spirit of B.B. King with this very special addition to Epiphone's Artist Collection," says Mat Koehler, Head of Product Development, Gibson Brands. "This Inspired by Gibson Lucille captures the legendary look, feel and tone of Lucille with all the classic appointments including the 6-position Varitone switch for ultimate versatility."
"It has been a pleasure working with the Gibson team in developing a new line of B.B. King Signature Lucille guitars," says Vassal Benford, CEO and Chairman, B.B. King Music Company). "I am especially proud of the new Epiphone guitar and delivering a true work of art that will be broadly accessible, awakening B.B. King's life and legacy to new artists. Gibson is a tremendous partner and they have demonstrated a sincere alignment with our mission to not only preserve the legacy of B.B. King, but to continue to grow his brand and expose a new generation of artists and fans to his music."
B.B. King Lucille
Spending his life sharing the music of his soul, the man born Riley B. King would grow up to be one of the most influential blues musicians of all time, being crowned "The King of the Blues." Releasing over 50 albums and 2400 master recordings along the way, The King of The Blues, gathered up other musicians in his wake and melded them into the harmony of his animating passion. As a 15-time GRAMMY Award Winner and the recipient of "The Recording Academy Lifetime Achievement Award," the King's global audience continues to expand worldwide and reaches over 90 million average yearly streams.
Fit for blues royalty, the new Epiphone B.B. King Lucille features historically--accurate construction and standout appointments including gold hardware, Grover Rotomatic tuners, a Graph Tech nut, ebony fretboard with pearloid block inlays, a brass truss rod cover with B.B. King's name engraved on it, a mother of pearl of "Lucille" inlay on the headstock face, multi-ply binding on the body and headstock, a TP-6 tailpiece with fine tuners and a semi-hollow-body with a maple center block to reduce feedback. Unlike most semi-hollowbody guitars, the B.B. King Lucille's top does not have any f-holes; B.B. King himself requested this feature to help further reduce the possibility of feedback. The electronics are equally impressive, with a six position Varitone switch, a pair of Alnico Classic PRO humbucking pickups wired to CTS potentiometers, and stereo and mono output jacks for maximum flexibility.