PRS' first foray into stompboxes yields sonic gold.
Inside each box containing a brand new PRS pedal, there's a little fold-out card with a picture of Paul Reed Smith and a simple caption: "I hate pedals." It's not hard to imagine Smith's indifference to stompboxes. PRS guitars are immaculately executed, ultra-playable instruments that reflect a focus on elemental interactions between fingers, strings, and fretboard. Indeed, for much of Paul Reed Smith's career, stompboxes were probably held in the same regard as a broken toaster—a needless impediment to the communication of unadulterated tone.
Certainly, there is a visceral thrill to playing a guitar without effects—particularly one as nice as the average PRS. But while that's true, stompboxes are, to many musicians, equally artful and thrilling vehicles of expression. And more than a few pedals have done their magic with a PRS guitar at the other end of a cable.
PRS' three debut pedals—an optical compressor, overdrive, and dual flanger—do not feel like willy-nilly concessions to market pressures. In fact, in keeping with PRS tradition and ethos, these pedals seem selected and designed to offer minimal intrusion on the guitar/amp relationship if the player chooses that route. But they also have the bandwidth to be bold and even positively extroverted. Unsurprisingly, they are also built to a very high standard of quality and reflect an intense attention to detail.
Read the reviews of each pedal here.
With its powerful speaker and long-lasting lithium battery, the Nomad is the ideal solution for portable premium tone.
The guitar amp everyone can't stop talking about is back and better than ever!
Templo Device's iconic NOMAD rechargeable lithium-battery powered guitar amp is making a return with new and improved features that will take your playing to new heights.
​With its compact design and lightweight neodymium speaker, this amp is decked out to allow you to play wherever you want.
​Featuring a new 3-way tone switch and a real spring reverb, the NOMAD 2.0 is designed to please even the pickiest of tone hounds.
The microphone tone is better than ever, with a handy XLR microphone input and retains the indispensable 9 volt output to power your pedals. The presale is now open with limited quantities and you won't find anything else like this on the market. Make sure you get your hands on this unit before it sells out again!
For more information, please visit templodevices.com.
Stompboxtober Is here!
Check back each day at 11:00 am Central Starting Oct. 1 for your daily chance to win! Scroll down for today's giveaway.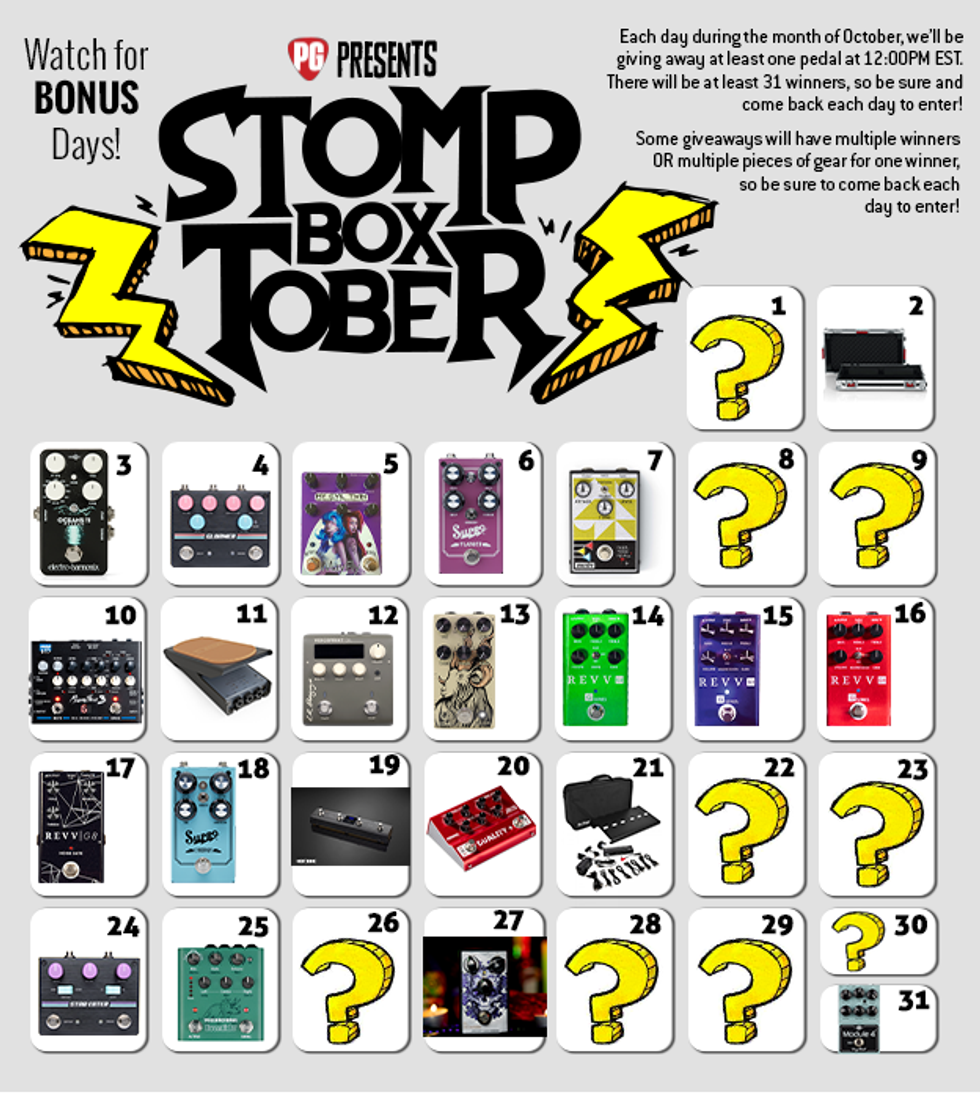 The KOA Acoustic Preamp offers classic, natural acoustic tone with unprecedented tonal control and extended headroom.
​Designed for performing guitarists and pro musicians, the Koa preamp offers classic, natural acoustic tone with unprecedented tonal control and extended headroom. The Koa begins with a boutique flat response and adds extensive tone capabilities, allowing you to carve out your signature sound.
The pedal's interface is intuitive and well laid out, making it easy for you to adjust your acoustic guitar settings on-the-fly. Harmonic content increases as you turn up the INPUT GAIN control, producing the rich harmonics you desire from your preamp. Lightweight, compact design, bullet-proof construction, and a list of indispensable features assure the Koa will be the heart of your tone for years to come.
Key Koa features include:
Preamp GAIN and master VOLUME controls
BLEND control adjusts the EQ/dry mix
Mid sweep semi-parametric EQ
COMPRESSOR: Threshold and Strength controls
Effects Loop
True Bypass
Switchable MUTE
THRU/TUNER output jack independent of MUTE switch
-10dB Attenuation switch
DIRECT OUT balanced XLR and 1/4-inch
9V Power supply included. 90-230VAC, 50-60Hz
Battery compartment for 9V battery operation
Carvin KOA Acoustic Guitar Preamp
The KOA acoustic preamp is available for $239. For more information, please visit carvinaudio.com.