A look inside Fender University
Close your eyes. Take a deep breath. Imagine a magical place where the greatest guitar players on Earth will welcome you with open arms, be your best buddy in the whole world and give you a Fender Stratocaster. Imagine if you will a Fantasy Island for guitar players where legends like James Burton just happens to walk by. You get to ask him the tough questions about Ricky Nelson, Elvis, or the metaphysical properties of that "Suzy Q" guitar lick.

Open your eyes. This place is real. It's called Fender University and I was there! It was real and surreal! Guitar freaks of all levels can partake in a truly once in a lifetime experience that only Fender can offer. It's a school inside the Fender Museum of the Arts Foundation in Corona, California. The chosen few receive personalized instruction on how to improve practice techniques, write bitchin' guitar solos and get the most from their gear. It's Club Med for guitar players wrapped in 60 years of Fender music history and the players who made them famous.

$6500 bucks gets you three hots and a cot in a fancy hotel with great food all week long. The Spring 2009 session included guitarists Greg Koch, G.E. Smith, Gary Hoey, Dick Dale, James Burton, John 5, Phil Collen and Wolf Marshall. The one-on-one guitar instruction, group master classes and after hours elbow rubbing is like Candy Land for guitar players. Their clinics get deep into string bending techniques and chord inversions for students of all levels. From absolute beginners to the advanced, their master classes challenge everybody.

The genius that came up with this idea is Richard McDonald, Senior Vice President of Global Marketing for Fender Musical Instruments Corporation. McDonald wondered why Fender would give away all their stuff to rock guitar programs when they could make a rock guitar program themselves and do it better. I sat down with McDonald and came to the conclusion that he has the coolest job in the world.

"If we're making someone else's party cool, just imagine how cool ours would be," explained McDonald. "It was a vision that I had a couple years ago. For several years we would always get the request to participate in various rock n' roll academies and the rock n' roll experience type programs. It was either to hook up artists who were our friends or supply equipment. That was combined with all the requests that people were making to get a factory tour or to meet a master builder in the custom shop. I thought it was time to do it ourselves but make it very intimate.

I needed to figure out what it would be, what it would look like and what it would feel like. I laid it all out last year when we did the first session with Yngwie J. Malmsteen, John 5 and Greg Koch, giving lessons and personalized clinics. The thing I didn't realize would happen was the friendship dynamic. These people really came together."

Students apply, tell why they want to come, discuss their musical background and what they expect to get out of the experience. Fender University chooses the people they think would be the best fit and by the time they arrive, they know exactly what they're doing. Programs are setup, lessons created, books, recordings and everything else. The curriculum is custom tailored to the player. It's an entire week of intense Fender guitar immersion.


Fender University Spring 2009 Graduating Class
photo: FMIC
Upon arrival students choose a Strat, Tele, Precision bass or Jazz bass, meet master builders, get their instruments set up to perfection and get a factory tour. They learn and experience what Fender is all about. Fender University not only teaches students how to wail over a Cm7b5 chord, but also teaches them how Fender master builders create necks, how a guitar set up is done and the varieties of tone woods.
Gary Hoey's Fender U class
photo: FMIC
Throughout the week they get private lessons with guitarists such as Wolf Marshall, Gary Hoey or Greg Koch. I sat in Gary Hoey's class and got the inside skinny on the finer points of Jimi Hendrix' guitar techniques. The classes were laid back, fun, small for maximum education and the teachers were first rate. I also sat in class with legendary teacher Wolf Marshall and the madcap Greg Koch. "For someone coming to this thing, it's like a guitar orgy," says Koch. "If you're a Fender fanatic you get to hang out with James Burton. Imagine hanging out with James Burton! We had Eddie Kramer here yesterday. Dick Dale was here on Wednesday. Then you have mutants like me and bassist Reggie Hamilton showing students all kinds of tasty little morsels. They get cool tutelage and they get to hang out with the star factor. The food is phantasmagoric. It's really all about the food for me."
Students arrive from all over the world with varying degrees of musical ability, but they all share a common passion for the guitar. From Madison Square Bedroom novices to seasoned pros, I met a wide assortment of enrollees that were lucky and grateful to be chosen to participate in the program.
Fender University student Tim Ellis has been playing guitar for 43 years. He plays guitar for a living and like all the best musicians, understands that the pursuit of guitar excellence is an ongoing quest for knowledge. "I've learned that it's not so much about the notes that you're playing, but the way people think when they're playing," recalls Ellis. "When you hear James Burton, Greg Koch and John 5, it's incredible to hear three completely different players and get insights and attitudes into the way they play. It reinforces what you know and shows you another way to write a story. That's really the most important thing that I've gotten out of coming down here. It's invaluable."
The lunch buffet was quite awesome on a multitude of levels and it was great to hang out and meet G.E. Smith whom I have the utmost respect for. The guy knows a million songs and can not only play the hell out of them with style and precision, but can sing them as well. He seems like a stand up guy and shared some great stories. He performed a concert with James Burton that was truly inspired. Seeing James Burton on stage from ten feet away is like getting a living breathing history lesson with a heartbeat.
G.E. Smith Jams with James Burton
Photo: FMIC
Fender University student Paul Blackwell had this to say, "They're not looking for top-notch guys who have been playing all their lives or anything. They're looking for people who have a feeling, the spirit of the guitar. That's what this is about. There's such a vibe here. Everybody's just having fun and living a fantasy. I'm 50 years old and started playing guitar two years ago. For 48 years of my life I dreamed about Hendrix and The Allman Brothers. That's what it's all about."
I took a tour of the Fender Museum and got a brain full of Gear Acquisition Syndrome inducing eye candy. Fender has quite the tradition and the Johnny Cash exhibit was wonderful. Everybody in the building owned cool Fender guitars. I saw Wolf Marshall walking around with a Fender Esprit Robben Ford model and I kept seeing John 5 Signature Telecasters lying around everywhere. Just lying around!
Fender U students tour Fender's factory
Photo: FMIC
Two-time Fender University student Michael Sanchez had the coolest beat up black Strat I've seen in a while. I stopped him in the hallway for an interrogation. "The biggest thing I learned this year was getting into the music a little more and letting the music breathe," says Sanchez. "I usually go out there with guns blazing. Gary Hoey was my instructor this year and he really helped me to get my eyes open and into the groove. Making it mean something more than just a flurry of notes up and down the neck. The number one thing that Fender University did was help me feel comfortable playing in front of people. They gave me the courage to really get up there and jam."
Bassist extraordinaire Reggie Hamilton took time out to show me how to play Sly Stone's "Thank You (Falettinme Be Mice Elf Agin)" on bass. It was his down to earth, laid back vibe that really sold me on the authentic friendly atmosphere of the faculty.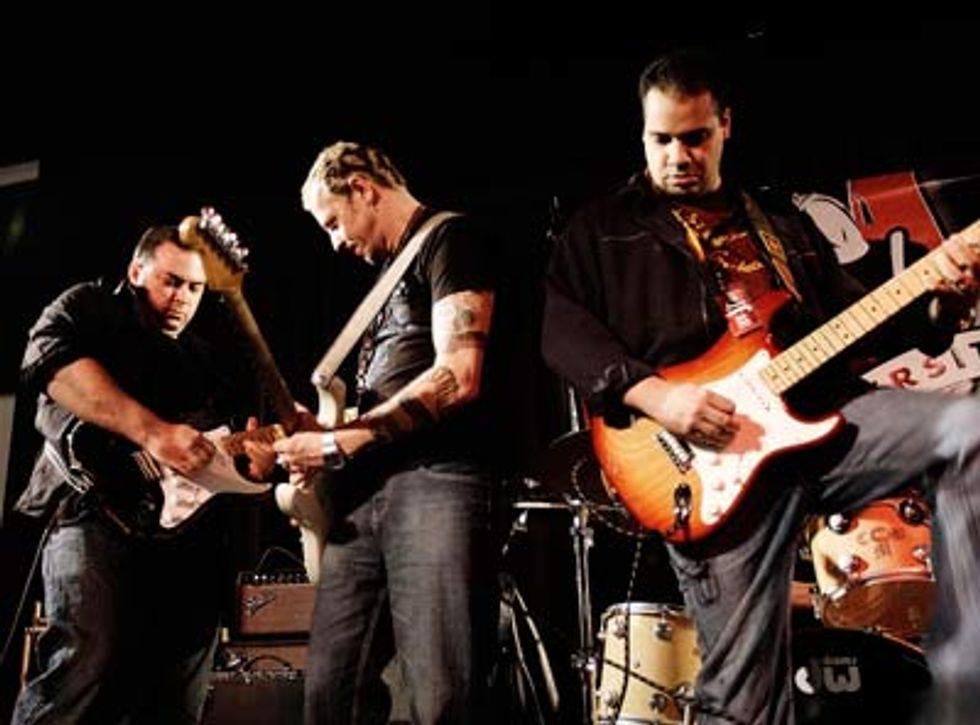 The pre-graduation jam session.
Photo: FMIC
By the end of the session students attend a jam session for their pre-graduation ceremonies so they can take their newly acquired skills to the stage under real deal battlefield conditions. They take the stage with people like Greg Koch, G.E. Smith, James Burton and all their friends, playing the tunes they learned over the past week.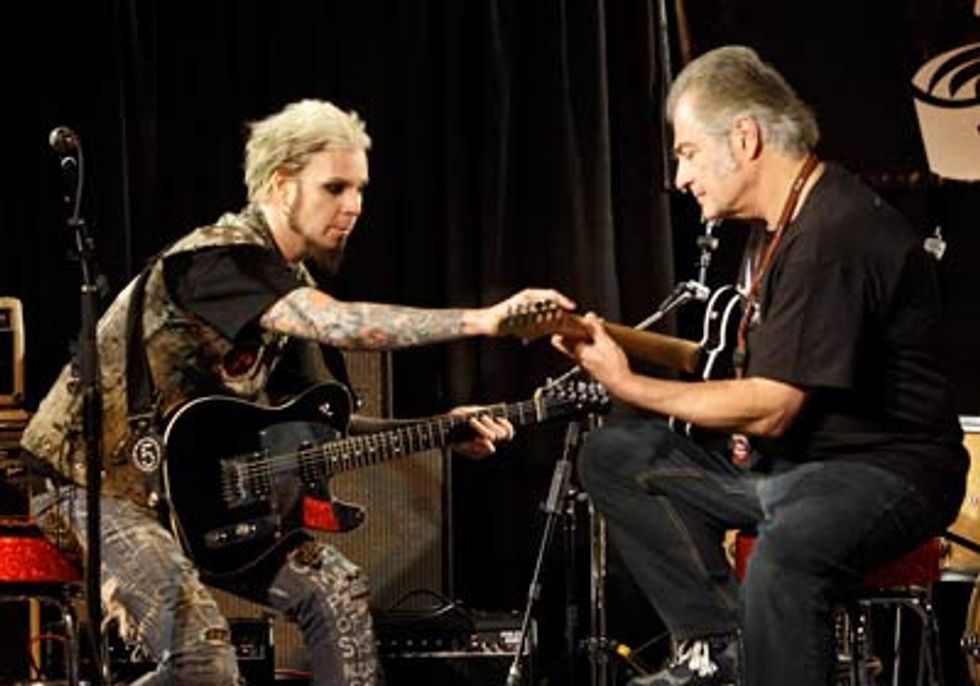 John 5 shares some knowledge in his class.
Photo: FMIC
Fender's Richard McDonald wraps it up, "It's great to see these players bust past their personal barriers and get up on stage and really understand what it feels like. It's about playing like you, not your heroes. It's not about being like John 5. It's about playing like you. John 5 is here to make sure you understand that."
For more info, visit
fender.com/university
.