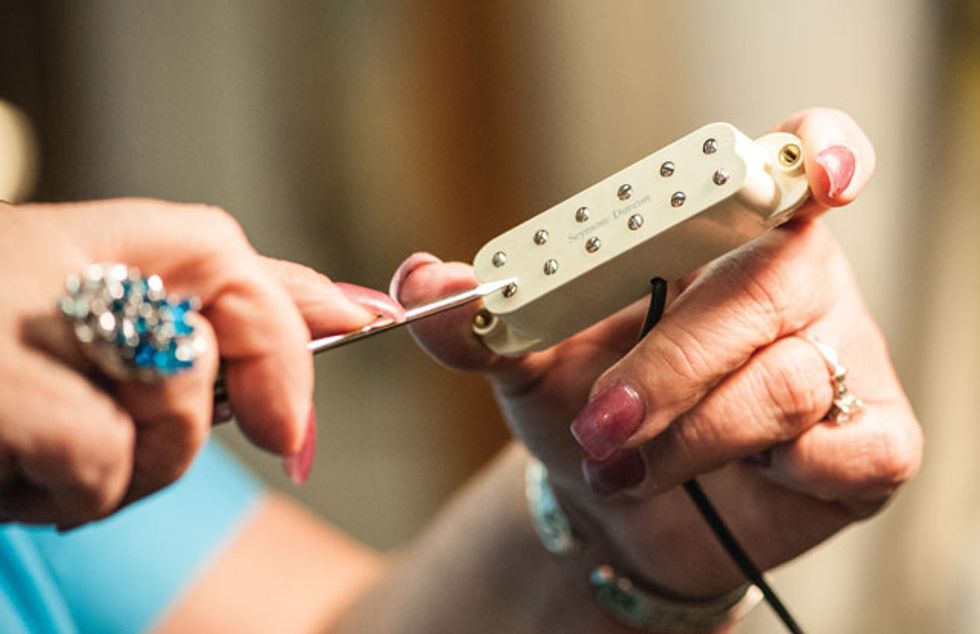 MJ adjusts a polepiece.
Listening to the Little Guys
Despite Seymour Duncan's reputation for great vintage-style pickups, the company has an admirable record of staying up to date in its online endeavors. The seymourduncan.com website offers several ways to compare pickups, including ingenious at-a-glance icons and streaming audio. The site also boasts an active forum where the company occasionally invites participants to help design Custom Shop models. The BroBucker, a super-hot PAF-style pickup with a DC resistance of 10k, is one such design. Who worked with the forum users on this project? You guessed it.
"The BroBucker got its name because it was designed by the bros of the forum," Juarez explains. Other forum designs include the Crazy 8, which has alnico 8 magnets, and the Fugly Bucker, which is half PAF-style with parallel axis poles, and half blade-style.
If you've spent much time in online forums, you'd probably be surprised if there weren't heated debates on the Duncan forum. One intensely argued subject is whether older JB models sound different from new ones, even though they share the same specs.
Introduced 35 years ago, the JB is Seymour Duncan's most popular production pickup. But even the JB has been subject to the types of supplier-driven changes previously mentioned. Even though the Custom Shop offers the Antiquity JB with the original specs andoriginal parts, some forum users insist that older JBs sound different, and perhaps better.
Many of the old JBs in question were wound and assembled by Juarez. How can you tell? Each Duncan pickup from that era had a decal with a two-letter abbreviation denoting its model, ("DD" for Duncan Distortion, "CD" for Duncan Custom, and so on.) The initial of the builder's last name follows the model shorthand. Vintage JBs built by Juarez were labeled "JBJ," and some believe there's magic in these particular pickups, which command a high price on the used market.
Here's Juarez's take on the controversy: "I don't know magic, but it could be one of three things: We changed from the long-legged bottom plate to the short-legged one. [Ed. note. This was primarily to accommodate shallow pickup-cavity routes.] We also used to use butyrate bobbins like the ones in old PAFs, but at some point the vendor didn't have the material anymore. Also, our old magnets used to be rough-cast, but then somebody switched vendors." Standard JBs are now made with ground magnets, polycarbonate bobbins, and short-legged baseplates.
But Juarez is quick to add that those components might not even factor into the sound of those old JBJs. "It's mainly how you wind those bobbins," she says. "The trick might be in winding it kind of tight. That's why we still have our handwinding machines in the Custom Shop. We have the scatterwinding machine, and we have one of the newer machines. We know that a pickup wound on the newer machine is going to sound different from a pickup with a scatterwound bobbin."
Even allowing for those differences, Juarez insists there's too much mythology surrounding the JBJs, and she plans to conduct a shootout between the three different versions. "We're going to do a sound test," she says. "I intend to compare one of the old JBs, one made the new MJ way, and a regular production model. It's on my to-do list."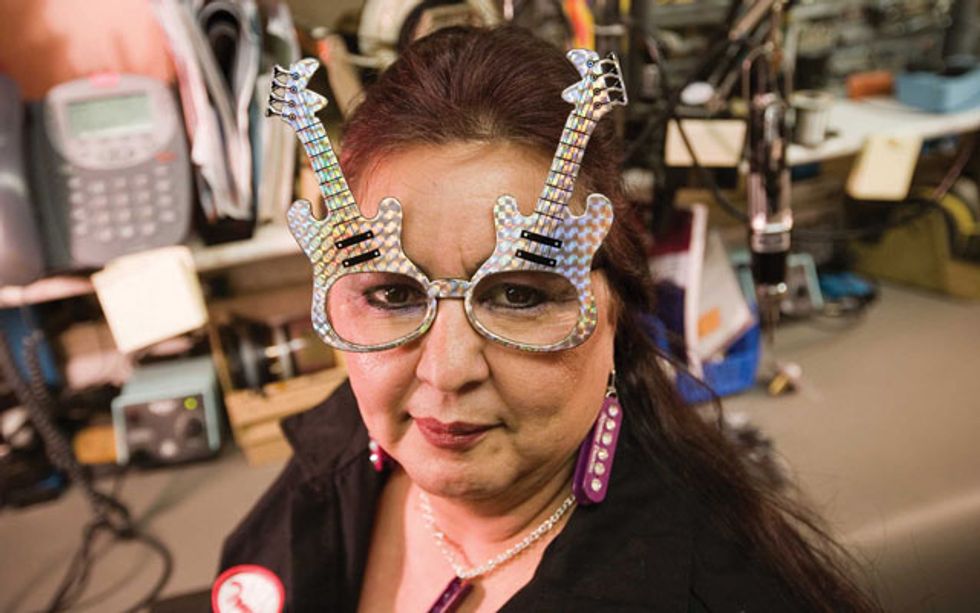 All About the Connections
As serious as Juarez is about her work for players of all stripes around the world, she wouldn't be where she is now if there weren't more to her than that. One thing that sets her apart is how she goes out of her way for both paying customers and the co-workers she's come to regard as family—including her famous boss. "Seymour is not like a big brother—he's more like a little brother," she laughs. "I know when it's time for Seymour's medicine, when he needs to eat, when he needs to go to the doctor. I spend more time here than I do at home. There's a lot of love and devotion."
Juarez says she learned her nurturing ways from her mother, who always liked to feed people. As you might imagine, the list of people Juarez has fed includes some of the players she's wound pickups for, like Eddie Van Halen. "He wasn't 'Eddie' at that time—he was just somebody seeking his tone, but then he became another part of my family," she says. "He was sitting there eating my tamales, and he says, 'MJ, where is the salsa?' I told him, 'I don't make tamales to eat with salsa, but I have Tapatio.'"
The regard in which people hold Juarez isn't confined to her Seymour Duncan family and their clients. Many pickup aficionados compare her to Abigail Ybarra, the revered pickup builder who retired in May of this year after more than 50 years at Fender. While Seymour has long been Juarez's mentor and "little brother," Ybarra has been her role model. "She's a lady who did a lot for the music industry," says Juarez. "There's no competition between us because she was there before I was. The only difference is that she mainly did Strats and Teles. She was amazed when she came here and saw how I could do those pickups and many more. Abigail has all my love and respect as a role model, as a human being, and as a lady."
When it comes to just about every aspect of Juarez, you can measure her success by the quality of her connections—be they between people, or between wires and pole pieces. "I believe in getting into the heart of the individual and finding the tone they are seeking," she says. "I want to connect with the hearts and souls of musicians through communication, truth, and honesty."